I am wobbly kneed yet deliriously delighted to show you a sneak peek of a very special project that I began working on earlier this year that JUST arrived in my mailbox… but first, this is what my workroom looked like for 6 months of my life…
After months of planning, traveling, writing, editing… Copies of my upcoming decorating book, Decorate Workshop, which will be available in the UK, North America and Australia/New Zealand in October/November of this year and then in late winter, in German! Woweeeee! I nearly fainted as I opened my mailbox today because it's such a big task to do a book, you wrap up totally exhausted from it, and then you are waiting for what feels like an eternity to see it in print. Cracking it open for the first time was a real high… Would you like to see it? Here is the American version from Chronicle Books on my bookshelf…
We just finished Decorate Workshop in July so I've not had tooooo long of a time to wait yet it felt like forever because the anticipation that an author and team feel to see their "child" delivered is undeniably off the charts – I've been happy, crabby, emotional, just a whole load of hormones as I waited by my mailbox for this book to arrive. It's like a newborn child, getting the keys to a new apartment, buying a home, bringing in that newly upholstered sofa, landing on the soil of your dream destination, seeing your blind date after weeks of wondering whether he'll be cute (and he shows up looking delish, oh my!)… The waiting period that went into realizing the dream is a rainbow of delicious, stressful, raw, draining, magical, crazy and hope-filled emotions. You're pretty much a crazy person from the time you start writing until the day your book releases. (Here is a shot below of Decorate and Decorate Workshop. I love how Chronicle Books designed the spines to coordinate nicely when displayed together on a shelf. They are so committed to detail.)
My hope with this second book, which I've decided to write in the voice of my blog decor8 and to author solo, is that you will read every single page, scribble in the margins, highlight stuff with your neon yellow marker and write in the spaces that I've designated throughout the book for you to jot down notes, ideas, dreams… This book is all about tapping in to your personal style and turning your ideas and inspiration into something real in just 8 steps. (Below is a shot of the UK version of the book. The US version is softcover with a different jacket but that is the only difference. The UK version is hardbound. I'm so happy that Jacqui Small put my blog address on the cover, I think that's pretty amazing!)
Here are some spreads for you to peek at that follow. Decorate Workshop is filled with pretty photos that were shot by mostly Debi Treloar, the magical photographer and now a good friend who lives in London. Debi has shot around a million of the best looking books in the world so to work with her is always an absolute "pinch me is this really happening" moment. She is brilliant in every single way.
In Decorate Workshop, I had the pleasure of selecting the homes and styling the rooms. We shot locations in the US and in Europe. I also pulled together lots of mood boards and more creative, inspirational vignettes that my husband photographed for the book – around 30 photographs are his. As the project wrapped up, we realized we needed more images but couldn't book Debi as she had started a new project and so my husband jumped in and took the final shots that we needed to wrap up. It feels good that he had a part in this book, it's nice to get the family involved in a project so close to your heart but furthermore, and the really cool part is, that the cover of the book was shot by him and the image on the back of the US version is also his photo – it's our home and I'm so proud to say that 4 rooms are in the book from our house along with a breakdown of how I planned several of them from A-Z. I thought that with my 2nd book you may like to see my home but also to learn more about how I think when I'm planning my own space so you'll get that in Decorate Workshop.
The book design was done by the talented and patient Sarah Rock and is super colorful and pretty to flip through, there are lots to look at and to inspire. I'm really proud of my team and of this book and hope that you'll pre-order it as it's now being sold at a very special rate and will be shipped to all who pre-order it first before you start seeing it in stores.
It even comes with a very special gift – a French Fold book jacket that you can unfold, iron out and use as a poster – you can hang it on the wall to display. It's an inspirational collage and is so very pretty with words, illustrated floor plans by my dear friend and rock star illustrator Samantha Hahn who did the beautiful floor plans in the book for us, and washi tape accents and pretty photos shot for this book. I just photographed it below after sticking it to the door of my cabinet so you can get a sense of scale, but it's quite pretty and I've never seen this in a decorating book before so I'm hoping to start a trend because I think a book with a gift like this is very special and is what makes printed things so much nicer and more warm and fuzzy than only digital things.
This is very exciting for me to share this news and to show off a wee bit too as I'm not really trying to show off but talking about an accomplishment can certainly come across as such… But I've had a tough few months since I finished this book as most of you know so it feels good to be back in a good place again now that I see the book and feel like it's a really, really good and big accomplishment. I simply wanted to share a happy moment in my life with you today so thank you so much for your love and support and for listening and looking. :)
By the way, I dedicated this book to all of you as you'll see in the beginning near the table of contents because it's so true – without loyal friends and fans where would an author be? Your support for Decorate, my first book that became an international bestseller and is now available in 12 languages, gave me the opportunity to write a second one so thank you for that because I truly love doing what I was meant to do for a living. It feels great to no longer be stuck in a cubicle at a corporate job as I once was before I made the leap, took a chance, started this blog and today, doing what I've been wanting to do since I was little. Thank you for giving me this, you guys!!!!!! And thank you to the homeowners and some of my blogger friends who are in this book too – so proud!
Pre-order
Tell me, which one of the two covers do you like the most? I'm really curious!
(images: holly becker)
Whether you feel like throwing a party or not, these funky and colorful party supplies from Lang Zal Ze Leven discovered via Style Cookie, are sure to get you in the mood to either plan your next fest or decorate a room in your home. I love the punchy colors and despite that we're entering autumn, I still see these colors on my radar well into the fall and winter seasons because you can add neons and playful stripes and dots to just about anything for a burst of freshness.
I find that simply adding the hot colors to the more subdued ones adds energy and positivity.  Snow white with hot pink, black and silver for winter? Oh yes. Emerald green, mint, peach and orange with copper and neon orange accents for fall, yes yes a million times yes. Let's toss the traditional palettes this year and bring our spring/summer colors with us right into the cooler months to mix and match and have some fun, ok? Adding brights to moody tones is what I'm inspired by at the moment. What about you?
But yes, back to parties and cute supply goodies. I love those paper plates that look like fancy china shown in the mix above, the patterned doilies, the Japanese fish paper balloons, dot and stripes on napkins, peacock swizzle sticks… And yes, this all looks a little summery I know, but if you mix in deeper shades, you can Autumn-it-up quite easily. Besides, there are no rules except that you love how you've decorated your party! That's the only rule that matters to me.
(images: Lang Zal Ze Leven)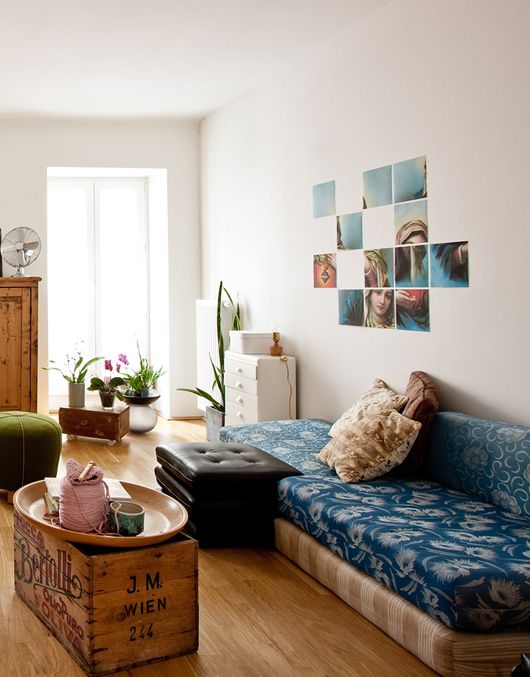 Would you like a little home tour from Vienna today along with some insights into the homeowner's decisions and feelings about decorating? I came across a lovely home recently over on Flickr in my Interior Styling group (nearly 4,000 members so please join if you'd like) and had to reach out to both the photographer and home owner to ask about a possible tour on decor8. I am thrilled to say that both were willing and ready… Sooooo let's get started with a little home tour action today, shall we? We shall indeed!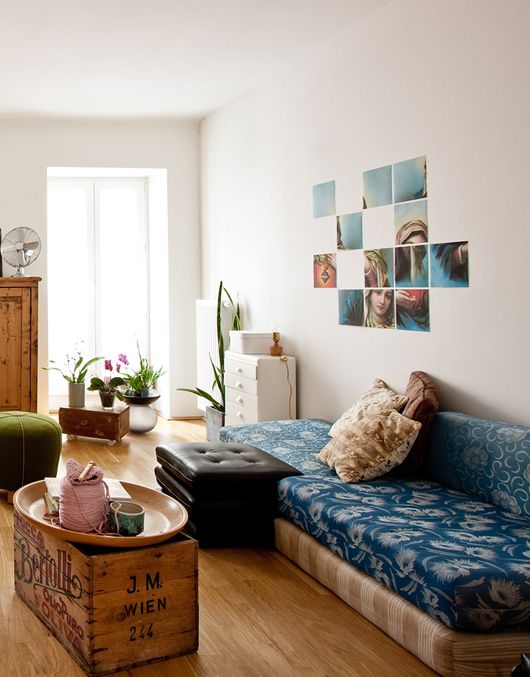 This apartment belongs to Verena Stummer, an Art Director at Screenagers and owner of the small cooking brand, "Schön und gut", in Vienna, Austria. It's so quirky and well organized but above that, I like how it really seems to reflect the style of Verena. It shows that she is inspired by flowers, color, vintage finds and food – the exact things that she told me inspires her in general. It's nice to see that she lives around what she loves and what drives her and is fuel to her creative soul.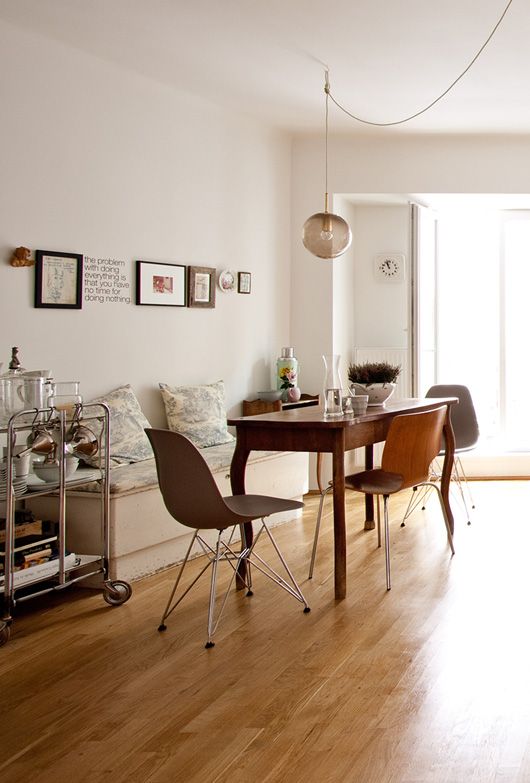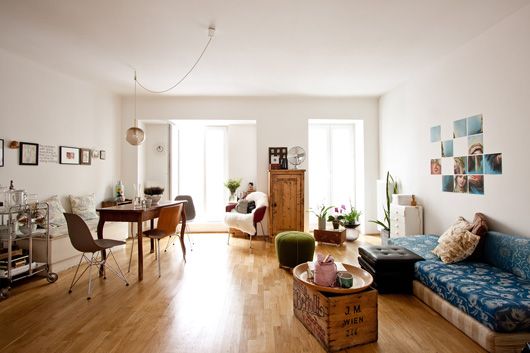 I thought it would be nice to chat with Verena to get a better sense of her space so I've included just a wee interview below. I'd love for you to read it as it won't take much of your time today but she makes some really neat points that may stick with you like happy glue on the heart. :)
decor8: Where do you begin first when decorating or redecorating a room?
Verena: I have a picture of the room to be in my mind, and try to get as close to it as possible. But sometimes it turns out that it actually works better in another way. Which is ok, I love surprises and I let coincidences have a great part in what I'm doing.
decor8: What do you love the most about your home?
Verena: That it reflects me. I love that guests often tell me "All of this is so you!". I also like to keep my furniture and decoration modular and mobile. The fact that I can change the layout of a room by easily moving things is something of a great quality. And that, as you can see, without making it look "nomadic".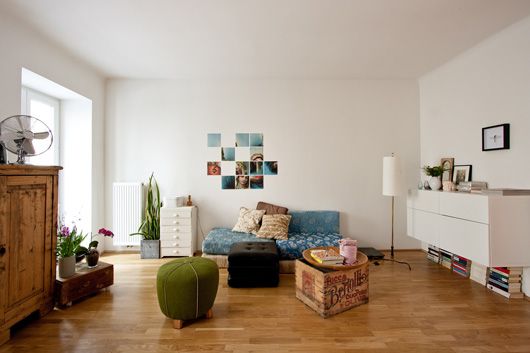 decor8: What do you want to change?
Verena: My flat would be the PERFECT place if it was a bit sunnier, since it being in the raised ground floor makes it a bit shadowy.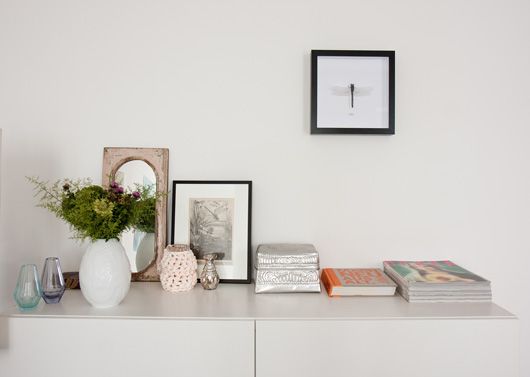 decor8: Tell us about the inspiration behind your current decorating scheme…
Verena: Well, I collected many items throughout my life in Vienna and I love to arrange them so they reflect me and my mood. There is no big "scheme" I guess. But I DO love vintage things that have a history.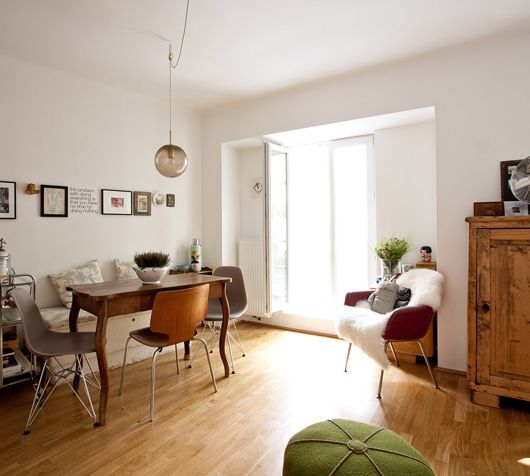 decor8: What do you think makes a house a home?
Verena: I know it's been said often before, but as soon as a house represents yourself by the way you live in it and is filled with your objects it becomes a home. I love it to to glaze over my home and remember all the stories behind the objects.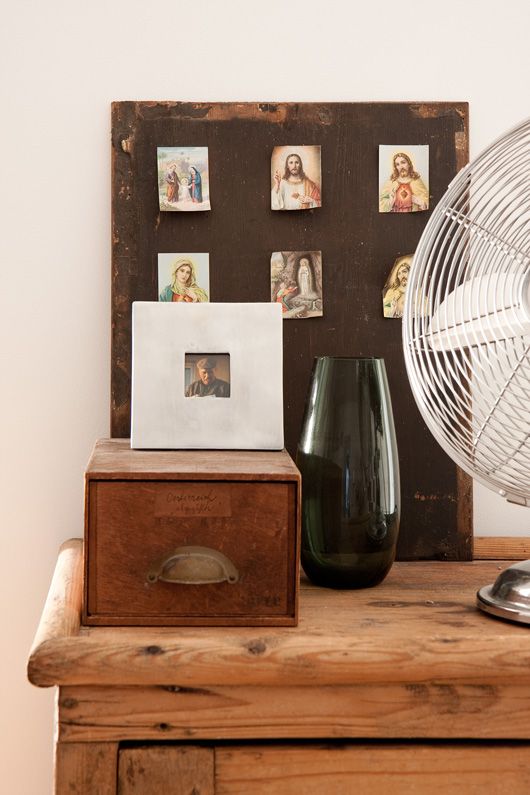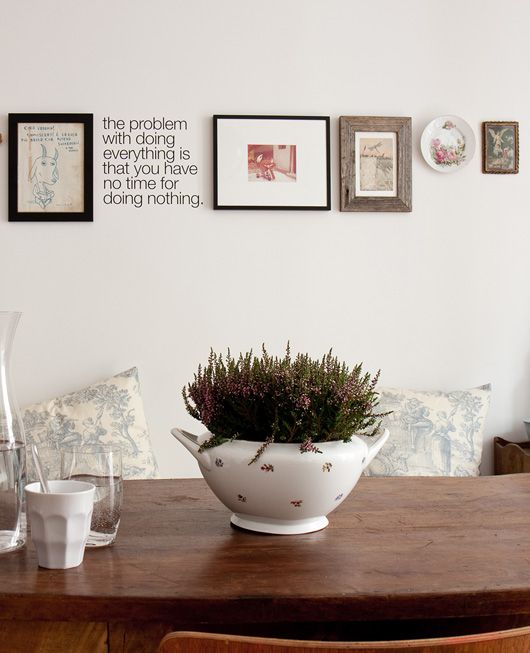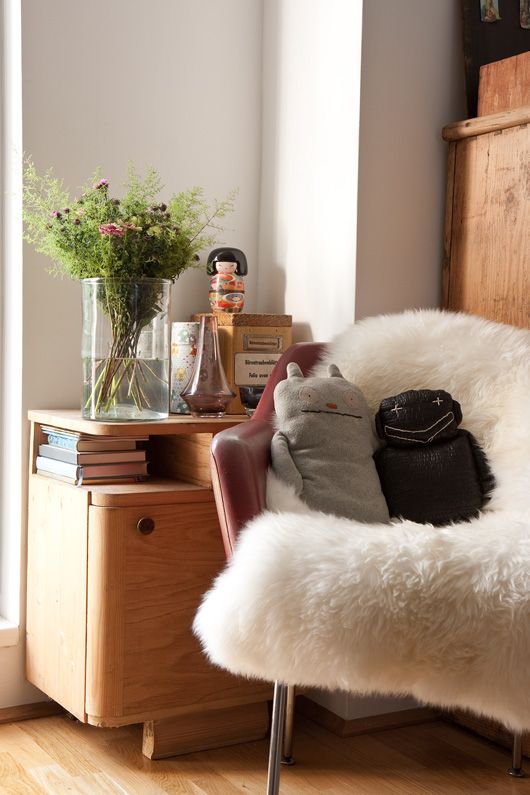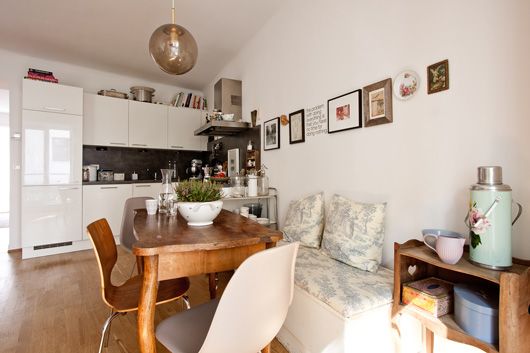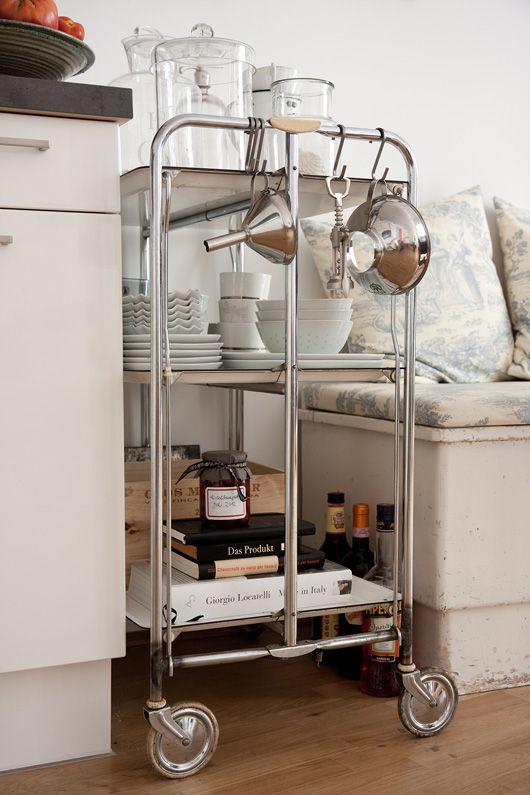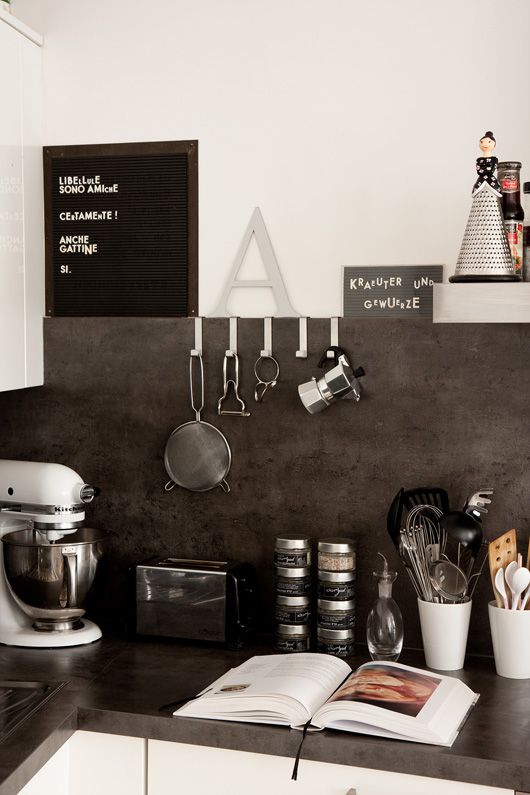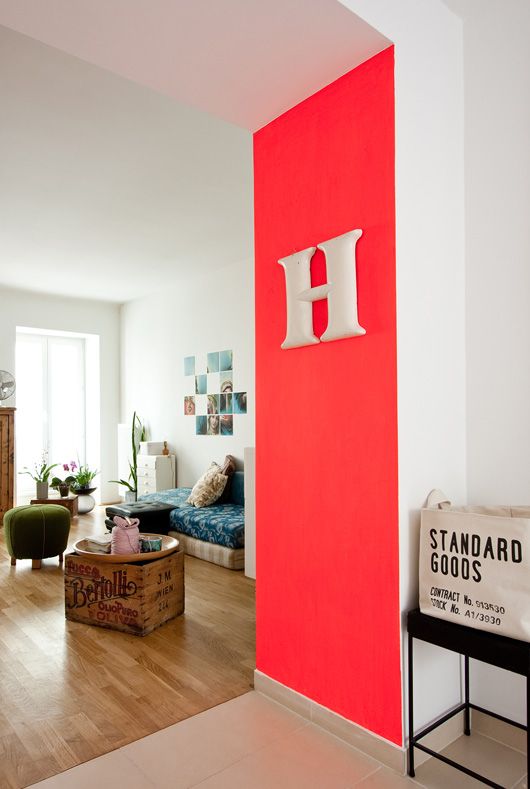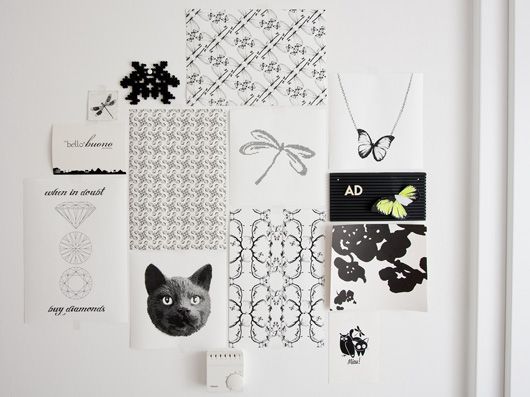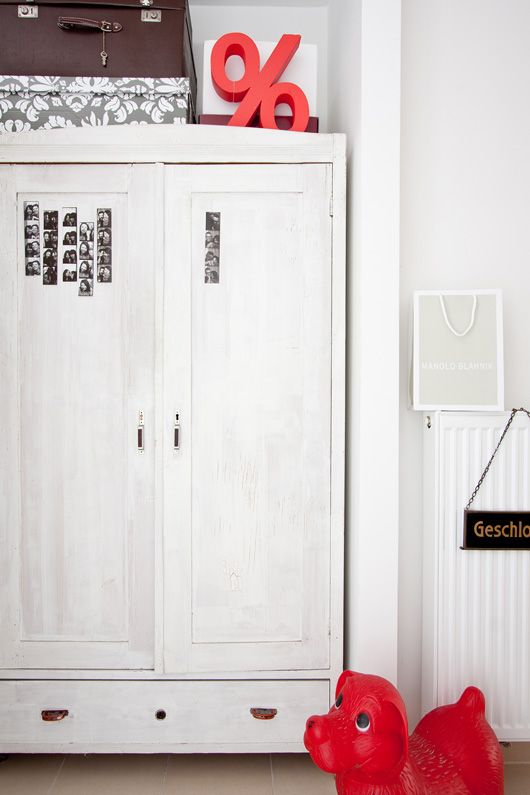 All of these gorgeous photos were shot by photographer Gregor Hofbauer – visit his site to learn more about him and his work. Thank you Verena for visiting us today on decor8 and for sharing your apartment with us!
(photography: Gregor Hofbauer)
Here is an alternative to traditional frame-and-glass artwork… Anne Sommers and Emma Hand, two creative friends from St. Louis, wanted to design a fuss-free frame-less way to display photos quickly while incorporating a bit of design. After looking around for a product that did that, they couldn't find it. Many chats later that went a little something like, "What's missing and how can we fill the void?", these free-spirited entrepreneurs pinpointed exactly what was needed and decided to make it themselves. Go team Sommers & Hand! One year later, Indie Mats was born, photo mats that incorporate pattern and color and go straight from the box to the wall in no time flat. Check them out below… No glass, no plexi, no frame, just a mat.
Indie Mats are made in the USA, sustainably printed, and affordable ($29-$39) and available for purchase here. Of course, practicality out of the way, they look lovely, colorful and fun. Good luck with your new collection ladies and thank you for offering to debut the line today on decor8!
What do you think? Would you use these at home?
(Photos: Jonathan Pollack)