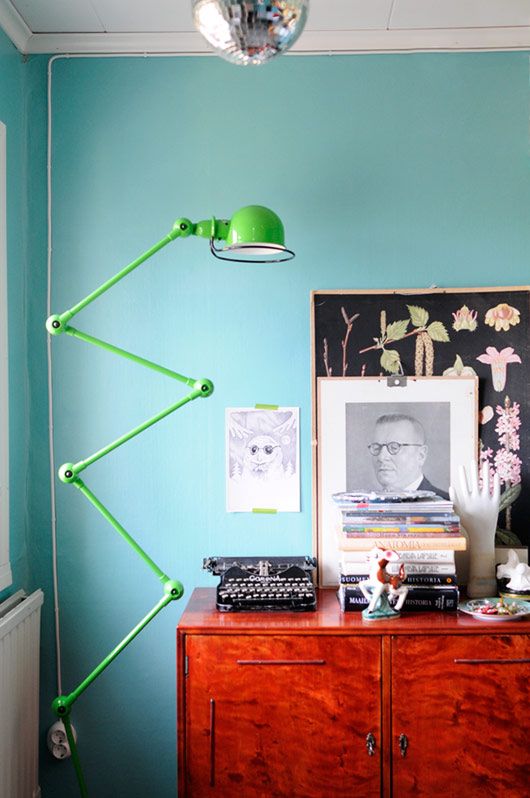 I have a colorful and fun home to share with you today from Jutta Rikola who is a freelance illustrator, graphic designer and blogger living in Oulu, Finland. Jutta recently had a baby boy and has been homebound for the past year to care for him but is now getting back to work part-time, you can see her portfolio here and check out her blog, Kootut Murut, to see what her style is like.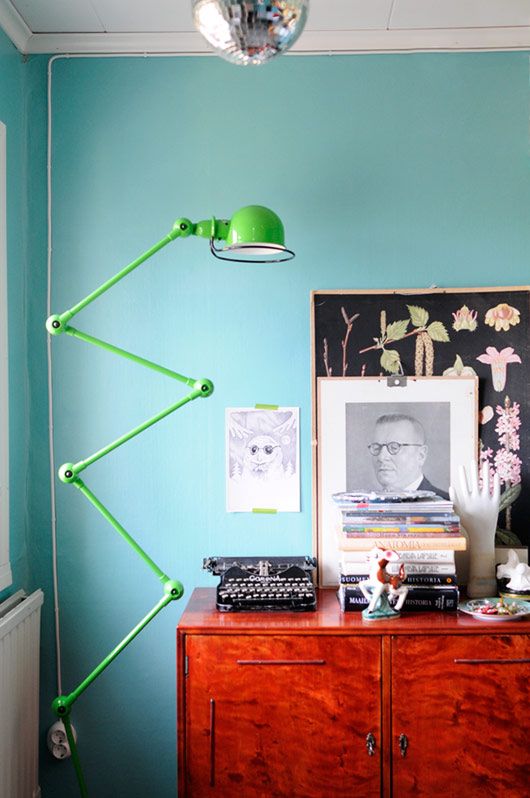 Raised in Oulu where she has been most of her life, Jutta has also been in the US and England for brief stints including a year in London which she said definitely influenced her taste in interior design and adds, "I love old English architecture and the way they use color." Inspired by blogs and magazines, books, friends' homes, thrift stores, and her own home, Jutta says that, "There is inspiration everywhere and I find it hard to concentrate on just one thing. Especially with the baby, time has become a very limited resource, so I've been practicing toning it down." I can relate to her comment, as I'm sure most of you can to because you really must scale back from time to time or else you can feel a bit overwhelmed by all that is out there. As I looked at her home, I thought it would lend a more personal note to this post if I asked her a few questions about her decorating ideas and style, so here is what Jutta had to say to each of my questions below. I wonder how many of her answers you can relate to?
decor8: Where do you begin first when decorating or redecorating a room?
Jutta: With the space itself. What are its benefits and limitations? What will it be used for? Also, because I love to use colors and ornate patterns, taking the surrounding rooms into considerations is important. I make sure whatever I'm planning to use matches the surrounding spaces too so there will be a nice flow.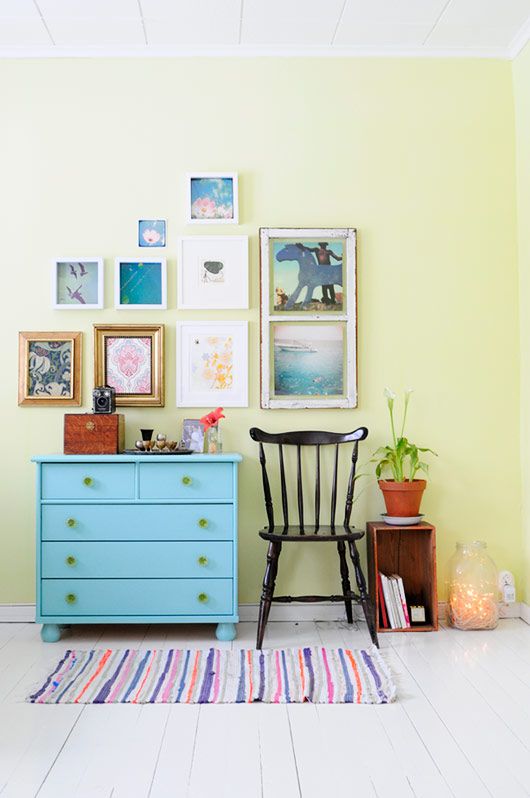 decor8: What do you love the most about your home?
Jutta: The original features. Wooden floors, 50's door handles, bumpy walls. Out latest renovation project kitchen, because it was such a struggle to get it done. We wanted to use traditional methods and recycled materials as much as possible. It was hard work, but the outcome is better than I even dared to hope for.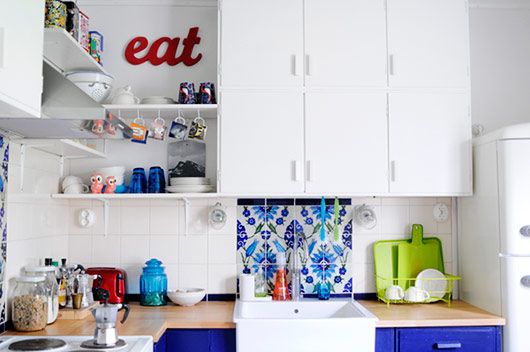 decor8: What do you want to change about your space?
Jutta: I wish there was more of it! I'd love to have a proper place to work. In 10 years time my dream is we've built a garage with an artist's studio, with light flooding in from huge north-facing windows.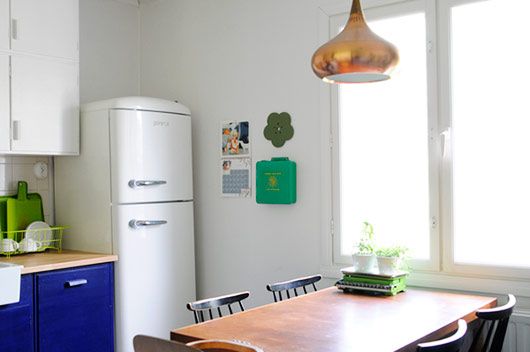 decor8: Tell us about the inspiration behind your current decorating scheme…
Jutta: I think it was Yvonne from Yvestown who said her house tells her what to do. I feel the same. I listen to the house and it tells me what works for it and what doesn't. I think that it's important to respect the history of the house. Built in the 1940's and 1950's when they were rebuilding the country after war, these houses used to be modest. So no matter how much I'd like myself some decorative bling bling, I have to keep in line with the house's character. But of course a little kitsch is always welcome. Other than that it's a compromise between my and my husband's taste. Not too sweet, not too industrial.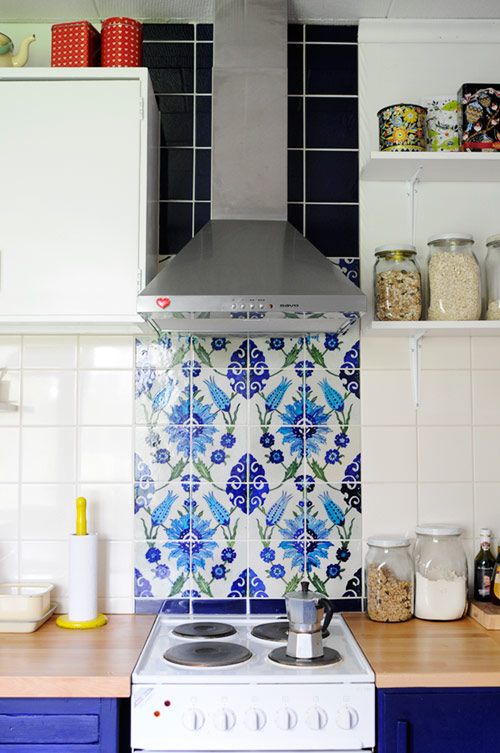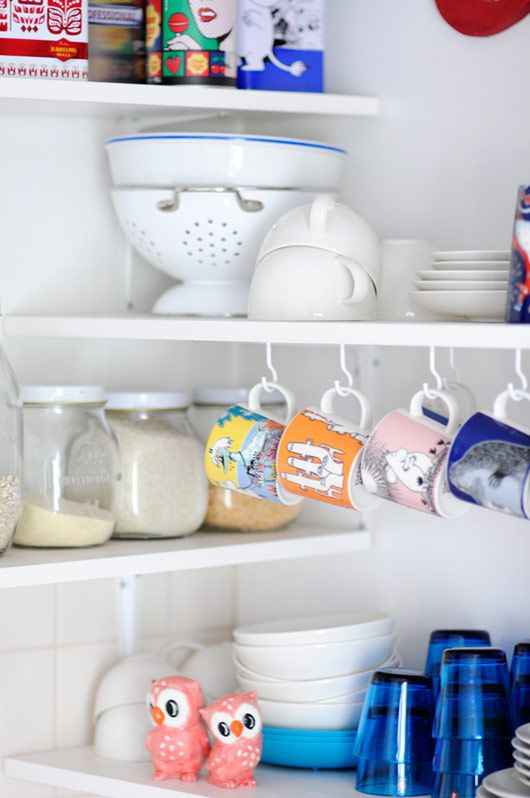 decor8: What do you think makes a house a home?
Jutta: Tough one. I've lived years in houses that never felt like home and only months in one that immediately did. It's just a feeling that you get. When we were house-hunting for this house for example, I knew this was our home the moment we stepped in and saw the porch. Now that I think about it, what's in common with all the places that right away felt like home is that they were all built in the 40's or 50's. Maybe that's where my inner home is. Ha ha if that makes any sense. After years of renovating though our house is becoming more and more us. It's transforming into the vision I had in the beginning.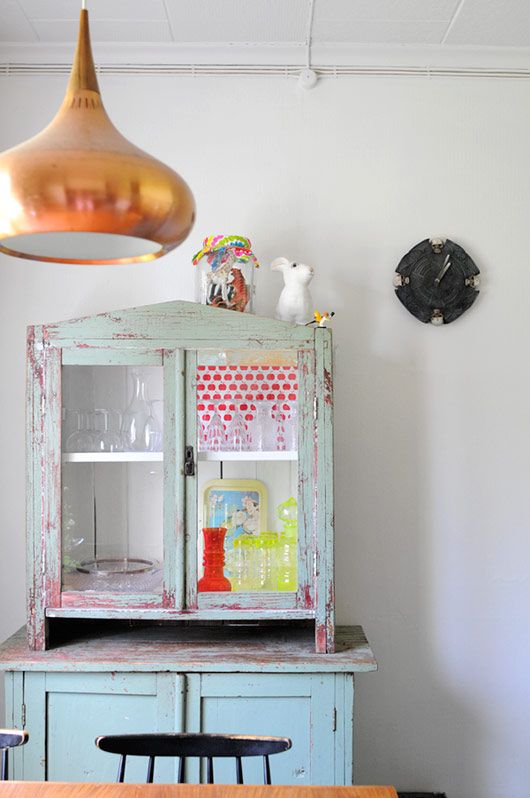 What a fun peek into your home Jutta, thank you for visiting us today on decor8 and sharing your ideas and advice with all of us!
(images: jutta rikola)
Nothing wrong with a little "fake it 'til ya make it!"… I wrote about 10 ideas for realistic wallpapers last June but now I have another great wallpaper called Brooklyn Tins to share since Piet Hein Eek and NLXL have teamed up with Parisian design store Merci (store tour here), to create a gorgeous line of faux wallpapers (or fauxpaper as I like to call them) that are now available to purchase. These photo-realistic papers are based on Victorian press-tin ceilings that were so popular in Victorian New York and are digitally printed onto non-woven paper and look astoundingly realistic. You can find them over at the Wallpaper Collective in the US and Rockett St George in the UK.
I was especially intrigued to learn more about pressed tin and so after a little digging, I learned that it was first introduced to North America as a lower priced option to the plasterwork used in Europe and became quite the 'trend' to have pressed tin ceilings during the Victorian era since Americans craved more extravagant, detail-rich interiors. In fact, when you go into a NYC apartment (or property anywhere in the states) and see original pressed tin ceilings, it's only natural that you'd go a little weak in the knees as it's highly sought after among those who love vintage, original decorative details. If you'd like to deepen your design education concerning tin ceilings, try reading this.
I first started thinking about vintage tins as being a bit more special than usual when I was in Soho this past March working with photographer Debi Treloar because she had said that she loved the tin ceilings in the apartment where we were working and that it was very, "American". I hadn't thought of tin ceilings as being very American until now – I had assumed they were once all the rage in Europe too – but apparently not.
These wallpapers are so creative and fun – would love to see them applied to ceilings but also to walls – just lovely!
What do you think? Would you decorate with them? Where do you think they'd work?
(images: wallpaper collection and rockett st george)
Hello friends! How are you today? It's Monday, a new week and new possibilities. I've been thinking a lot about the post that I wrote, Thoughts on Being Honestly Happy, where nearly 250 of you left beautiful, uplifting and often very personal comments and so later today I plan to write another post as a follow up. It's so important to me to not leave anyone hanging – when I read some of my favorite blogs and the blogger pours out their heart and then, never returns to let readers know what's what, I often feel a bit concerned and wonder what is going on. Blogs make us responsible, accountable, we can't just say stuff and assume it's not important to others because, well, it is. We cannot assume no one cares. We're all in this together.
After I wrote that post, I was actually quite overwhelmed and even moved to tears at times by your reaction – not just the comments but also the very personal emails, Facebook emails, tweets and even text messages and phone calls that rolled in and are still coming in even though it's been nearly 3 weeks since I wrote it. I must admit that I assumed only a few of you would really "get" me or relate (boy, was I wrong!) and the rest of you may simply skim through it and move on to the more fluffy and pretty design posts, but you didn't… You stopped, read, and tried to relate and it felt amazingly validating and beyond encouraging. You really blew me away. THANK YOU. So yes, later today I'll post about a few of the plans of action that I've taken since and how so far, I'm beating "this" – though I'm still not exactly certain what "this" really is yet. I'll also tell you about a few aha! moments I've had, epiphanies if you will…
Back in a moment with beauty to inspire… Then I'll begin writing Thoughts on Being Honestly Happy: Part Two.
xo,
Holly
(photos: holly becker/instagram)
I'm so pleased to share some of my favorite images with you from Heart Home magazine, which will go live online for all to see very soon today. This is their Autumn 2012 issue and I'm particularly excited because there is an excerpt from my upcoming book, Decorate Workshop, that releases later this Fall. Before Heart Home hits computer screens everywhere, I thought to share a special sneak peek because this issue is packed with stunning homes and stories that you deserve a special glimpse of because they will inspire you today. Don't forget to hover over the images with your mouse below, look for the PIN button, and pin them to your Pinterest boards!
I am so happy to see Decorate Workshop in this issue so thank Carole, Daniel and Arianna from Heart Home because it means a lot to have your support and that I am able to share some of my decorating tips for creative spaces with your fans around the world. I haven't included it in any of the images above but you'll come across it later today the moment THIS ISSUE goes live. :)
(Photography: Simon Eldon, Jon Day and Malcolm Menzies)