Good morning friends! What's going on in your part of the world? It's a bit chilly here and overcast but I'm ready to face a new week because there is lots to work on. Did you know that I'm hosting a workshop at my home studio next month? It is sold out, which I am so thankful for, but after scheduling it I quickly realized that I need to do a second event in the new year because we had to turn away so many wonderful ladies… I feel sad about that. I know how much we all crave friendship, inspiration and creative business ideas and for me to host this type of even in my private home is a joy but next time, I'm thinking to either get a larger space so I can fit more ladies (like our NYC workshop that I did with Leslie Shewring) or continue to limit them to 15 students and host more of them.
It's a bit tricky though because I don't have a lot of time to host lots of these events at home. I put so much time and energy into hosting them. There's of course the class itself and preparing what you will teach, but then there are goody bags, catering, decorating, correspondence, working with sponsors, making things, cleaning your home so that it's just perfect and making everything shine, shine, shine! It's way more work than hosting at offsite locations – hosting workshops in your private home is a pretty big deal but I see a lot more in my future so I'm definitely going to host more. I'm thinking of how to approach future workshops… Maybe just a good mix of small, medium and large and have some at home, others offsite. I have been teaching for years but mostly in conference rooms, hotel event spaces, large retail stores and cafes but until now, I've only taught very small groups at home. Having 15 ladies is a big jump for me – and I can't WAIT to welcome them in December. I love connecting with creatives live in addition to online so I need to keep moving forward with teaching for 2013. I love it – it makes me so happy. :)
Today I'm going through all of our sponsor goody bag loot. It's exciting to start laying things out and seeing how they all work together to fit our theme: creative inspiration for 2013. Sponsors working with Steffi and I so far include:
* Ferm Living
* Chronicle Books
* Bertine
* RICE
* Bloomingville via Mein Cupcake
* Rosa Cosa
* Kusmi Tea
* Feine Billetterie
* Wednesday Paper Works
NOW I'm looking for a tote bag sponsor – I found lots on Etsy but small companies are often so reluctant to provide products in exchange for marketing/promotional opps – but I'd love to find a sponsor for linen tote bags that have some neon pink accents. I'll let you know what I come up with – I may have to buy the totes myself at the local craft store and get crafty with some paint. I have a few ideas. :)
After the event, which runs from December 7-9, 2012, I'll post photos showing the final goody bag loot, how I decorated the space, photos from the welcome party (location currently top secret) and more fun stuff so that you can see how the workshop went and maybe be inspired a little bit. Who knows, maybe you can host your own workshops at home or from your work studio eventually too?
(images: holly becker)
Hello everyone and happy Friday to you! I'm so pleased to share some photos from my book launch party for the UK edition of Decorate Workshop, photographed by London-based photographer Lucy Lu. Most of these photos (unless noted otherwise) are from Lucy, thank you Lucy! The lovely party at Anthropologie on Regents Street was a huge success – it was packed with more people than we had expected, which is never a problem and always an honor BUT it was tough to fit so many comfortably so needless to say we had standing room only by the time we began our lectures. Decorate Workshop fans filled the 3rd floor and we had a great night. Want to see for yourself?
I was joined by one of the UK's top bloggers, Will Taylor, from Bright Bazaar and American stylist James Leland Day, who lives in Berlin (his home is in Decorate Workshop and his living room shown above) who spoke alongside of me about the book from what inspired it to how one goes from blogger to author, the process of writing an interiors book and how to style your home with tips from James and later, I chimed in with tips on how to pull inspiration from the many images you see and translate them into something that works. I have to thank both of these fab guys for being there and presenting so well – Will is a natural and James has such a strong background in styling – they both were such a nice addition to the party and guests really loved having them, too.
Will showing everyone the inside of the French fold book jacket – all editions have a special jacket that you can unfold, iron and display on your wall. Mine is above my desk in my work studio.
I really love bringing together special guests in all of the events that I do – last year for Decorate some of my special speakers included Abigail Ahern, Leslie Shewring, Sania Pell, Betsy Burnham, Nicole Balch, Fernanda Bourlot, Zia Priven, Matt Stinchcomb (co-founder of Etsy) and many others. In fact, whenever I host events I always try to add a few guests to accompany me because I enjoy the support and friendship – it makes doing events a lot more exciting and a lot less about "me" and more about "we".
Will interviewing me during the launch party – I was trying to focus, I was a bit nervous because we had problems with the sound system – we were able to fix it later on but it kept throwing me off track at first. We did our best – thanks to everyone who endured the first 10 minutes!!!
I love this photo – it looks like this cute lady is embracing my book. It actually made me feel emotional seeing this. The idea of giving a little slice of happy to someone is quite a nice feeling for an author to have.
Will is such a charming and caring soul but also has an excellent business brain behind all those bow ties and polka dots. James was really getting into how he designed his living room – shown on the board to his right. That is an image from my book as well.
A closer shot of the board showing James' living room as seen in Decorate Workshop.
Between all of the beautiful cakes that Anthropologie laid out for us to feast on, the prosecco, the inspiring space and the entire 3rd floor being filled with design lovers and bloggers, it was quite a lovely experience. Anthro even gave everyone who bought my book a 15% coupon for their next purchase and a linen Anthro tote. What a nice touch! Along one wall, I had a bookcase in my honor titled, Holly Becker's Favourite Things" where I had shopped the day before for things that I loved from their home & fashion accessories floors so that my guests could check out a few of my favorite things. Problem was, the event was so packed that it was hard for people to go examine all of the pretty things there!
I had a rough summer, filled with a lot of ups and downs in my life (mostly downs) so to be here with all of my fans and have them so excited to see me and celebrate my new book was nothing less than a fantastic boost for me personally – and of course, it was cool to sign and hold up my book for the camera – I loved celebrating this accomplishment with all who came out.
I love this shot of me talking to Ari from Arianna Interiors who is also co-founder of Heart Home magazine. Ari is one of those people who is genuinely so sweet and charismatic, there is nothing fake about her. I think she was admiring my hair or necklace in this photo – she always has a way of making you feel at ease and taking you beneath her wing. I really adore this lady!
This photo of James made me smile. He really loved being a part of the festivities and he walked away feeling inspired by everyone, too. The energy was so positive. It was a truly lovely event.
I only wish that I could have spoken to everyone – I know I missed out on meeting so many of you and for that, I'm sorry! It was my intention to meet everyone but the event was too full and once the book signing begun I was there until after the store closed dedicating books to some genuinely lovely guests.
I felt honored and inspired by the event and to think the day before, I ran into a street concert with Robbie Williams performing right before my eyes and the same evening after the book party, I ended up in a private bar at a hotel where a friend Charlotte was staying and who walks in and says hello to us, American rapper/actor Ludacris. Yeah, really. He was so chill and his friends and I chatted about the south (where we are all from) and later, my book and blog! Riot! It was funny to see him and how normal they all were but the best part was when one of them googled me and said, "Hey you're famous too!", that was a riot! Here's a photo of me with Ludacris who is currently in London filming Fast & Furious 6 – funny right?!
So that was my book launch party. I hope that you liked it. If I missed any of the photographers who took the photos above, PLEASE let me know so I can link you below. A big thank you to Jacqui Small Publishing (Jacqui, Joanna, Sian, Sarah, Anabel, Jessica and Sam), Anthropologie EU, Lucy Lu, Will Taylor, James Leland Day, Debi Treloar and some of the homeowners who attended in addition to James like Sania Pell, Emma Cassi, Stephanie Rammeloo and Yvonne Eijkenduijn.
(images: Lucy Lu, Mimi, Janine and Margarida)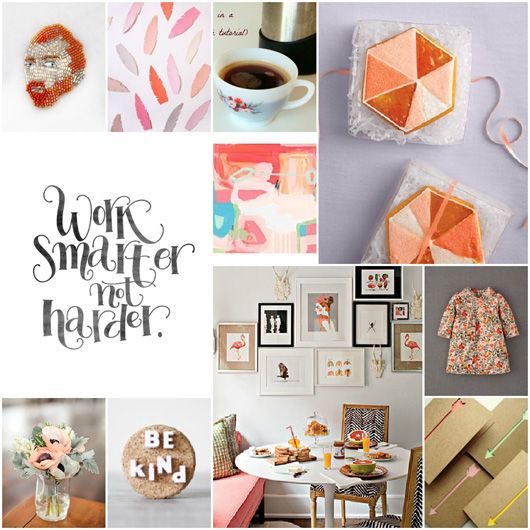 Hello everyone! I've been offline for several days as I was away in London but I'm back home now and ready to blog! I hope that you are doing well. Between the stress of the weather on the east coast (a hurricane first, now snow in the northeast) and the election, I think my American pals are in need of some inspiration because it's been a bit draining to say the least. It's time for a little cheer so lets look at pretty things today!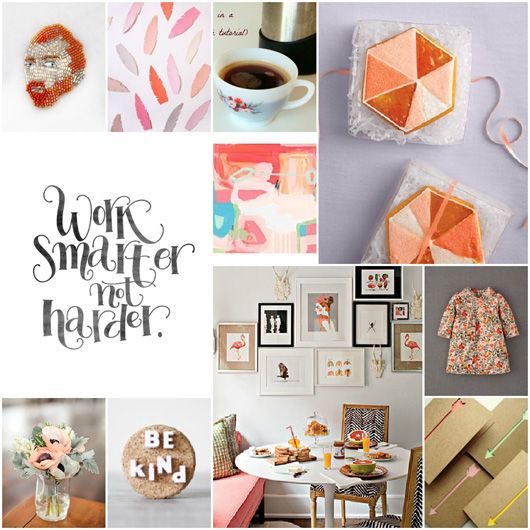 I'm not sure if most of you are aware of this, but in addition to decor8, I run an e-course focused on blogging and creativity called Blogging Your Way and I also teach in-person workshops on everything from paper crafts to blogging, styling and creativity. I've made a business out of blogging and like anyone who has a small business, I'm always thinking of ways to improve it and make my clients even happier. It's not easy, as everyone has a different learning style, but the one thing that I teach time and time again that students really click with is the exercise of translating your ideas into something visual and I do this via inspiration boards, mood boards, story boards or whatever else you feel like calling them. For this post, I'm going with mood board.
A mood board is one of the best ways to filter your ideas and give a voice to what feels very muddy or trapped inside of your head. It's easy, fun, can be done with your hands or on a computer, and oftentimes doesn't cost a penny. In my most recent Blogging Your Way class, which just wrapped up last Friday, we worked on blog mood boards. A blog mood board is a way for new and even seasoned bloggers to hone in on what they want their blog to be about and what they what it to look like whether it's for a redesign or for their very first blog. In this post, I'm showing you some from my students that I found inspirational – please visit their blog links below each image to visit them AND you can see all of the student mood boards on the Blogging Your Way Boot Camp Pinterest page.
Lots of times we think we know what we like or want to talk about on our blog but have a hard time focusing or narrowing down our concepts. This is where blog mood boards help. You can take all of your ideas and start moving them around before you on a board, on a table, on the floor, and see how everything works together and then, see if everything really "fits". Magazines and book publishers work like this and so do designers and many other creatives when it comes to figuring out next steps in their creative process. When I was working on both of my books, I pinned spreads to my wall and even scatted them about on my massive table to see how they "laid" together and to imagine the flow. It's not that different when you are trying to pull a concept together for a blog.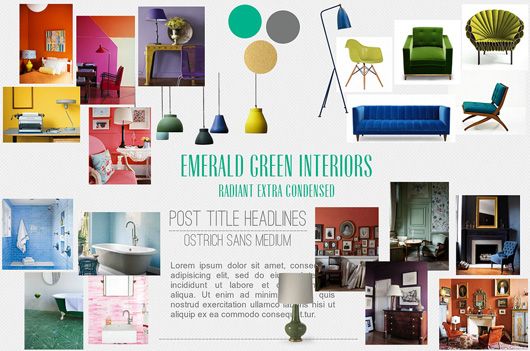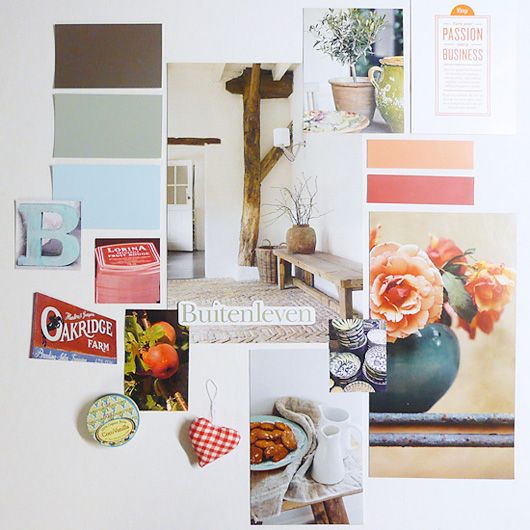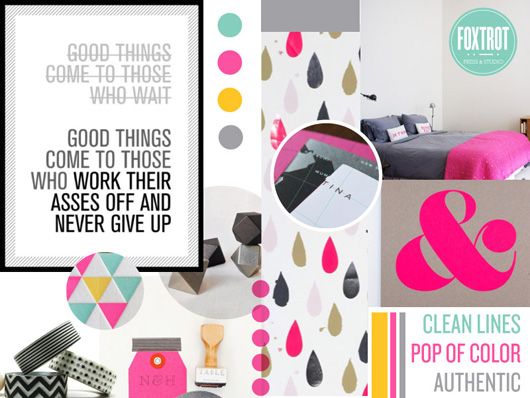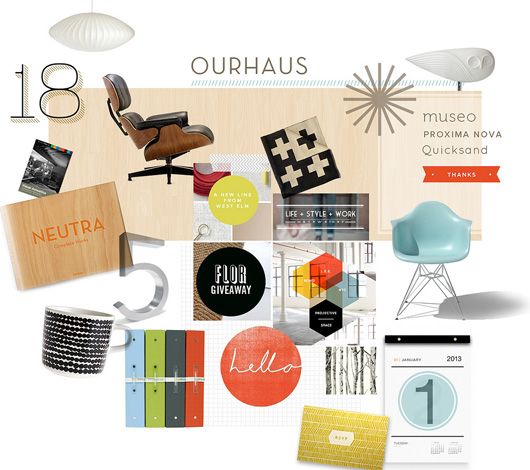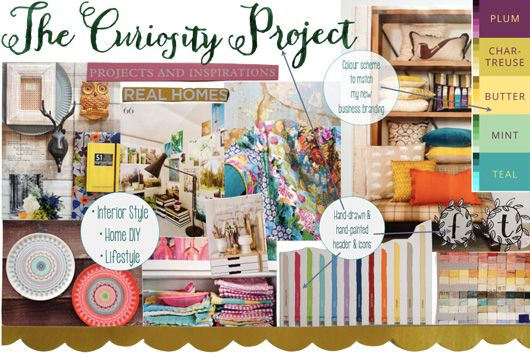 The Curiosity Project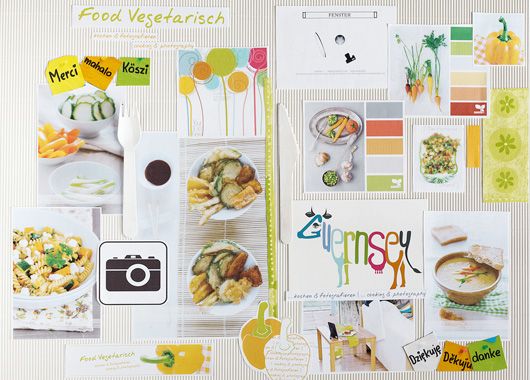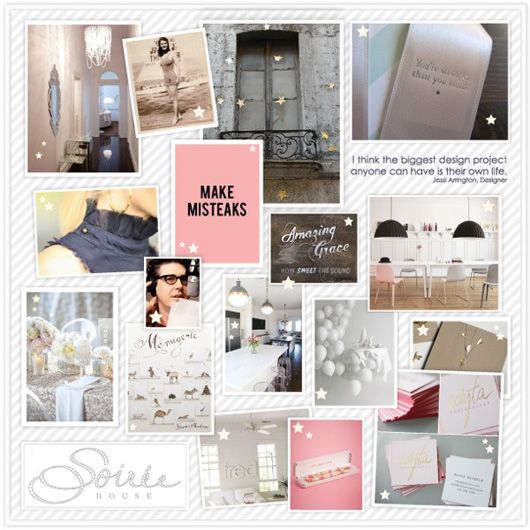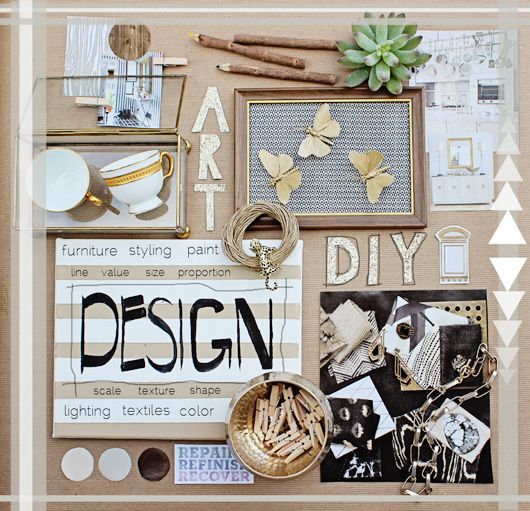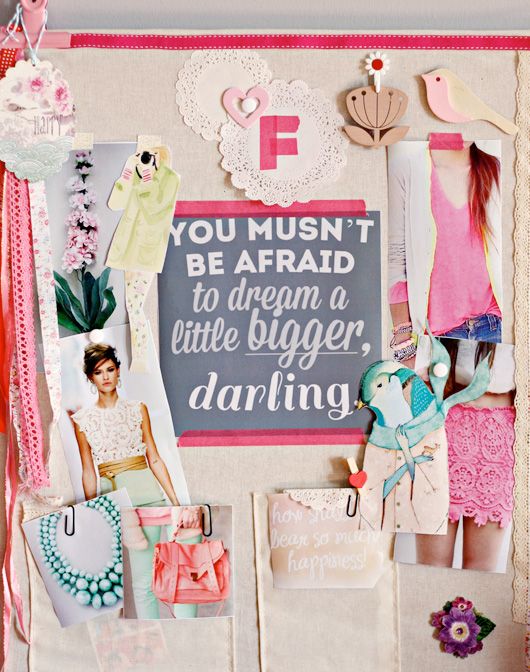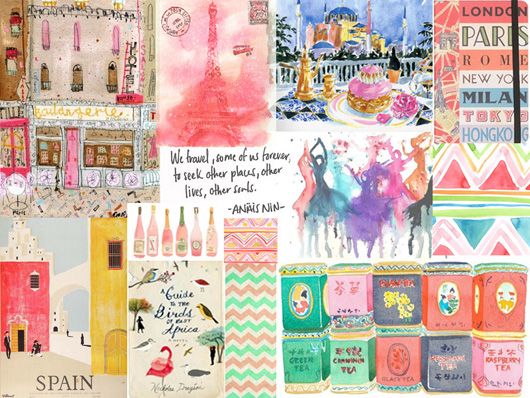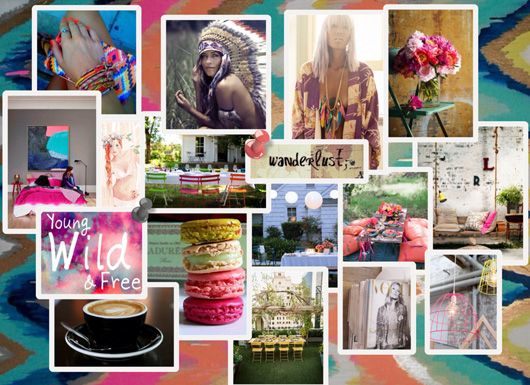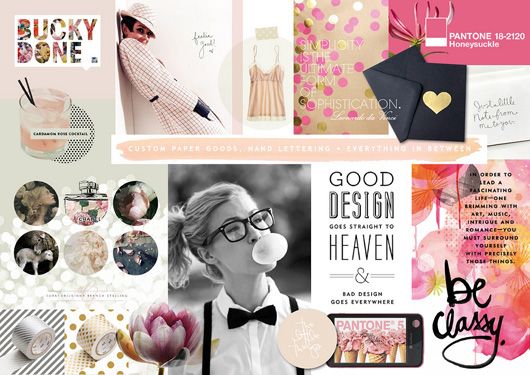 Mischief, Flapjacks, Pantone & Me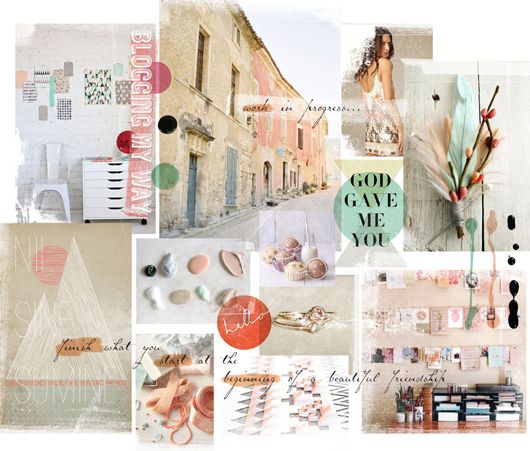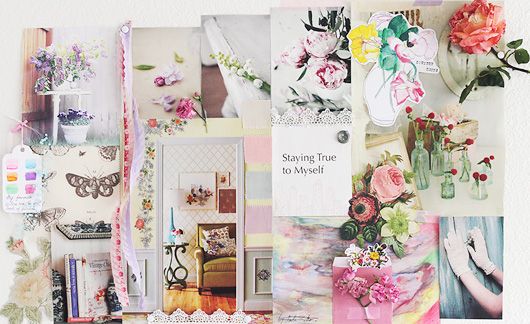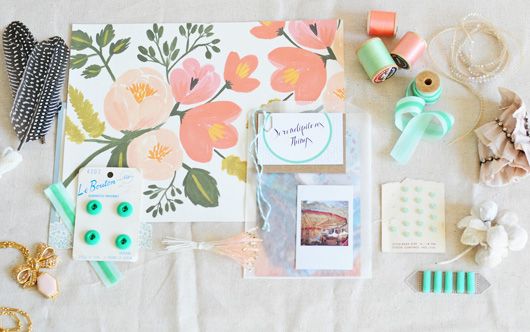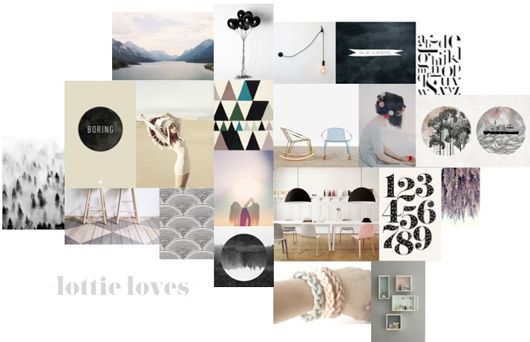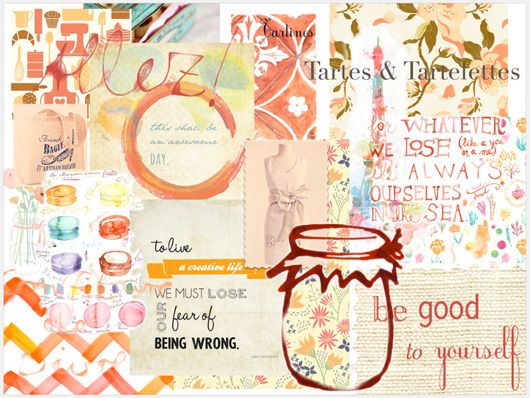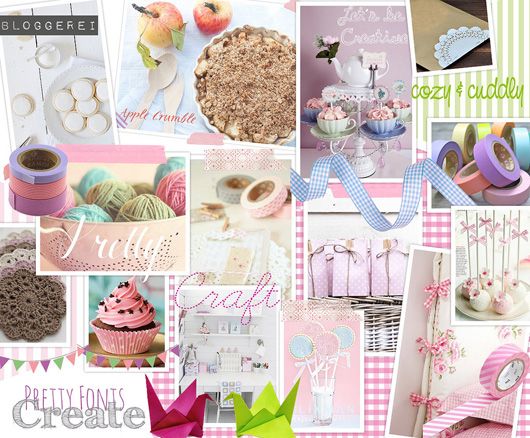 Aren't these inspiring views of how one wants their blog to be? Have you ever tried mood boards for design concepts – either for your brand, blog, website or something else? Did it help you? Did it help your designer?
(images: the talented ladies who made these moodboards are credited below each image with a link.)
Hello everyone and happy Friday! How are you? I am packing since I fly to London (for the launch party) in a few hours, but I want to thank Simple Things magazine in the UK for a beautiful 8 page excerpt in their latest issue #3 from my new book, Decorate Workshop. The book just launched in the UK and will launch TWO WEEKS earlier than expected in the US – it is available TODAY! We just found out yesterday so it's a great surprise. Thank you Simple Things for the wonderful excerpt, here's a peek below but if you want to read all 8 pages you'll need to pick up a copy of the magazine or buy a digital copy on your mobile device.
Note: All photos shown are from Decorate Workshop shot by the brilliant Debi Treloar. You may preview a digital copy of this book below:
Order Decorate Workshop in the UK and Europe HERE (hardbound, orange/purple jacket)
Order Decorate Workshop in the US HERE (softcover, blue/yellow jacket)
AND thank you to the homeowners – above shown is the home of Emma Lee, James Leland Day, Iris Rietbergen, Nadia Yaron and Myriah Scruggs.
Thank you Simple Things magazine!