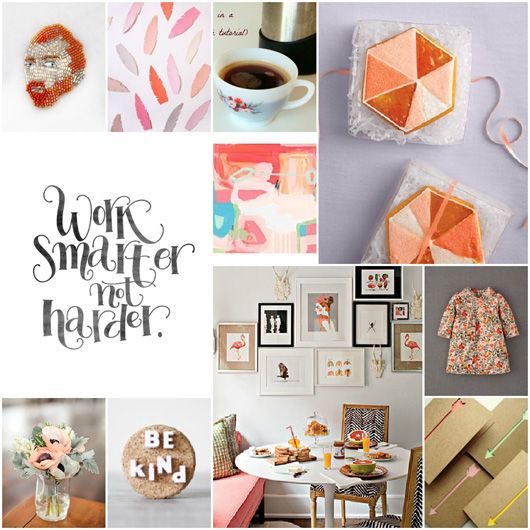 Hello everyone! I've been offline for several days as I was away in London but I'm back home now and ready to blog! I hope that you are doing well. Between the stress of the weather on the east coast (a hurricane first, now snow in the northeast) and the election, I think my American pals are in need of some inspiration because it's been a bit draining to say the least. It's time for a little cheer so lets look at pretty things today!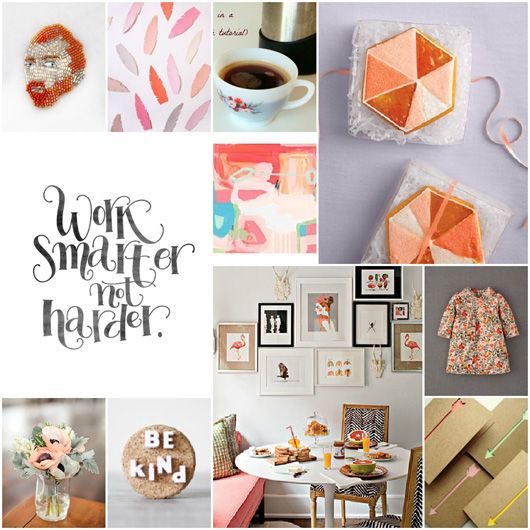 I'm not sure if most of you are aware of this, but in addition to decor8, I run an e-course focused on blogging and creativity called Blogging Your Way and I also teach in-person workshops on everything from paper crafts to blogging, styling and creativity. I've made a business out of blogging and like anyone who has a small business, I'm always thinking of ways to improve it and make my clients even happier. It's not easy, as everyone has a different learning style, but the one thing that I teach time and time again that students really click with is the exercise of translating your ideas into something visual and I do this via inspiration boards, mood boards, story boards or whatever else you feel like calling them. For this post, I'm going with mood board.
A mood board is one of the best ways to filter your ideas and give a voice to what feels very muddy or trapped inside of your head. It's easy, fun, can be done with your hands or on a computer, and oftentimes doesn't cost a penny. In my most recent Blogging Your Way class, which just wrapped up last Friday, we worked on blog mood boards. A blog mood board is a way for new and even seasoned bloggers to hone in on what they want their blog to be about and what they what it to look like whether it's for a redesign or for their very first blog. In this post, I'm showing you some from my students that I found inspirational – please visit their blog links below each image to visit them AND you can see all of the student mood boards on the Blogging Your Way Boot Camp Pinterest page.
Lots of times we think we know what we like or want to talk about on our blog but have a hard time focusing or narrowing down our concepts. This is where blog mood boards help. You can take all of your ideas and start moving them around before you on a board, on a table, on the floor, and see how everything works together and then, see if everything really "fits". Magazines and book publishers work like this and so do designers and many other creatives when it comes to figuring out next steps in their creative process. When I was working on both of my books, I pinned spreads to my wall and even scatted them about on my massive table to see how they "laid" together and to imagine the flow. It's not that different when you are trying to pull a concept together for a blog.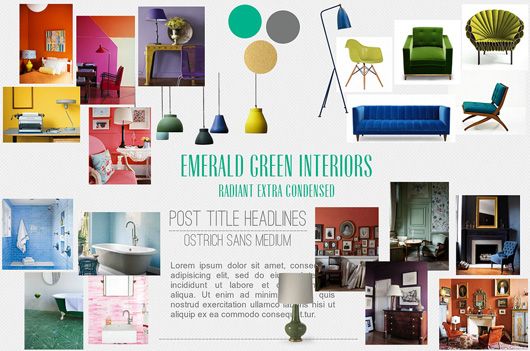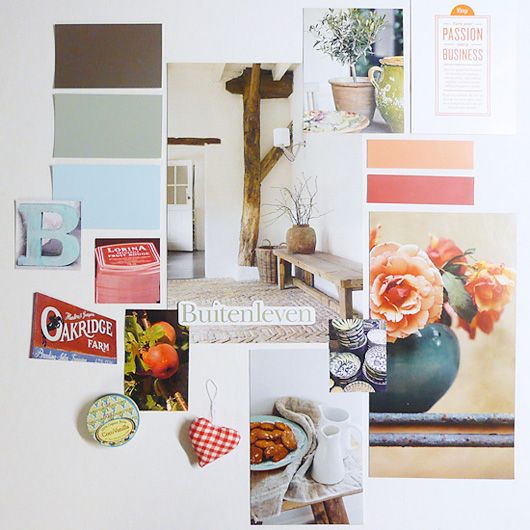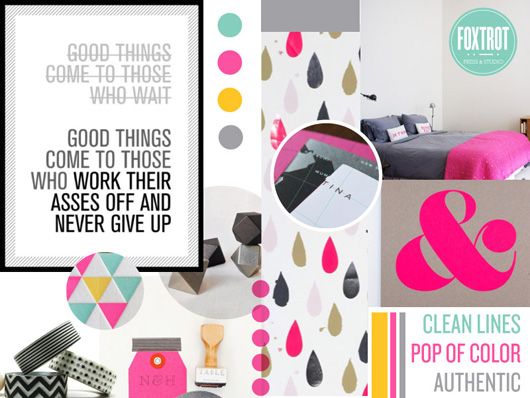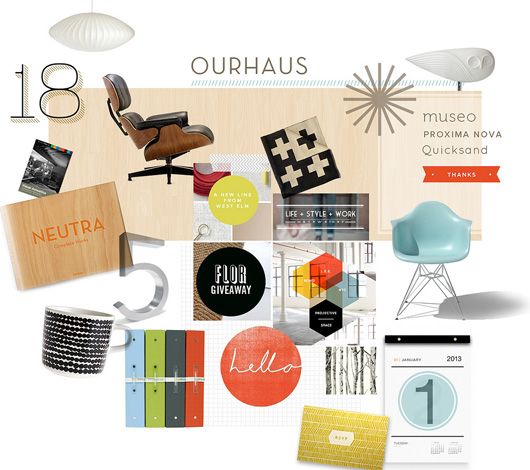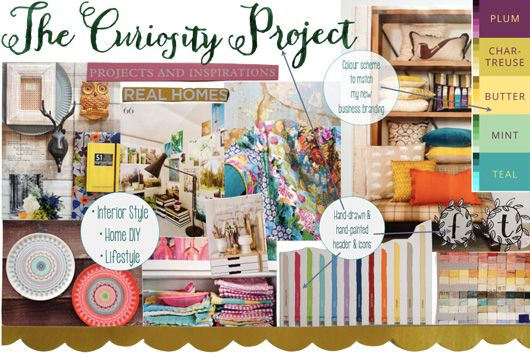 The Curiosity Project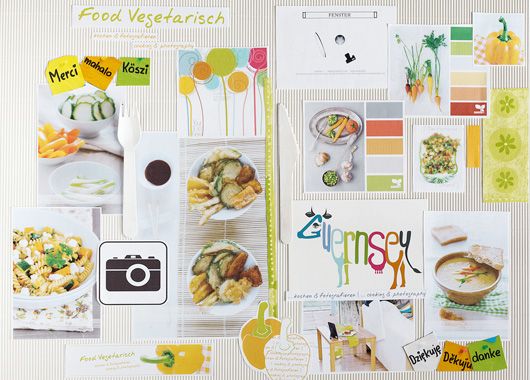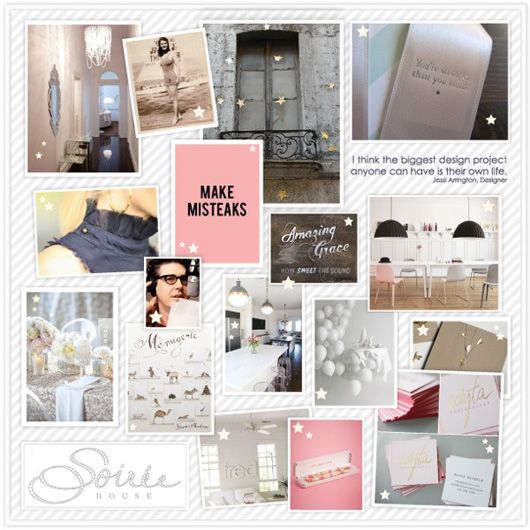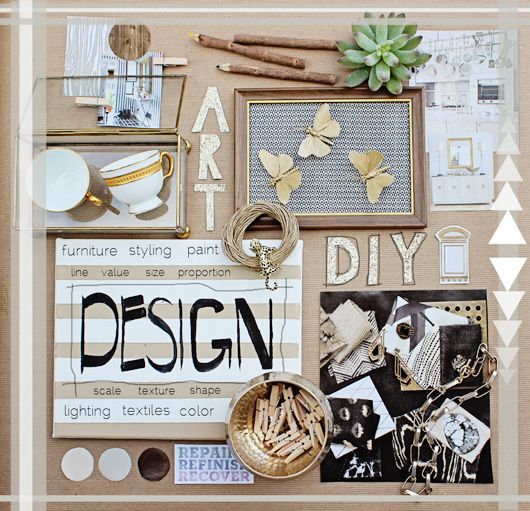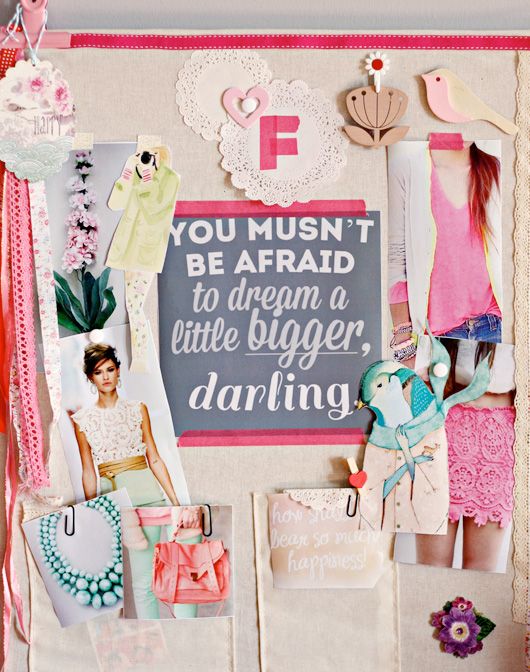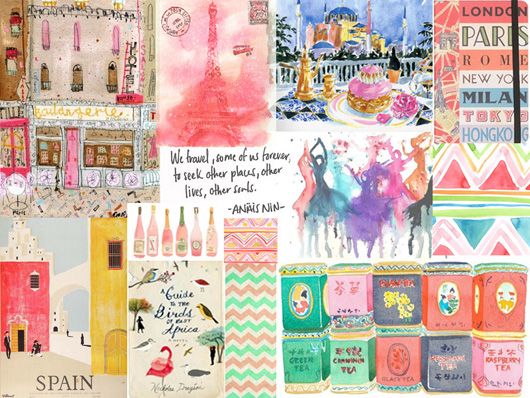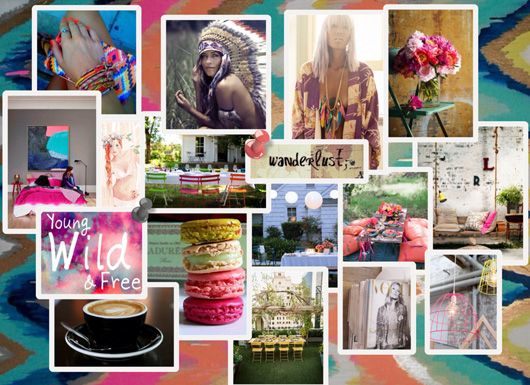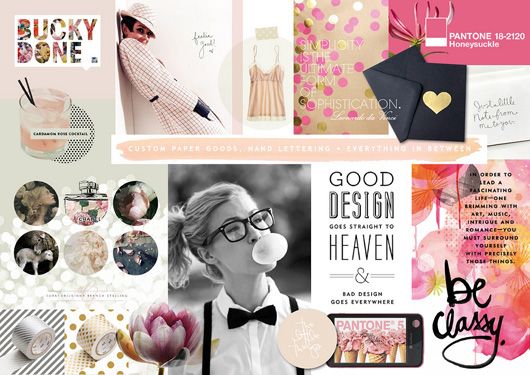 Mischief, Flapjacks, Pantone & Me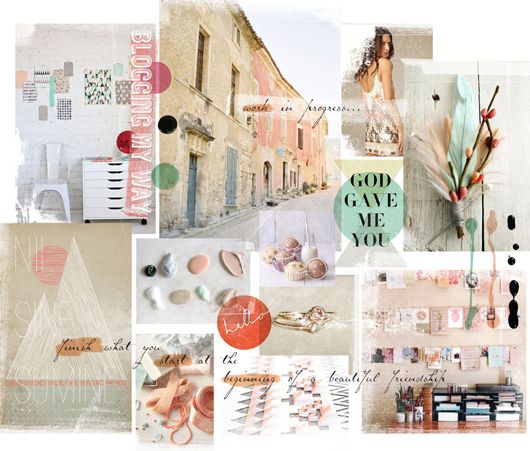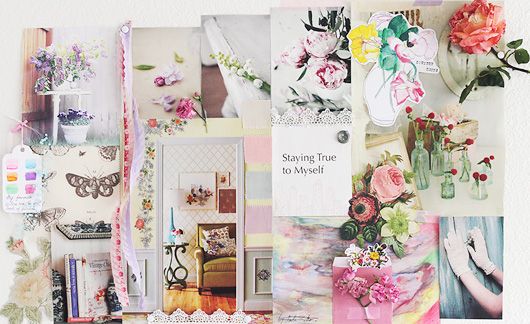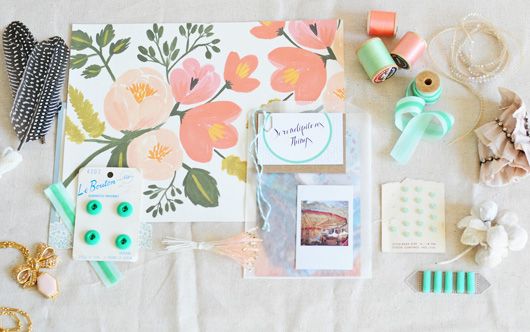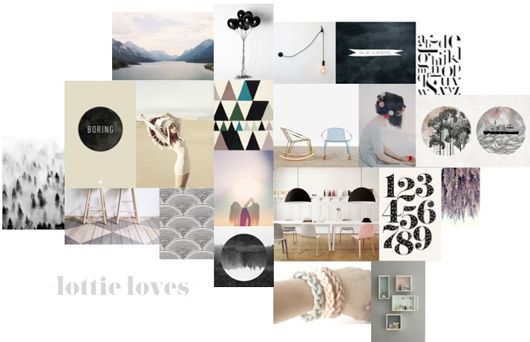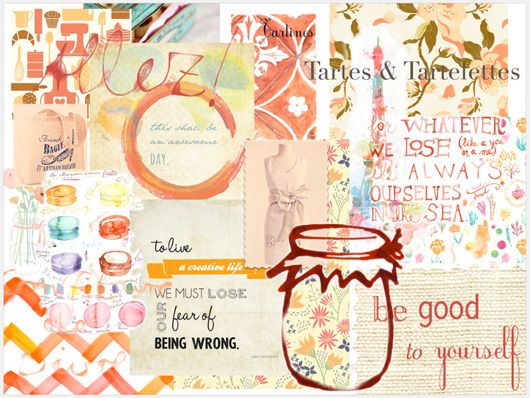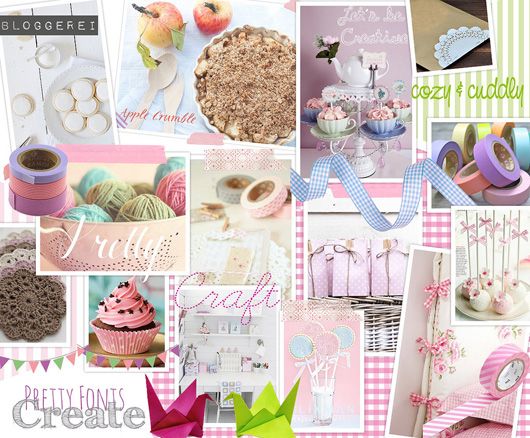 Aren't these inspiring views of how one wants their blog to be? Have you ever tried mood boards for design concepts – either for your brand, blog, website or something else? Did it help you? Did it help your designer?
(images: the talented ladies who made these moodboards are credited below each image with a link.)
Hello everyone and happy Friday! How are you? I am packing since I fly to London (for the launch party) in a few hours, but I want to thank Simple Things magazine in the UK for a beautiful 8 page excerpt in their latest issue #3 from my new book, Decorate Workshop. The book just launched in the UK and will launch TWO WEEKS earlier than expected in the US – it is available TODAY! We just found out yesterday so it's a great surprise. Thank you Simple Things for the wonderful excerpt, here's a peek below but if you want to read all 8 pages you'll need to pick up a copy of the magazine or buy a digital copy on your mobile device.
Note: All photos shown are from Decorate Workshop shot by the brilliant Debi Treloar. You may preview a digital copy of this book below:
Order Decorate Workshop in the UK and Europe HERE (hardbound, orange/purple jacket)
Order Decorate Workshop in the US HERE (softcover, blue/yellow jacket)
AND thank you to the homeowners – above shown is the home of Emma Lee, James Leland Day, Iris Rietbergen, Nadia Yaron and Myriah Scruggs.
Thank you Simple Things magazine!
Hello friends! It is Leslie here with my Color Me Pretty column for October. Holly and I decided to try something different this time. She sent me an image that she liked and I created the color story based off of that image. We wanted to show how you can take something that inspires you and turn it into a craft project, a floral arrangement or maybe a little décor item for your home. She thought with so many people pinning stuff on Pinterest, why not try to inspire YOU with how to actually translate something you're pinning into a real project that you can work on at home. Here is the inspiration from Holly – this photo and this palette. This was my mission!
The image of Kelli Murray's invitations was a fun starting off point for me because I love stationery and I often look at paper for inspiration! The palette of a medium gray, coppery brown, black, and bright melon is a fun one to use for fall. Since it is not a traditional fall palette it could definitely be used year around. Since I did not have much copper paper on hand I shifted the color to a kraft brown. I hope you enjoy this series!
I just love the cute little feather garland Kelli included in her invitations and I wanted to try scaling it up to make one for my studio. I had a natural twine on hand and cut the feathers out of scrap paper, including a paper grocery bag (can't get enough of them!!!). I had seen a post Merrillee on the Mer Mag blog had done on feather crowns and used her tips on how to cut out feathers as a guide. I did not use I stencil but rather just free hand cut the shapes. The feather shape is a nice change from the typical fall leaf shapes.
The black on white stylized owl illustration inspired me to get out some of the stamps I purchased last year from Impress in Seattle. I wanted to try making some stamped wrapping paper with them. I cut open large mailing envelopes because I have a box of them to use up! Then I quickly stamped some strips, cut them out and used them on some parcels. I finished the gifts off with some washi tape, black ribbon and more paper feathers. All this gift-wrapping had me motivated to make some more gift tags using my scraps and my handy Marvy Uchida gift tag punch! Their punches are awesome and it is a super fast way to use up any scrap paper. I then punch a small hole in them and store them away for future wrapping in a little box.
I continue to create small mood boards in my little notebooks. It is an easy way for me to record a color palette I have worked with. I like using bits of paper to create a tiny color story. It is always inspiring to go through them later and look back on what I was interested in. Do you create visual journals? If you don't you may want to try, as it is a relaxing way to get the creativity flowing.
Of course, you can also create the more traditional mood board on the wall, which is what I did above.
I also thought of ways to simply add some dots of the palette around my work studio – you can see the results of that above on my shelves. I even added washi tape around the shelves for some color.
Thinking about all my friends on the east coast who have been dealing with this terrible storm. Take good care. xo Leslie.
(text/styling/photography: leslie shrewing)
I heard from Little Owl yesterday about some lovely new wallpaper they've produced called Dutch Sky. About the inspiration they write, "Choosing the ever changing patterns of the Dutch sky as a starting point, we have merged the art of antique prints and etchings with our own photography, some of which include whimsical details of industrial cranes, wind socks and chimney tops, to create an appealing mix of tradition and 21st Century sensibility and technology into printed wallpaper". The Dutch Sky collection has three different designs, each with a different mood and colorway and is printed in Holland by one of the leading printing companies there.
Little Owl not only sells it on their website but in the Winter of 2012 you can find it at The Collection in Paris and in the Spring of 2013, Anthropologie will stock it as well.
Isn't this cool!? Storm and Summer blues, shown above, are my favorite colorways. What do you think about this paper, would you use it on your walls or at home in some other way? How?
(images: little owl)