Whether you feel like throwing a party or not, these funky and colorful party supplies from Lang Zal Ze Leven discovered via Style Cookie, are sure to get you in the mood to either plan your next fest or decorate a room in your home. I love the punchy colors and despite that we're entering autumn, I still see these colors on my radar well into the fall and winter seasons because you can add neons and playful stripes and dots to just about anything for a burst of freshness.
I find that simply adding the hot colors to the more subdued ones adds energy and positivity.  Snow white with hot pink, black and silver for winter? Oh yes. Emerald green, mint, peach and orange with copper and neon orange accents for fall, yes yes a million times yes. Let's toss the traditional palettes this year and bring our spring/summer colors with us right into the cooler months to mix and match and have some fun, ok? Adding brights to moody tones is what I'm inspired by at the moment. What about you?
But yes, back to parties and cute supply goodies. I love those paper plates that look like fancy china shown in the mix above, the patterned doilies, the Japanese fish paper balloons, dot and stripes on napkins, peacock swizzle sticks… And yes, this all looks a little summery I know, but if you mix in deeper shades, you can Autumn-it-up quite easily. Besides, there are no rules except that you love how you've decorated your party! That's the only rule that matters to me.
(images: Lang Zal Ze Leven)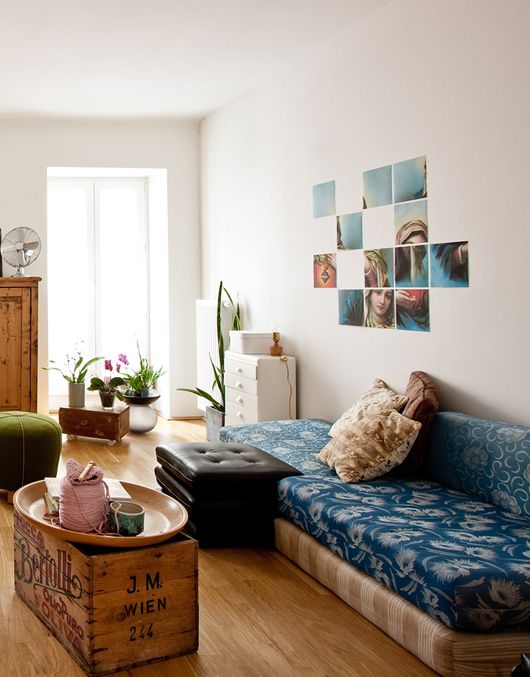 Would you like a little home tour from Vienna today along with some insights into the homeowner's decisions and feelings about decorating? I came across a lovely home recently over on Flickr in my Interior Styling group (nearly 4,000 members so please join if you'd like) and had to reach out to both the photographer and home owner to ask about a possible tour on decor8. I am thrilled to say that both were willing and ready… Sooooo let's get started with a little home tour action today, shall we? We shall indeed!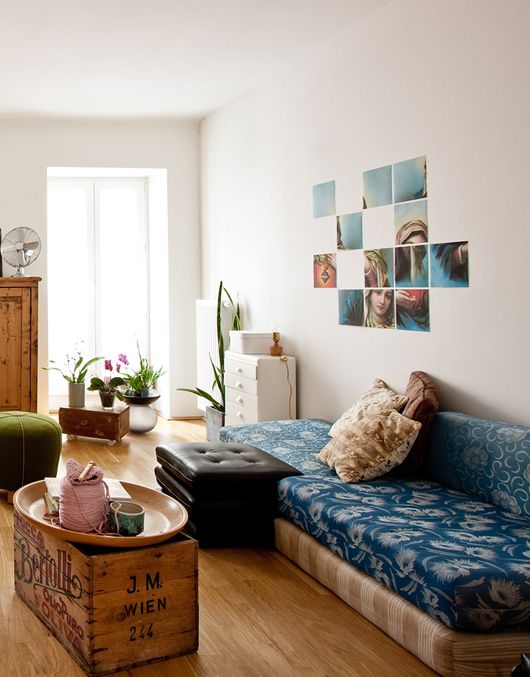 This apartment belongs to Verena Stummer, an Art Director at Screenagers and owner of the small cooking brand, "Schön und gut", in Vienna, Austria. It's so quirky and well organized but above that, I like how it really seems to reflect the style of Verena. It shows that she is inspired by flowers, color, vintage finds and food – the exact things that she told me inspires her in general. It's nice to see that she lives around what she loves and what drives her and is fuel to her creative soul.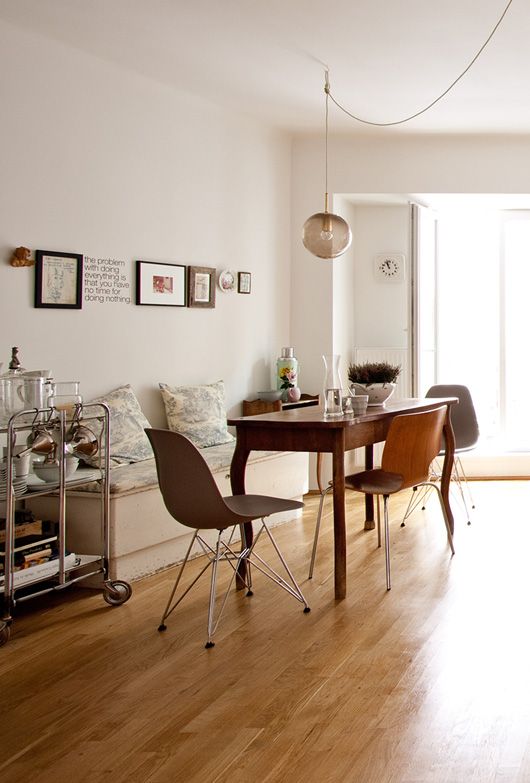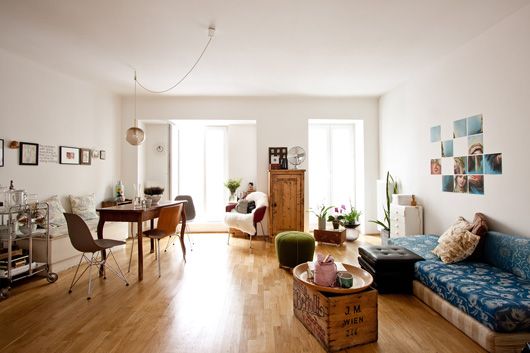 I thought it would be nice to chat with Verena to get a better sense of her space so I've included just a wee interview below. I'd love for you to read it as it won't take much of your time today but she makes some really neat points that may stick with you like happy glue on the heart. :)
decor8: Where do you begin first when decorating or redecorating a room?
Verena: I have a picture of the room to be in my mind, and try to get as close to it as possible. But sometimes it turns out that it actually works better in another way. Which is ok, I love surprises and I let coincidences have a great part in what I'm doing.
decor8: What do you love the most about your home?
Verena: That it reflects me. I love that guests often tell me "All of this is so you!". I also like to keep my furniture and decoration modular and mobile. The fact that I can change the layout of a room by easily moving things is something of a great quality. And that, as you can see, without making it look "nomadic".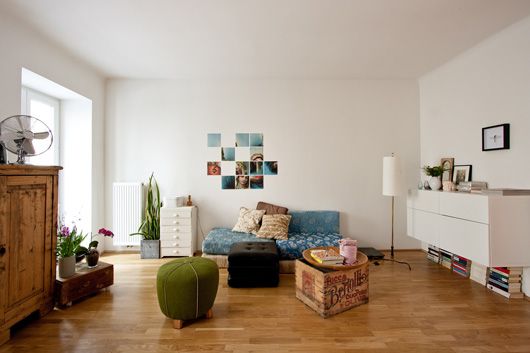 decor8: What do you want to change?
Verena: My flat would be the PERFECT place if it was a bit sunnier, since it being in the raised ground floor makes it a bit shadowy.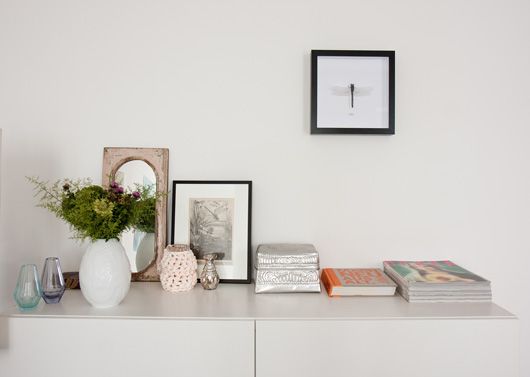 decor8: Tell us about the inspiration behind your current decorating scheme…
Verena: Well, I collected many items throughout my life in Vienna and I love to arrange them so they reflect me and my mood. There is no big "scheme" I guess. But I DO love vintage things that have a history.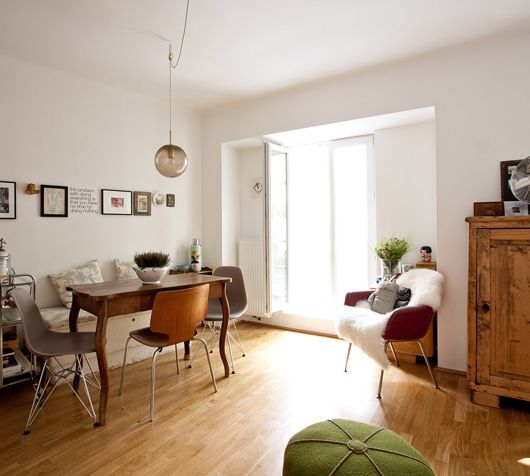 decor8: What do you think makes a house a home?
Verena: I know it's been said often before, but as soon as a house represents yourself by the way you live in it and is filled with your objects it becomes a home. I love it to to glaze over my home and remember all the stories behind the objects.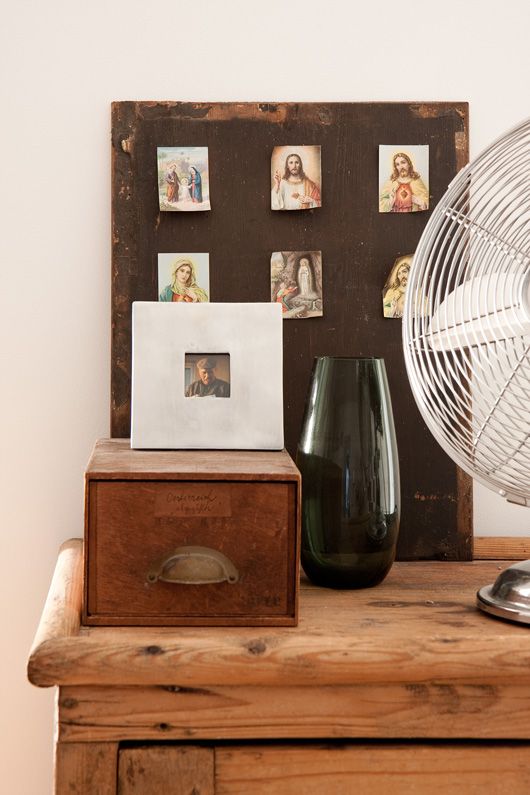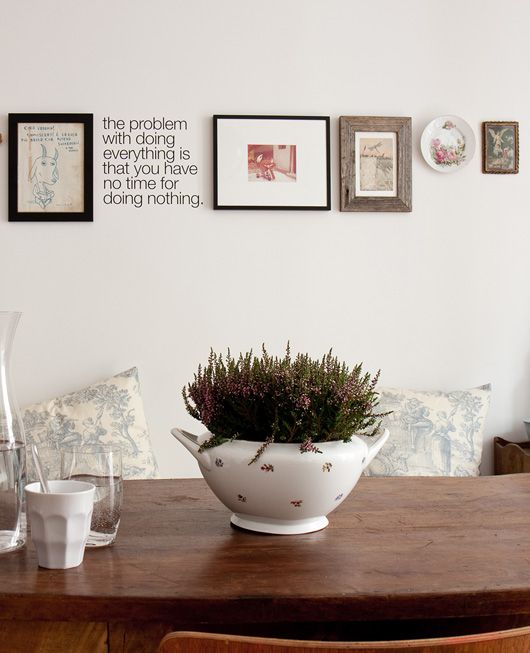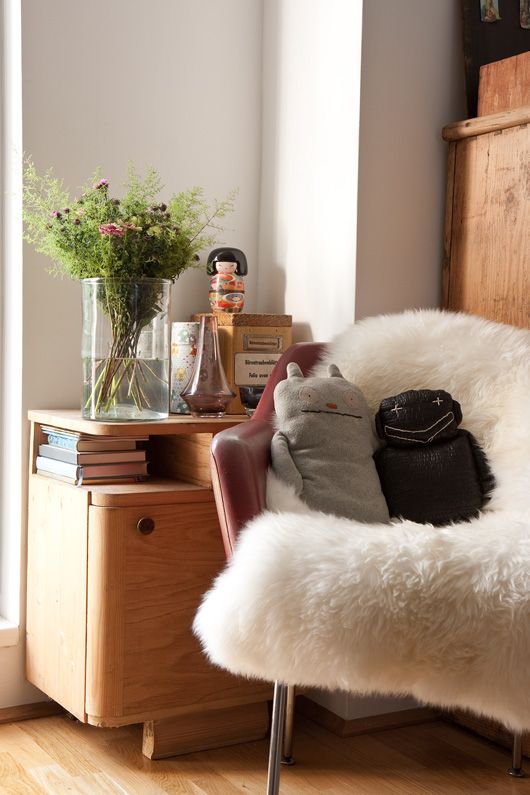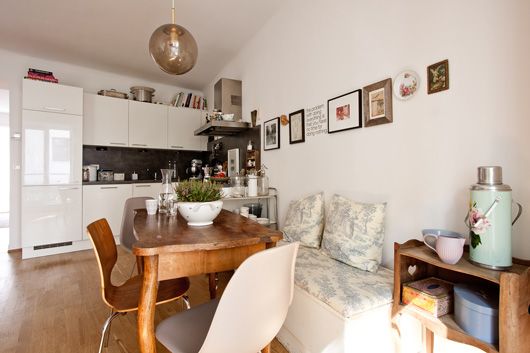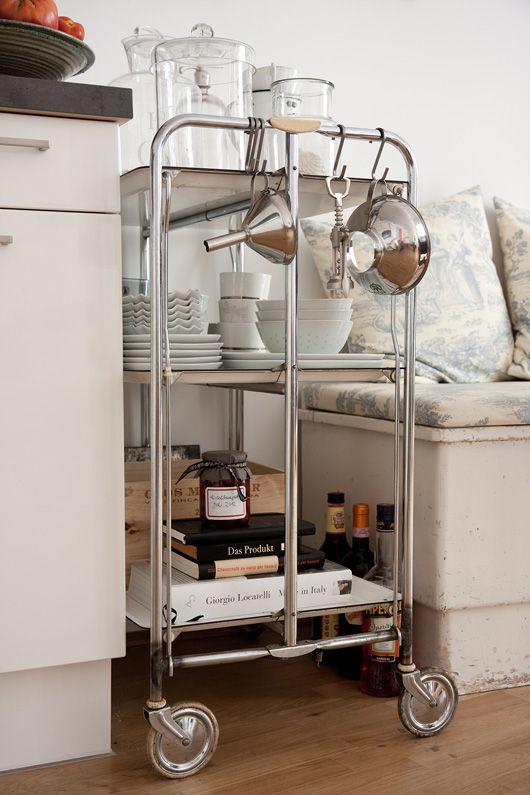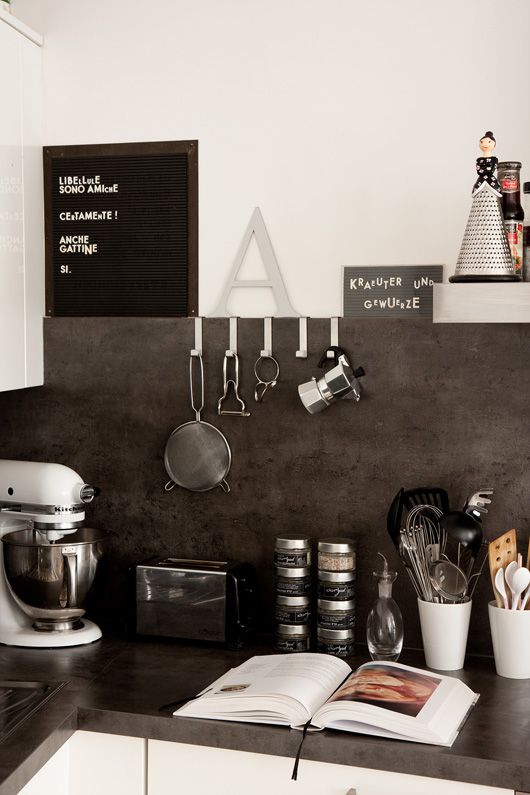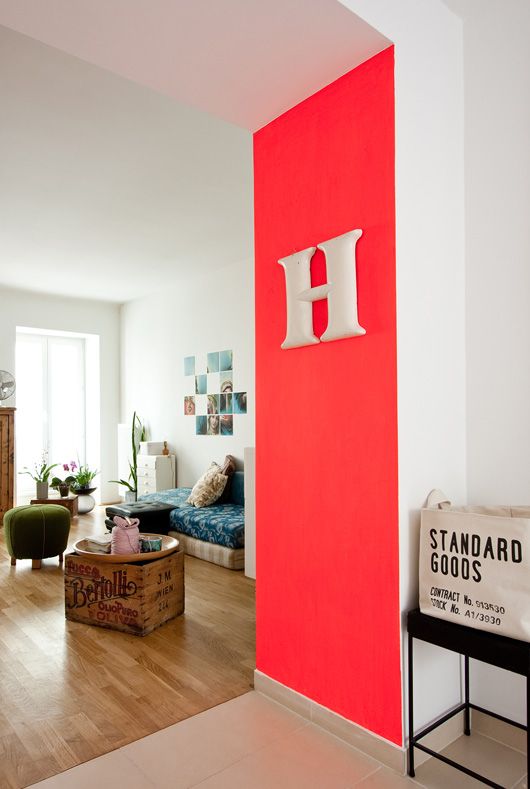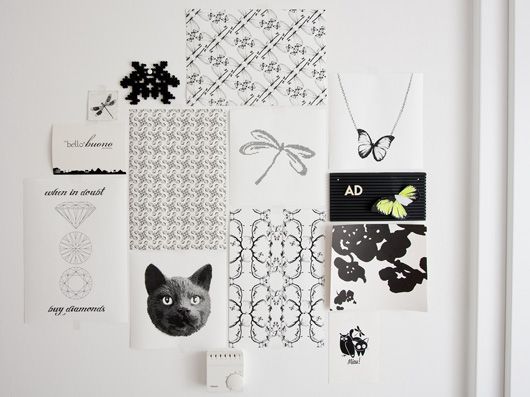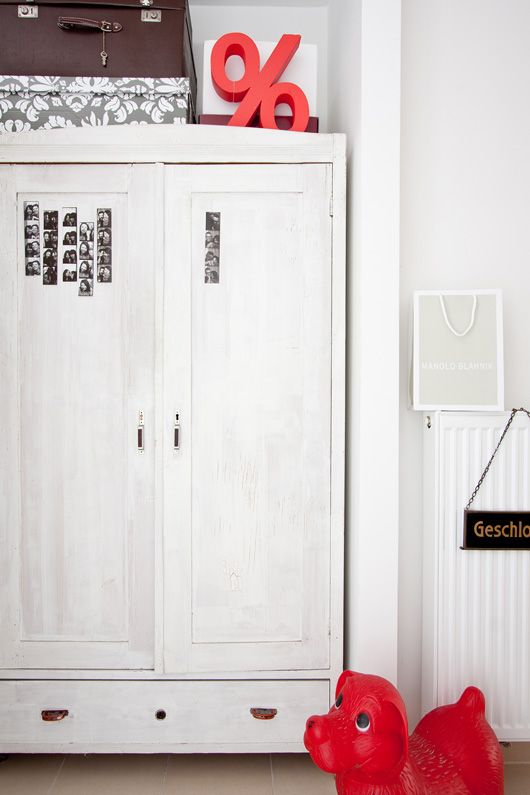 All of these gorgeous photos were shot by photographer Gregor Hofbauer – visit his site to learn more about him and his work. Thank you Verena for visiting us today on decor8 and for sharing your apartment with us!
(photography: Gregor Hofbauer)
Here is an alternative to traditional frame-and-glass artwork… Anne Sommers and Emma Hand, two creative friends from St. Louis, wanted to design a fuss-free frame-less way to display photos quickly while incorporating a bit of design. After looking around for a product that did that, they couldn't find it. Many chats later that went a little something like, "What's missing and how can we fill the void?", these free-spirited entrepreneurs pinpointed exactly what was needed and decided to make it themselves. Go team Sommers & Hand! One year later, Indie Mats was born, photo mats that incorporate pattern and color and go straight from the box to the wall in no time flat. Check them out below… No glass, no plexi, no frame, just a mat.
Indie Mats are made in the USA, sustainably printed, and affordable ($29-$39) and available for purchase here. Of course, practicality out of the way, they look lovely, colorful and fun. Good luck with your new collection ladies and thank you for offering to debut the line today on decor8!
What do you think? Would you use these at home?
(Photos: Jonathan Pollack)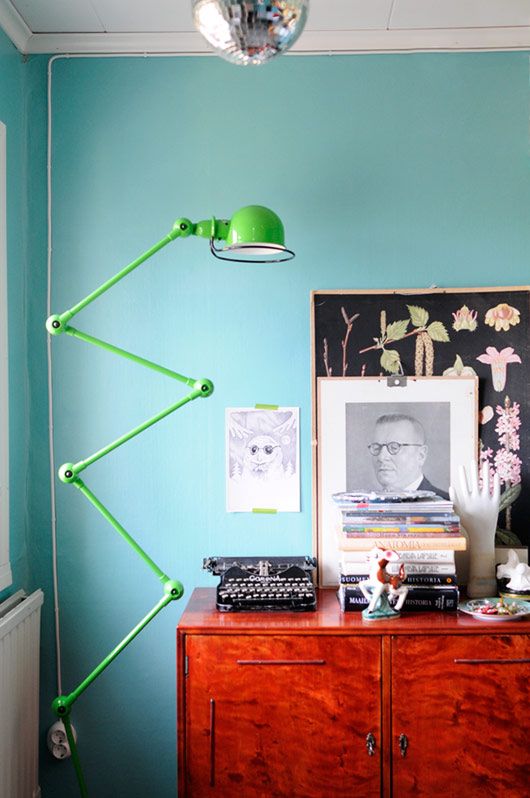 I have a colorful and fun home to share with you today from Jutta Rikola who is a freelance illustrator, graphic designer and blogger living in Oulu, Finland. Jutta recently had a baby boy and has been homebound for the past year to care for him but is now getting back to work part-time, you can see her portfolio here and check out her blog, Kootut Murut, to see what her style is like.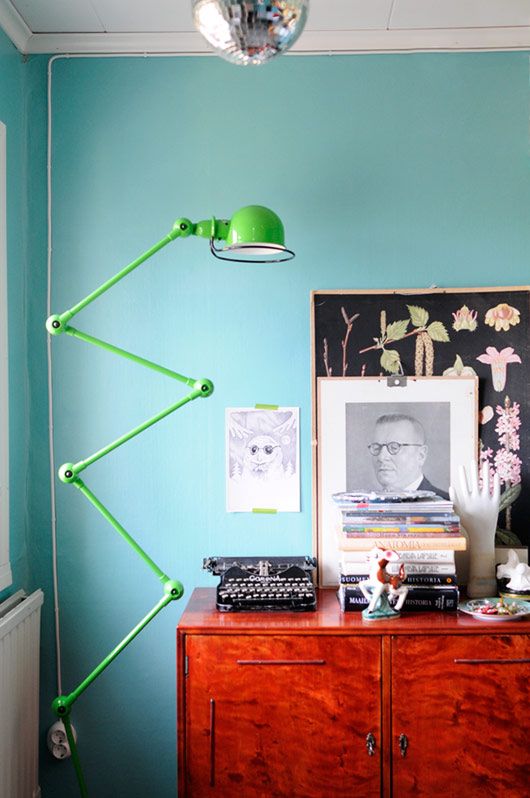 Raised in Oulu where she has been most of her life, Jutta has also been in the US and England for brief stints including a year in London which she said definitely influenced her taste in interior design and adds, "I love old English architecture and the way they use color." Inspired by blogs and magazines, books, friends' homes, thrift stores, and her own home, Jutta says that, "There is inspiration everywhere and I find it hard to concentrate on just one thing. Especially with the baby, time has become a very limited resource, so I've been practicing toning it down." I can relate to her comment, as I'm sure most of you can to because you really must scale back from time to time or else you can feel a bit overwhelmed by all that is out there. As I looked at her home, I thought it would lend a more personal note to this post if I asked her a few questions about her decorating ideas and style, so here is what Jutta had to say to each of my questions below. I wonder how many of her answers you can relate to?
decor8: Where do you begin first when decorating or redecorating a room?
Jutta: With the space itself. What are its benefits and limitations? What will it be used for? Also, because I love to use colors and ornate patterns, taking the surrounding rooms into considerations is important. I make sure whatever I'm planning to use matches the surrounding spaces too so there will be a nice flow.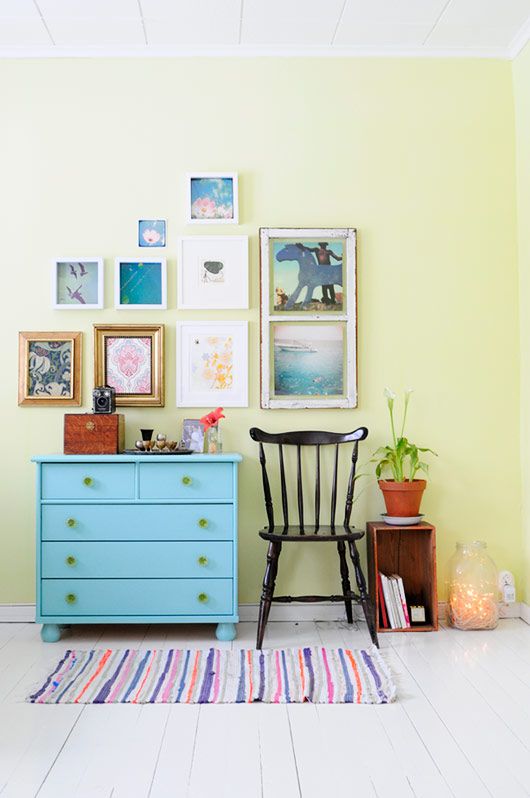 decor8: What do you love the most about your home?
Jutta: The original features. Wooden floors, 50's door handles, bumpy walls. Out latest renovation project kitchen, because it was such a struggle to get it done. We wanted to use traditional methods and recycled materials as much as possible. It was hard work, but the outcome is better than I even dared to hope for.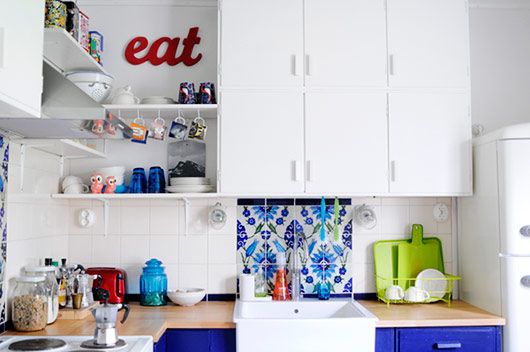 decor8: What do you want to change about your space?
Jutta: I wish there was more of it! I'd love to have a proper place to work. In 10 years time my dream is we've built a garage with an artist's studio, with light flooding in from huge north-facing windows.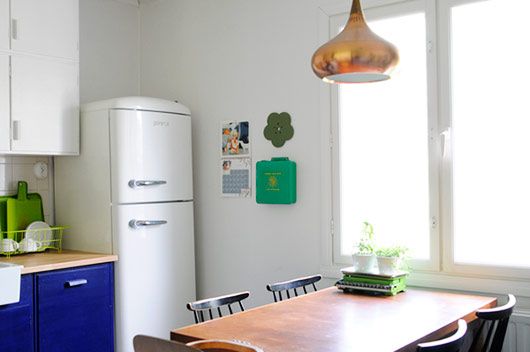 decor8: Tell us about the inspiration behind your current decorating scheme…
Jutta: I think it was Yvonne from Yvestown who said her house tells her what to do. I feel the same. I listen to the house and it tells me what works for it and what doesn't. I think that it's important to respect the history of the house. Built in the 1940's and 1950's when they were rebuilding the country after war, these houses used to be modest. So no matter how much I'd like myself some decorative bling bling, I have to keep in line with the house's character. But of course a little kitsch is always welcome. Other than that it's a compromise between my and my husband's taste. Not too sweet, not too industrial.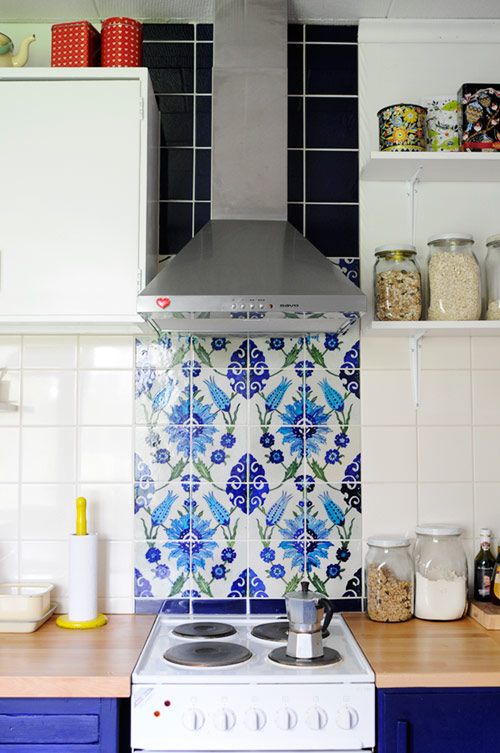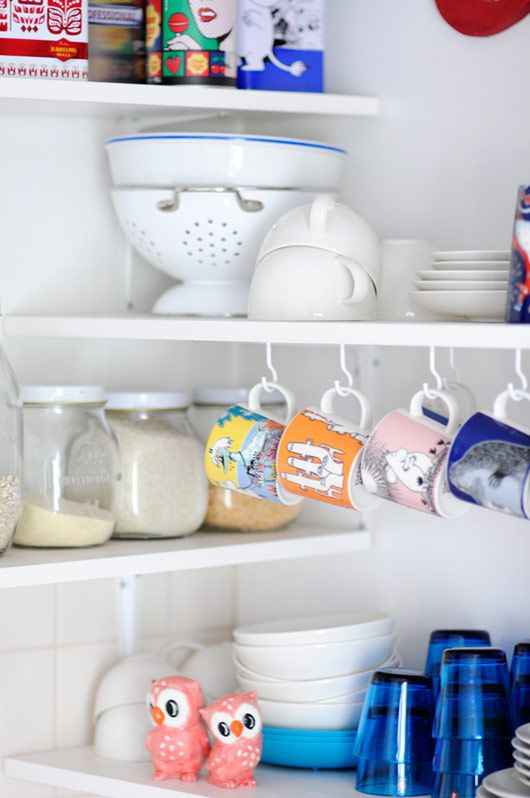 decor8: What do you think makes a house a home?
Jutta: Tough one. I've lived years in houses that never felt like home and only months in one that immediately did. It's just a feeling that you get. When we were house-hunting for this house for example, I knew this was our home the moment we stepped in and saw the porch. Now that I think about it, what's in common with all the places that right away felt like home is that they were all built in the 40's or 50's. Maybe that's where my inner home is. Ha ha if that makes any sense. After years of renovating though our house is becoming more and more us. It's transforming into the vision I had in the beginning.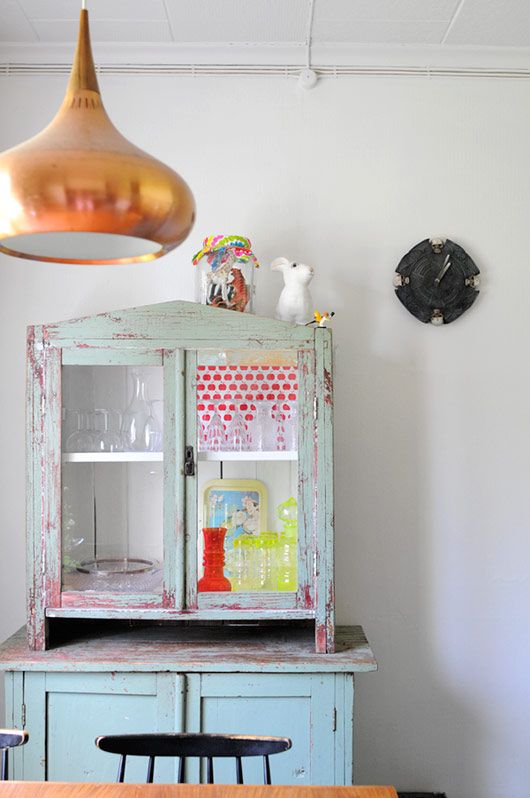 What a fun peek into your home Jutta, thank you for visiting us today on decor8 and sharing your ideas and advice with all of us!
(images: jutta rikola)