Ready for a fun no sew DIY? I thought I'd share a project with you that I recently worked on for the first time in my hotel room earlier this month in preparation for my book launch party at Anthropologie. I mentioned to my husband, Thorsten, that I wanted to give those who were helping me and speaking at my party a special tag to wear but a sticky name tag felt too generic and boring so I wondered if I should just skip the typical name badges and give them something pretty to wear on their lapels and shirts that would set them apart from the crowd AND that they can use and wear again & again. He suggested using fabric, in keeping with my obsession for textiles, and to create simple bows. Of course, it's impossible for me to be inspired and then just do as I'm told – I have to spin it a million time around and around so that I can come up with my very own idea and so that is exactly what I did. I decided to make bow TIES with fabric button centers and pretty ribbons hanging from them. Easy!
STEP ONE |||  My first stop was Liberty where I found lots of ribbons and fabrics. You can approach this project two ways, using: 1) Neat fabric strips, ribbon or bias tape OR 2) Torn strips of fabric with frayed edges. I opted for the "neat" look but in the future, I want to try out the frayed torn fabric strips because I think those could be amazing too! At Liberty, I picked up several packs for their bias tape in, of course, iconic Liberty prints. So YOUR first step for this project would be to pick the fabric, ribbon and/or bias tape that you want to use.
STEP TWO |||  My next idea was, because I was in a hurry, to find already-covered fabric buttons. Liberty had loads in their haberdashery department so I bought a jar of them. You can also make your own with button kits (like the kit from Cath Kidston for Chronicle Books), or buy packages of button kits at your everyday craft and sewing store (the most affordable option). I made them for the first time in the beginning of 2011 at Sania Pell's house when we were crafting together and have been hooked ever since – they are super easy to do, so don't feel intimidated! After finding the buttons, I started shopping at Liberty for ribbons.
STEP THREE |||  The next step is to lay all of your tools out before you and start to think of the colors and patterns you wish to use and determine how many bow tie pins that you'd like to make. This past Saturday, I made 17 of them for students who will be attending the Blogging Your Way: Studio class in my home studio space.
STEP FOUR |||  Loop your bias tape (or whatever you decided to use) around your hand, with your fingers closed, 3 times and pinch in the middle to form a bow. You may want to use a pin to hold it in place for now. If you want your bow to be stiffer, you can use horsehair from a millinery supply shop.
STEP FIVE |||  Next, grab a covered button and put a ribbon or string through the center of your button.
STEP SIX |||  You will now tie the button to the bow by flipping it face down on your work surface. But first, before tying, lay two ribbons down to form an "X" over the ribbon that your button is on.
STEP SEVEN ||| Now tie everything together good and tight. I suggest making a knot.
STEP EIGHT |||  Now add a safety pin. I used gorgeous French Pins by Merchant & Mills that I bought at Liberty – but they are available online too. I am addicted to them now and will never use standard silver ones again – these are softer and more flexible but also elevate the craft a bit making it look more fancy.
STEP NINE |||  Flip over your bow and admire it, along the lines of, "ohlala", and then do a little happy dance. Make some friends for your bow so there are more pretty ones to enjoy and giveaway. You can make big floppy bows for curtain tie backs, for jackets, for presents and everything else you can imagine topping with a pretty handmade touch. You can also add tags to them with the names of your guests for a party.
STEP TEN |||  Finally, wear your bow with pride – you made it! No one has to know that it took you minutes to pull together. Doesn't that feel good?
Note: If you share this project on Pinterest and your blogs, please add the link back to this blog post so your followers have the complete instructions and because, well, it's just the nice thing to do.
(images: styling/project & photography: holly becker for decor8)
Hello friends! How are you and how was your weekend? I did some crafting on Saturday, in fact I shot a DIY for you this morning that I'll share on decor8 in a moment but first…. When it comes to holiday decorating, do you want to go bold and graphic in black and white this year but wonder how to go about it or whether it will look festive enough? With most people going with red and green or the more traditional palette, why not dare to be different?
Lynne Robinson from Papermash, an online site that sells stationery based in London, recently contacted me to share her decorating ideas using mostly products from her shop after being inspired by her monochromatic enthusiasts online and via Instagram, like @apieceofcake82 and @amerrymishap.
She had an idea to update a kit on her site too, "The make your own banner kit was recently changed to include lots of international symbols so I had the idea to make a Bon Noël banner and it all stemmed from there". She would with photographers Charlotte Love and Lenka Ryan on these shots, which are just lovely! I think the "trick" to making them more festive was to add a little metallic – in this case gold warmed it up though you could also try silver to cool it down.
Black and white confetti (made with a simple paper punch) gets festive when you introduce a metallic – like gold!
Use rubber stamps on kraft paper, spray paint plastic animals in glossy black, paint ornaments black and use white paint on them to create words or designs (I just thought that maybe you could try chalkboard paint on ornaments inside and use chalk to draw on them – fun!)… This is also cool because you can reuse some of your supplies from Halloween (black tissue paper for instance) for your holiday decor.
If this look is a bit TOO nontraditional for your holiday, you can decorate in black and white for New Year's Eve – complete with your little black dress – how perfect and classy!
You can see more beauty on Lynne's new blog HERE.
(images: Charlotte Love and Lenka Ryan)
I was recently interviewed by British interior designer and author Kelly Hoppen since she featured a week of inspirational posts from business owners who, like me, are in the design world and have had lots of struggles but have still managed to keep going forward and fight the tide. I was honored that she approached me and so I wrote a huge and quite candid essay on her blog HERE if you'd like to read it. There is an excerpt below…
Imagine this. You are in a career you sort of enjoy but definitely do not love, and you've been at it for around 8 years and one day you just have a mini breakdown on the job. That's what happened to me. I was typing yet another action item into a massive Excel spreadsheet when I felt this wave of emotion hit me. I have no idea, looking back, where it came from but this wave was massive and I felt like I was going to break out in tears. I lifted myself quietly from my chair, walked swiftly to the nearest conference room, and with overwhelming relief, I shut the door and turned the lock. With a typical all-beige and chrome corporate décor surrounding me, I sunk down on my heels, then to the floor where I laid and cried for what felt like days. I remember wishing I could click my heels and know what I wanted to do with my life. Laying on a conference room floor…. READ THE REST HERE.
So now it's YOUR turn… After you read my essay on Kelly's blog, why don't you return and tell me YOUR STORY. I could use the encouragement like all of you, to keep going forward, and I find that by pulling together and sharing our stories we become stronger somehow.
Can't wait to hear from you in the comments below. :)
(image: kelly hoppen)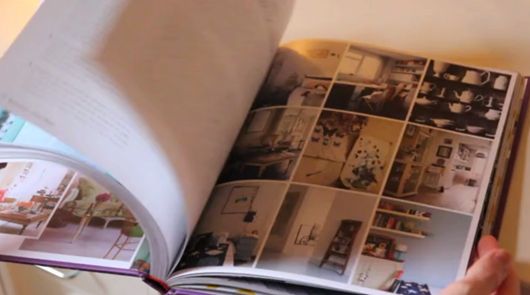 I am sitting here blushing because my friend did a sweet thing and surprise me with a video! I'm so touched by this! Me, speechless – get a camera because this is first! Thank you Steffi, I love this!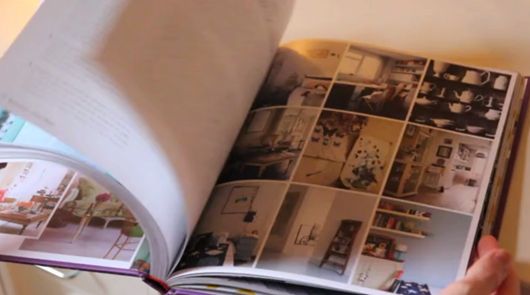 TO WATCH THIS VIDEO CLICK HERE
I think it's such a creative way to review a book, don't you? It makes me think that together, we bloggers have so many options and ways to present information on our blogs – we are so lucky! The book can be found here (UK) and here (US).
Psst: Can everyone who has the book do me a huge favor? Can you leave a review on Amazon? Thank you, that would be just super. I hate to ask but it would be so helpful!
This really made my day. Thank you again Steffi and happy Friday everyone!
xo,
Holly