Are you looking to add some bold color to your home on a budget? You'll love this… I recently heard from artist/designer Nancy Ramirez from Toronto who told me about her small art print shop called Cozamia where she sells her colorful work. I love these and find them so energizing and fresh – but most of all very unique! I like how modern and graphic they are as well as versatile, they would fit into many different homes and decor styles.
I love that most of these prints begin as paintings that Nancy then develops further digitally. Do you spot any that suit your taste? My personal favorites begin with the lovely Audrey but also include the abstract and gorgeous Wild Herringbone, Brittle Stars in raspberry and Electric Garden in blue. I'd love to own Brittle Stars though, I can totally picture this in my living room!
(images: cozamia)
I can't recall how I found out about this artist, I think through Leslie, but I am crazy in love with the watercolor illustrations of Ana Montiel right now. From herbs to peep toe pumps, there is so much to love about Ms. Montiel!
This London-based, Spanish visual artist and designer has a great eye, there is nothing on her website that I don't connect to on some level. It's fun, fresh, funky, there is a certain energy to her work that I appreciate and her colorways make me smile — soft but stylish and fresh. Her bio is so interesting but it's her illustrated personal timeline that I love so much, you have to check it out here.
(images: ana montiel)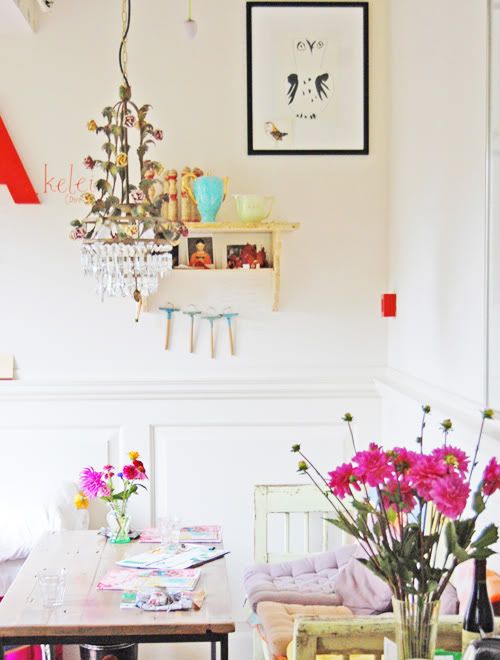 I recently had the delight of seeing Jane Schouten at Meet The Blogger recently in Amsterdam and she gave me some gorgeous postcards that I immediately came home to post on my mood board. Jane is such a lovely person, I've known her now for several years — in fact we first met three years ago in Amsterdam at a blogger meet up organized by Yvonne and I. Jane is known and loved by so many online for her blog and shop, All The Luck In The World, which I learned about way before I even met her back in 2008.
Photo taken at Villa Augustus, a place where I want to plan a girl's weekend this Fall. A mini escape is calling loudly lately!
Lovely Jane has been around online for awhile now and continues to inspire me with her fresh, quirky take on homespun interiors with an artistic point-of-view. Here are some recent photographs that she has taken in and outside of her home that I found so inspiring — and I'm willing to bet these photos will lure you over to Jane's world if you haven't already visited her on her blog or in her little online shop.
A DIY project where Jane shows you how to do something creative with a simple photo cube. This is something I've done in the past, using these cubes to display mini prints and little things from my forest walks, but I never thought to put them on the wall. Brilliant – you can find the project details here.
Isn't Jane's eye so lovely? What a nice way to begin a weekend, isn't it? With a fresh, creative open-to-anything mindset. Love it. This is what decorating should be – personalized, fun, original and a bit of who gives a damn. :)
(images: jane schouten)
American fine artist Jonathan Viner posted three new prints available in his store and they are so lovely… "While my oil paintings sell for thousands of dollars through art galleries, I produce limited edition art prints priced within everyone's reach." He's a smart cookie to make some of his work accessible. I like that and I like his work very much as I'm sure you will too.
Lovely ladies and gorgeous colors!
(images: jonathan viner)