This amazing press kit just arrived in my mailbox and I can't stop thinking of the things that one could do with a product like ixxi! This hasn't been blogged anywhere yet so I'm so proud to give everyone a first peek at this amazing new product. I have to thank my friend Yvonne for sending it to me, she has been working on this ixxi project for awhile now and it's finally been released and I love it. Here is glimpse to whet your appetite. I. LOVE. THIS.
Dutch company, ixxi, is so innovative and I love the things that you can do with their x's to connect their cards that you can either upload and design yourself OR find images in their online image bank to create your own art, wallpaper and room dividers. Here are a ton of gorgeous visuals that will no doubt get your wheels turning – I adore this idea and can't wait to try it out with some of my own photographs.
What is ixxi? "ixxi is a modular connecting system. With x's and i's you can make your own photo enlargement or photo collage in any format possible."
How do I ixxi? "Create your personal ixxi using the easy online module, or select an image from the ixxi imagebank (art and photography). Upload your photos and choose how large your photo enlargement or photocollage should be."
Does ixxi offer cutout patterns or something transparent, for instance? Yes! "ixxi has designed a collection of (interior) products with the use of alternative materials, modular patterns and graphic imagination."
Does ixxi also work with companies on projects? Yes, yes, yes! See examples here.
…And — THEY SHIP WORLDWIDE — so no one can get upset at them! Or me! :)
(images: ixxi)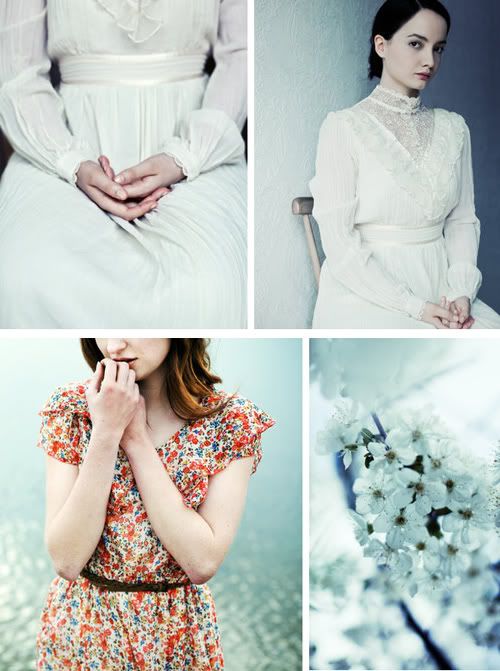 I was recently wasting time doing research over at deviantART and stumbled across German photographer Andrea-H or Andrea Hübner, who also goes under the name Quadratiges (or Square in English) and my, my, my how brilliant she is! It was love at first site the moment I laid eyes on her stunning portfolio.
Andrea's photographs radiate such emotion because her gorgeous composition and use of natural light is breataking but also her wistfully thoughtful models are quite intriguing too. I feel bathed in peace and quite relaxed just looking at each photo. I appreciate that so many are in square format (hence the name Quadratiges) or diptych as both styles really appeal to me currently. The best part about Andrea's work though is that you can purchase it so this is not merely about having a one-time dose of inspiration but instead it is an opportunity for you to own some of her work to enjoy at home.
All  photographs above as well as many more are sold here and ship worldwide – I have my eye on several that would work beautifully in my home. What about you, do you see anything that you like? She even has a beautiful calendar available for 2011 that you simply must check out and she designs CD and book covers on request… I can totally see her work on novels!
(images: andrea hübner)
I love pretty crafty things, don't you? Sometimes just being in a craft supply store can make me feel creative even though I'm simply browsing. I like to look over each object wondering what I could do with it or how I could apply another item to it to create something more personal. Though I find most craft stores to be a bit boring display-wise, I'm lucky that where I live in Germany we have some interesting stores that display crafts and some of the ideas aren't bad at all… they often are a springboard for me as I examine the projects on display and wonder how I can make them different. I find crafting rewarding, good for the self esteem and particularly helpful for relaxing. I also find that when you give handmade things that you are often cherished even more so by your friends because of the work that went into your creation. Even simple crafts, which I'll show you below, can be a personal reflection of your style as well as a generous gesture when shared with others. For instance, if you received a business card tucked into a tiny vellum bag inside of a greeting card from a friend, and it was wrapped like this… Welllll….
…Would that not make you smile? Would you like to receive a business card in a tiny vellum bag (also called glassine) embellished with cute things? I've not received anything like this before which is why I thought that maybe I should think of some easy ways to give my cards a handmade vibe.
All you need is permanent glue, scissors, scrap papers, Japanese tapes, fabric bits, small vellum bags, string or ribbon, and other little things that you can adhere to your bags and when you are finished, you can slip your card inside. Keep a few in your desk drawer so that the next time you send a gift or card, you can tuck inside a business card that is in a sweet little bag.
They need not be fancy or elaborate, but if you are in a creative field and want to show your crafty side, why not have a little fun and create artsy bags of your own? I think these days, especially for creatives, you have to seek opportunities to set yourself apart and to also show your personality. I may not hand these to business contacts in the corporate world, but to present your cards to friends, family, and others who you know will admire them then why not give it a whirl?
While you're at it, you can use the same materials and add some cardstock or vintage wallpaper, and hand cut and create your own greeting cards. Here are a few that I made recently below using wallpaper, pages from a vintage dictionary, tapes, and other sweet embellishments. Each card was tucked into a transparent paper sleeve that I made and left beneath the silverware at each place setting for the Liberty launch party tabletop demonstration.
You can even pretty up plain paper notebook covers with the same materials, here are some notebooks that I made that could be a nice source of inspiration for you. I used lots of Japanese tapes for these and they came out very nice.
AND using the same elements, you can even add some charm with a few garlands that you can use for a party, at weddings, at home, anywhere you'd like really.
The idea is to try to use your things in many different projects in order to stretch them a bit farther and this exercise helps you to challenge yourself a bit to think of alternate ways to use what you have – one idea springboards to another idea. I love to make things, though I don't always make time for it as I should — you must be able to relate! It's fun to get crafty, don't you think!?
(images: holly becker for decor8)
I love the new batch of fresh and modern Chocolate Creative products that are available! Shown below are peeks from her collection including some prints from the Decayed Glamour line that I think look just great (and are styled quite well, I must add!).
Margarita Lorenzo is the designer behind this company, she also authors a fantastic blog, and I had the pleasure of meeting her in January in London during a press event for my book and in addition to her great smile I took note of her adorable tote (I want one now!). It was such a pleasure to get to know the lady behind the brand in person and I'm inspired by what she does. Margarita has a love for vintage textiles, antiques and traditional craft so she infuses her line with her inspirations for a fresh, modern interpretation of these things. Her brand focuses on handmade, sustainable products for the home that combine the traditional skills like embroidery and cross stitch that she loves so much with silkscreen printing. The results are just lovely!
Margarita will be taking part in the Dulwich Festival artists open houses soon so please stay in touch with her via her newsletter to learn more. Nice work, Margarita! xo
(images: chocolate creative)