I love pretty crafty things, don't you? Sometimes just being in a craft supply store can make me feel creative even though I'm simply browsing. I like to look over each object wondering what I could do with it or how I could apply another item to it to create something more personal. Though I find most craft stores to be a bit boring display-wise, I'm lucky that where I live in Germany we have some interesting stores that display crafts and some of the ideas aren't bad at all… they often are a springboard for me as I examine the projects on display and wonder how I can make them different. I find crafting rewarding, good for the self esteem and particularly helpful for relaxing. I also find that when you give handmade things that you are often cherished even more so by your friends because of the work that went into your creation. Even simple crafts, which I'll show you below, can be a personal reflection of your style as well as a generous gesture when shared with others. For instance, if you received a business card tucked into a tiny vellum bag inside of a greeting card from a friend, and it was wrapped like this… Welllll….
…Would that not make you smile? Would you like to receive a business card in a tiny vellum bag (also called glassine) embellished with cute things? I've not received anything like this before which is why I thought that maybe I should think of some easy ways to give my cards a handmade vibe.
All you need is permanent glue, scissors, scrap papers, Japanese tapes, fabric bits, small vellum bags, string or ribbon, and other little things that you can adhere to your bags and when you are finished, you can slip your card inside. Keep a few in your desk drawer so that the next time you send a gift or card, you can tuck inside a business card that is in a sweet little bag.
They need not be fancy or elaborate, but if you are in a creative field and want to show your crafty side, why not have a little fun and create artsy bags of your own? I think these days, especially for creatives, you have to seek opportunities to set yourself apart and to also show your personality. I may not hand these to business contacts in the corporate world, but to present your cards to friends, family, and others who you know will admire them then why not give it a whirl?
While you're at it, you can use the same materials and add some cardstock or vintage wallpaper, and hand cut and create your own greeting cards. Here are a few that I made recently below using wallpaper, pages from a vintage dictionary, tapes, and other sweet embellishments. Each card was tucked into a transparent paper sleeve that I made and left beneath the silverware at each place setting for the Liberty launch party tabletop demonstration.
You can even pretty up plain paper notebook covers with the same materials, here are some notebooks that I made that could be a nice source of inspiration for you. I used lots of Japanese tapes for these and they came out very nice.
AND using the same elements, you can even add some charm with a few garlands that you can use for a party, at weddings, at home, anywhere you'd like really.
The idea is to try to use your things in many different projects in order to stretch them a bit farther and this exercise helps you to challenge yourself a bit to think of alternate ways to use what you have – one idea springboards to another idea. I love to make things, though I don't always make time for it as I should — you must be able to relate! It's fun to get crafty, don't you think!?
(images: holly becker for decor8)
I love the new batch of fresh and modern Chocolate Creative products that are available! Shown below are peeks from her collection including some prints from the Decayed Glamour line that I think look just great (and are styled quite well, I must add!).
Margarita Lorenzo is the designer behind this company, she also authors a fantastic blog, and I had the pleasure of meeting her in January in London during a press event for my book and in addition to her great smile I took note of her adorable tote (I want one now!). It was such a pleasure to get to know the lady behind the brand in person and I'm inspired by what she does. Margarita has a love for vintage textiles, antiques and traditional craft so she infuses her line with her inspirations for a fresh, modern interpretation of these things. Her brand focuses on handmade, sustainable products for the home that combine the traditional skills like embroidery and cross stitch that she loves so much with silkscreen printing. The results are just lovely!
Margarita will be taking part in the Dulwich Festival artists open houses soon so please stay in touch with her via her newsletter to learn more. Nice work, Margarita! xo
(images: chocolate creative)
Anyone who knows me well, knows that I love butterflies. I've long held an interest in them and today, view them as not only delicate, beautiful creatures fluttering about in nature — but in the home I like to see them as motifs whether on a print or used in a pattern as part of a pretty piece of fabric. I spotted these gorgeous 3D wall butterflies crafted from paper on Etsy's homepage today and felt inspired to share them. These are made by Jacqueline who runs Hip and Clavicle in Pennsylvania.
I love Jacqueline's inspiration behind her work, "To explore the way ordinary objects and processes come together with human sense and memory in moments that transcend their everyday existence. I am drawn to capture and recreate those moments that spontaneously fill me with wide-eyed reflection and contemplation." I think you could use these to create a lovely installation in your own home much like how a store would create a seasonal installation to promote a theme — your theme could be centered around Spring and you could put these on delicate transparent fishing string and hang them in your window or from the ceiling in a children's room — or of course, use two-sided tape and adhere them to the wall.
Butterflies symbolism freedom, exploration and whimsy. That's a big part of who I am, which is why I think the butterfly will always remain an inspiration to me. Owls for their wisdom and quiet strength, dolphins for their playful energy and ability to connect with those whom they love, trees for how sure and secure they appear yet just below the surface it is their roots that keep them strong, clouds, flowers, the sparks you see at times when two things strike together… the smell of the forest after rain has fallen… There is so much in nature to inspire and delight the senses, isn't there?
(images: hip and clavicle)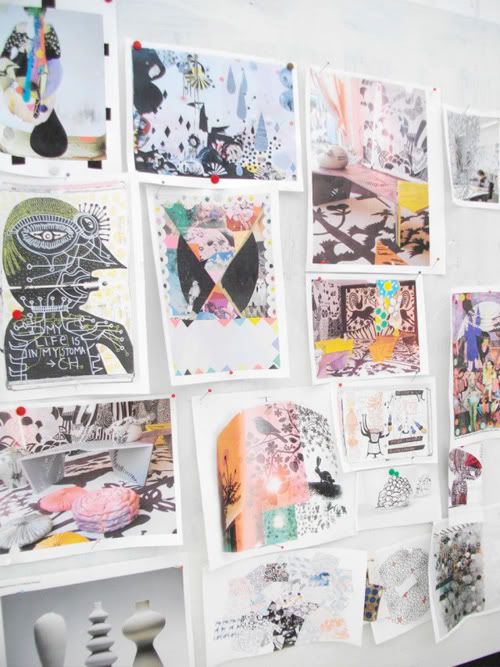 Born and raised in Germany, painter and sculptor Christel Maria Nolle relocated to Denmark in the 70's where she has lived and worked as an artist ever since. Her work is seriously inspiring today with her gorgeous portfolio of abstract and mixed media work on canvas and paper — she is seriously making me want to paint! I love her lines and shapes and how she uses color to captivate, arouse, distract, and pull in the viewer. Her work makes a very clear statement: Christel is a free spirit who has no problem with expressing her emotion through art. I love how she translates her many travels into her work as well.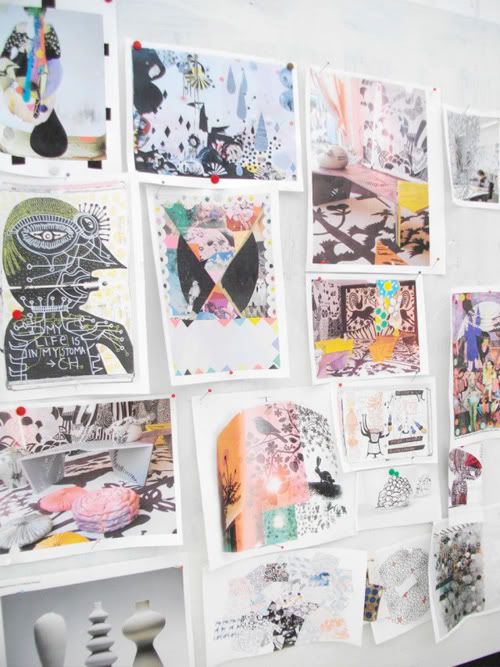 "To me, the finished painting is like a woven rug – a pictorial narrative comprising many details", says Christel. I loved reading about her process and inspirations here and found it both informative and inspiring.
Her work is not only bold but versatile — I can see it in a beautiful country home like the one that BY+FRYD lives in (here) or I can imagine it in a more traditional home like something you'd find in London with a chesterfield sofa in posh digs. I can easily see it working well in a home with a slouchy black leather sofa, white walls with high ceilings and wooden floors like a flat you'd see in Stockholm or Berlin. The key with choosing art, at least for me, is to fall in love with a piece and don't select fine art based on your decor but based on what speaks to you and what taps into your emotional side like no other piece you've seen in a long, long time. If your heart guides you, it will most likely look great in your space and if it doesn't then perhaps your space doesn't reflect your true self and lifestyle and so you need to make a few small changes in your decor so that it reflects who you are.
Do you purchase fine art? If so, where – galleries, the artist, exhibitions, auctions? If you've purchased fine art before, why did you make the investment, can you go into detail? I'd love to know and I'm sure other readers would enjoy your comment too.
(images christel maria nolle)