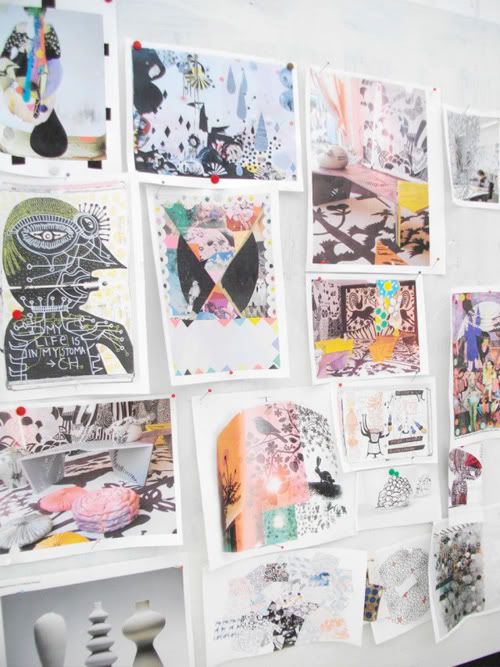 Born and raised in Germany, painter and sculptor Christel Maria Nolle relocated to Denmark in the 70's where she has lived and worked as an artist ever since. Her work is seriously inspiring today with her gorgeous portfolio of abstract and mixed media work on canvas and paper — she is seriously making me want to paint! I love her lines and shapes and how she uses color to captivate, arouse, distract, and pull in the viewer. Her work makes a very clear statement: Christel is a free spirit who has no problem with expressing her emotion through art. I love how she translates her many travels into her work as well.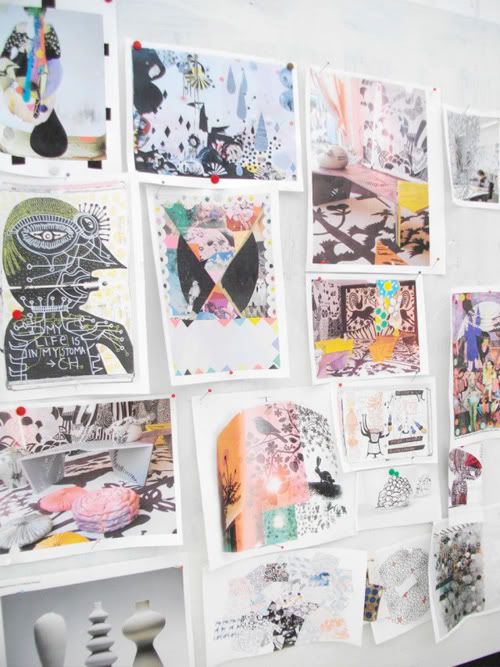 "To me, the finished painting is like a woven rug – a pictorial narrative comprising many details", says Christel. I loved reading about her process and inspirations here and found it both informative and inspiring.
Her work is not only bold but versatile — I can see it in a beautiful country home like the one that BY+FRYD lives in (here) or I can imagine it in a more traditional home like something you'd find in London with a chesterfield sofa in posh digs. I can easily see it working well in a home with a slouchy black leather sofa, white walls with high ceilings and wooden floors like a flat you'd see in Stockholm or Berlin. The key with choosing art, at least for me, is to fall in love with a piece and don't select fine art based on your decor but based on what speaks to you and what taps into your emotional side like no other piece you've seen in a long, long time. If your heart guides you, it will most likely look great in your space and if it doesn't then perhaps your space doesn't reflect your true self and lifestyle and so you need to make a few small changes in your decor so that it reflects who you are.
Do you purchase fine art? If so, where – galleries, the artist, exhibitions, auctions? If you've purchased fine art before, why did you make the investment, can you go into detail? I'd love to know and I'm sure other readers would enjoy your comment too.
(images christel maria nolle)
I've had some computer issues with my Mac for the past 24 hours that prevented me from blogging but now it all seems to be fine for the moment so I'm racing to get some posts in because I have so much to say! All of these things are bottled up and I have to blog or else I'll burst. The signs of a true blogging addiction, I know…
First of all, I have to thank those of you who have registered for the upcoming Blogging Your Way e-class, I am super excited and can't wait to meet all of my new students in less than two weeks online. It will be a great class and I'm ready to go because I have so much to share and I want to do the class before my book launches as I know after that, I'll be busy for awhile. How are you doing? Are you well?
Now let's talk about all of this beautiful art that you're seeing around my words… How fabulous is this stuff?  I'd like to introduce you to the wonderful work of an artist that I found through a painting class I'm currently in called Get Your Paint On, his name is Thomas Campbell and his paintings are beyond inspiring… they are awe-inspiring works that takes you to your happy place and invites you to stay awhile.
I like how he uses paper, thread, paint, his sewing machine… and creates these most dazzling abstract works that really pop (sorry, I know some of you hate the word "pop" thanks to television design shows, but it's the best word for this I swear!) in some of the most beautiful colorways. In fact, his use of color is what drew me in at first, but as I looked a bit deeper I enjoyed seeing how he uses color — bright pure hues to catch the eye and muted ones that give his work more depth.
To learn more about Thomas, please check out an interview that SLAP skateboard magazine had with him — it's very thorough and you can even find some videos on the site about him.
Oh…in case you're wondering about this painting class that I mentioned above…  Well I'm learning so much about art in general through Mati & Lisa's class, if you have a chance to take it when they do another one you totally should, it's fun. I'm definitely registering for their next one. I'm determined to get back into painting because it is so relaxing plus I want to learn more about layering in collage work and needed the general push that this class gives me. Anyway, Mati and Lisa if you are reading this, thanks for the intro to Thomas!
(images: thomas campbell)
Who can get enough of fashion illustration, am I right? That is why when Brooklyn-based illustrator Samantha Hahn wrote in to share her latest work I couldn't resist showing them to you. Colorful, cheerful, energetic, whimsical… and just in time because this is when we need color the most to boost our spirits — the dead of winter! Looking at her images reminds me that Spring is just around the corner and I can't wait!
Alice Revists Wonderland
That Girl

Waiting For The Parade
Sitting Pretty
If you like what you see above, Samantha is part of a fashion illustration gallery show at Gallery Hanahou in New York City that opens January 20th and these four pieces above are part of that show. The great part is, that if you like one of them you can buy it before the show opens — you have first dibs! Each illustration is 16 x 20″ and comes framed and matted in white gallery frames and are $500 USD each. If you are interested in purchasing, please contact Koko: koko AT cwc-i.com to help with the process.
The name of each print appears above and I'm sure that you'll agree that they are very special pieces. What a lovely job Samantha and good luck with the show!
(images: samantha hahn)
I have some exciting news that I must share before the weekend begins. I hired a second columnist to write on decor8, so in addition to the lovely Leslie Shewring and her wildly popular Color Me Pretty column I now have the talented Anna-Malin Lindgren from Helt Enkelt, a Swedish blogger, photographer, illustrator, craft lover, wife, mother and DIY-queen joining us. I can't wait to work with her, I'm so happy she has accepted!
I met Anna-Malin last year (I wrote about it here) and saw her beautiful home and was so impressed that I knew that somehow I would think of a way that we could work together — so of course, parts of her home is in my upcoming book but beginning next week, you can expect Anna-Malin to visit us once a month for the entire year with a DIY project that she will produce especially for decor8 readers that she'll share in English. I agreed to let her show it on her own blog in Swedish a week later, but we have first dibs and she is creating them with the decor8 reader in mind so we can count on her to share projects that we'll all love.

In this post you can see some photos from Anna-Malin's beautiful blog to give you a glimpse of her fresh, Scandinavian style — and to whet your appetite for the projects that she'll be sharing with us! And stay tuned, because next week her column will debut and she will demonstrate how we can make a very cool pendant lamp on a budget.
My goal is to have 4 columnists on decor8 so I'm looking for 2 more to join me so that I can have Mondays each week devoted entirely to our visiting columnist of the week. I'll let you know how my search goes!
Thank you Anna-Malin for accepting my offer to work with me on decor8, I can't wait to see what you have in store for us.
(images: anna-malin lindgren)