I'm so sorry that I missed Etsy Take Five Tuesdays yesterday, I will make it up to you in a moment with an Etsy shopping post so stay tuned for that! Yesterday was not only a bad internet day (we had problems with our wireless router for 16 hours straight so I just gave up writing online and did some work around the house instead. It ended up being quite hectic around here, my new desk and work chair arrived and it inspired me to transform my guest bedroom into a working office until the other things that I ordered arrive for what will be my permanent work studio complete with crafting table and sitting area. It could be another month, and I got tired of working from the sofa and the coffee table over the past few months. In an afternoon I pulled together a space that I feel cozy and creative in, on a budget. Now I'm in my cute little guest bedroom with a huge window and great light. I blogged about it on Haus Maus if you want to take a peek. Speaking of peeks, do you want to catch a peek of the beautiful works of art found over at Boxbird in the UK?

The work above is by artist Patrick Edgeley and I just love these bold, colorful graphics — don't you?

These are by Ruth Green, another talented favorite of mine from the Boxbird collection of artists.
More graphic color and pattern, this time from Hello Marine.
Back in a jiffy with more finds! :)
(images: boxbird)
Before I sign off for the week I must share the charming work of British textile and pattern designer Ellen Calvert who just wrote to me a few minutes ago to talk about her handmade things. I like her work so much that it simply can't wait until Monday — I must share a glimpse now! These up-cycled home items are part of a limited edition collection and were created using both new and recycled products rejuvenated using several techniques such as screen print, embroidery and hand knitting. I like how familiar these things feel yet also how fresh!
I love her reclaimed 1930s school chairs. They are powder-coated and using her hand-knitted fabric, freshly upholstered so the chair is brought into the modern world though the frame still gives away its age. The fabric on the chair seats is made using quality British wool that is very sturdy and then printed and embroidered on top with original patterns designed by Ellen. She also creates complimentary hand-knitted cushions that you can see above, I simply can't stop looking at them because I want to own them all! Each pillow has her knitted fabric on front and then the back is vintage cross-stitched table linens. Clever use of materials!
Aren't these things lovely? You can find out more on Ellen's website here.
(images: ellen calvert)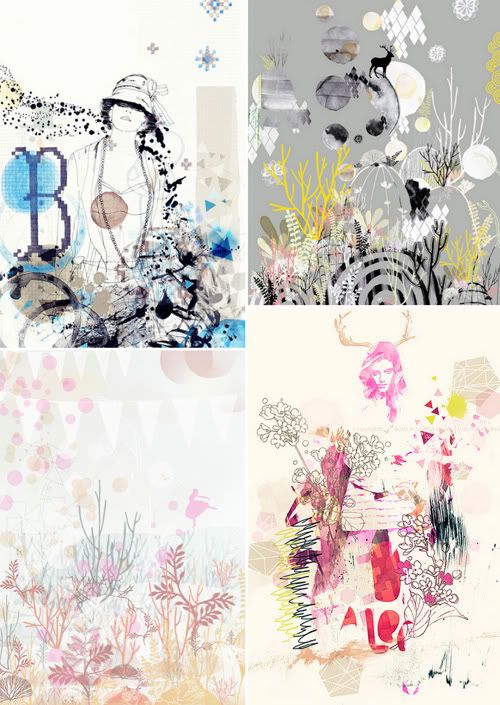 I came across the work of Polish artist Barbara Augustynowicz today on Flickr and immediately knew I had to share it with you! Her art is created using several mediums — sometimes a piece will begin in a sketchbook and then watercolors, ink, pencil, pens and markers are used. In the end, Photoshop and Illustrator gives her work that polished, finishing touch.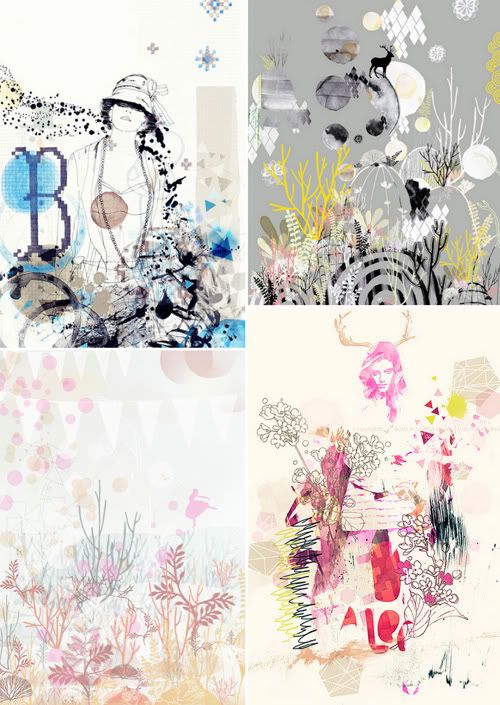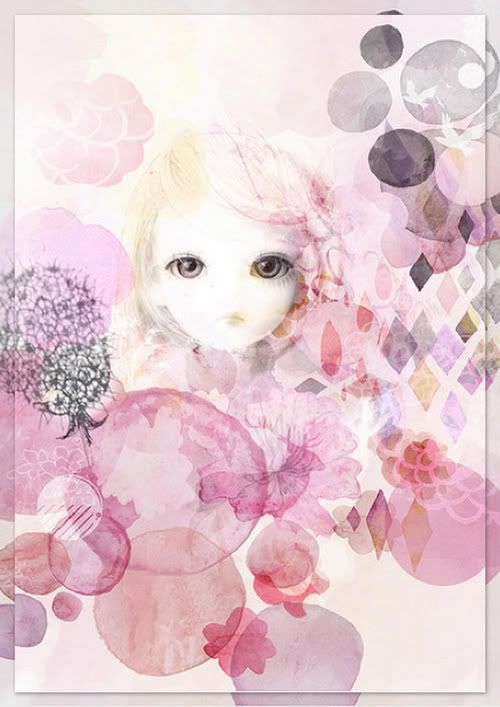 Barbara Augustynowicz is the founder of Bachullus Design where she takes on freelance illustration and graphic design projects. Her art is rooted in her four key loves: fashion, design, photography, and art. Barbara currently studies at Modern Graphics in Krakow. She can be found on Flickr in two places: Here is where her illustration is (I encourage you to check it out) and here is where you'll find her photography.
(images: barbara augustnowicz)
I absolutely love and support this kind of generosity, it's lovely to see. What am I talking about? Shivani who authors My Owl Barn. She recently worked with over 30 artists to make the Owl Lover 2011 Calendar, a free calendar that you can customize and then download.
About the project Shivani says, "This calendar is the outcome of my desire to work closely with them and to create something great for all the owl lovers! When I contacted them with my idea for this owl-themed calendar, not only did I receive the custom made wonderful owl art work, but also words of encouragement and best wishes which kept me going. All the beautiful art in this calendar will warm any owl lover's heart. As beautiful as it is – you can still improve the calendar by customizing it, and picking and choosing the images that you love the most. Yes, that's right, there are a lot more than 12 images for to choose from, so you can browse through our gallery, and select the ones that you love the most."
I selected my favorites shown above, I felt they best fit their month, in fact the pair of cute owls in July were chosen since that is my wedding anniversary month. :)
I wonder what you will choose? Will you download this pretty calendar? Or share it with a friend? I hope that you will — I love seeing creative projects like this one get lots of attention so please – share! share! share!
(images: My Owl Barn)