I've decided that I'm going to redecorate my bedroom. It really needs a facelift but also the energy in the space needs to change. One important element that I added a few weeks ago was a new Bose sound system which has made an amazing difference to the overall mood in the space because it sounds super amazing and is so compact. It went from feeling a bit empty to warm and cozy in the single click of a remote. I'm streaming my favorite tunes in from the various internet radio stations that I love and cranking up tunes from my playlist.

via Ignite Light
At night, I'm listening to old school R&B, jazz, and lots of relaxing chill out stuff. The result is that I'm sleeping better and waking up feeling ready for the day – the music is helping the spirit of the space in major ways. I needed the room to feel better. I don't know, up until now it's always felt a bit like a lonely room in the back of the house since our floor plan has all of the rooms with "life" – the kitchen, dining, my work rooms, balcony, living room, entry, etc. positioned in the front and the bedrooms are in the back where it's not as sunny and as the result, the lack of light and life, really has affected how I feel in the space. My goal is to make my bedroom a sanctuary so that it matches the rest of the house. Then I'll begin decorating my guest bedroom, another neglected space that definitely needs a little help.
via tages anzeiger
via tages anzeiger
via from Scandinavia with love
via tages anzeiger
via milk magazine
Once the bedroom is finished, I'll post before and after photos. Give me a few months… :)
In the interim, here are some inspiring bedrooms that I've pinned.
What rooms are you currently considering for a little redecorating? Or room? Have you started on your project yet?
Optical illusions are fun! You'll see why perception isn't always reality when it comes to bedding in just a moment… But first, this weekend was super duper beautiful so I ventured over to the Saturday farmers' market where I bumped into some friends and made a few more which is one thing I love about my city – that I almost always run into peeps that I know when I exit my front door. It's a great feeling to be part of a community, especially for me as I was always in a car running errands before and now since giving up my car nearly three years ago an entirely new world has opened up which includes human contact outdoors again! Yippee! :)
Anyway, while at the market, I popped into a favorite interiors shop called ComingHome Interior and noticed that they now carry a Dutch bedding and cushion brand called Snurk. I had already heard of Snurk in bloggyland but hadn't checked out their recent stuff until now and I like it – so fresh – especially these cushions shown directly below. The quality is great — it made a BIG difference seeing Snurk stuff in person. I of course love that what you think it is isn't what it really is…
For instance, the sheets look like crochet but are only pretending to be the real thing as upon close inspection it's obvious that it is just a print. Same goes for the granny squares bedding. I admire this about the Dutch, they are always turning the traditional bits upside down to spin them into completely new, fresh products. Twirre is a favorite pattern of mine that they carry, very understated yet the faux crochet cracks me up – I love a dose of humor in home decorating!
If you live in or around Hannover, you can visit ComingHome to see Snurk things… or call ComingHome and ask to speak to my friend Claudia to see if you can order on the phone (+49 5112158196). :)
(images: snurk)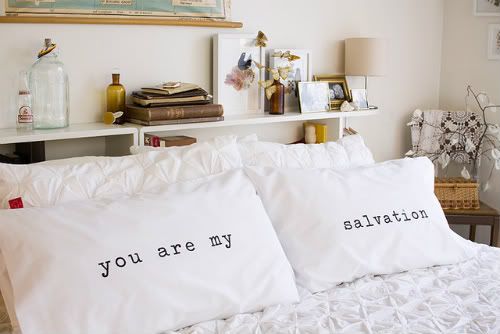 I recently wrote about decorating and shared a beautiful image of a bedroom that I liked from the home of Kirsty and so many of you wrote in to ask about the sweet pillowcases so I have to do a little show & tell! Okay so I am showing….
Now I am telling… these beauties are from Salvation Jane, a homewares company in Melbourne, Australia that is owned by Jane Hall who is an actor with a design background. Other cutie cases with hearts and crosses are available too and are shown below. I love how modern and crisp they are.
If you like what you see, you can shop for them (and more nice things) here.
(images: kirsty and salvation jane photos by mike baker)
I have some brand new bedding for Autumn to share from Aura by Tracie Ellis, a Melbourne-based interiors brand that I have fallen in love with over the months due to their sumptuous bedding. I did a double take the moment I saw the Autumn "Ankita" bed linen collection, especially the chevron duvet shown below – I want, want, want that! Ankita is an ancient Sanskrit word that means 'marked for prominence,' but also Ankita is a rare, Indian-inspired beauty.
Their linens are inspired by faraway places and the colorways are meant to, "recall ancient cultures and quieter times," making this collection feel so inviting – it's meant to calm, transport, soothe and turn the bedroom into a sanctuary, "Ankita transports a bedroom into a past of spiritual ease." Doesn't that sound just lovely?
In addition to these photographs above, you can view the entire AURA by Tracie Ellis catalog online here in their flipbook where you will find more bedding in addition to table linens, cushions, fashion accessories and more.
Now to go to their website to check out that chevron patterned duvet… :)
(images: aura)