Happy Monday everyone! I've decided that once weekly in 2013, I'll write a post called Blog Tip with one great tip weekly to inspire all of you lovely blogger friends out there! I'm not going to tell you which day though because often a tip lands in my lap and it's so good that I don't want to wait until a set weekday to share it. BUT you can expect my Blog Tip column to run once weekly going forward starting with today. But first…. Good morning everyone! How are you?
I had an exciting weekend with 16 Blogging Your Way Studio students who came to my home to spend the weekend with fellow teacher, Steffi Luxat and I – and needless to say… I'm so pumped up about blogging! It's amazing how we "pro" bloggers need the budding pro bloggers to fuel us as much as they rely on us to teach them new tricks and fresh ideas about blogging. The relationship is just one big giving circle and I really love that about teaching. I cannot believe that next year will be the fourth year that I've been teaching workshops on blogging and creativity and each time I wrap one up I can't wait to get started on the next online class or in-person event. I'm already gearing up for our March Blogging Your Way e-class AND thinking to do another workshop here at home in the Spring before I go on my book tour. This is truly what I was meant to do and the more I do it, the more I realize I'm right where I need to be.
Okay now for my super cool blog tip. There's this cool new website that I found today called Tout. It's really going to take off, I can feel it, and I've just uploaded two videos to show you how it works. Tout gives you 15 seconds of video run time to film pieces of your life and share them online. I think this is in incredible way to reach your readers if you are a blogger. You simply download the app, shoot a 15 second video and it uploads in about 60 seconds or less, then you save it to your Tout account. I've enabled my account to push my videos to my Facebook and Twitter accounts upon publishing, so I can easily connect with everyone online simply and quickly. I'm sure this could be a bit addictive for some, but I'm going to try to share only valuable and inspirational content using Tout because there is already so much rubbish floating around out there and I don't want to contribute to more "noise".
I think if we use Tout with that intention, it could be a really fab way to connect with your friends, family and blog readers. I'm already thinking about some creative ways to begin using it, what do you think, do you like the idea of sharing 15 second videos and if so, how do you imagine using it or what would you show?
Loads of love to you all today – I'll be back later on to share some views from our workshop this weekend, I just need to sort through my photos!
Isn't this a gorgeous idea for a book review that Canadian photographer/stylist Leslie Shewring came up with? In reviewing my new book, she laid it out to show spreads that she liked but she took it a step further to really create something to interest her readers…  Pulling from her craft supply cabinets, she interpreted the inspirational spread into something she may be able to use later on for a project by laying out things that felt similar. These are only a sampling of examples below of what she's shown on her gorgeous blog, A Creative Mint. You may want to pay her a visit to check out the rest.
While I create mood boards and folders using a room from a magazine or book as my point of inspiration, I never thought to do this as a blogger when reviewing a book – to show readers how the book made an impact on you in such a visual way. There are so many interesting spins you can give your content, particularly when it comes to reviewing books and other products, and I love seeing how our blogging community continuously colors outside of the lines when it comes to being clever and doing cool new things. You are ALL such an inspiration and beacon of light to me!
Leslie, thank you for your gorgeous review and for your amazing idea for book reviews – you are one incredible lady!
(images: leslie shewring)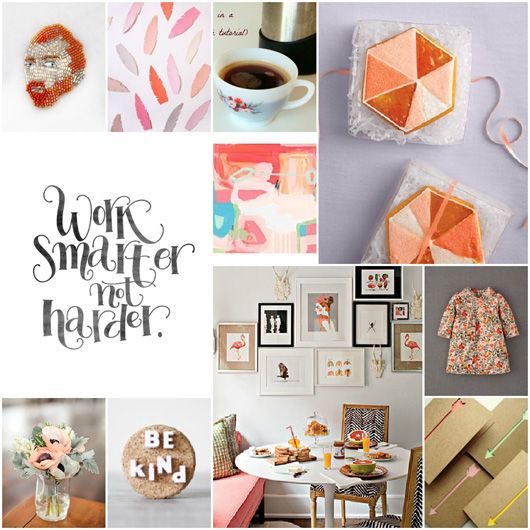 Hello everyone! I've been offline for several days as I was away in London but I'm back home now and ready to blog! I hope that you are doing well. Between the stress of the weather on the east coast (a hurricane first, now snow in the northeast) and the election, I think my American pals are in need of some inspiration because it's been a bit draining to say the least. It's time for a little cheer so lets look at pretty things today!
I'm not sure if most of you are aware of this, but in addition to decor8, I run an e-course focused on blogging and creativity called Blogging Your Way and I also teach in-person workshops on everything from paper crafts to blogging, styling and creativity. I've made a business out of blogging and like anyone who has a small business, I'm always thinking of ways to improve it and make my clients even happier. It's not easy, as everyone has a different learning style, but the one thing that I teach time and time again that students really click with is the exercise of translating your ideas into something visual and I do this via inspiration boards, mood boards, story boards or whatever else you feel like calling them. For this post, I'm going with mood board.
A mood board is one of the best ways to filter your ideas and give a voice to what feels very muddy or trapped inside of your head. It's easy, fun, can be done with your hands or on a computer, and oftentimes doesn't cost a penny. In my most recent Blogging Your Way class, which just wrapped up last Friday, we worked on blog mood boards. A blog mood board is a way for new and even seasoned bloggers to hone in on what they want their blog to be about and what they what it to look like whether it's for a redesign or for their very first blog. In this post, I'm showing you some from my students that I found inspirational – please visit their blog links below each image to visit them AND you can see all of the student mood boards on the Blogging Your Way Boot Camp Pinterest page.
Lots of times we think we know what we like or want to talk about on our blog but have a hard time focusing or narrowing down our concepts. This is where blog mood boards help. You can take all of your ideas and start moving them around before you on a board, on a table, on the floor, and see how everything works together and then, see if everything really "fits". Magazines and book publishers work like this and so do designers and many other creatives when it comes to figuring out next steps in their creative process. When I was working on both of my books, I pinned spreads to my wall and even scatted them about on my massive table to see how they "laid" together and to imagine the flow. It's not that different when you are trying to pull a concept together for a blog.
The Curiosity Project
Mischief, Flapjacks, Pantone & Me
Aren't these inspiring views of how one wants their blog to be? Have you ever tried mood boards for design concepts – either for your brand, blog, website or something else? Did it help you? Did it help your designer?
(images: the talented ladies who made these moodboards are credited below each image with a link.)
Hello everyone! I'm Holly's friend from Hamburg and my name is Stefanie. Holly reads my blog regularly and recently fell in love with a post I'd written about concerning a trend I've noticed with bloggers over in this part of the world lately. I write on my blog in German and so she proposed that I take a post from my blog, translate it, and write it for you over here on decor8 in English. Great idea, right? So here I am talking to you today about a trend that I think is pretty cool – Bloggers who become shop owners and sell products that they love.
My former boss used to say, "If you have three examples of a movement – you have enough evidence for a new trend!". Since I found FOUR bloggers who became shop owners I'm proud to present this new trend! Isn't it a lovely concept? I would love to open my own shop immediately, wouldn't you too? I would have an office within the shop and a cute kitchen – everything would be in the same style. I would offer the best coffee and cookies and chat with those who come to visit me and would give them more good shopping tips, addresses of fantastic restaurants, etc. During the time when the shop is slow, I would work on my blog and other projects. Ohhh, I could start with it this minute. But let's see how some great lady bloggers did it first…
Case Study #1: Mary Scherpe is the very successful blogger behind "Stil in Berlin" and she opened her first pop-up-store for nine days in October in Berlin Mitte on Mulackstraße. She sold a few of her favorite brands like Michael Sonntag, Raphael Hauber and nail polish from Usula Airlines. She also had some great paper bags where she stamped her blog logo. (I would love to have these too!) The shop was such a success that Mary is considering trying another pop-up shop very soon. Keep your fingers crossed!
Case Study #2: Jewelery designer and fashion blogger, Alexa von Heyden, opened her permanent concept store, von hey, in Berlin a few weeks ago located at Brunnenstraße 158. She sells her own designs, but also the beautiful clutch collection of fashion designer James Castle, the denim pillows of designer Melanie Petersen, and one of my favorite designers for dresses – Liebig, along with other very interesting things. What makes this shop super special is that Alexa is such a lovely lady who is happy to give you tips for other shops, restaurants, etc. so please go and visit her soon! (Images via spruced.us)
Case Study #3: Hanne and Stephanie Gundlach opened their concept store B56 in Copenhagen this March located at Bregade 56. Stephanie is one of the three ladies who blog on Anywho – one of the most popular fashion blogs in Denmark. At B56 you will find a very good selection of the upcoming Scandinavian designers.
And Case Study #4 is: The interior stylist and blogger Lotta Agaton who opens her shop (which includes her office – now you see where I got this idea from) in Stockholm (Radmansgatan 7) only on Thursdays. Again, ONLY ON THURSDAYS. I was there on a Friday and she didn't let me in. So if you don't want to be so disappointed like I was, go there on a Thursday. Because as soon as you see all the lovely Scandinavian decor that she has in her shop – you will want it all, I promise!
So, do you wanna open your own shop now too? I would love to hear your ideas how you would do it. First, let me ask Holly because I know she has had a concept now since 2006 when she first started her blog and decided to relocate to Germany. She's wanted to have a shop since she was a child though – her first retail storefront was actually a day spa that she opened along with her mother in Swampscott, Massachusetts when she was only 16-years-old (working only part-time) but spas weren't her thing and she'd often peek around the corner hanging out in the flower and gift shop dreaming of owning her own pretty boutique that she'd like to have someday, too…
Steffi: Holly, what's your blogger-as-shop-owner concept?
Holly: I'd love to move my home studio to a storefront retail space in Hannover where I can keep teaching my workshops, write my books and blog but also open only on two Saturdays per month and when I'm open, I'd offer very special products from America, the UK, Australia, Japan and of course, Europe. I'd also invite some friends to create very special collections just for my shop and what I didn't sell in-store, I'd sell in a small and special online shop curated by me. I'd have a few buckets of fresh flowers but only very special ones. During my two open days per month, I'd offer brownies and cupcakes and other "American" goodies, put on inspiring music that I love or ask a friend to come by and play acoustic guitar, light candles and make everything feel very cozy and charming. When my shop is open, I'd have a reading corner for children and would read for them some of my favorite illustrated books in English to introduce them to books from America, the UK and Australia but also to expose them to English as most toddlers and very young children don't learn English until later on in school so it would be fun to show them "my" world because I find lots of people in my local community are really open to other cultures and parents here are really keen on raising bilingual or trilingual children. I would also do a themed shop window each month to inspire my local community. I'd host once monthly designer/blogger meet ups too on the first Friday of the month to gather together creatives living in Hannover. When the store is closed, I'd still be present in the shop shooting photos for my blog, working on book ideas and writing, blogging, teaching my online classes and of course, continuing my in-person workshops that I love to do so much. That's my concept! I already have a few shops in mind that I'm waiting for (hoping they become vacant) so we'll see what happens in the future. I'm patient!
Now readers, tell me about YOUR blogger shop ideas??? Have you opened a shop yourself? Been involved in a pop-up concept?
- Steffi