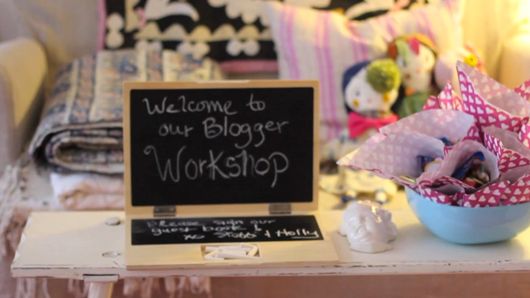 Hello friends! Want to watch a cute video from our blogging workshop this past weekend? Originally I thought to only share this with our students but then realized that so many of you may be super curious to see what we bloggers did in my studio here in Hannover so why not show the whole internet! :)
TO VIEW THIS VIDEO CLICK HERE
I want to thank our 17 beautiful, amazing and courageous students for being part of Blogging Your Way: Studio (#bywstudio) with us. We're already thinking about another class in my studio this Spring so stay tuned!
Psst: I've been pinning posts that they've written since our weekend together on this board over at Pinterest in case you'd like to follow along.
(Music: In Peace, The Love & Happiness Mix (ft. Snowflake) by J.Lang and Video: Steffi Luxat.)
This may be a controversial topic, but I'm going to go with it anyway because the one way to start a conversation is to speak up! This past weekend in our blogging workshop, we taught students how important it is to put a value on their work and to stand behind it and to not do stuff for free. After overhearing a conversation on twitter this morning along the same topic, I knew it was time to write about it on my blog so here goes. Get paid for your work, bloggers!
It's one thing to post on a blog for free if your blogger friend is taking vacation and they need some help BUT it should be clear to both parties that it is an exchange of services – not a freebie. In other words, you will post on their blog IF they also bail you out when you are on vacation and they post on your  blog. I'm not really talking about that though. I'm talking about magazines, companies and others who cherry pick bloggers to work for them and then they surprise you with the, "Well, we don't have the budget to PAY you – but you will get a ton of clicks and press from this opportunity."
One thing that you have to remember bloggers is that these companies may be telling you the truth – perhaps their budget is in the hole at the moment – but that is not your fault and they will only use free work until they can afford to pay their professional freelancers again. In other words, you are just a "filler" until they can afford the professionals. Do you want to be a filler, a lesser-than, to fill a hole? Or do you want to be viewed as worthy and eventually, as a professional and be paid accordingly? Of course, if you are not a pro stylist or photographer or even the best writer – in other words you're not a professional, you still deserve to be fairly compensated for your work. Why not? We've all done it before and accepted free work in exchange for promotional opportunities but unless the opportunity is such a career changer for you, you most likely won't see much from the work that you can measure so it may be best to put your time and effort into paid gigs.
If you want to get paid for work that you do as a blogger – perhaps a magazine wants to use your photos for an issue or a company wants you to speak on a panel at their event or be a speaker, then it's very important that you make it clear that you don't work for free. It's your way of supporting the blog community as a whole because there are bloggers who work for free and they are definitely causing problems.
For instance, pretend you are being asked to speak at a blogger event. If the event only plans to give you a free ticket to attend, that's not the equivalent of getting paid. However, if they put your brand on all of their promotional materials, heavily push your lecture online through their social media channels, pay for your travel to and from the event (meals, train/flight, hotel) and give you a pass to the event then you need to weigh that to see if your time is worth it. If so, then do it but get everything in writing FIRST.  But never show up at a blogger event that is being sponsored by advertisers and companies (in other words, money is backing the event) and speak for free (unless the event is being hosted by good friends and you want to help them out because they're just getting started). But that's rarely the case.
I have seen TOO MANY bloggers work for free and I'm really tired of watching good people be taken advantage of. At the very least, you should have your travel expenses paid and make sure they will give you a ton of press from your participation but never speak or be on a panel for a free pass to their event and a mention on their website or something bogus like that – it's really ridiculous to hear these stories but I hear them constantly and enough is enough. I'd rather attend a blogger event with 5 speakers who are passionate, ridiculously great at what they are covering and how they present it, and who are worth sitting an hour listening to who are also getting paid than to go to a blogger event with 30 speakers and because they're all working for free, they are not as passionate in their delivery, may have never presented before a group in their life and who may not deliver the best presentation as a result.
There are tons of events out there that target bloggers as speakers and panelists because they know 1) You have an audience 2) You most likely are pretty eager to grow it 3) You will probably speak, teach or be on their panels for free and 4) You won't complain – in fact, you'll share their event with everyone online that you can because you are just so "honored" and "flattered" and "overjoyed" to have been asked in the first place. If they came to you then you obviously aren't half bad so have a little confidence, okay? GET PAID or SAY NO. If everyone of us starts to demand payment for services, these companies will be forced to support us or else they won't have much of a blogger event without bloggers speaking, will they?
You deserve some kickback for your time. That means money or the equivalent thereof – travel and expenses and lots of promotion for your business.
Plus, do you REALLY want to be an, "amateur solution"? You can do so much better than that. Try to work really hard to be the best you can in your field so that you CAN demand fair payment. Stand up for yourself. Stand behind your work. Don't work for free. It doesn't just hurt you in the long run (it's very hard to ask for money once you've earned the reputation of being desperate, sorry to be so blunt, but it's true) but it hurts the professionals who are no longer getting paid because people would rather use amateurs and up-and-comers for free – sure, they know the work isn't as good but it's FREE and free is a really tempting lure!
Today on Twitter, some of my blogger friends had this to say about getting paid (or not) for freelance work:
And this doesn't only have to do with blogging events. I'm also talking about magazines and others who expect bloggers to contribute articles for free, DIY stories, photography and more. It's unfair.
As my husband @alternatewords says, "Don't Fall For The Exposure Mantra!".
What do you think? Care to discuss this with me and others? Head to the comments section of this post… I'd love to hear your perspective!
(image: holly becker)
Hello friends! I thought before posting Etsy Take Five Tuesday today that I'd introduce you to our students from our blogging workshop this weekend. Each of these wonderful ladies came to my home in Hannover, Germany to learn from Steffi Luxat and I about blogging and how to take a more creative, journalistic approach to your blog.
We had such a wonderful time, we shopped together, ate together, took photos, learned, enjoyed the Christmas market… It was so lovely that I want to host another in the Spring! Those are our 16 Blogging Your Way Studio students above and of course, you can see how seriously they took their studies!!!!
We had fun doing this shoot… I took out my collection of vintage hats passed down to me by my grandmother (she was a dancer in Chicago in the late 30s) and let the students play with them for a photo session, which wasn't my idea by the way. It was a rather thrown together photo shoot because we didn't plan to do one but Rincy, a darling student visiting from Ireland, really wanted to do one and so we did and ended up having a blast!
This is Gudy and her class partner, Louisa holding a bag from one of our sponsors, Alphabet Bags. This was not a class about blogging by the rules, it was a class about blogging from the heart!
This is Susanne getting a haircut by Nic. These ladies were so sweet and I especially love how Nic always had the best advice when we were having our open conversion sessions in class.
This is Inga and her class partner, Holly. Inga has the cutest blog, you have to check it out – I love the clean layout. Holly is a columnist for Houzz and has her own blog that she's currently revamping for a big shiny new roll out.
This is Louise and her "blog team" for the weekend, Brigitte and Sabrina. They raided my china cabinet for cups to pretend they are classy bloggers taking tea. I think though that they had vodka in their cups! :)
This is Orit, who came all the way from Tel Aviv as a birthday present for herself and had on the best bright clothes each time I saw her – so cool! Her blog partner in crime was Dani who was just the sweetest lady – she gave me a gorgeous bag when she left filled with American baking things which was extremely thoughtful. I loved how Dani added washi tape to her hat, cute, right?
This is Jana with her blog partner Rincy. Rincy just sparkles and glows and transmits so much positive energy and light, as a pediatrician her "kids" must love her. Jana is a comedian – she's so full of life – these two were the perfect blog partners.
This is Magda and her partner for the weekend, Elisa. They are pretending to be very dainty and quiet but both ladies have loads of ideas and opinions and are filled with fire when it comes to turning their blogs into pro blogs. Go, girls, go!
Sabine was so cute and her blog partner, Geraldine from London, was equally darling. They grabbed the trees from my windows and decided to be a very wacky Dutch portrait. Geraldine is also a medical doctor – having two doctors in my blogging class made me feel very good all weekend in case anyone passed out from inspiration overload!
Please visit all of the blogs linked in this post to visit our students because these ladies were just fantastic. And you know what? There wasn't a single "drama queen" in the group – everyone got along so well and were just so thoughtful, generous and sweet. I find this in most blogger classes and meet ups though, bloggers are the best people in the world to gather together – at least the design, craft, wedding, lifestyle, food and mommy blogs – not sure what the dynamics are at blog events for other groups like gossip bloggers and fashion blogs, but I always love going to and hosting events for bloggers because I know that everyone will get along and bond.
Here we are as a group freezing outside in Hannover at the Christmas Market. :)
I will forever hold these ladies dear to my heart and look back at this weekend as one big beautiful highlight of my career. Thank you SO much to my dear partner-in-crime, Steffi Luxat, too. We had so much fun together and put a lot of thought and planning into this weekend so for us, we're just thrilled it all worked out so beautifully! Steffi, you're the best. xo
(photos: @thorstenbecker)
Happy Monday everyone! I've decided that once weekly in 2013, I'll write a post called Blog Tip with one great tip weekly to inspire all of you lovely blogger friends out there! I'm not going to tell you which day though because often a tip lands in my lap and it's so good that I don't want to wait until a set weekday to share it. BUT you can expect my Blog Tip column to run once weekly going forward starting with today. But first…. Good morning everyone! How are you?
I had an exciting weekend with 16 Blogging Your Way Studio students who came to my home to spend the weekend with fellow teacher, Steffi Luxat and I – and needless to say… I'm so pumped up about blogging! It's amazing how we "pro" bloggers need the budding pro bloggers to fuel us as much as they rely on us to teach them new tricks and fresh ideas about blogging. The relationship is just one big giving circle and I really love that about teaching. I cannot believe that next year will be the fourth year that I've been teaching workshops on blogging and creativity and each time I wrap one up I can't wait to get started on the next online class or in-person event. I'm already gearing up for our March Blogging Your Way e-class AND thinking to do another workshop here at home in the Spring before I go on my book tour. This is truly what I was meant to do and the more I do it, the more I realize I'm right where I need to be.
Okay now for my super cool blog tip. There's this cool new website that I found today called Tout. It's really going to take off, I can feel it, and I've just uploaded two videos to show you how it works. Tout gives you 15 seconds of video run time to film pieces of your life and share them online. I think this is in incredible way to reach your readers if you are a blogger. You simply download the app, shoot a 15 second video and it uploads in about 60 seconds or less, then you save it to your Tout account. I've enabled my account to push my videos to my Facebook and Twitter accounts upon publishing, so I can easily connect with everyone online simply and quickly. I'm sure this could be a bit addictive for some, but I'm going to try to share only valuable and inspirational content using Tout because there is already so much rubbish floating around out there and I don't want to contribute to more "noise".
I think if we use Tout with that intention, it could be a really fab way to connect with your friends, family and blog readers. I'm already thinking about some creative ways to begin using it, what do you think, do you like the idea of sharing 15 second videos and if so, how do you imagine using it or what would you show?
Loads of love to you all today – I'll be back later on to share some views from our workshop this weekend, I just need to sort through my photos!