I was reading a favorite blog of mine that belongs to my friend Yvonne called Yvestown. Do you know this blog? If you've been hiding under a rock and haven't, it's time to know about Yvestown. This blog is such a pretty one and the blogger, Yvonne, is a very talented lady who loves to decorate and photograph her home for all to see on the "pages" of her fabulous site. Look at her gorgeous home…
I really love looking at what she's photographed from day-to-day, her photos are captivating and since I've been in her home I can tell you first hand that it's as beautiful as her photos show it to be.
I thought that since Yvonne is really into the holidays that you may like to see corners of her home as she did a lovely job decorating it for Christmas this year. I also spent some time having a chat with her this morning and asked some questions about her approach to the holidays AND what goals she has for the new year so below find an excerpt from our tea and chat. She has even included a free download so you can make the white houses shown below for your tea lights. I do hope that you enjoy it!
Houses download
Roofs download
"Download the templates and print them on 220-250 grams A4 sized paper. Cut out the templates and fold and glue where needs folding and gluing (instructions can be found on the template). Place a tea light in them and ta-da. Please be careful with paper and fire, I can not be held responsible for when your paper house burns down or your own house." – Yvonne.
decor8: What does Christmas mean to you, Yvonne?
Yvestown: That I can do all that I love all year round, like cooking, decorating and entertaining, completely over the top with glitter, twinkle lights and red nose reindeers included.

decor8: What doesn't Christmas mean to you?
Yvestown: I'm an atheist so Christmas doesn't mean the celebration of the birth of Jesus Christ to me. It's an arbitrary day when all the people I love are off work and we get together to be together.
decor8: What three dream items would you love to be gifted with this year?
Yvonne: A Ferm Living wire basket medium in yellow, a Diptyque rose candle because they smell amazing, and the cookery book What Katie Ate: Recipes and Other Bits and Pieces.
decor8: What are some special things that you do with your family and friends this time of year?
Yvonne: Where I come from we celebrate Christmas on the 25th and 26th. Traditionally we go to my parents in law on the first day of Christmas and on the second we spend time with my part of the family. That varies as my sister runs a restaurant and my mother lives miles away. This year we might end up having dinner with friends instead.
decor8: What will you do on Christmas?
Yvonne: We eat, exchange presents and we play a massive amount of board games.
decor8: What is your favorite food to eat this time of year and why?
Yvonne: It's turkey with cranberry sauce and yorkshire puddings with Christmas gravy as it's so traditional.
decor8: What memory do you associate with Christmas the most?
Yvonne: I've inherited the Christmas gene from my mother. One year she insisted on having real candles in a real tree. My father was in agony and had a bucket of sand and water installed next to the tree. It was just so hilarious as they were arguing about something so silly as candles in a tree. They brought such a warmth to me and my siblings during Christmas and I'm so thankful for that.
decor8: New Year's Resolutions! What are your goals for 2013 as a blogger and with your business?
Yvonne: I want to be more serious as a blogger, not something I do as an eight hours a day side job. I want to start acknowledging that I'm now a full-time blogger and that I should take myself serious.
So bloggers, what does Christmas mean to you? Would you like to answer any of the questions above and tell us?
(images: yvonne from yvestown)
Lots of you have been asking what exactly was inside of the goody bags that we stuffed for our students at #bywstudio and so I thought to do a round-up showing all of the loot from our wonderful sponsors. Please click on the links below to see the websites behind each company as they are all such interesting and fantastic spots to find beautiful things for the holidays and any time of the year, really. Ready to see what our students received?
Chronicle Books in San Francisco gave us journals to write in – so pretty, thank you Chronicle!
As mentioned previously in this post, Alphabet Bags gave us all amazing totes and pouches.
Rice gave everyone handmade animal brooches that we used to decorate the bags from Alphabet Bags. The ribbon on the bags was from our other sponsor, House Doctor via their German agent, Tinna Pedersen.
Then, Charlotte from Rice sent us a box filled with animal pencils, but that's not all…
Rice also donated journals with glittery covers – bling bling
And Rice gave our students handmade bracelets and necklaces (necklaces not shown).
I reached into my own pocket and ordered 17 copies of Decorate Workshop from Amazon and signed each copy for my students, placing it in their bags. It made me happy to see how much they loved it!
Wednesday Paper Works sponsored notepads because every blogger needs a to do list!
Rosa Cosa (I love this online shop!) donated packs of straws since so many bloggers love using them in food photography and blue with pink neon bags (seen here).
Kusmi tea gave everyone tins of Love tea… And we were definitely feeling the love this weekend!
These adorable German tickets (for fun!) came from our sponsor, Feine Billetterie. These are cute for laying on a table during a party or pinning to mood boards.
Ferm Living sponsored us too – they gave everyone wooden clips.
Ferm Living also provided napkins so we used their Mr. and Mrs. napkins (shown here) when we ate. So cute!
Bertine gave everyone a porcelain star, "You Are My Star", which is exactly how we felt about each student in our class. They were all total ROCK STARS. xo
Publisher Pitasche Moustache gave everyone a copy of Nine Stories About Love written by Giovanna Zoboli with illustrations by blogger Ana Ventura. I wanted to have a book that had its roots in blogging and I've known Ana for many years as a fellow blogger. I think it's encouraging for bloggers to see what potential there is to extend beyond our blogs to take part in exciting projects.
Mein Cupcake gave everyone Christmas-themed masking tape. Who doesn't love decorative tape? My favorite was the white tape with the black and neon pink stars. I saved a roll for my ever-growing collection of tapes!
Lisa Nieschlag from Lizza West gave us pretty postcards for the goody bags, thank you Lisa! You are the best!
To decorate the studio rooms and the student bags, House Doctor was so generous in giving us paper snowflakes, napkins and ribbons. We loved them! It was so fun to use them to decorate the windows in the studio and the tables and bags. I think the paper snowflakes brought the real deal though because it snowed this weekend and so the windows looked particularly divine with paper snowflakes inside and icy snow falling outdoors. Magical, especially with the candles flickering in the windows. It was such a cozy blogger retreat!
I am so pleased that our sponsors came through for us to make this weekend memorable and gorgeous for both Steffi and I and most importantly, our students. We really wanted to make our goody bags special – mission accomplished! If you missed the video from our class, click here to view it, it's so sweet because you can see in the beginning how everyone is so thrilled opening their bags to see all of the things that I've shown you in this post. You can clearly feel the love and positivity – the magic just radiated from our studio in Hannover all weekend — I think hearts and rainbows were above and all around my home! It was incredible.
I love teaching and want to keep hosting workshops and encouraging and connecting people for years to come, and I have to thank my sponsors for making it easier for me to be generous through their gorgeous donations in the form of pretty products that bloggers love to use. So thank you all, dear sponsors, for your BIG giving hearts.
(images: holly becker for decor8)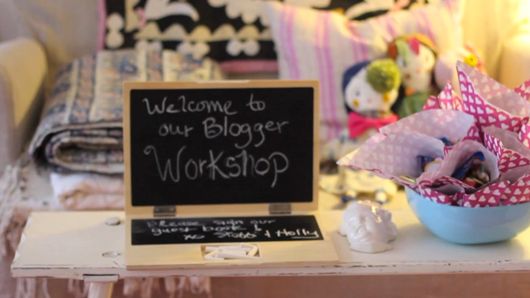 Hello friends! Want to watch a cute video from our blogging workshop this past weekend? Originally I thought to only share this with our students but then realized that so many of you may be super curious to see what we bloggers did in my studio here in Hannover so why not show the whole internet! :)
TO VIEW THIS VIDEO CLICK HERE
I want to thank our 17 beautiful, amazing and courageous students for being part of Blogging Your Way: Studio (#bywstudio) with us. We're already thinking about another class in my studio this Spring so stay tuned!
Psst: I've been pinning posts that they've written since our weekend together on this board over at Pinterest in case you'd like to follow along.
(Music: In Peace, The Love & Happiness Mix (ft. Snowflake) by J.Lang and Video: Steffi Luxat.)
This may be a controversial topic, but I'm going to go with it anyway because the one way to start a conversation is to speak up! This past weekend in our blogging workshop, we taught students how important it is to put a value on their work and to stand behind it and to not do stuff for free. After overhearing a conversation on twitter this morning along the same topic, I knew it was time to write about it on my blog so here goes. Get paid for your work, bloggers!
It's one thing to post on a blog for free if your blogger friend is taking vacation and they need some help BUT it should be clear to both parties that it is an exchange of services – not a freebie. In other words, you will post on their blog IF they also bail you out when you are on vacation and they post on your  blog. I'm not really talking about that though. I'm talking about magazines, companies and others who cherry pick bloggers to work for them and then they surprise you with the, "Well, we don't have the budget to PAY you – but you will get a ton of clicks and press from this opportunity."
One thing that you have to remember bloggers is that these companies may be telling you the truth – perhaps their budget is in the hole at the moment – but that is not your fault and they will only use free work until they can afford to pay their professional freelancers again. In other words, you are just a "filler" until they can afford the professionals. Do you want to be a filler, a lesser-than, to fill a hole? Or do you want to be viewed as worthy and eventually, as a professional and be paid accordingly? Of course, if you are not a pro stylist or photographer or even the best writer – in other words you're not a professional, you still deserve to be fairly compensated for your work. Why not? We've all done it before and accepted free work in exchange for promotional opportunities but unless the opportunity is such a career changer for you, you most likely won't see much from the work that you can measure so it may be best to put your time and effort into paid gigs.
If you want to get paid for work that you do as a blogger – perhaps a magazine wants to use your photos for an issue or a company wants you to speak on a panel at their event or be a speaker, then it's very important that you make it clear that you don't work for free. It's your way of supporting the blog community as a whole because there are bloggers who work for free and they are definitely causing problems.
For instance, pretend you are being asked to speak at a blogger event. If the event only plans to give you a free ticket to attend, that's not the equivalent of getting paid. However, if they put your brand on all of their promotional materials, heavily push your lecture online through their social media channels, pay for your travel to and from the event (meals, train/flight, hotel) and give you a pass to the event then you need to weigh that to see if your time is worth it. If so, then do it but get everything in writing FIRST.  But never show up at a blogger event that is being sponsored by advertisers and companies (in other words, money is backing the event) and speak for free (unless the event is being hosted by good friends and you want to help them out because they're just getting started). But that's rarely the case.
I have seen TOO MANY bloggers work for free and I'm really tired of watching good people be taken advantage of. At the very least, you should have your travel expenses paid and make sure they will give you a ton of press from your participation but never speak or be on a panel for a free pass to their event and a mention on their website or something bogus like that – it's really ridiculous to hear these stories but I hear them constantly and enough is enough. I'd rather attend a blogger event with 5 speakers who are passionate, ridiculously great at what they are covering and how they present it, and who are worth sitting an hour listening to who are also getting paid than to go to a blogger event with 30 speakers and because they're all working for free, they are not as passionate in their delivery, may have never presented before a group in their life and who may not deliver the best presentation as a result.
There are tons of events out there that target bloggers as speakers and panelists because they know 1) You have an audience 2) You most likely are pretty eager to grow it 3) You will probably speak, teach or be on their panels for free and 4) You won't complain – in fact, you'll share their event with everyone online that you can because you are just so "honored" and "flattered" and "overjoyed" to have been asked in the first place. If they came to you then you obviously aren't half bad so have a little confidence, okay? GET PAID or SAY NO. If everyone of us starts to demand payment for services, these companies will be forced to support us or else they won't have much of a blogger event without bloggers speaking, will they?
You deserve some kickback for your time. That means money or the equivalent thereof – travel and expenses and lots of promotion for your business.
Plus, do you REALLY want to be an, "amateur solution"? You can do so much better than that. Try to work really hard to be the best you can in your field so that you CAN demand fair payment. Stand up for yourself. Stand behind your work. Don't work for free. It doesn't just hurt you in the long run (it's very hard to ask for money once you've earned the reputation of being desperate, sorry to be so blunt, but it's true) but it hurts the professionals who are no longer getting paid because people would rather use amateurs and up-and-comers for free – sure, they know the work isn't as good but it's FREE and free is a really tempting lure!
Today on Twitter, some of my blogger friends had this to say about getting paid (or not) for freelance work:
And this doesn't only have to do with blogging events. I'm also talking about magazines and others who expect bloggers to contribute articles for free, DIY stories, photography and more. It's unfair.
As my husband @alternatewords says, "Don't Fall For The Exposure Mantra!".
What do you think? Care to discuss this with me and others? Head to the comments section of this post… I'd love to hear your perspective!
(image: holly becker)