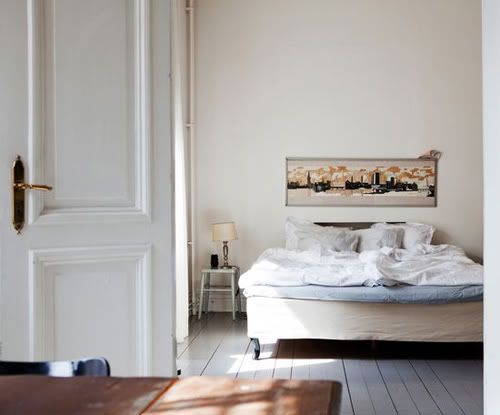 I had a chance to meet the founder of the Nordic Design blog recently, Catherine Lazure-Guinard, and she was so nice but her blog is also gorgeous since she is a talented curator with great vision. Catherine is a public relations and communications manager by day and a blogger by night who is from Quebec, Canada but now lives in the Netherlands and writes a blog about Scandinavian style. Hey, good for her for being so open-minded to change and new culture! Love it! Here is just a glimpse of some of the things she shares on her blog…
How sweet is this bedroom with those gorgeous painted wooden floors, the wonky lamp on a stool near the bed and that messy bed? This is so typical Scandinavian to me, casual but something to envy.
I like this messy work area that I'm thinking, doubles as an eating space or perhaps a client meeting area. The mismatched chairs in lacquered black are simple, understated beauty along with that vintage table.
Another wonky little lamp, this time with some taxidermy – a duck! I like the openness of this space and how welcoming it feels.
With Catherine's strength being in corporate branding and public relations, I can see why her blog is so well laid out and designed. Catherine is obviously drawn in to the homespun charm that Scandinavian design embodies — something so many of us love — and that is all about hygge – the Danish word for cozy, acceptance, well-being. I think that's why when you see a Scandi home, you can smell fresh rolls, flowers, see magazines laid out on the table, a sweater draped over a chair, a casual lived-in elegance that is imperfectly perfect as I always refer to these casual styles as being on decor8.
I hope that you'll visit Nordic Design and check out Catherine's finds today – it's the decor8 blog of the week so enjoy!
(images: femina, lucky boy sunday, Mikkel Adsbøl and stylist Katrine Martensen-Larsen, Fritz Hansen and Bolaget.)
I see more and more watercolor-y accents popping up in blog and website design, in magazines, and painterly patterns on clothing and textiles too. It's a lovely trend that I definitely can ride from here until eternity. The ever talented photographer Jen Huang inspired me so much today with this introduction of watercolors that she offers to her clients along with her fantastic photography, something I've only seen before with Leslie's work and a few others, as well as some Japanese books that I own. I think it's gorgeous and it just made me happy.
Oh swoon. I love flowers, don't you? I could write an entire book about them and I owe the love to my mother who was trained as a floral designer – our home was always filled with her arrangements. Some of you will meet her when I'm in Boston in August. She also loved to paint. I should take out my paints sometime and play around and see what I come up with. I really need to make some time to do that again soon. It's funny, both my mother and aunt were painters, my aunt was a fine artist and art teacher, but I didn't seem to get the urge to become a painter myself. Until I see work like Jen's. Then I feel this gentle nudge to play a bit. I adore paintings, especially mixed media collage and watercolor work – two of my favorites – and so perhaps I should experiment a little. It's been awhile… Do you paint?
I found out about Jen's paintings on the 100 Layer Cake blog and so I hope you'll click over to visit that gorgeous wedding wonderland when you have time. It's a sweet, pastel-filled dream world.
(images: jen huang)
Hello and happy Monday to all of you in blogland! How is everything? Are you well? I had a very nice weekend, I finished some work around the house and got to watch a few late night films after I finished (the reward for the hard work). I saw this film and this one. I liked them both, though the Meg Ryan one (she looks as gorgeous as ever BTW) was a bit darker than the Sarah Jessica Parker flick but that was oddly my favorite part of the film. Both weren't the best films, but I still liked them… especially the Meg one. Seems a dark side lurks in all of us. :)
To begin a new week on decor8, I thought I'd share a super inspiring food blog that I came across recently in Canada with foodie Nikole Herriott heading up the 46th At Grace operation and, what I think is just brilliant, is that she runs a small online shop called Herriott Grace where she sells some of her favorite things. I've used images from her shop above to highlight what she sells, but please visit her blog for additional gorgeous food photography and recipes. I appreciate her very casual approach to styling, it's not all fussed to perfection like some food styling can lean but more approachable and her lighting is superb! Nikole is totally rocking my world right now.
Who are some your favorite food bloggers?
What a lovely way to begin our week here together, don't you agree? With CAKE and sweets and food… Can't you tell I'm cutting back on sugar!?
(images: nikole herriott)
I'm so happy to share with you the decor8 blog of the week, My Little Fabric, penned by the very lovely Aline Caron who is a French art director based in Paris. I know that you'll find her photography and illustrations quite charming and so I thought I'd take a moment to interview Aline so you could get to know her before peeking in on her pretty space online.
Hello Aline and welcome to decor8 today. So tell us, what are your passions as a freelance art director and blogger?
Aline: I have many passions… Perhaps too many! I I have no time to do all that I want to do. I'm interested in graphic design, of course. For work, I concentrate mainly on fashion, beauty and luxury products. I am fascinated by paper — cut, fold, paste, origami…and I love mixing mediums — collages, drawings, watercolor… I'm also fond of photography, especially food photography and food styling. I love trying to find the best light, props, fabric, it's so exciting! I love cooking and and eating. I also make ceramic, it helps me to meditate and it clears my head. Oh, and I love contemporary dance (See? I told that you I have a lot of passions!). :)
I heard about your newest blogging adventure in addition to My Little Fabric… Can you tell us more?
Aline: Yes, of course! I've just created a new French blog with two others bloggers Parigote and Christelle called Culinographie which means "foodography" and we share cooking tips and tricks that we learn as we go. This is also a passion of mine…

Your photos are beautiful! Who are some if your favorite photographers?
Aline: Ohh there are a lot! It's the magic of the internet. Everyday I discover a new talent. The last one that I added to my bookmark is Diane Sagnier and Rus Anson. In food photography, I love the work of Katie Quinn Davies. Her lighting is so amazing. I love the contrast of her photographs, sometimes it looks like a Dutch still life painting, like a Vermeer's painting…

What kind of camera do you use?
Aline: For a long time, I used the FZ38 Panasonic Lumix bridge, perfect for novices. But 2 months ago, to improve the quality and the possibilities, I bought a Canon 5D Mark II. It's wonderful, a revolution for me!
Outside of your favorite photographers, where else do you find inspiration?
Aline: The inspiration is all around, I find it in magazines, travels and the internet. I'm really inspired by nature, for instance flowers, woods, animals and vegetables. In my creations you'll always find at least one of these elements. Colors really inspire me too, and the first thing that I do when I begin a project is to define a palette. It gives me direction and a graphic style.

So tell me, with so many blogs online already why do you blog?
Aline: I started blogging because I wanted to show my work. I made "doudou" which are plush toys for children and that's why I created My Little Fabric when I first began on my blog adventure. Then, step by step, post by post, I started to introduce additional topics in which I am passionate about, for instance cooking and sharing my food photos. My blog is my playground where I illustrate, cook, tell stories with food, make videos, share my pictures, the ideal place to improve and challenge myself. The most important thing to me is that I have fun in the process!
Thank you Aline for visiting us today and thank you for sharing your blogs, photographs and so many lovely links to those who inspire and motivate you to make such pretty photos and to blog! Merci beaucoup!
(photos: aline caron)