Oh la lovely! It's time to share the decor8 blog of the week once again, a tradition that I've held since 2006 as a way to share with my dear friends and readers all of the blogs that catch my eye that I think could be a great source of inspiration for each one of you as they are to me.
Today the tradition continues over five years later as I diligently update my blog of the week with the same passion and intention as before – to spread the love and play it forward because bloggers supporting bloggers, at least blogs we connect with and believe in, is important. This week, Le Dans La, is the featured blog and my my my I just love it. If you cannot read French, open the blog in Google Chrome and click "Translate" in the toolbar and you will have a better understanding of what Le Dans La is all about.
Le Dans La is written by Zooey, a French stylist and I just love her casual, fresh aesthetic, her home shots, outdoor photos and her darling child with the golden ringlets in her hair… And of course, how can one not love the gorgeous shoes that she co-designs and has made by hand in Mexico for women and children that she sells in her shop called Albert et Henriette, named after her grandparents who were linen merchants and in the millinery business. Her life in France reads as both idyllic and intriguing and combined with her gorgeous photography, well, I have to say Le Dans La is quite a fantastic little gem.
I hope that you enjoy Le Dans La this week and thanks to Sharon Smith on Pinterest for pointing me indirectly to this blogger.
(images: le dans la)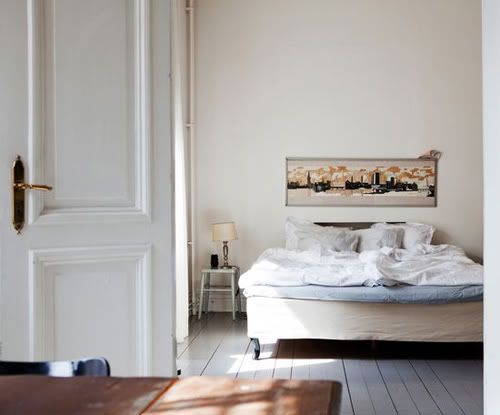 I had a chance to meet the founder of the Nordic Design blog recently, Catherine Lazure-Guinard, and she was so nice but her blog is also gorgeous since she is a talented curator with great vision. Catherine is a public relations and communications manager by day and a blogger by night who is from Quebec, Canada but now lives in the Netherlands and writes a blog about Scandinavian style. Hey, good for her for being so open-minded to change and new culture! Love it! Here is just a glimpse of some of the things she shares on her blog…
How sweet is this bedroom with those gorgeous painted wooden floors, the wonky lamp on a stool near the bed and that messy bed? This is so typical Scandinavian to me, casual but something to envy.
I like this messy work area that I'm thinking, doubles as an eating space or perhaps a client meeting area. The mismatched chairs in lacquered black are simple, understated beauty along with that vintage table.
Another wonky little lamp, this time with some taxidermy – a duck! I like the openness of this space and how welcoming it feels.
With Catherine's strength being in corporate branding and public relations, I can see why her blog is so well laid out and designed. Catherine is obviously drawn in to the homespun charm that Scandinavian design embodies — something so many of us love — and that is all about hygge – the Danish word for cozy, acceptance, well-being. I think that's why when you see a Scandi home, you can smell fresh rolls, flowers, see magazines laid out on the table, a sweater draped over a chair, a casual lived-in elegance that is imperfectly perfect as I always refer to these casual styles as being on decor8.
I hope that you'll visit Nordic Design and check out Catherine's finds today – it's the decor8 blog of the week so enjoy!
(images: femina, lucky boy sunday, Mikkel Adsbøl and stylist Katrine Martensen-Larsen, Fritz Hansen and Bolaget.)
I see more and more watercolor-y accents popping up in blog and website design, in magazines, and painterly patterns on clothing and textiles too. It's a lovely trend that I definitely can ride from here until eternity. The ever talented photographer Jen Huang inspired me so much today with this introduction of watercolors that she offers to her clients along with her fantastic photography, something I've only seen before with Leslie's work and a few others, as well as some Japanese books that I own. I think it's gorgeous and it just made me happy.
Oh swoon. I love flowers, don't you? I could write an entire book about them and I owe the love to my mother who was trained as a floral designer – our home was always filled with her arrangements. Some of you will meet her when I'm in Boston in August. She also loved to paint. I should take out my paints sometime and play around and see what I come up with. I really need to make some time to do that again soon. It's funny, both my mother and aunt were painters, my aunt was a fine artist and art teacher, but I didn't seem to get the urge to become a painter myself. Until I see work like Jen's. Then I feel this gentle nudge to play a bit. I adore paintings, especially mixed media collage and watercolor work – two of my favorites – and so perhaps I should experiment a little. It's been awhile… Do you paint?
I found out about Jen's paintings on the 100 Layer Cake blog and so I hope you'll click over to visit that gorgeous wedding wonderland when you have time. It's a sweet, pastel-filled dream world.
(images: jen huang)
Hello and happy Monday to all of you in blogland! How is everything? Are you well? I had a very nice weekend, I finished some work around the house and got to watch a few late night films after I finished (the reward for the hard work). I saw this film and this one. I liked them both, though the Meg Ryan one (she looks as gorgeous as ever BTW) was a bit darker than the Sarah Jessica Parker flick but that was oddly my favorite part of the film. Both weren't the best films, but I still liked them… especially the Meg one. Seems a dark side lurks in all of us. :)
To begin a new week on decor8, I thought I'd share a super inspiring food blog that I came across recently in Canada with foodie Nikole Herriott heading up the 46th At Grace operation and, what I think is just brilliant, is that she runs a small online shop called Herriott Grace where she sells some of her favorite things. I've used images from her shop above to highlight what she sells, but please visit her blog for additional gorgeous food photography and recipes. I appreciate her very casual approach to styling, it's not all fussed to perfection like some food styling can lean but more approachable and her lighting is superb! Nikole is totally rocking my world right now.
Who are some your favorite food bloggers?
What a lovely way to begin our week here together, don't you agree? With CAKE and sweets and food… Can't you tell I'm cutting back on sugar!?
(images: nikole herriott)