Hello! For those of you just tuning in, I asked London-based author/stylist Sania Pell to drop in today to share some inspiring DIY projects for your next party, wedding, or really any decorating scenario because all of these beautiful things could be used in so many different parts of the home from a kid's room to a kitchen. I hope that you have enjoyed meeting Sania today and that if you haven't seen her posts yet that you will visit them, as shown in order from the first to the last, below.
Spring Flower Garlands (shown in examples b and f above).
Liberty Flower Napkin Rings (e and d), How To Button Covers (d) and Sequin Glamour (a).
Little House Mobile (c).
Thank you again Sania for joining me today on decor8 and I wish you loads of luck on your new blog and on everything else you do going forward with all of your creative energy and cheerful can-do attitude. You made my launch party in London such a success thanks to your enthusiasm, friendship, support and hard work and I'd like to thank you for all of it — including your hospitality, good laughs, and endless bottles of wine and yummy treats in your kitchen. You are such a doll!
Readers: Can you do me a favor? Can you visit Sania's blog and leave a comment for her over there, she is working in her craft loft all day and I want her to return to her computer with a big, warm surprise waiting from her with your comments! Thank you so much. I remember how it felt to start blogging, how scary it was, so your comments will make her day! I'm going over there now to do the same so please join me.
(images: sania pell)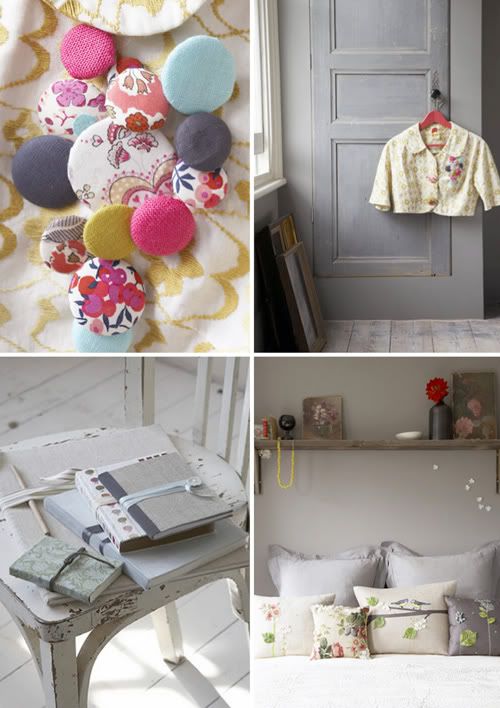 Good morning everyone! I hope that you had a delightful weekend. I must apologize for not giving you much notice last week but I left quickly on Thursday to travel to Hamburg, Germany for a consulting job at a huge magazine and was pretty busy or a few days. I spent a full day in their offices — first I gave a morning lecture followed by a Q&A about blogging and an afternoon "mini" version of the Blogging Your Way workshops that I typically do online with Leslie and Thorsten only tailored for a magazine staff. It was a lot of fun to take BYW offline and teach in a corporate setting… as most of you know, I come from a corporate background and spent years teaching workshops to employees so it felt a bit like deja vu. This time, I was able to teach about something that I truly have a passion for, it wasn't that way in the past when some of my workshops centered around sexual harassment, new employee orientation and immigration law! Blogging was a topic that was fun and energizing! I had a nice time (the weather was amazing) and yes, I even fit in a little shopping which I'll share more on tomorrow.
To get started today and with a new week of blogging, I thought I'd first welcome my friend, stylist and author Sania Pell in London, to the world of blogging! I know I've talked about her a million times on decor8 since she helped me so much to prepare things for the launch party for my book (details here), Decorate: 1,000 Inspirational Design Ideas For Every Room In Your Home, at Liberty last month… But did you know that before today Sania didn't have a blog? Oh yes, that's right. In fact, she just launched her new blog this very day and I'm so proud of her! That's why we have to give her a big round of applause for jumping in and getting started. She first found out that blogs even existed a year ago and has been plotting her "entrance" into blogging ever since and so today she rolls out her super shiny new blog called At Home that, thanks to her husband Mark and his amazing design skills over at his company MWA Design in London, it came out just beautifully. I do hope that you'll visit.
Speaking of Ms. Pell, she has prepared a few DIY projects for you taken directly from the table styling demonstration that we dreamed up for Liberty. She'll be back in a moment to visit us today with all of her gorgeous DIY photos and how-to instructions – you'll love it.
In addition to her posts coming up, I have lots of other great things to share and our monthly guest columnist, Anna-Malin Lindgren from Sweden is back with her monthly post too so stay tuned, Monday is going to be a great one.
(images: penny wincer, styled by Sania pell)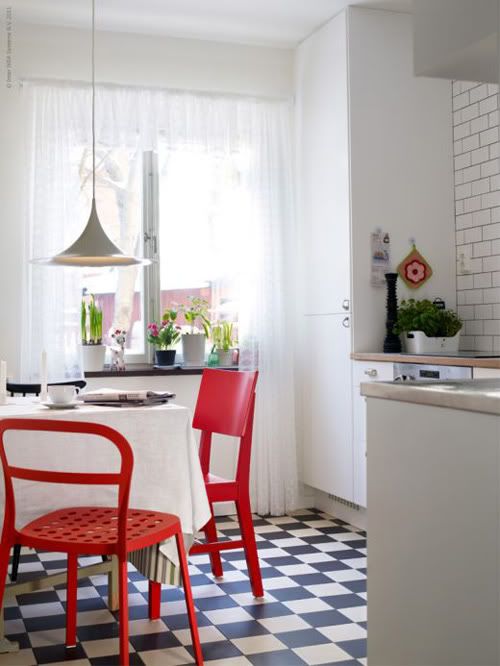 Are you a fan of IKEA and currently toying with the idea to personalize some of your favorite pieces? I have good news for you! IKEA launched an inspiring blog in Sweden called Livet Hemma, or in English, Life at Home. If you open the page in Google Chrome you can translate the Swedish text into English so that you can read it. At Livet Hemma, they style and create inspiring images to inspire customers who shop IKEA to look at their products in a fresh, new way.I love the first image below because it looks so welcoming and not at all staged or like a catalog. And that is really the goal of Livet Hemma, to show how their products can look in a normal home mixed with other non-IKEA things. Lovely!
They also give pieces a different look by painting them, applying stencils, etc. to promote creativity. The idea is to think outside of the big blue box, I guess. :) Their REIDAR chair and RAST drawers above look just great. I think the only thing that can be potentially difficult to get your head around is that you cannot find all of the items in the photo at your local store. Lots of them appear to be vintage or from other sources so it's a little frustrating but I still like the approach and think it's quite fresh and even a  bit daring for a huge chain store. It is a nice tie-in to the IKEA Family Life magazine though, so I think it works brilliantly.
(images: livet hemma)