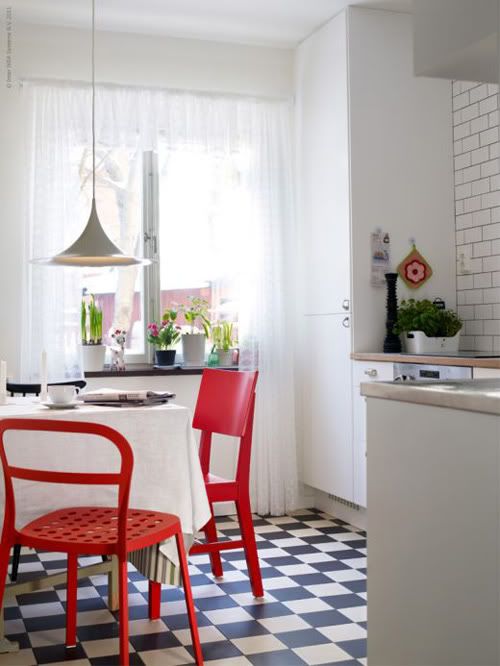 Are you a fan of IKEA and currently toying with the idea to personalize some of your favorite pieces? I have good news for you! IKEA launched an inspiring blog in Sweden called Livet Hemma, or in English, Life at Home. If you open the page in Google Chrome you can translate the Swedish text into English so that you can read it. At Livet Hemma, they style and create inspiring images to inspire customers who shop IKEA to look at their products in a fresh, new way.I love the first image below because it looks so welcoming and not at all staged or like a catalog. And that is really the goal of Livet Hemma, to show how their products can look in a normal home mixed with other non-IKEA things. Lovely!
They also give pieces a different look by painting them, applying stencils, etc. to promote creativity. The idea is to think outside of the big blue box, I guess. :) Their REIDAR chair and RAST drawers above look just great. I think the only thing that can be potentially difficult to get your head around is that you cannot find all of the items in the photo at your local store. Lots of them appear to be vintage or from other sources so it's a little frustrating but I still like the approach and think it's quite fresh and even a  bit daring for a huge chain store. It is a nice tie-in to the IKEA Family Life magazine though, so I think it works brilliantly.
(images: livet hemma)
I have to shout it to the world – Leslie and I will soon teach the Blogging Your Way e-Course and registration JUST started today! I can't wait to dig in again and hang out with students in an intimate, private space online where we can connect! Leslie and I can't wait to run this course because we won't be running this particular one again until next year — so if you want to take Blogging Your Way, this is THE opportunity to do it! We have lots to share in this class, including a video from Leslie who will tell you about herself a bit more in detail and I'll do a video as well (along with 4 podcasts so you can download them) and much more so you are guaranteed a good time!
REGISTER HERE – Class space is limited!
Blogging Your Way: Outline

Friday, February 25th – You will receive your login by email so that you can get set up before class kicks off the following Monday. On this day, you'll listen to two introductory podcasts from Leslie and I, watch a webcast explaining how to use the site and forum, and you'll receive a course outline that you can download and print out along with a printable download for taking notes week by week.
Monday, February 28th – Class officially begins. Ideally, it's great if you can log in once daily during the week but if you can only log in a few times a week that is also fine. You will need to dedicate 2-3 hours per week to this class if you want to get the most out of it. Some really dig in, network, and spend more time and some only hop on 30 minutes 3x a week. However, I suggest logging in 3-5x per week and spending quality time reading the materials and completing the fun and easy weekly homework assignment for best results.
Monday, March 28th - Class officially ends. You will, however, have access to the class materials and forum until April 11th. At that time, the site will be taken offline.
To learn more about Blogging Your Way and to register, click here.
Hope to see you in class! xo
Holly & Leslie
Great news everyone! Kelly Wearstler has a brand new blog called My Vibe My Life! Yay! I was so glad when her office contacted me today to share this great news and asked if I would like to share it with all of you. Why yes, of course! Kelly contributed to my upcoming book, Decorate with a few great design tips so of course I am inspired by her work. I think what I love most about her is that she is fearless when it comes to designing interiors — I can't help but think her new blog will be a huge success because of her style but also her courage in just going for it.
I like when people are fearless, when they have courage to go forth and do what their heart tells them to do. Unfortunately, so much of what we are exposed to goes through this giant filtering/editing process and the original beauty of it, the soul, becomes so completely watered down that the original voice gets lost.
With Kelly Wearstler, you never ever get the sense that she holds back. What you see is what you get, even if someone may criticize her designs for being so "out there" (design is subjective after all), she doesn't change her style to please the masses. She is authentic, true to her vision, and this is what makes her so admirable to me personally. I can't wait to follow her blog regularly and watch this creative dynamo in action. Congrats on the new blog, Kelly!
(images: kwid)