I hate to gush but… I just found the most amazing blog (thanks to an anon reader for the tip!) all about photography and how to display photos in your home called Design Aglow. This blog just started in January and already has pages of inspiration to offer readers, you simply must feast your eyes on the beauty here!

Design Aglow even offers these amazingly helpful templates on how to display art on your wall. I'm completely blown away by this site and I'm sure you will like it just as much.
(all images from design aglow)
Today is a really great day! A piece that I wrote for Domino just went live on their website featuring 16 international design bloggers. I pulled it together last month so I've been anticipating it to go live every since… I hope that you enjoy it — it's so thrilling to see these great blogs with their name up in lights. They totally deserve it.
The Style Files
, one of the 16 blogs featured.
It was fun to step away from my etsy column for a moment to explore a different topic and I thank Domino for being so open to the idea of spotlighting bloggers for their very own slideshow. I wish I could have chosen more because so many exist out there but I was limited to only 15-16 slides. Perhaps we can do a Part 2 in the future. :)
Thanks, Domino!
…And a special thanks to all of the lovely bloggers who assisted me in my research.
By the way, Domino has a new Search function on their website, go check it out. Makes life so much easier.
(image from domino online)
I love how DaWanda gets the blogging community involved through their monthly pinboard feature. We bloggers really appreciate their support! This month, Ez from Creature Comforts spotlights some of her Dawanda favorites and they're quite lovely.
Nice work, Ez!
(image from creature comforts)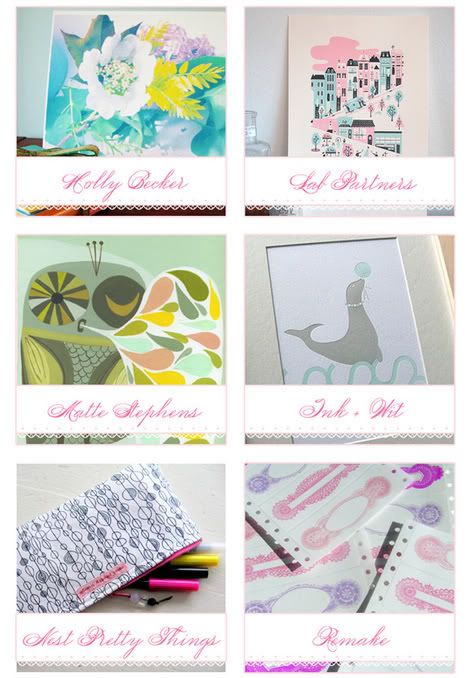 Yay! We all love good news and free stuff which is why you can't miss this great giveaway. My dear friend Ez is the founder and editor of the gorgeous blog Creature Comforts and she is celebrating her first year blog anniversary this month! I'm so excited for her. To thank CC readers, Ez pulled together a giveaway featuring lovely loot, including some of your favorites like Lab Partners, Ink & Wit, Matte Stephens, Skinny La Minx, Shim + Sons, Freshly Blended, Catherine Campbell, Lush Bella, and many others. Included in the prize package is a little something from me called Collecting Beauty, a print featuring pretty things collected in my backyard.

For details on how to win, please click here and while you've there don't miss all of the beautiful posts on Creature Comforts including her extremely creative visual blogroll located in the left column of her site.
(image from creature comforts)