Have you checked out the newly launched bilingual (French/English) site called The Socialite Family? Founded by the amazing French journalist and stylist, Constance Gennari, whom I know from Milk magazine, the focus here is on creative families. It's actually laid out a lot like Berlin-based Freunde von Freunden, only the focus is on families whereas FvonF tends to focus on singles and couples. I like that!
I loved finding amongst their many home tours the Nantes-based stylist, Aurélie Lecuyer, who happens to be one of my favorite bloggers from Le dans la.
What do you think of sites like this? Blogs acting as online magazines? Do you think we'll be seeing more blogazines like this? I do, for sure. I love them!
(images: the socialite family)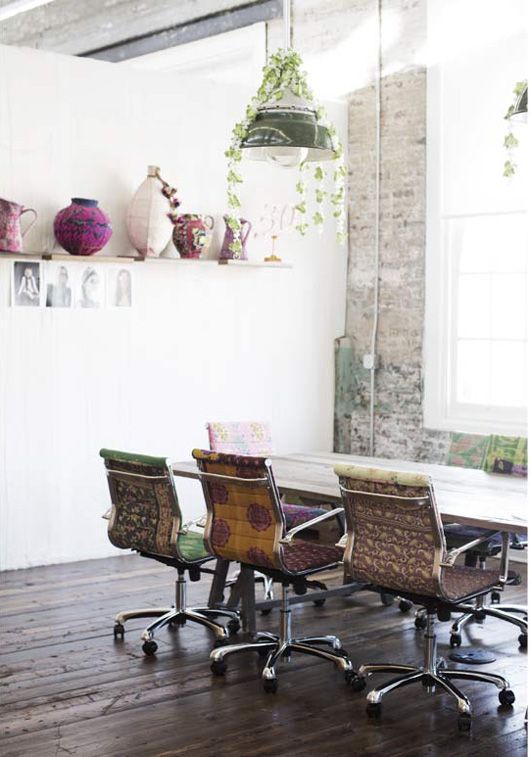 I haven't been able to read blogs that much over the past month as I've been a bit overloaded with work… So today I decided to treat myself and spend 30 minutes catching up with my favorite bloggers. It felt like a really big cupcake with a double espresso but without the sugar and calories! We need these simple time outs, don't you think? I have to remember to pause during my workday more often.
Anyway, while reading, I came across two really good posts, one about friendship and another showing a beautiful tour of the Free People office in Philadelphia (see this post I did in 2007 showing their space). Both posts are from fashion blogger extraordinaire and photographer, Garance Dore. But of course, right? I love what she said about friendship and jealousy. "Stupid Problems that can Kill a Friendship – Jealousy: Jealousy stems from desire. Before you hate someone because she has everything you want, you usually start by loving her from everything she has. Keep yourself in check." Well said.
So inspiring! I love reading blogs where the reader takes you into her head and her work. I feel so bored lately when I just read blogs about products. I need to feel a part of something bigger than just shopping for products. I know, I say this after posting my favorite etsy shops this week. Well, I do that because I want to support etsy sellers and promote them because I know so many struggle to keep their dreams alive. But still, I am not always posting products on decor8. I get bored by it. When it comes to blogs, I love to read about how to make things, what people are REALLY thinking and the inspiring places where others hang out, etc. I think that's why I loved these two posts so much on Garance's blog, because I relate to how bloggers are living and working and what they do to find stories for their blogs, and I love hearing about their conversations with other bloggers and colleagues, because those conversations make me really think.
And okay, I really love those clipboards in the hallway shown above at Free People because I have covered clipboards in my office too but love that they have SO MANY. I wonder what they use them for?
(images: garance dore)
This is a really sweet Australian cooking blog that I found on Pinterest called Two Loves by twenty-something Australian Rachel Jane. I'm on the fly today, not a lot of time to write, but I wanted to get some nice posts up anyone to direct you to some super inspirational spots online. Hope you are doing well – it's still freezing, gray and stormy here in northern Germany but my hopes are that next week we will be transported to sunshine and spring-like weather, I'm dying to do over my balcony, it's such a mess!
Oh and don't miss her HOW TO for creating backgrounds to shoot food on – perfect for the food photographer's and stylists out there who are just learning how to get started with shooting your own yummy creations.
Enjoy Two Loves and try not to lick the screen!
(images: two loves studio)
Let's talk about telling stories with photos for your blog posts and how to approach it. I shared the Le Dans La blog with you in 2011 (here), but today I thought we could again visit French stylist, Aurélie Lecuyer, who is the lady behind Le Dans La. It is so fascinating to look into her life mostly because her photography is so captivating — her images draw me in. I like how she leaves her home "as is" and shoots scenes that feel very natural and soothing. I'm sure she styles these photos to look imperfectly perfect, she is a stylist with over 8 years of freelance experience after all, but the overall impression is that she is not looking to portray her life as perfect. She is truly comfortable in her own skin and doesn't need to be anything more than herself and she does this through the art of visual storytelling which really is that – an ART.
I think we will start to see more and more blogs perfecting this art of what I call portraying imperfection in an elegant, artistic way. This could be a new blogging trend – maybe even for books? Wouldn't that be nice? I think too many blogs are trying to mimic magazine photography and create flawless magazine-perfect blog posts (and stress themselves out if they are not as good) but I think we should chill out a little. It's best to find your own style and then work to make it the best that you can. Really become skilled in your craft. You don't need to be Martha Stewart, Sweet Paul or that blogger who takes photographs for a living and who makes her life seem perfect – you can be YOU and do YOUR personal best. You just may find a really lovely response to your body of work by being natural because honestly, our individuality is the only thing we've got when it comes to separating us from the pack. Only you can be the best YOU. No one else. Who can copy you then? Look at the world's top trend setters and even the trend setters in the blogging world. Aren't they really just being themselves in the end and that is drawing in their crowds of fans? Being yourself after you have worked diligently to make yourself a really good person with talents others admire, is a very HARD thing to rip off or repackage. Trust me.
Okay so let's talk more about photo stories. I love Aurélie's blog because she doesn't worry about perfectly placing objects but concentrates more on showing naturalness in her home life. She focuses on her angles and capturing light to lend a more storytelling quality to her photos. Light is a really good story teller because shadows and streams of sunlight and even the fading of light to dark can evoke emotions that stimulate the imagination. Think about this for a moment. Angles, in addition to light, are important too. Try taking photos on your stomach, at eye level, overhead, slightly above eye level, slightly below, laying on your back looking up… There are so many angles that can make a photo come alive. Try this: You are in a grassy field on a sunny day with huge puffy clouds floating above in a deep blue sky. Pull out your imaginary camera. Tell me how you would compose this shot? The first reaction for most people is to stand straight, bring their camera up to their eye, look through the viewfinder and compose the shot in landscape with the line of horizon separating sky from field. But how about kneeling down or lay down and shoot diagonally towards the sky? It is easy to forget how to tell stories when our focus is just on being magazine-perfect. I've been on professional photo shoots – a magazine can spend an entire afternoon and walk away with 5 good photos for publication. How many of us who are blogging have time for that? Why not work more on telling stories with photos?
Think of what you want to say in a blog post and then challenge yourself to say it visually instead. Maybe you want to talk about typography and old-fashioned signage. Challenge yourself to go out for a day either on foot or in your car and stop to photograph ONLY store signs that have a retro vibe that you love. Such photos require little text to support their "story", they are doing all of the talking for you and require no styling or super amazing photography skills. Just shoot them in ways that are interesting, consider your angles, and then when you are pulling together your blog post, you will see your story coming together very simply and casually thanks to your photos. Little text to support your story is really needed.
I'm learning more and more about storytelling through imagery in my film making classes and through all of the reading I've been doing about moving pictures. I've been applying this knowledge to other things in my life, such as my photography and I find it a great challenge. I really encourage you to find your photo style and give yourself a good push to try new things and to be a storyteller, too. MAKE A LITTLE MAGIC.
Let Aurélie inspire you through her blog, Le Dans La and her gorgeous website where you can find her portfolio. It's all such an inspiration to me, I hope it fills you with good feelings today, too.
(photography: Aurélie Lecuyer)