I just heard from Est magazine that they've officially launched online and I'm so excited and pleased to share this stunning e-mag with you. I love it! I don't want to gush too much but it's a brilliant magazine, fresh and pure, and really fills a niche out there as you'll soon see from the photos below – it's relaxed and very stylish with a nod to the past as well as a welcoming hug to the new.
Est was founded by Editor-in-chief Sian MacPherson and Creative Director Lynda Evans who source the world for creative talents of all types from photographers, designers, stylists, writers and trend spotters to include in their issue. I like that it's interactive with links and videos, which makes it so much more interesting to me to read on a computer screen than a print version since I think that if you're going to put the work into producing an e-magazine that you may as well add videos and links because the technology is there — and it makes the digital experience so much more fun!
In the online magazine world, I think Est is a refreshing addition that I'm sure will do very well – I'm already a fan and plan to read it regularly. Though I love print publications, e-magazines like Est can really stand out and stay fresh through interactive content drawing in those who want to see "behind the scenes" of articles for instance, or exclusive content. I think this video from Martha Stewart Living and Adobe explains exactly what I mean by all of this… it's so inspiring!
This is definitely the year of interactive content from e-magazines to e-courses and I love what I'm seeing out there so far. What do you think? Are you for it, against, or somewhere in the middle when it comes to digital mags and while we're at it, e-courses?
(images: est magazine)
Today is a very happy day! I just found out that Anthropologie has an exclusive on my book, Decorate, which means that only they can sell it before it officially launches in the states on April 20th so starting today, you can order it on their website and find it in stores nationwide. I nearly died when I found out this exciting news and of course, did a happy dance when I saw it online.
I can't put into words the enormously gratitude that I feel for their support as well as the many small, independent boutiques and even large book sellers who will stock it. I've been feeling emotional about this all day really… as people are receiving their review copies from around the world and emailing me with notes of thanks and joy — I don't really know what to say except how grateful I am that I registered my blog years ago and started writing online after quitting my corporate job in search of living a more creative life doing work that I love that also happens to make other people happy and feel more creative, too. Well, it happened but the funny part of this whole journey is that it took a village to make this possible — and I have all of you to thank and I did so in the dedication that I wrote in the book to each and every one of you.
On another note, I was recently notified by a buyer at Selfridges department store in London that they'll also start stocking the book this month on March 25 (a few days after my birthday) and during the first week of April my book will be on a special "premiere" shelf in-store. How exciting this all is… I can't believe all of this is happening.
I must pause for a moment though to say that I know that I'm going to sound a little self absorbed over the next few months but I'm not at all trying to be. I'm excited and happy and so, so appreciative that you just may have to listen to me talk about this book a lot. I want to have a giveaway too and I was thinking that maybe some of you would like a book plate for your book that I can sign and dedicate to you and then you can have it for your copy. Would you like that? I have to figure out how to do this, but once I do I'll let you know because so many have asked for signed copies and I honestly gave this part little thought because I only thought the Kelly Wearstler's and the JK Rowlings of the world sign books – but I love the idea of dedicating a book to you personally so if I cannot sign your copy in person then perhaps a book plate will make you happy. Let me look into this and I'll let you know more soon…
By the way… if you live in India you can order the book from Infibeam.
Also The Book Depository in the UK who will ship worldwide for FREE! Yes, really! But they won't ship it until after March 25 and it's the UK version written in British English.
I have more news to share with you soon concerning the UK book launch party on April 13 in London — I'll talk about that later this week!
P.S. Decorate has a fan page on Facebook if you want to "like" it or "friend" it or whatever. I know, I know! ha ha! Too funny, right?!
(images: anthropologie)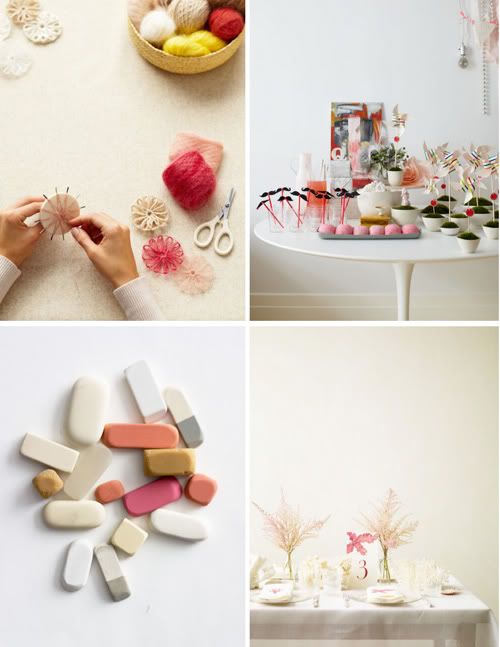 I was reminded recently of Johnny Miller's work from event planner Amy Atlas since she is documenting her new book project and recently revealed that she has teamed up with him to shoot some of it. Johnny is a true genius, he is definitely one of my top ten photographers in the world and Amy is a very lucky lady to have his creative vision for her book — but then again, he is very fortunate to have Amy because her dessert tables are stunning. Together Amy and Johnny make a winning team!
Johnny also photographed the newly released craft book, Paper & Craft, authored by the fabulous Minhee and Truman Cho (love this video of them and their cute baby) who run Paper + Cup — the book is available at Chronicle. I have a copy and I really liked the Mommy + Me Flower Shoes project and the Cone Wreath project, both show below.
Johnny is from Kansas but now lives in Brooklyn and works with some fancy pants clients like MSLO, Kate Spade and Anthropologie. He earned his BFA at the highly regarded Parsons School of Design and then went on to assist photographer Mary Ellen Mark for nearly three years which was no doubt the experience of a lifetime. Johnny blossomed into quite the photographer with his work in numerous ad campaigns, catalogs, magazines (Martha Stewart Living comes to mind), books and has been exhibited at the Center for Photography, New York Historical Society, Museum of Contemporary Photography, Museum of Modern Art and the Museum of the City of New York. Not too shabby!
If you aren't already impressed and slightly jealous, there's more! You can even find Johnny's photography included in the permanent collections at the Library of Congress, New York Historical Society and the George Eastman House. What an amazing career Johnny has going for him and well… from the looks of things, he deserves every bit of success he's earned.
(images: johnny miller)
Hello friends! I simply must tell you all about the Decorate press breakfast in London last week, it was a huge success and I had a very good (somewhat surreal) time mingling and sharing my book for the first time – what a high! After flying home the same evening I kept thinking, "Did all that really just happen to me!?" — pretty funny to admit but it's true, it was such a whirlwind filled with emotion. But I have to show you the beautiful UK cover in-situ, of course, on my desk at home. It is so nice to have it in hand after looking at it on my computer screen for so many months wondering how it would be once bundled together… What do you think?
The UK Version of Decorate, which is hardbound in light blue with a completely different jacket from the US/Australian versions. It also has different endpapers and is written in British English. On the cover is the New York home of interior designer, writer and author, Rita Konig.

I flew into London the night before and the next morning took a cab over to Covent Garden to meet the press beginning at 8:00 a.m. to talk to them about the book and answer questions. Decorate will release in the UK very soon on March 25th, and then Murdoch Books will publish it in April in Australia/New Zealand. On May 1st, Chronicle will publish it in the US. Funny thing is, the book releases in the UK a few days after my birthday — what are the chances?! In September, Decorate will release in German by Callwey and sold in the German market. This is a very big year and what a bonus to have it publish in German so that my husband's' family can enjoy it along with our German speaking friends here. I look forward to reading it in German as well, but also seeing if Callwey keeps the name or changes it, and what image/s they will use on the jacket and how they'll design the endpapers… I am very curious about this as you can imagine!
The US version of Decorate, hardbound in turquoise with a different jacket, the same jacket as in Australia (more or less). The endpapers are different and it is written in American English. On the cover is the London home of stylist/author and dear friend, Sania Pell.
But yes, more about the press breakfast. I didn't even know what a press breakfast was to be honest but my publicist assured me that it would be a somewhat casual way for me to meet journalists and bloggers based in and around London. The breakfast was hosted by Jacqui Small Publishing and held at a new restaurant called Kopapa (I highly suggest eating there, wow, great food) owned by celebrity chef Peter Gordon from New Zealand, so the location alone was a real treat for us all.
On the cab ride over to Kopapa that morning, I felt butterflies and rainbows simultaneously — it's a funny thing to say but I can only describe the emotional cocktail that I experienced in that way — complete nervousness mixed with absolute bliss and excitement. Weeee! I felt shy upon arrival but Kopapa was so laid back and all who popped in were friendly and so interested in the book and they lingered, we ate together, they looked through the book and each left with a fresh copy to enjoy — and a big bonus — most asked that I sign their copy along with lovely Joanna Copestick, my co-author. It was thrilling to have a mini signing on the spot, their enthusiasm and encouraging, positive feedback still has me on a high because when you are a debut author it is only natural to wonder how your "baby" will be received.
London during the morning of my press breakfast.
Friends asked me after the event how it felt to sign my book for the first time. It felt so natural! I guess it is because I am so completely honored to have an opportunity to contribute my voice and vision to the interiors section of bookstores, a section that I've been frequenting since I was a kid! When I was asked for my signature, I had to hold back from shedding a few tears as I signed the first book. I remember having book signings in my bedroom as a little girl, I would sit at my desk and line up my stuffed animals and pretend that each of them wanted me to sign my book for them, and I'd sign and sign — keeping myself entertained for a good amount of time! This time, I wasn't 8 years old before an audience of plush toys, but I was seated before accomplished journalists, stylists and bloggers and it wasn't a scenario that I was imagining, it was real. As you can imagine, it was an emotional moment. I often wondered how it would feel to author a book, at 8 years old it seemed as far away as flying to the moon, and to sign the first copy and now I know — It was one of the most exhilarating experiences of my life.
After the press breakfast, which ended nearly two hours later than anticipated wrapping up during lunch, I walked over with my publicist, Liz, to meet a writer from Red magazine who invited me for lunch and an interview at the cafe in beautiful retail paradise, Liberty. Meeting her and chatting about my book in such an inspiring atmosphere was nothing short of wonderful. I've been reading Red magazine ever since Barnes & Noble started carrying it in the states (I think I was nearly 20) and always loved their features so it will be a treat to see Decorate reviewed in their May issue.
The press breakfast led me to think that I should have my publicist work with me on a small book signing tour in the US and in parts of northern Europe – why not – you only write your first book once!!! So I'm currently working on a plan for that and as soon as I have more information (when + where) I will post it on decor8. I want to meet SO many of you in person because that would be a real treat and this is an ideal chance to organize something special for you — I want to get a lot of great people together in one room to network and have some fun — I don't want it to be a typical "author seated signing books" or a panel or anything formal. I want to mix and mingle and hang out with my online friends, period. You guys are a big part of my life, you are the reason this book deal came to me in the first place, so it's OUR celebration.
I'd like to thank those who attended the press breakfast, having you there meant so much to me. I loved making  important connections and to see your reactions to a book that I spent 2010 working on with Joanna and the wonderful team at Jacqui Small (Liz and Jodie, you rock!). I can't wait to finalize the Decorate Book Tour (yay!!! Feels good to write that) and post more information very, very soon. :)
(images: top 2: holly becker for decor8, london by thorsten becker)