There is one thing I think that we can sometimes misplace during the course of a lifetime. Of course we can get it back again, but it's good to try not to lose it in the first place. It's our sense of curiosity. Not really for things we're naturally interested in, but for those in which we are not.
Children tend to explore a lot more than adults, when we age we start to fall into comfort zones and ruts and forget that once in them we can always crawl out and allow ourselves to become curious explorers once again. That is why I frequently reference things that are not always associated closely to decorating, but that I think can help us all to stay out of comfort zones and ruts because I believe they can be comfortable little traps, we become like birds in cages and forget how flying really felt.
So when you are out and about, look for things that you would not normally find yourself trying to find. In a bookstore, go to a section that you never visit. In a store, hit a food aisle with things that you normally do not buy, and buy them — I like to experiment in the international foods section and in the organic areas because if I had my way I think I would eat the same food every single day.
And this brings me to the point of this blog post: Real Simple Weddings. Huh? You say? Well I believe that a creative person can find inspiration from random places, not always in your favorite design showroom or boutique. In my case, I find lots of inspiration in Bridal magazines, not so much the white flowing gowns but all of the little embellishments and flowers and just the sheer delightful details of it all — and I often think of ways to interpret what I see into the home. For instance, in the 2010 issue of Weddings by Real Simple there are many gorgeous images to enjoy that show several combination's of colors and patterns that perhaps you'd not thought to combine before. You can interpret them into your wardrobe, home, even your makeup palette. I sat here this morning flipping through it after breakfast and felt inspired to share some of my favorite pages with you.
And yes, I am a columnist on RealSimple.com (for two years already!) but they are not paying me to say any of this and trust me, I get zero brownie points for this post. This is merely a sincere observation that I had concerning how so much can inspire us that we often fail to notice. If you happen to pick up this issue, it's a special edition so it costs around $14, turn to pages 72-75. These are my absolute favorite parts — two pages show color palettes that I think can be amazingly helpful in many ways — you can cut them out, clip into small sizes, and laminate — keeping them in your wallet or purse for quick reference when you are shopping. Having a palette on you can be extra helpful when you are looking for gift wrap + accessories, clothing, even flowers and of course, home accessories.
Sometimes I stand in the middle of a flower shop feeling overwhelmed by the color choices that having a quick cheat sheet, a palette reference, would certainly help me. Then I could focus and quickly select colors that I may not naturally put together, or even pair certain ribbons or vases with my flowers that I may not have thought of before. Then the palette suggestions in the magazine are followed by two pages of flowers, illustrations of some of our favorite blooms with text that lists the flower name, season, color, along with important facts like the Anemone, "The blooms' back centers add a striking graphic quality to bouquets". I found that a simple yet helpful thought. So in the home, they would do the same in a vase on the coffee table.
If you happen to grab a copy of this issue, let me know if it inspired you or not and whether or not you found the color palette and flower tips to be helpful.
(images: holly becker for decor8)
Ready for a book review? I've been dying to share this one because I'm guessing anyone who pairs old with new and who has a thing for feminine bohemian style must have a crush on Emily Chalmers. Right? Emily is a London-based author, stylist and the shop owner of Caravan who has a brand new book set to release on February 28th that you simply must get your hands on. It is called Cheap Chic published by Ryland Peters & Small. Here are a few views of my personal copy from the publisher. Want to take a peek?
If you loved Flea Market Style then I highly suggest Cheap Chic. It is soft bound, so it's easy to toss in your work bag and flip through during your commute or in a cafe during lunch. It is also accessible in that it gives you tons of inexpensive advice on how to create a distinctively stylish home by explaining how to mix things that you already own with flea market treasures and chain store finds.
My dream kitchen shown above.
The first part of the book, The Elements, discusses pattern, color, fabrics, window coverings and furniture. There are also sections on storage, display, lighting, flooring, accessories and materials used indoors. Then you begin the next part, The Spaces, which features chapters on cooking, eating, relaxing, sleeping and bathing areas and home work spaces. A lot is covered but thankfully it doesn't feel overwhelming because there is a equal mix of imagery and words to keep it flowing from page to page without moments of zone out or the feeling of giving up and moving on to the next decorating book.
In fact, this is one of the few recent titles that I want to finish reading because the author seemed to "get" that most people who love decorating books do not want to read detailed explanations and long-winded personal opinions in every single paragraph. It's uncomplicated, straight forward, no-frills, and not a dose of smugness. Emily shows that money does not buy style and that budget interiors are nothing to be ashamed of – in fact, it is a badge of honor when you use intuitive and style to create a budget-conscious home that is also style-conscious.
Cheap Chic was photographed by one of my favorite interiors photographers, Debi Treloar, so each of the 200 photos are light-filled and composed expertly. It's important to note that I've not already seen the homes featured in other books or magazines already. My biggest complaint with decorating books is that some tend to recycle what has already been published, almost relying solely on stock photos, so the result is too often a book that you open and instantly feel like you'd seen it already — and it feels about as fresh as last week's headlines. Cheap Chic, at least in my opinion, seems to have paid attention to ensuring photography and homes were fresh and interesting.
So that's my little review of my new favorite book. But I'm not finished yet as there is a terrific quote I must share. When the author opened with words from Andree Putman I knew I was a fish in her net, "[To have] style is to see beauty in modest things". Amen.
Disclaimer: I'm an Amazon affiliate and earn 4% on the sale of this book if purchased through this link.
(images: holly becker for decor8)
I am thoroughly in love with the January issue of Livingetc. It's fabulous and was thoroughly worth the (gulp) $15 that I paid for it at the train station. At first glance I thought it would be rather uninspiring as it appeared quite thin and for that amount of money, I want something that I'll refer to again and again versus a quick one flip. This is what my morning looked like, candles are a must this time of year as it is so cold and gray.
When it comes to design glossies I'm happy to say, size does not always matter! This slim issue is loaded with inspiration… from a fun apartment in Cologne to an eclectic home in England and a gorgeous Copenhagen flat — I felt connected mainly since a few are rentals and let's face it, with a rental home one is limited so more creativity is required to make a house a home. I believe that the space I'm sharing below is owned, but still… I loved the color scheme so much — bright and punchy – that I must share it.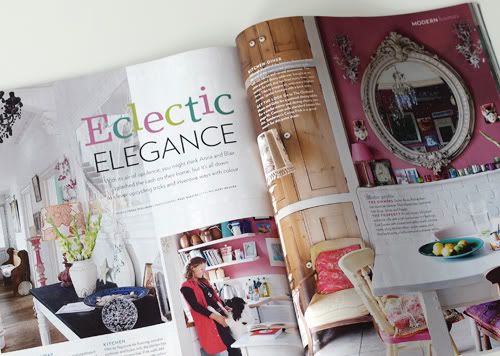 Above is a glimpse into the whimsical East Sussex coastal home of stylist Anna Richardson and her singer/songwriter man Blair Mackichan who has worked with music giants like Lily Allen. This home was photographed by Paul Raeside and styled by Mary Weaver from Livingetc magazine who is also an editor at the magazine. Paul is an amazing interiors and lifestyle photographer based in New York with an impressive portfolio online that you can view here.  You can view Anna's gorgeous home on the Livingetc. website here. Enjoy!
(images: holly becker for decor8)