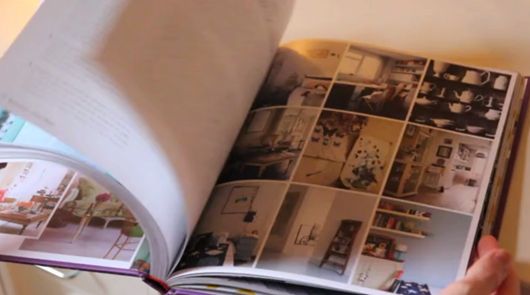 I am sitting here blushing because my friend did a sweet thing and surprise me with a video! I'm so touched by this! Me, speechless – get a camera because this is first! Thank you Steffi, I love this!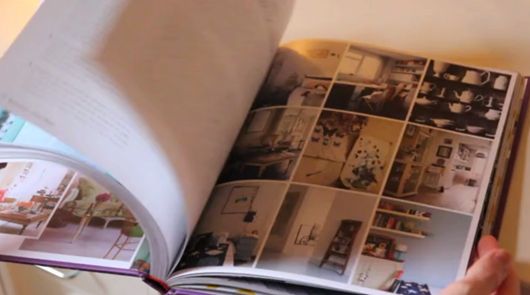 TO WATCH THIS VIDEO CLICK HERE
I think it's such a creative way to review a book, don't you? It makes me think that together, we bloggers have so many options and ways to present information on our blogs – we are so lucky! The book can be found here (UK) and here (US).
Psst: Can everyone who has the book do me a huge favor? Can you leave a review on Amazon? Thank you, that would be just super. I hate to ask but it would be so helpful!
This really made my day. Thank you again Steffi and happy Friday everyone!
xo,
Holly
Hello everyone and happy Friday to you! I'm so pleased to share some photos from my book launch party for the UK edition of Decorate Workshop, photographed by London-based photographer Lucy Lu. Most of these photos (unless noted otherwise) are from Lucy, thank you Lucy! The lovely party at Anthropologie on Regents Street was a huge success – it was packed with more people than we had expected, which is never a problem and always an honor BUT it was tough to fit so many comfortably so needless to say we had standing room only by the time we began our lectures. Decorate Workshop fans filled the 3rd floor and we had a great night. Want to see for yourself?
I was joined by one of the UK's top bloggers, Will Taylor, from Bright Bazaar and American stylist James Leland Day, who lives in Berlin (his home is in Decorate Workshop and his living room shown above) who spoke alongside of me about the book from what inspired it to how one goes from blogger to author, the process of writing an interiors book and how to style your home with tips from James and later, I chimed in with tips on how to pull inspiration from the many images you see and translate them into something that works. I have to thank both of these fab guys for being there and presenting so well – Will is a natural and James has such a strong background in styling – they both were such a nice addition to the party and guests really loved having them, too.
Will showing everyone the inside of the French fold book jacket – all editions have a special jacket that you can unfold, iron and display on your wall. Mine is above my desk in my work studio.
I really love bringing together special guests in all of the events that I do – last year for Decorate some of my special speakers included Abigail Ahern, Leslie Shewring, Sania Pell, Betsy Burnham, Nicole Balch, Fernanda Bourlot, Zia Priven, Matt Stinchcomb (co-founder of Etsy) and many others. In fact, whenever I host events I always try to add a few guests to accompany me because I enjoy the support and friendship – it makes doing events a lot more exciting and a lot less about "me" and more about "we".
Will interviewing me during the launch party – I was trying to focus, I was a bit nervous because we had problems with the sound system – we were able to fix it later on but it kept throwing me off track at first. We did our best – thanks to everyone who endured the first 10 minutes!!!
I love this photo – it looks like this cute lady is embracing my book. It actually made me feel emotional seeing this. The idea of giving a little slice of happy to someone is quite a nice feeling for an author to have.
Will is such a charming and caring soul but also has an excellent business brain behind all those bow ties and polka dots. James was really getting into how he designed his living room – shown on the board to his right. That is an image from my book as well.
A closer shot of the board showing James' living room as seen in Decorate Workshop.
Between all of the beautiful cakes that Anthropologie laid out for us to feast on, the prosecco, the inspiring space and the entire 3rd floor being filled with design lovers and bloggers, it was quite a lovely experience. Anthro even gave everyone who bought my book a 15% coupon for their next purchase and a linen Anthro tote. What a nice touch! Along one wall, I had a bookcase in my honor titled, Holly Becker's Favourite Things" where I had shopped the day before for things that I loved from their home & fashion accessories floors so that my guests could check out a few of my favorite things. Problem was, the event was so packed that it was hard for people to go examine all of the pretty things there!
I had a rough summer, filled with a lot of ups and downs in my life (mostly downs) so to be here with all of my fans and have them so excited to see me and celebrate my new book was nothing less than a fantastic boost for me personally – and of course, it was cool to sign and hold up my book for the camera – I loved celebrating this accomplishment with all who came out.
I love this shot of me talking to Ari from Arianna Interiors who is also co-founder of Heart Home magazine. Ari is one of those people who is genuinely so sweet and charismatic, there is nothing fake about her. I think she was admiring my hair or necklace in this photo – she always has a way of making you feel at ease and taking you beneath her wing. I really adore this lady!
This photo of James made me smile. He really loved being a part of the festivities and he walked away feeling inspired by everyone, too. The energy was so positive. It was a truly lovely event.
I only wish that I could have spoken to everyone – I know I missed out on meeting so many of you and for that, I'm sorry! It was my intention to meet everyone but the event was too full and once the book signing begun I was there until after the store closed dedicating books to some genuinely lovely guests.
I felt honored and inspired by the event and to think the day before, I ran into a street concert with Robbie Williams performing right before my eyes and the same evening after the book party, I ended up in a private bar at a hotel where a friend Charlotte was staying and who walks in and says hello to us, American rapper/actor Ludacris. Yeah, really. He was so chill and his friends and I chatted about the south (where we are all from) and later, my book and blog! Riot! It was funny to see him and how normal they all were but the best part was when one of them googled me and said, "Hey you're famous too!", that was a riot! Here's a photo of me with Ludacris who is currently in London filming Fast & Furious 6 – funny right?!
So that was my book launch party. I hope that you liked it. If I missed any of the photographers who took the photos above, PLEASE let me know so I can link you below. A big thank you to Jacqui Small Publishing (Jacqui, Joanna, Sian, Sarah, Anabel, Jessica and Sam), Anthropologie EU, Lucy Lu, Will Taylor, James Leland Day, Debi Treloar and some of the homeowners who attended in addition to James like Sania Pell, Emma Cassi, Stephanie Rammeloo and Yvonne Eijkenduijn.
(images: Lucy Lu, Mimi, Janine and Margarida)
I was delighted when Sibella's publisher, Harper Collins, sent me a beautiful advance copy of her new book, Life of a Bowerbird, which releases October 9th. If you do not know Sibella Court, she is an interior stylist, shop owner and author from Australia who has 3 beautiful books (this one being her 4th) that are all dedicated to her passions: styling, shopping and world travel. When Life of a Bowerbird arrived, I immediately made myself a cappuccino and sat by the window in my kitchen to flip through but a funny thing happened… As I was perusing I felt this overwhelming urge to grab my camera so I shot a few pages so you could share the experience of reading Life of a Bowerbird along with me. Ready to take a seat and follow along?
What is a Bowerbird, you ask? If you're not familiar with them (I hadn't a clue, but suspected it was something like a crow), a bowerbird is a bird native to Australia that builds its nest on the ground and collects everything it can to create a cozy home from shells to bones, stones to brightly colored objects, always found or stolen, always collecting and building.
Sibella is often referred to by her dearest pals as a bowerbird because she is a passionate, curious collector. She believes in building ones nest over a period of a lifetime, day by day, object by object, and as passions change, to rotate in (or out) collections, or perhaps to give them a new home and begin again with another series of collected treasures. I believe in this too.
Many of us collect things but aren't always certain how to arrange, store and display our prized collections. In Life of a Bowerbird, Sibella shows us everything from scissor collections to feathers, eggs, antlers, taxidermy, porcelain and maps, for example, and how to do interesting things with them. As I looked through the book, I found with each assortment of things both a close up shot of it (for instance, ribbons) with at least one idea for how to display the collections creatively in the home as a larger shot nearby. For instance, you can find a macro shot of ribbons on page 152, and then Sibella advises on page 153, "Velvet embellished ribbon lengths are easily tacked over a doorway. What a lovely entrance to a room or a beautiful visual as you peer down a hallway, with ribbons catching in the breeze", along with a larger photo showing more of a room view with ribbons in the doorway. While it's not a DIY book, these simple ideas are ones you can do yourself simply by reading Sibella's captions and applying her advice. For me, her words and images challenge my thinking and ways of doing things – so while I may not apply her idea to hang ribbons in my doorway, it did lead me to think that perhaps hanging them across a window as a sort of curtain would be amazingly lovely…
Of course, no Sibella book would be as amazing as they are without her talented brother, Chris Court, who is a photographer and shoots her beautiful arrangements of things. I love his aesthetic – his eye is brilliant and he sees so many lovely details and approaches objects from the best possible angle. I also like how he shoots using natural light because it makes everything feel so much more cozy and natural.
I must add that this book isn't one that will appeal to the masses looking for a step by step guide to styling or collecting – you really have to have a creative soul or be open to her more abstract ideas — you have to "get" Sibella and her artistic take on things in order to fully appreciate this book which is really a poetic work of art. She is so creative and this comes very naturally for her, it's her gift, but this book isn't for those who want detailed instruction, long lists of ways to show each collection or perfectly perfect storage ideas. What Sibella does well is present creative, more artistic ideas that aren't textbook, boring or overly planned – her ideas are very organic – they aren't fussed about – and come from the truest place of all – her heart. For me, this is why I still buy books, for unique perspectives and beautiful imagery that isn't being pinned to death all over the web. This is such a special book – well done, Sibella!
(images: holly becker for decor8)
I am wobbly kneed yet deliriously delighted to show you a sneak peek of a very special project that I began working on earlier this year that JUST arrived in my mailbox… but first, this is what my workroom looked like for 6 months of my life…
After months of planning, traveling, writing, editing… Copies of my upcoming decorating book, Decorate Workshop, which will be available in the UK, North America and Australia/New Zealand in October/November of this year and then in late winter, in German! Woweeeee! I nearly fainted as I opened my mailbox today because it's such a big task to do a book, you wrap up totally exhausted from it, and then you are waiting for what feels like an eternity to see it in print. Cracking it open for the first time was a real high… Would you like to see it? Here is the American version from Chronicle Books on my bookshelf…
We just finished Decorate Workshop in July so I've not had tooooo long of a time to wait yet it felt like forever because the anticipation that an author and team feel to see their "child" delivered is undeniably off the charts – I've been happy, crabby, emotional, just a whole load of hormones as I waited by my mailbox for this book to arrive. It's like a newborn child, getting the keys to a new apartment, buying a home, bringing in that newly upholstered sofa, landing on the soil of your dream destination, seeing your blind date after weeks of wondering whether he'll be cute (and he shows up looking delish, oh my!)… The waiting period that went into realizing the dream is a rainbow of delicious, stressful, raw, draining, magical, crazy and hope-filled emotions. You're pretty much a crazy person from the time you start writing until the day your book releases. (Here is a shot below of Decorate and Decorate Workshop. I love how Chronicle Books designed the spines to coordinate nicely when displayed together on a shelf. They are so committed to detail.)
My hope with this second book, which I've decided to write in the voice of my blog decor8 and to author solo, is that you will read every single page, scribble in the margins, highlight stuff with your neon yellow marker and write in the spaces that I've designated throughout the book for you to jot down notes, ideas, dreams… This book is all about tapping in to your personal style and turning your ideas and inspiration into something real in just 8 steps. (Below is a shot of the UK version of the book. The US version is softcover with a different jacket but that is the only difference. The UK version is hardbound. I'm so happy that Jacqui Small put my blog address on the cover, I think that's pretty amazing!)
Here are some spreads for you to peek at that follow. Decorate Workshop is filled with pretty photos that were shot by mostly Debi Treloar, the magical photographer and now a good friend who lives in London. Debi has shot around a million of the best looking books in the world so to work with her is always an absolute "pinch me is this really happening" moment. She is brilliant in every single way.
In Decorate Workshop, I had the pleasure of selecting the homes and styling the rooms. We shot locations in the US and in Europe. I also pulled together lots of mood boards and more creative, inspirational vignettes that my husband photographed for the book – around 30 photographs are his. As the project wrapped up, we realized we needed more images but couldn't book Debi as she had started a new project and so my husband jumped in and took the final shots that we needed to wrap up. It feels good that he had a part in this book, it's nice to get the family involved in a project so close to your heart but furthermore, and the really cool part is, that the cover of the book was shot by him and the image on the back of the US version is also his photo – it's our home and I'm so proud to say that 4 rooms are in the book from our house along with a breakdown of how I planned several of them from A-Z. I thought that with my 2nd book you may like to see my home but also to learn more about how I think when I'm planning my own space so you'll get that in Decorate Workshop.
The book design was done by the talented and patient Sarah Rock and is super colorful and pretty to flip through, there are lots to look at and to inspire. I'm really proud of my team and of this book and hope that you'll pre-order it as it's now being sold at a very special rate and will be shipped to all who pre-order it first before you start seeing it in stores.
It even comes with a very special gift – a French Fold book jacket that you can unfold, iron out and use as a poster – you can hang it on the wall to display. It's an inspirational collage and is so very pretty with words, illustrated floor plans by my dear friend and rock star illustrator Samantha Hahn who did the beautiful floor plans in the book for us, and washi tape accents and pretty photos shot for this book. I just photographed it below after sticking it to the door of my cabinet so you can get a sense of scale, but it's quite pretty and I've never seen this in a decorating book before so I'm hoping to start a trend because I think a book with a gift like this is very special and is what makes printed things so much nicer and more warm and fuzzy than only digital things.
This is very exciting for me to share this news and to show off a wee bit too as I'm not really trying to show off but talking about an accomplishment can certainly come across as such… But I've had a tough few months since I finished this book as most of you know so it feels good to be back in a good place again now that I see the book and feel like it's a really, really good and big accomplishment. I simply wanted to share a happy moment in my life with you today so thank you so much for your love and support and for listening and looking. :)
By the way, I dedicated this book to all of you as you'll see in the beginning near the table of contents because it's so true – without loyal friends and fans where would an author be? Your support for Decorate, my first book that became an international bestseller and is now available in 12 languages, gave me the opportunity to write a second one so thank you for that because I truly love doing what I was meant to do for a living. It feels great to no longer be stuck in a cubicle at a corporate job as I once was before I made the leap, took a chance, started this blog and today, doing what I've been wanting to do since I was little. Thank you for giving me this, you guys!!!!!! And thank you to the homeowners and some of my blogger friends who are in this book too – so proud!
Pre-order
Tell me, which one of the two covers do you like the most? I'm really curious!
(images: holly becker)