You may be hearing a lot about my book on decor8 for the next week or so. There is a blog book tour being sponsored by my publisher, Chronicle Books, and so each day 2-3 bloggers in North America are reviewing the book publicly on their blogs. The schedule is listed here, but I want to thank all of the bloggers who participated this week – each of them are listed below.
Poppytalk review, "The process Holly has come up with is really practical and is a brilliant way to approaching your space." You can read this post too where Poppytalk had an interview with me.
Sacramento Street review, "I've been following Holly Becker of Decor8 for years and years (since 2006) – it's one of the first blogs I started reading. It ultimately inspired me to start Sacramento Street over three years ago… In Holly's second fabulous book, she shares all of her design secrets and also the eight step process/workshop to help you transform a home or room that will reflect your personal style. Holly asks questions throughout the book that will have you getting one step closer to your perfect interior style. It's a brilliant way to approach design!"
A Creative Mint review, Decorate Workshop is the, "Second fabulous decorating book by Holly Becker of Decor8. I have had the absolute pleasure of knowing Holly for three and a half years now, we have worked, traveled and spent countless hours laughing and chatting together. She is a fantastic teacher and wow, does Holly ever have an incredible eye for design. She just gets it, design and decorating are innate for her."
Horray review, "One of my favorite details is the cover jacket that unfolds to a poster-sized page full of photos."
Design For Mankind review, "Read It… Decorate Workshop is the perfect go-to book… A workbook for the decor-obsessed, it's filled to the brim with color schemes, pattern ideas, space planning, budget tips and even radly helpful checklists."
Decorology review, "Great tips and eye candy!"
Bloesem review and interview with me. "I really enjoy how Holly writes both on her fabulous blog as in her books…What makes 'Decorate Workshop' different from her first title… well … lot's more interaction with us the readers. Yes, Holly makes it easy via a 'one step at the time' guide throughout the book helping you to start decorating or renovating your own space. It's almost like she's there with you, telling you what you should be doing next. The book helps you come up with your own ideas instead of Holly telling you what's nice and what's not. That's what we believe the best part." Win a copy of Decorate Workshop on Bloesem here.
Design Muse review, "One of my favorite sections is "Organize Your Ideas" where Holly talks about how to create mood boards. I love creating mood boards and use them daily in my own graphic design process. They are a great tool for decorating and any other creative project."
The City Sage review, "Nothing will ever replace the satisfaction of holding a book in our hands, of smelling its fresh pages. And a book by a blogger and community leader like Holly Becker of Decor8? That is a triumph for us all. Holly brings us her second book, Decorate Workshop. It's the follow up to her her hugely bestselling Decorate, but I have to say that as much as I loved her first volume, this second offering is even better. Don't get me wrong, I love interiors eye-candy as much as the next girl, but the how-to approach of Decorate Workshop is so darn useful!"
It's so exciting to read what each one had to say about the book and also to share what they liked about it. I think it's really cool to see how some took photos – I can wait for next week to see how the bloggers participating will present the book. It's extremely exciting for me and I also want to thank you all for your support and encouragement, I had a really tough summer as you know in my personal life but now I'm back to normal and feeling fine (which is really nice because I felt like I would be in that little mouse hole feeling sorry for myself for a very long time!). Now that the book is out there, and I'm reading your reviews, I feel comforted and happy. And I'm glad I came out of my mouse hole, too. Thank you for your love!
AND there are some other special bloggers out there who recently ordered my book and were so kind as to post reviews on their blogs this week which felt like a huge celebration for me online all week long between the blog book tour and the other supportive friends posting about Decorate Workshop. Here are reviews that came in from some very nice blogs…
Apartment Therapy review, "From blogger to bestselling author, Holly Becker brings you fresh ideas and endless inspiration. Decorate Workshop is a valuable planner for any home stylist." You can also enter to win a copy of the book here.
IDA Interior Lifestyle review, "I like the personal approach of this book, like an informal chat with a friend, the same attitude that she (Holly) shows writing on her blog; I like that in every section you can find blank pages to "interact" with Holly. She asks you to answer on several questions, she gives you the tools to find your decoration way and she offers her experience; and finally we can see the pictures of the lovely apartment that she shares with her husband in Hannover!"
Do What Your Love review, "Fab new book! It is full of inspiring images (think the best of Pinterest interior pictures in a book!) and walks you step by step through the decorating process. Holly helps you analyse what kind of style works for you and helps you plan exactly what kind of rooms you want to live in." You can also win a copy of the book here.
I want to personally thank each of you ladies for being part of my book tour this week and I can't wait for the final group of bloggers next week to see what they have in store for me. This is fun and gives me such a glow, so thank you again for the support and encouragement. :)
(images by the wonderful hooray blog)
Hello everyone! I'm back from London and will blog about my shopping adventures on Columbia Road later today, but first I simply MUST thank Jan at Poppy Talk for kicking off the bloggy book tour yesterday for Decorate Workshop AND for offering her readers a chance at winning a signed copy – her drawing will be on Wednesday, November 28th so enter Poppy Talk yesterday, here is her post with a review about the book AND a chance for you to win a signed copy! Click here to check it out. Also, she'll be posting an interview that she had with me tomorrow when she announces the winner.
Here is a photo from the book from Emma Cassi's home photographed by Debi Treloar. Isn't this an inspiring nook in her office space? She is a jewelry designer in London and frequently has buyers stop by to see her latest collections, which are stored in this magical cabinet. She changes the wall frequently to fit her collection as well. I was so inspired by Emma and her home, I met her through Sania Pell, so I had to have it in my book.
Thank you again Jan for launching my blog book tour! Readers, you can see her post and book review here. Today, the book tour continues with Sacramento Street and A Creative Mint – You'll LOVE to see what those ladies have in store for you!
(photo: decorate workshop by holly becker for chronicle books, photographer: debi treloar)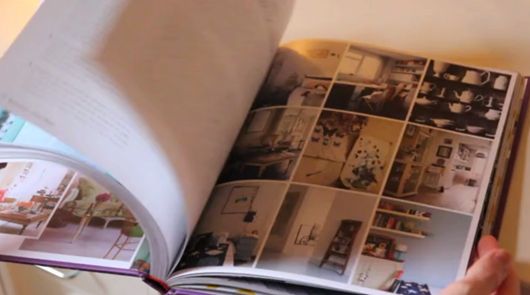 I am sitting here blushing because my friend did a sweet thing and surprise me with a video! I'm so touched by this! Me, speechless – get a camera because this is first! Thank you Steffi, I love this!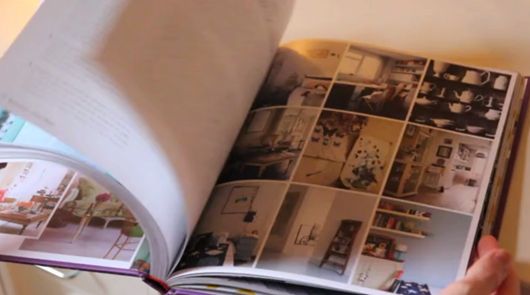 TO WATCH THIS VIDEO CLICK HERE
I think it's such a creative way to review a book, don't you? It makes me think that together, we bloggers have so many options and ways to present information on our blogs – we are so lucky! The book can be found here (UK) and here (US).
Psst: Can everyone who has the book do me a huge favor? Can you leave a review on Amazon? Thank you, that would be just super. I hate to ask but it would be so helpful!
This really made my day. Thank you again Steffi and happy Friday everyone!
xo,
Holly
I was delighted when Sibella's publisher, Harper Collins, sent me a beautiful advance copy of her new book, Life of a Bowerbird, which releases October 9th. If you do not know Sibella Court, she is an interior stylist, shop owner and author from Australia who has 3 beautiful books (this one being her 4th) that are all dedicated to her passions: styling, shopping and world travel. When Life of a Bowerbird arrived, I immediately made myself a cappuccino and sat by the window in my kitchen to flip through but a funny thing happened… As I was perusing I felt this overwhelming urge to grab my camera so I shot a few pages so you could share the experience of reading Life of a Bowerbird along with me. Ready to take a seat and follow along?
What is a Bowerbird, you ask? If you're not familiar with them (I hadn't a clue, but suspected it was something like a crow), a bowerbird is a bird native to Australia that builds its nest on the ground and collects everything it can to create a cozy home from shells to bones, stones to brightly colored objects, always found or stolen, always collecting and building.
Sibella is often referred to by her dearest pals as a bowerbird because she is a passionate, curious collector. She believes in building ones nest over a period of a lifetime, day by day, object by object, and as passions change, to rotate in (or out) collections, or perhaps to give them a new home and begin again with another series of collected treasures. I believe in this too.
Many of us collect things but aren't always certain how to arrange, store and display our prized collections. In Life of a Bowerbird, Sibella shows us everything from scissor collections to feathers, eggs, antlers, taxidermy, porcelain and maps, for example, and how to do interesting things with them. As I looked through the book, I found with each assortment of things both a close up shot of it (for instance, ribbons) with at least one idea for how to display the collections creatively in the home as a larger shot nearby. For instance, you can find a macro shot of ribbons on page 152, and then Sibella advises on page 153, "Velvet embellished ribbon lengths are easily tacked over a doorway. What a lovely entrance to a room or a beautiful visual as you peer down a hallway, with ribbons catching in the breeze", along with a larger photo showing more of a room view with ribbons in the doorway. While it's not a DIY book, these simple ideas are ones you can do yourself simply by reading Sibella's captions and applying her advice. For me, her words and images challenge my thinking and ways of doing things – so while I may not apply her idea to hang ribbons in my doorway, it did lead me to think that perhaps hanging them across a window as a sort of curtain would be amazingly lovely…
Of course, no Sibella book would be as amazing as they are without her talented brother, Chris Court, who is a photographer and shoots her beautiful arrangements of things. I love his aesthetic – his eye is brilliant and he sees so many lovely details and approaches objects from the best possible angle. I also like how he shoots using natural light because it makes everything feel so much more cozy and natural.
I must add that this book isn't one that will appeal to the masses looking for a step by step guide to styling or collecting – you really have to have a creative soul or be open to her more abstract ideas — you have to "get" Sibella and her artistic take on things in order to fully appreciate this book which is really a poetic work of art. She is so creative and this comes very naturally for her, it's her gift, but this book isn't for those who want detailed instruction, long lists of ways to show each collection or perfectly perfect storage ideas. What Sibella does well is present creative, more artistic ideas that aren't textbook, boring or overly planned – her ideas are very organic – they aren't fussed about – and come from the truest place of all – her heart. For me, this is why I still buy books, for unique perspectives and beautiful imagery that isn't being pinned to death all over the web. This is such a special book – well done, Sibella!
(images: holly becker for decor8)