People Will Always Need Plates. Now that's a fun name for a company specializing in well, you guessed it, plates and such.
This UK company creates some pretty fun patterns based around life in London that I thought you'd really like to see today. And a special thanks to reader Fay for the tip, these are really nice and best of all, they're making their way into the states for the American readers. Yay!
(images from pwanp)
I noticed lots of Greengate products in Stockholm at various stores, and also here in Germany this Danish brand seems to be in many of the boutiques where I shop.

Greengate is a Copenhagen-based company, it centers around a cottage theme, think of Cath Kidston or Shabby Chic. The collection is mostly geared around the kitchen, pieces are quite colorful, mostly ceramics and textiles, and all of it seems to be very well made.

I wouldn't own a whole room full but I do have a few pieces at home because I really like some of their patterns and figure that mixing in a tea cup here or a towel there can look quite pretty (you may recall my milk pitcher from Greengate from this post).
(images from greengate)
This past weekend I met Nathan of Hijacked Ceramics over at the South End Open Market and had the nicest chat with him about his work. Inspired by his travels, he creates functional pottery that look much older than they are, using layers of color, pattern and texture from the woodblocks he uses, they have a sense of history despite being newly created. The juxtaposition of simple forms and ornate, colorful decoration are both unexpected and beautiful. I loved the mugs and cups he had on display on his table. They felt so sturdy and the colors, oh the colors! Blues, greens, yellows…

Nathan is on etsy and frequently replenishes his stock, so bookmark his store and watch it often!
(images from hijacked ceramics)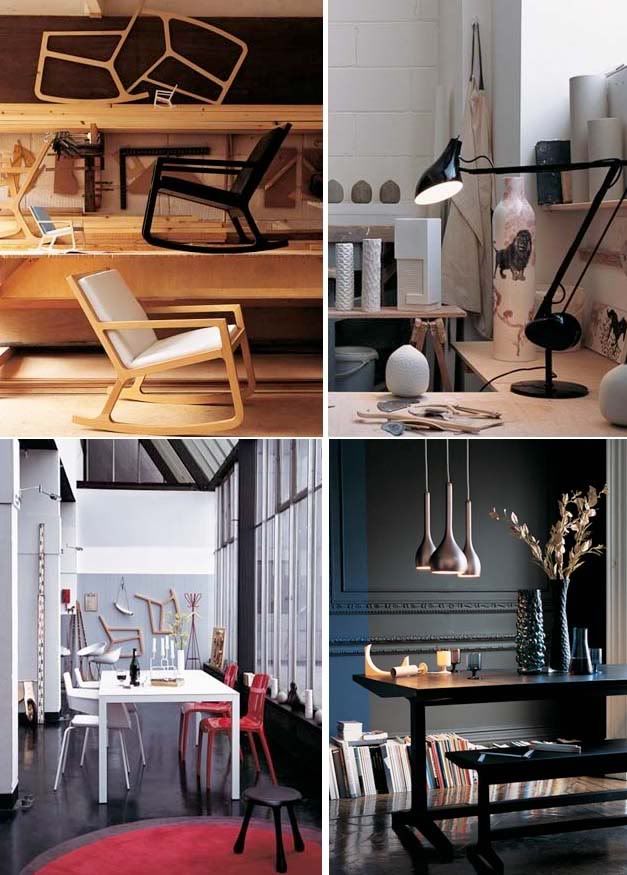 One store that I always look forward to visiting when in Germany is Habitat in Hamburg, where there's both a retail store and an outlet. I have to take photos for you this time when we go, you'll love it. Hamburg is so beautiful and this store is such a pleasure to shop because it's both affordable (the prices are in the West Elm range) and ultra stylish and chic in that European way, the way we all seek to recreate in our own homes here in the states.

I just flipped through their Fall/Winter '07 catalog and decided that I'm going to try to fit the Concetta vase in my luggage, I absolutely adore the pattern and colors on it. It's designed by none other than Concetta Gallo for Habitat. She is amazing.

I really like this affordable rocker, I see it in about a million different fabrics that I'd use on the seat, but I highly doubt I can fit this in my carry-on bag. :) The Concetta rug is fabulous as well, but again… Not going to fit on the plane. But if you live in Europe, most likely there's a Habitat store near you.

In addition to the styles and deals, another major perk when shopping Habitat, at least in their Hamburg store, is that there's a wallpaper section where you can buy fabulously hued rolls right on the spot. I love this, I wish stores in America sold wallpaper in their showrooms, such a great idea and it makes shopping for wallpaper super easy when it's right there alongside the great sofa or chair you're planning to purchase.
(images from habitat)