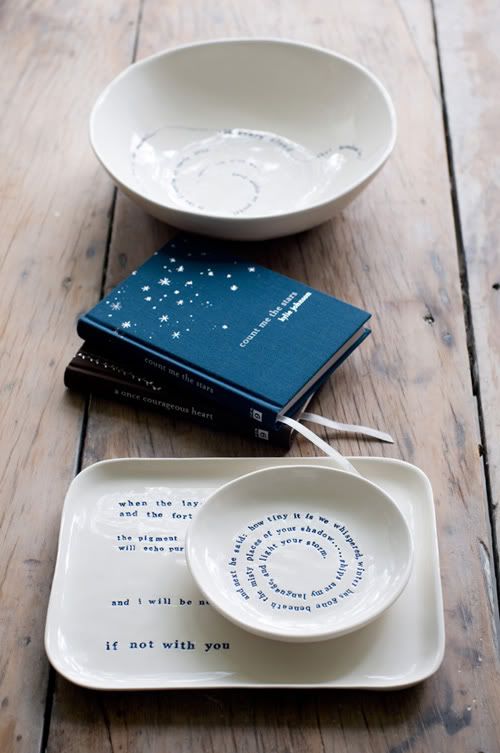 Kylie Johnson is a talented poet and a ceramicist from Brisbane who has an online store but — good news for the US and Europe — Anthropologie recently picked up her ceramics though they already stock her poetry books (I own Count Me The Stars published by Murdoch Books, it's lovely) and I think their choice is just perfect as Kylie's work is stunning Anthropologie commissioned three vessels from her for their stores and Kylie wants to share them with decor8 readers today as they are just about to hit the shelves in both Europe and the US next week.
I love seeing poetry and ceramics merge – what a gorgeous combination of my two favorite things — meaningful words and delicate, tactile porcelain, for a true sensory experience. Australian photographer Jillian Leiboff recently did a portrait shoot with Kylie and so above is a little glimpse from that day these two ladies spent together, which I thought was really sweet… so now you see above Kylie's gorgeous pieces.
Psst: Kylie blogs, too.
(images: jillian leiboff)
The other day I showed some fantastic painted spoons and many of you loved the idea to paint stainless steel with matte paint to use as  decorative objects in the home. Then, reader Leigha from Elle Oh commented about Caroline Swift and her gorgeous bone china spoons and of course, I had to learn more. Caroline studied industrial design in Scotland and spent nearly twenty years designing knitwear as head of knitwear design for Benetton which took her to England, Italy and New York City. During her travels and work there, she became curious about design in other areas such as ceramics and interiors. She was also interested in further exploring her culinary passions. What was she to do with all of this curiosity as an accomplished knitwear designer? While most wouldn't take a risk after so many years in a secure role Caroline felt she was being called to explore her interests further… and she did.
Taking time off can help one to decide whether or not a newfound interest is fleeting or more grounded, so Caroline did just that. She paused and listened to what her authentic voice, the one we all have inside that you can only hear if you listen beyond the noise of the day-to-day. After her break, she went to England to develop concepts and ideas for a food book that she decided to take on. Then a challenge arose. She felt frustrated that she was unable to source the props she needed for her images, the ones she imagined in her mind's eye and she thought more about this. Caroline spotted what she refers to as an, "intriguing relationship between food and tableware and how they influenced each other." This led her to design her own line of tableware that is natural, pure, beautiful and that has integrity.
As you can see, one thing often leads to another. What you set out to do can change along the way. Allow the lack of something out there be a catalyst for you to drive change – perhaps if you don't see something you can create it. Frustration, if channeled in a positive way, can lead to your next great adventure.
Caroline is now creating gorgeous ceramics, most of the work is unglazed to highlight the beauty of the bone china. About the process Caroline explains, "This is an uncompromising and time consuming choice as the pieces must be dry-sanded, at a very delicate stage, to an egg shell finish before being placed in the kiln for the final firing. Bone china is without exception the most challenging ceramic material to work with but it's colour, beauty and strength after the final firing is unprecedented and allows it to be worked so thinly, whilst still retaining its strength." Heart and soul clearly goes into her creations.
Clearly, her career change was a good one for her. Today she is producing her gorgeous work by hand out of her studio in Barcelona, Spain. I imagine that many stylists inquire about these gorgeous pieces because they would be perfect for magazines and books as props. Displaying and using them at home would be equally nice, I imagine them in my dining room and when I do, I smile. Not only because they are beautiful but because one women took a chance on her passions.
Owning a piece of Caroline's work would inspire me to push ahead because I know her background and feel inspired by it. Shouldn't some of the things in our home inspire us somehow? We cannot afford to buy everything handmade with a unique story, I know, but even a few pieces can go a long, long way. Isn't this why we buy handmade in the first place, or at least from businesses that were started by people with traits we esteem – like good old-fashioned gumption — to inspire us? A beautiful home doesn't mean simply aesthetically pleasing but should mean emotionally fulfilling as well. The objects we display can be so much more than pretty, they can be visual reminders of the values and dreams we hold most dear.
(images: caroline swift)
Good morning and happy new week to you! A new week means new possibilities, which is always exciting as you never know what good things can happen between now and Friday. Sounds a bit chipper, I know, but it's how I handle Mondays because I am the girl who could easily live in a never ending weekend! Thinking positively gets me through — I believe that if you smile and think positive, then good things seem to find you. Take for instance this good thing: Ceramicist Cosima Sempill who lives and works in Edinburgh, Scotland. Cosima comes from a creative family and spent an early part of her childhood in South Africa, which no doubt influenced her work. Having creative surroundings and a supportive family can work wonders!
After studying ceramics at the Glasgow School of Art, Cosima decided to live in Edinburgh and launch her business under the name Kitty & Dude. From quirky mugs to cupcakes, flying pigs, clip on birds and Russian nesting dolls that you can't stack — she is not afraid to express herself through her work and as a result, has found success and joy in it though she is also quite flexible when it comes to what she does for a living (something I appreciate) because in her bio she says, "I love my job but if it doesn't stick I'd love to be a stylist. My dream job would be working for Elle Decor- swoon. Also dream of eating mangoes and making pots in the sunshine, preferably the South African Sunshine."
I like that bio. It's honest and something that I can closely relate to because I've had made "jobs" in my life and love to try new things though we all know society as a whole still seems to discourage it. Living a somewhat "career vagabond" lifestyle, as I call it, is the only way I know as I have a creative soul and can become bored easily if my life becomes too predicable. What about you? Can you relate?

If you'd like to learn more about Cosima then you can read a lovely interview on the Home Plus Scotland website right here. You can also purchase some of her things at Papa Stour online.
(images: cosima sempill and rosie brown)
Hello everyone! I'm excited to share a brand new collection of porcelain along with a gorgeous studio space belonging to ceramicist Sandra Haischberger from Feinedinge in Vienna, Austria today. I've talked about her ceramics many times before, but last week I decided to contact her for some photos of her studio and her latest collection, ALiCE, because I know how much you'd love to see such an inspirational creative zone!
If you are not familiar with Feinedinge, allow me to introduce Sandra's company to you! She runs a design studio that specializes in sustainable handcrafted porcelain. Sandra's work is intricate and delicate, from porcelain lights with tiny holes created by hand using a small drill (wow!) to gorgeous cups and vases – it's all quite lovely. The new range, currently showing at Maison & Objet in Paris, is called ALiCE which is a collection of teapots, cups and dinnerware crafted using tinted Limoges porcelain and is available in 6 colors that you can mix and match.
Sandra lives only a short walk away from her studio, so she appears to be living quite the dream life, doesn't she? She is doing what she loves and lives in a fantastic city with her supportive and caring family. What more could a girl want? Oh yes, talent. Well she has plenty of that too! I really enjoyed her space because it's light and bright (I can really think in a room like that!) and I really like how she mixes in mid century furniture to break up all of that white, it's a really nice look.
Sandra thank you for sharing with decor8 readers this special peek into your shop and a glimpse of your new collection. Much success to you!
(images: feinedinge)