I'm dreaming of a chandelier for my living room and Mud Studio has the one that I want though there is no way I can afford it so it will remain on my dream wish list for a very long time. I've become obsessed with Mud Studio, a fan for a few years now but even more now as their beaded chandelier continues to captivate me and my affection for it only grows stronger by the day… Here it is shown in the home of the founders of Mud Studio, Werner and Philippa du Toit, who live in South Africa along with other wares from Mud Studio that I'm dreaming of…
Mud Studio is on one hand, earthly and natural and on the other, very chic I think. I wouldn't mind having some of their dinnerware, it's right up there on my Astier de Villatte wish list!
Speaking of Africa, I'll be in Amsterdam tomorrow (I know, sounds unrelated but I'll get to that in a moment) for a few days with Debi Treloar as we will begin the first batch of shoots for my next interiors book to be published simultaneously by Chronicle Books (US) and Jacqui Small Publishing (UK). I'm very excited because my home will be in my next book, something I've been hoping for, but beyond that I can't wait to share more of the homes I love with you and to give you more inspiration and ideas through my words and ideas. I'm excited!
But anyway, in Amsterdam, there is a shop called From Africa With Love that I heard opened not too long ago that specializes in design from Africa and I just know I'll love it. It's my top priority of things to do during my free time this week between shoots and I'll even do some shopping with Stephanie Rammeloo from Dreamboat, an amazing stylist and author who had her home in my book and she is such a lovely person to spend time with. I feel so lucky that decor8 has opened so many doors for me to meet so many talented, generous people out there…
(images: mud studio)
Ohhh pretty products are calling, do you hear them?! The cry is coming from Miratis, a new online shop offering contemporary products for the home. While I can't say contemporary is how I'd describe my taste, I definitely surprised myself when I found some gorgeous and tactile ceramics in their shop that made me drool in delight and imagine scooping up for my nest.
a.| large flower bowl b.| medium Chinese jug c.| oval vase d.|small torn bowl.
Miratis ("mirus" meaning wonderful/astonishing/wonderful and "artes" meaning the skill of art and craft) gives immediate access to a hand-picked selection of some of the most exciting designers and makers in Europe and beyond from textiles to glass, ceramics to metal — and more.
Curated by founder Lisa Harrison, all the featured designers in the store create items that are exclusive to the website, I love the ceramics by Emma Clegg and Janet Stahelin-Edmondson the most.
Aren't these pieces above just lovely? I can imagine grouping them all on a shelf with a few flowers in each. I love that large flower bowl as it reminds me of a vintage swim cap my grandmother Millie wore when I was a child. So pretty!
(images: miratis)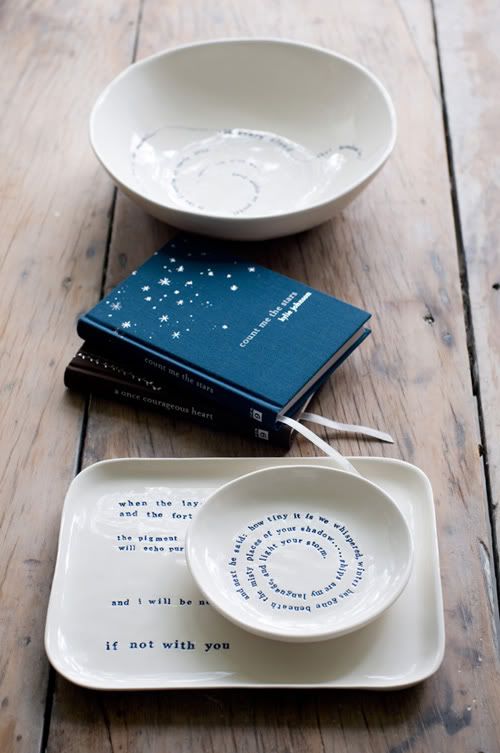 Kylie Johnson is a talented poet and a ceramicist from Brisbane who has an online store but — good news for the US and Europe — Anthropologie recently picked up her ceramics though they already stock her poetry books (I own Count Me The Stars published by Murdoch Books, it's lovely) and I think their choice is just perfect as Kylie's work is stunning Anthropologie commissioned three vessels from her for their stores and Kylie wants to share them with decor8 readers today as they are just about to hit the shelves in both Europe and the US next week.
I love seeing poetry and ceramics merge – what a gorgeous combination of my two favorite things — meaningful words and delicate, tactile porcelain, for a true sensory experience. Australian photographer Jillian Leiboff recently did a portrait shoot with Kylie and so above is a little glimpse from that day these two ladies spent together, which I thought was really sweet… so now you see above Kylie's gorgeous pieces.
Psst: Kylie blogs, too.
(images: jillian leiboff)
The other day I showed some fantastic painted spoons and many of you loved the idea to paint stainless steel with matte paint to use as  decorative objects in the home. Then, reader Leigha from Elle Oh commented about Caroline Swift and her gorgeous bone china spoons and of course, I had to learn more. Caroline studied industrial design in Scotland and spent nearly twenty years designing knitwear as head of knitwear design for Benetton which took her to England, Italy and New York City. During her travels and work there, she became curious about design in other areas such as ceramics and interiors. She was also interested in further exploring her culinary passions. What was she to do with all of this curiosity as an accomplished knitwear designer? While most wouldn't take a risk after so many years in a secure role Caroline felt she was being called to explore her interests further… and she did.
Taking time off can help one to decide whether or not a newfound interest is fleeting or more grounded, so Caroline did just that. She paused and listened to what her authentic voice, the one we all have inside that you can only hear if you listen beyond the noise of the day-to-day. After her break, she went to England to develop concepts and ideas for a food book that she decided to take on. Then a challenge arose. She felt frustrated that she was unable to source the props she needed for her images, the ones she imagined in her mind's eye and she thought more about this. Caroline spotted what she refers to as an, "intriguing relationship between food and tableware and how they influenced each other." This led her to design her own line of tableware that is natural, pure, beautiful and that has integrity.
As you can see, one thing often leads to another. What you set out to do can change along the way. Allow the lack of something out there be a catalyst for you to drive change – perhaps if you don't see something you can create it. Frustration, if channeled in a positive way, can lead to your next great adventure.
Caroline is now creating gorgeous ceramics, most of the work is unglazed to highlight the beauty of the bone china. About the process Caroline explains, "This is an uncompromising and time consuming choice as the pieces must be dry-sanded, at a very delicate stage, to an egg shell finish before being placed in the kiln for the final firing. Bone china is without exception the most challenging ceramic material to work with but it's colour, beauty and strength after the final firing is unprecedented and allows it to be worked so thinly, whilst still retaining its strength." Heart and soul clearly goes into her creations.
Clearly, her career change was a good one for her. Today she is producing her gorgeous work by hand out of her studio in Barcelona, Spain. I imagine that many stylists inquire about these gorgeous pieces because they would be perfect for magazines and books as props. Displaying and using them at home would be equally nice, I imagine them in my dining room and when I do, I smile. Not only because they are beautiful but because one women took a chance on her passions.
Owning a piece of Caroline's work would inspire me to push ahead because I know her background and feel inspired by it. Shouldn't some of the things in our home inspire us somehow? We cannot afford to buy everything handmade with a unique story, I know, but even a few pieces can go a long, long way. Isn't this why we buy handmade in the first place, or at least from businesses that were started by people with traits we esteem – like good old-fashioned gumption — to inspire us? A beautiful home doesn't mean simply aesthetically pleasing but should mean emotionally fulfilling as well. The objects we display can be so much more than pretty, they can be visual reminders of the values and dreams we hold most dear.
(images: caroline swift)