To continue a bit more on our floral theme, there are so many simple yet stunning ways to present flowers in your home. One need not go crazy spending hundreds of dollars or even $20+ on bouquets. You can pick a few stems from your yard or balcony, grab some from a nearby field, or even ask a neighbor who may have many wild flowers in their yard if you could pick a handful for your home (our neighbors use to let us have our pick – literally!). Perhaps you could even find some fallen branches to arrange in a tall vase or pluck a few magnolia blooms (which are everywhere over here now, in full bloom) and pop them into a vase, tea tin, tea pot, anything really.
A simple peony bloom can be all you need for a bud vase, or one of those gorgeous cabbage roses which is a favorite flower of mine. There are many, many options so don't limit yourself to pre-made arrangements or clustering flowers together perfectly… again, simple touches can make an impact! Think of pearls with a black dress, or diamond studs with a button down blouse and some jeans. Simple elegance is what made Coco Chanel so famous as not every arrangement, whether fashion, interiors or floral designs need be over-the-top!
I found this beautiful porcelain shop recently called Rou Designs in New York who makes very simple bud vases in a feminine bubble shape that would be perfect for putting together something small and pretty by your bedside or on your perfume tray, or perhaps in the bathroom next to all of your pretty soaps and hand towels that you may have neatly folded on a shelf. You could even arrange several of the Rou Designs vases on a fireplace mantle or on a shelf in your entryway. If you're having a dinner party (or getting married) you could consider adding several down the center of your table. I can see doing this and then popping in a big peony bloom in each in various shades of pink from pale to dark. Or mixing things up with a different color in each vase – imagine that!
Do you use small arrangements as a budget-friendly decorating accent in your home or office? I have some mini glass bud vases but get annoyed by how the water becomes dirty and you can see an ugly water line from the outside. For this reason, I've grown more and more fond of solid vases or colored glass lately vs. transparent glass.
Do you have mini bud vases in your home and if so, how and where do you arrange them? Here is how I usually arrange mine… I have mini porcelain vases and cups, glass mason jars, mini jam jars, and little glass bud vases — some are shown here, here, here, here and here.
(images: rou design)
Are you a Mud lover? I am! For those of you living in the states who would like to order ceramics from Mud Australia online you may be pleased to know that the delightful Horne now stocks many of their wares. Great news, right?
Mud has some of the best ceramics in the world but being based in Australia presents challenges for those elsewhere who are fans of their work. That's why ordering through Horne just made all that fuss disappear… poof! Now you can browse Horne for their wares, place an order, and your ceramic goodies arrive safe and sound in your mail box within days. How about that? Here's a peek at what you can expect to find at Horne…
Wouldn't you love to set your table with these pretty things?
Psst: For those living in other parts of the world, like Europe, click here to view the Mud stocklist.
(images: mud)
Have you ever visited Istanbul's Grand Bazaar? Some of us are lucky enough to visit often like my friend Esra who hops a plane every few months! Whenever she goes, she returns with pretty bowls and other ceramic goodies for me. This is just a glimpse of my collection, there is even more… but I want to show only a few of my favorites as they are quite colorful and ornate. I love the tulip patterns and how some of the surfaces have slightly raised patterns that feel so good as you run your fingers over them. I display these on my white shelf in my kitchen with tea tins, glasses and white porcelain bowls. The mix of ethnic design with some of my more modern white ceramics makes for a stunning arrangement.
These bowls are perfect for tapas, sauces, salt, various sugars, you can even use them outside of the kitchen for your earrings. Most of the time, I display them because every time I look at these little bowls I think about my friend. I feel so special when she searches the bazaars to bring home a little carefully wrapped treasure just for me. I like to attach t a feeling or memory to objects in my home, do you do this too? The positive associations that I have with them makes me feel even more loved and supported. There really is truth behind, "Decorate with what you love". It can have such a positive impact on your life, family life, and even your relationships with others because so often I'll walk by these bowls and pause and say, "I need to call Esra!" and then I do.  See what I mean? :)
Online you can find your own Turkish bazaar. It's called Iznikium and they also have a shop in Istanbul's Grand Bazaar under the same name where most of these bowls shown above were purchased.
What about the things in your home, what is your approach to the objects that you have on display?
(images: holly becker for decor8)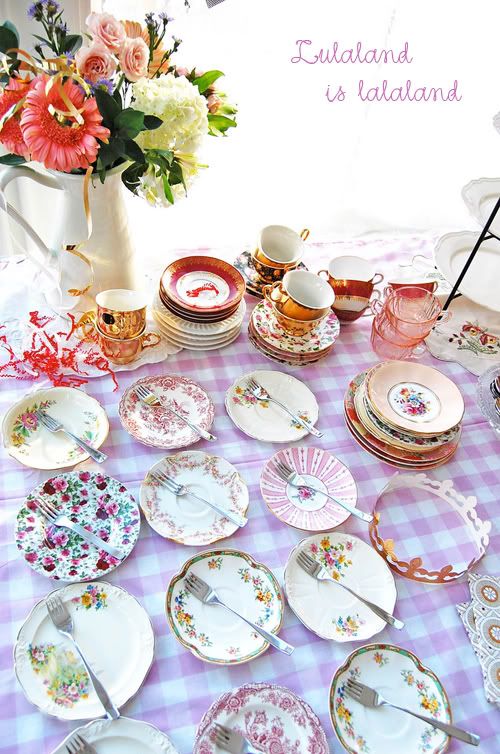 Will someone please invite me to a party with cupcakes served on the most beautiful vintage china ever? I found this image taken by stylist/designer Lula Aldunate (aka Lulaland) in New York and simply must share! What a visual treat this is.
Tea and cake please! Which reminds me, I really need to start working on my china collection again. Can you believe I sold all of my mismatched china a few years ago at a tag sale? I could kick myself. Have you ever done something like this? Sold an item/s only to regret it later? It's not what I do as a habit, I'm quite particular about what I let go of, but at the time I sold my china because I felt like I had way too much in my house and it overwhelmed me. Clients were giving me everything that they no longer needed and between that and my own "stuff" well… it felt a bit insane to have so much. I felt like I was being selfish to have so many things that I was not using regularly.
I've now decided to start my china collection once again, only this time I'm keeping it and cherishing it forever. The photo above inspires me as to why I should, how beautiful. Though I wouldn't mind learning how to screenprint on china like Nina does. Maybe I can ask someone to teach me. It would be fun to buy beautiful vintage china and then personalize it a bit in a fresh, modern way as so many great designers out there are doing right now. Of course mine would not be for sale but it would be nice to make my flea market finds more bespoke.
Do you know how to print in color on plates so that they can also be used for eating rather than only display?
(image: Lula Aldunate)