Have you ever visited Istanbul's Grand Bazaar? Some of us are lucky enough to visit often like my friend Esra who hops a plane every few months! Whenever she goes, she returns with pretty bowls and other ceramic goodies for me. This is just a glimpse of my collection, there is even more… but I want to show only a few of my favorites as they are quite colorful and ornate. I love the tulip patterns and how some of the surfaces have slightly raised patterns that feel so good as you run your fingers over them. I display these on my white shelf in my kitchen with tea tins, glasses and white porcelain bowls. The mix of ethnic design with some of my more modern white ceramics makes for a stunning arrangement.
These bowls are perfect for tapas, sauces, salt, various sugars, you can even use them outside of the kitchen for your earrings. Most of the time, I display them because every time I look at these little bowls I think about my friend. I feel so special when she searches the bazaars to bring home a little carefully wrapped treasure just for me. I like to attach t a feeling or memory to objects in my home, do you do this too? The positive associations that I have with them makes me feel even more loved and supported. There really is truth behind, "Decorate with what you love". It can have such a positive impact on your life, family life, and even your relationships with others because so often I'll walk by these bowls and pause and say, "I need to call Esra!" and then I do.  See what I mean? :)
Online you can find your own Turkish bazaar. It's called Iznikium and they also have a shop in Istanbul's Grand Bazaar under the same name where most of these bowls shown above were purchased.
What about the things in your home, what is your approach to the objects that you have on display?
(images: holly becker for decor8)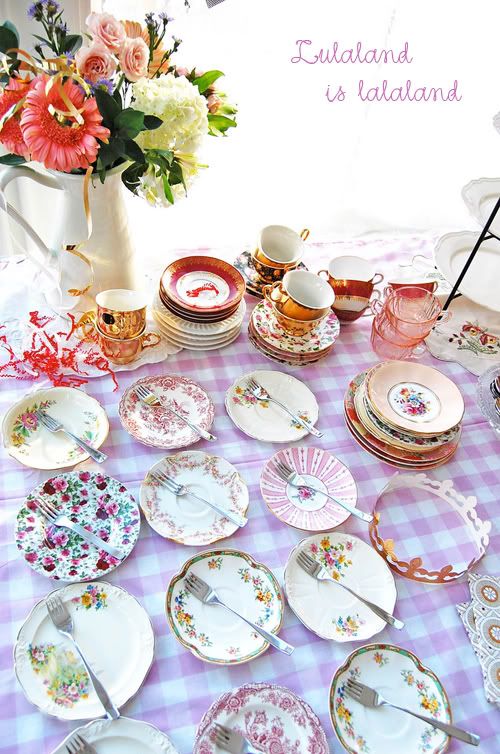 Will someone please invite me to a party with cupcakes served on the most beautiful vintage china ever? I found this image taken by stylist/designer Lula Aldunate (aka Lulaland) in New York and simply must share! What a visual treat this is.
Tea and cake please! Which reminds me, I really need to start working on my china collection again. Can you believe I sold all of my mismatched china a few years ago at a tag sale? I could kick myself. Have you ever done something like this? Sold an item/s only to regret it later? It's not what I do as a habit, I'm quite particular about what I let go of, but at the time I sold my china because I felt like I had way too much in my house and it overwhelmed me. Clients were giving me everything that they no longer needed and between that and my own "stuff" well… it felt a bit insane to have so much. I felt like I was being selfish to have so many things that I was not using regularly.
I've now decided to start my china collection once again, only this time I'm keeping it and cherishing it forever. The photo above inspires me as to why I should, how beautiful. Though I wouldn't mind learning how to screenprint on china like Nina does. Maybe I can ask someone to teach me. It would be fun to buy beautiful vintage china and then personalize it a bit in a fresh, modern way as so many great designers out there are doing right now. Of course mine would not be for sale but it would be nice to make my flea market finds more bespoke.
Do you know how to print in color on plates so that they can also be used for eating rather than only display?
(image: Lula Aldunate)
I've been thinking lately a lot about minimalistic organic white ceramics and how I naturally gravitate towards them when I'm out shopping. And more recently, I've been dreaming of white and gold ceramics and jewelry and I'm not sure where this obsession stems from. Then I remembered Up in the Air Somewhere which is Chicago-based designer and artist Susan Dwyer because she uses some white and gold in her work…
Susan makes some of the most stunning papier mache and ceramic vessels and spoons… and because she does not use molds, no two pieces are alike making them each display subtle differences from the last. This isn't helping to tame my desire for all things white and gold… :) So, so pretty.
On a personal note, I've been wanting to paint things white with gold trim and I've set my sights on some pear-shaped wood coasters that I have and a brooch that I'll have to work on later this week to satisfy my curiosity.
What about you, do you have any particular obsessions lately?
(photos: Ben Syverson)
Swedish ceramicist Gustaf Nordenskiöld in Stockholm has some serious style going on! Up until now Gustaf's work has been purely conceptual but now there are a very limited number of unique one-of-a-kind pieces sold in his web shop. Want to see? I know, I had you at Swedish and Ceramicist. Sure you want to see!
R.p.m candlestick in porcelain
Mallrik, candleholder in porcelain
Quake, hand thrown and shaken (not stirred he he) mug in porcelain
Fable, butter knife holder in colored porcelain
Grab (mini hook) porcelain.
About his work Gustaf says that he is trying to, "counter conventional ideas of beauty by making intriguing and sometimes grotesque works with naturalistic power and personality." He further relates, "This aesthetic and philosophical idea differs from the accepted parameters of Swedish studio ceramics and the result questions the Scandinavian minimalism."
These are all a delight to look upon, the candle holder really caught my eye. What about you?
(images: Karin Björkquist – check out her online portfolio by the way.)