Hello Friends, it is Leslie here with Color Me Pretty for December. I am really inspired by some of the soft colors used for decorating for the holidays. Hues like aqua, soft lavender, butter yellow and silver. It is a pleasure to experiment with a more subtle hued approach. With the help of a few sparkly ornaments and some candles, I can already feel my holiday spirit being lifted.
Wrapping gifts has always been a real joy for me. I love seeing parcels nicely wrapped and tied with ribbon. I also cannot seem to throw out pieces of nice paper, as I tend to save them all. Lately, I have been into making paper quilts to use as wrapping paper for special friends who enjoy paper like I do.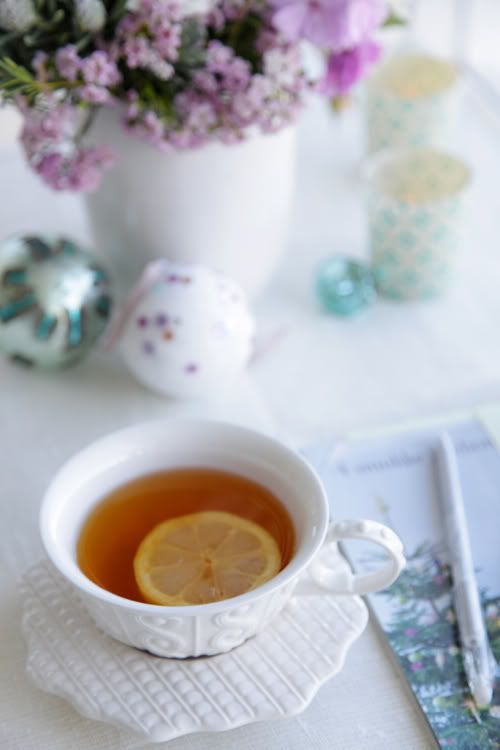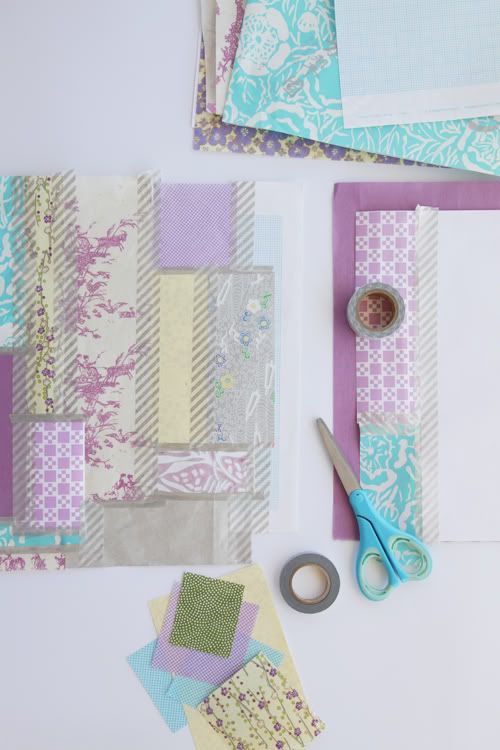 I use tape to quilt together pretty scraps of paper to make a larger piece of paper to then wrap presents with. The process does not take very long and I like the effect after a simple ribbon is added. It is a nice way to use gorgeous bits that may have otherwise gone in the trash.
I had to include this photograph of a special bag I purchased in Amsterdam in October as it has been hanging in my studio and I have been staring at it for some time. You can see how the palette has been influencing me! The bag was made by the hands of Leslie Oschmann an American designer living in Amsterdam who I had the pleasure of meeting. She is a lovely, warm and very talented designer who turns old unwanted paintings into new tote bags. Leslie also breathes new life into chairs and jewelry. You can read more about what she is up to on her website. Some of her bags are also available at Anthropologie.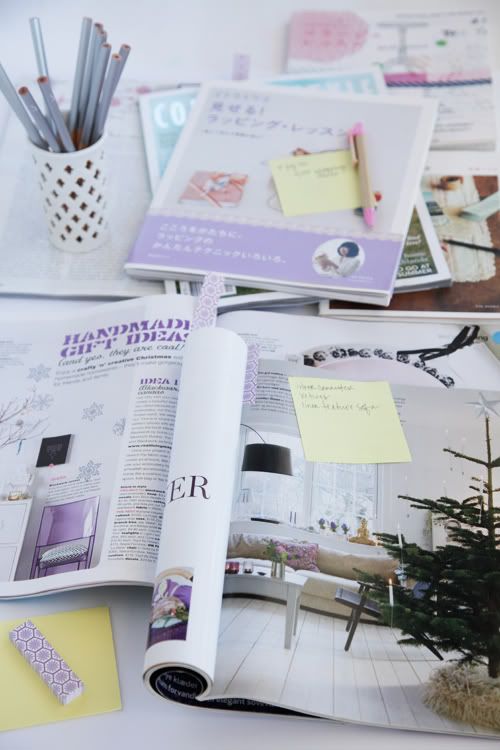 It is my wish for you (and me) to fit in some "slow" moments this season as they help make a hectic holiday routine more manageable.  Create space for a lingering cup of tea, a little time to savor yummy books or magazines, an afternoon for organizing or at least a minute to indulge in the scents of fresh flowers. Whatever holidays you celebrate I hope these last few weeks of 2010 are filled with joy. See you next year and thank you! – Leslie!
(images: leslie shewring)
Hello everyone! I am so pleased to share with you Color Me Pretty for November, styled and photographed by decor8 contributor Leslie Shewring from A Creative Mint. We skipped October to give Leslie some time off as she was traveling but now we're back on schedule with her monthly columns and surprise! Leslie will continue her column here on decor8 for 2011 so you have lots of CMP inspiration ahead of you. And remember, if you missed any of her work on decor8 in the past you can simply click here to view all of her color stories for lovely palettes that may inspire your next project, room scheme, party, outfit — whatever you fancy! And so with that, Leslie, take it away!
Hello Friends, it is Leslie here with Color Me Pretty for November. Last month I joined Holly in Morocco at Peacock Pavilions for a wonderful week of creative time organized by Angela Ritchie of Ace Camps. The gorgeous surroundings decorated to the nines by Maryam got me really inspired to continue painting yet more Moroccan patterns. It is kind of addictive and as you may know I have done a couple Color Me Pretty series in the past inspired by Moroccan patterns. They don't get old for me but I do hope I am not boring you with more! To keep it fresh I used a warm grey for the patterns and then added a little golden yellow, dark olive green and pink to the mix. I really hope you enjoy the combination.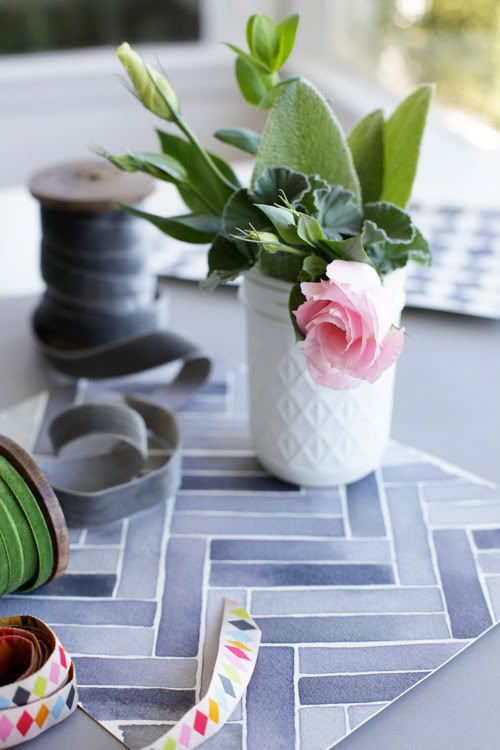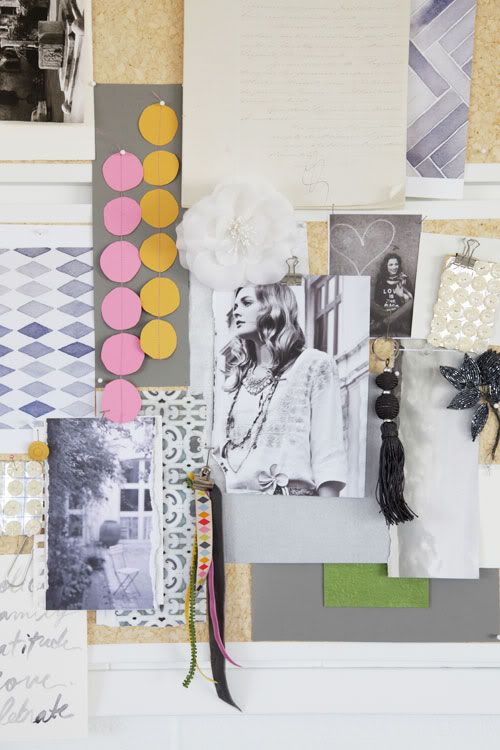 I have tried to use the patterns for some crafty little projects for you. With holiday entertaining time upon us, I thought I would spray paint a bunch of old glass bottles and jars to make an interesting floral display for the table or mantle. I can imagine them filled with red berries or evergreens, however I used a bunch of Lisianthus this time. After I had finished spray painting the bottles I couldn't help but paint a few with some tile patterns. You could really apply any pattern to the finished painted bottle. I used acrylic paint for the pattern and a matte white spray paint for the glass bottles. Metallic paint would also be lovely to use for the holidays.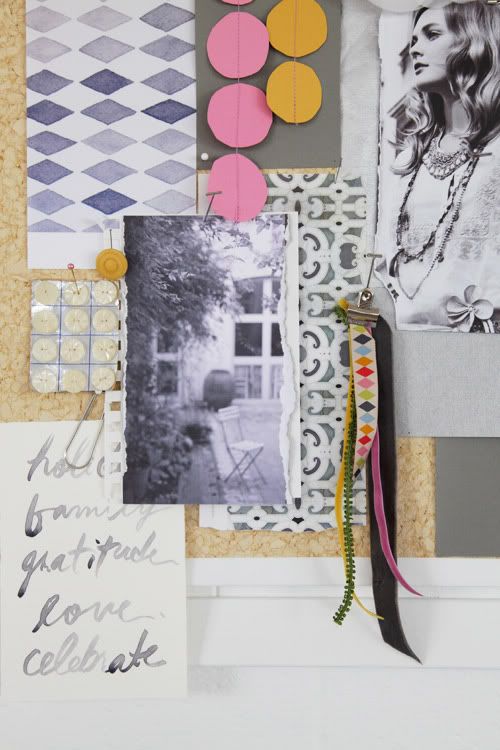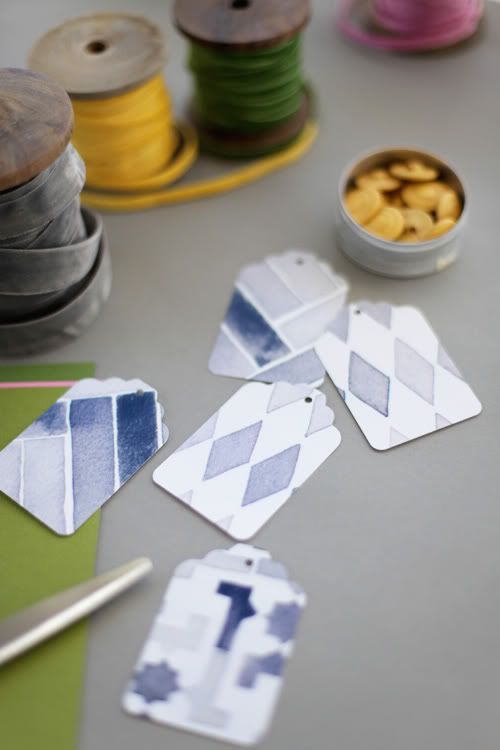 I thought it would also be nice to give you some more wrapping inspiration. I took photographs of my water colored painted patterns and then printed them out on matte photo printer paper. I then used the printouts for wrapping accents and for some tags. I use a Marvy Uchida craft punch for the tags. I love it because I am able to use up scrap paper for the tags. I also use catalog envelopes that have an adhesive strip for my wrapping because they are fast and simple. You just pop your gift into a large envelope and then fold over and seal where needed. No taping! Then you can just decorate them as little or as much as you want. The envelopes are readily available in 6"by 9", 9"by 12" and 10" by 13". If you are interested in learning more about Moroccan patterns a fabulous but pricey book called Zillij The Art of Moroccan Ceramics is excellent.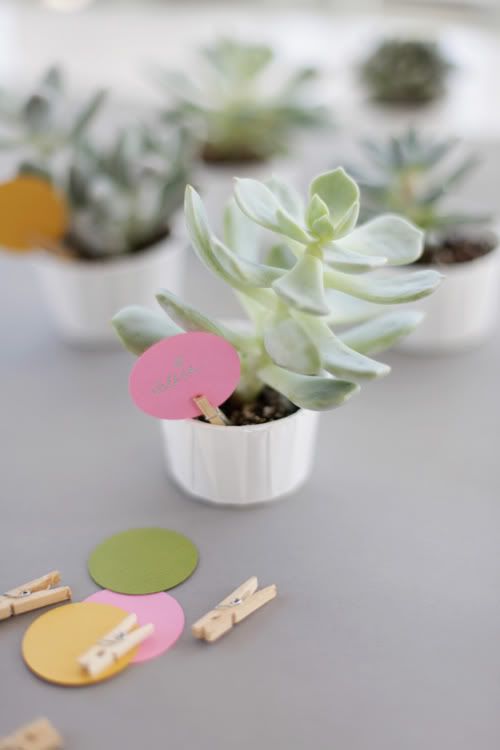 Lastly, I used some "Nut and Party Cups" from Michael's to hold some mini succulent plants I picked up for under a under a dollar each. I thought they made a sweet inexpensive display or gift. The cups could be cute with many different kinds of plants in them and you can easily punch a hole in them for drainage.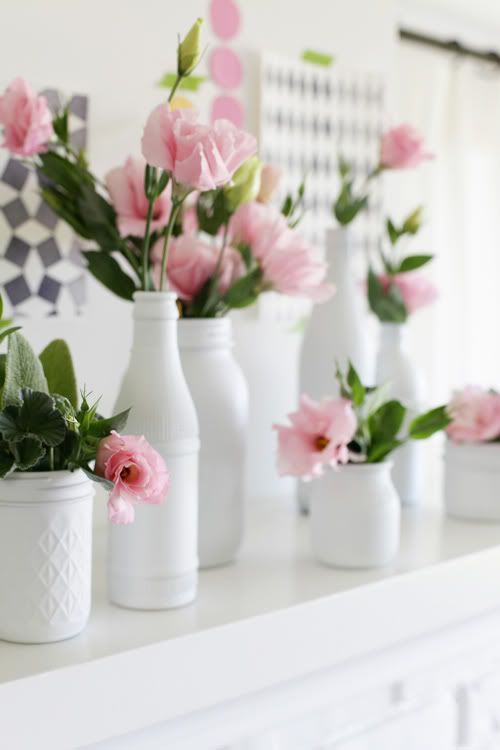 I will be back next month with many more ideas for you in a holiday inspired Color Me Pretty post. Until then Happy Thanksgiving or Happy November and thank you for joining me here today. – Leslie.
(photography by Leslie Shewring)
Hello and happy Monday to you! It is Leslie here with September's Color Me Pretty column. This time around I am using muted purple, cream, grey, silver and a touch of black. I was reminded of some of these colors in Holly's post here where she discusses a décor possibility for her new home, which she moves into this week! The palette was inspired by Sibella Court's paint line which I am sure most of you have checked out on her website. I tried using this palette loosely in a much smaller scale with a few little projects to get your creative wheels turning.
I have been seeing many of these colors appearing in my catalog pile as well and, once again I can't help but tear out images. They are clipped into my journals, stuck onto my mood board and taped on my wall for further inspiration. Today you will see images in my photographs from the Noa Noa, J.Crew, and Himla catalogs.
Purple hues seem to dominate the flowers in my garden too, like lavender, salvia, geraniums, verbena and solanum. I plucked a few sprigs and popped them into my vintage Amethyst bottles for the series. For some of the bottles I put on a little white paper with Japanese silver tape to balance out all the purple. You could tape any patterned paper on any kind of glass vase or jar for a similar effect. It is simple and shows you do not need to spend much time or money on flowers to have a nice display for your home.
I had fun using my watercolors to create little studies on small 2" by 3" cards. Sometimes it is nice to do really small creative steps towards a larger project, especially if you are feeling stuck or unmotivated. Like myself, when it is 95 degrees and I have no air conditioning in my studio! As I painted, stitched and glued sequins on these little cards I began to feel inspired and ready to work on the entire photo series. Do you have suggestions on how you get motivated for your creative work?
I hope you have enjoyed the series today and I look forward to seeing you back here next month. Take care, Leslie.
(images: leslie shewring)
Hello friends, it is Leslie here with my latest Color Me Pretty series. This time around I got really inspired by navy, straw, salmon, a little lemon, a little wood and denim.
These colors work well together in clothing and I found myself tearing out images from the early summer catalogs of J.Crew, Madewell and Noa Noa to include in my mood boards.
Don't you think clothing catalogs can be a treasure trove for ideas about color and texture? We have seen how fashion can inspire interior design projects but it can also inspire much smaller projects, like how you wrap a present or combine papers for your next collage.
With navy it seems to be all about stripes, in fashion, on my Japanese bowls, striped ribbon from New York. I just had to paint some for you, as I like how watercolor can make stripes look even fresher, if that is possible!
Once I started doodling with the navy paint I had a hard time stopping and after the stripes I ended up writing with my paint brush, painting patterns on envelopes and decorating plain paper fans. I can imagine that a few hand painted fans on a wall would be really pretty. Painting fans is also a fun project with kids as my daughter and her friend loved painting their own too. I picked up the plain uncoated paper fans in LA's Chinatown for a dollar or so each. The paper was pretty thick and a good surface for the watercolor paint.
Some of my stripe patterns got cut into squares and made into stapled quilts for my corkboard. I saw pieces of paper stapled together like this at an Anthropologie store near my home. I thought it was a great idea to show you as you could make something similar for your walls or for a card with little bits of paper or with photographs.
Finally, I wanted to show you how these colors even inspire my desk. I love looking at ever changing little boxes and rolls of tapes. The wooden dispensers from Uguisu are a constant, as is the beautiful card-file from lovelydesign and the artwork. I framed a series of small prints by Catherine Campbell of My Folk Lover together to form a grid so that I could view all of them all of the time.
I hope you found something today that may inspire a creative project for you. Please enjoy the rest of August and I will see you back here next month. – Leslie
– – – – –
Psst: If you'd like to see more lovely inspirations from Leslie and her Color Me Pretty column, please refer to this page to view gorgeous color palettes to inspire you today!
– – – – –
Like what you see? If you'd like to learn how to create your own moodboards and learn how to style your own photos for your blog, Leslie is co-teaching Blogging Your Way, an online self-paced class along with me next month for 4 weeks where you will learn all of this and more. To enroll (hurry space is limited!), you may click here. Class is for all levels and you DO NOT need a blog to participate in this class  but it would be helpful if you started one during the class so you can start applying your newfound education! :)
(images: leslie shewring)