Hello Friends, it is Leslie here for July's Color Me Pretty series. This time around I decided to explore black, white, silver, grey and yes, neon pink. I do not think I have gone totally eighties on you. I have just been a little obsessed with this color combination since I saw the cover of Inside Out magazine last month.
This magazine inspired this mood board below… and this series today!

You can sneak a little neon pink into a neutral interior and have it feel really fresh and summery with a simple pillow as an accent as shown below.
Of course it is a trendy color, which is what makes it so fun, just use it in small dosages! Handwriting, beads and tape were also brought into the mix this time around. I hope you enjoy what I have put together for you.
I love photographing chalkboard menus when I travel in Europe. It is more about the handwriting, less about the menu. Chalkboards are fun in the home and I like the idea of sketches or poems written on them, maybe even a fancy frame around their edge. Even if you are nervous about showcasing your own handwriting, go for it. That is what the eraser is for!
I have been sticking Rob Ryan's tape on everything. As most of you know, tape can instantly personalize a plain journal or a blank card.
On my mood board I combined some Japanese tape with a little neon pink stitching to make a card. I also combined Rob Ryan's tape with some Japanese tape to make another card.
Recycle tip: An empty food can is painted white and then spruced up further with a little note and some ribbon to hold a plant for a gift.
Craft Idea: I tried using stencils this month as well –to go along with my eighties investigation because weren't stenciled walls big back then in the US? Do you remember the do it yourself grapevine stencil kits? Well, stencil kits are back better then ever! I loved using the kits by Ed Roth of Stencil 1. Lotta Jansdotter makes some nice larger scale stencils that I tried too. You can also check out Lena Corwin's chapter on stenciling in her book "Printing By Hand".
I used stencils from both Stencil 1 and Lotta Jansdotter to create images on some small square canvases. I realize I am not the best stencil student as I like to paint myself but it was fun to have a guide and the results were very fast. I did not have a stencil brush, which I think I will use next time around. I especially liked making some cards for my mood board collection on heavy paper using the stencils.
Have you tried using stencils? Any tips you want to share with us beginners?
Thank you for joining me here and I will see you again next month with a Color Me Pretty series for August! If you would like to see previous CMP columns please click here. Bye!
(images: leslie shewring)
Color Me Pretty now has a page dedicated solely to lovely Leslie's column for all of you to enjoy without having to search and search AND search through the archives. Simply click here, or on the image below, and you can see all of Leslie's color stories over the past year.
Lots of lovely inspiration for you to click through today in case you are new to decor8 — have fun! You'll love them all and want to run out and photograph everything in your home. :)
Hello Friends, it is Leslie here with another Color Me Pretty series – the June edition. This time around I played with fruity pinks and purples along with a little chartreuse. Since summer is here for some of us why not liven things up!
In this collection I attached some goodies to a manila folder inspired by Holly's post here. The cute card of the girl's head is by Fifi Mandirac who has a fun and color inspiring line. You can also check out more about her in this post with glimpses of her home in Paris. The other pretty floral card is by Elum Designs.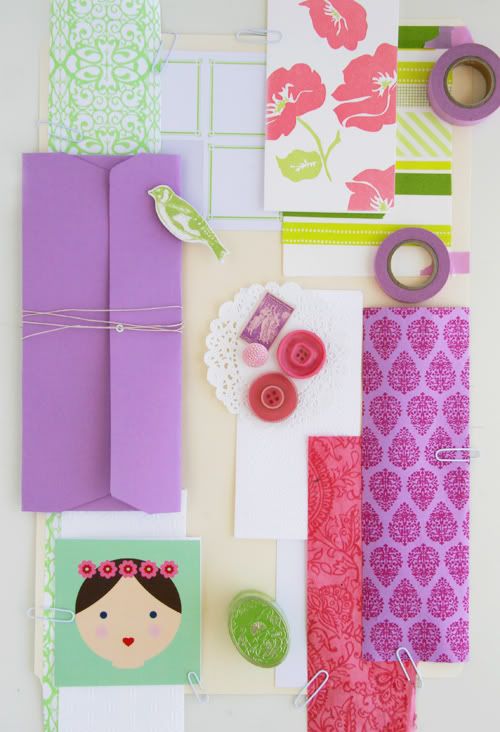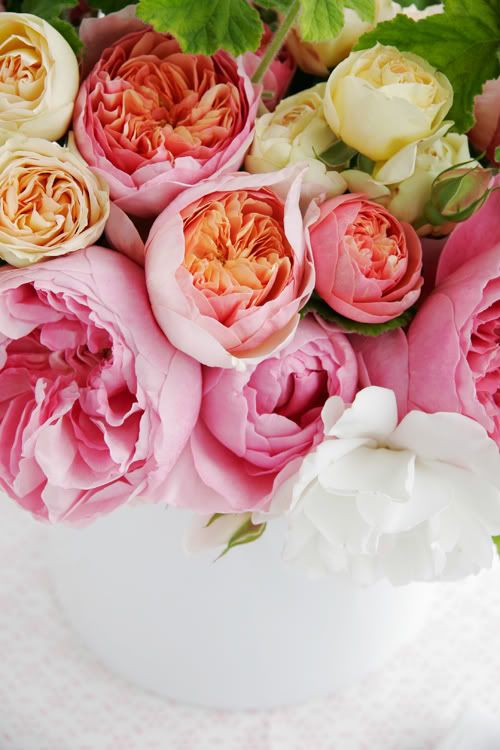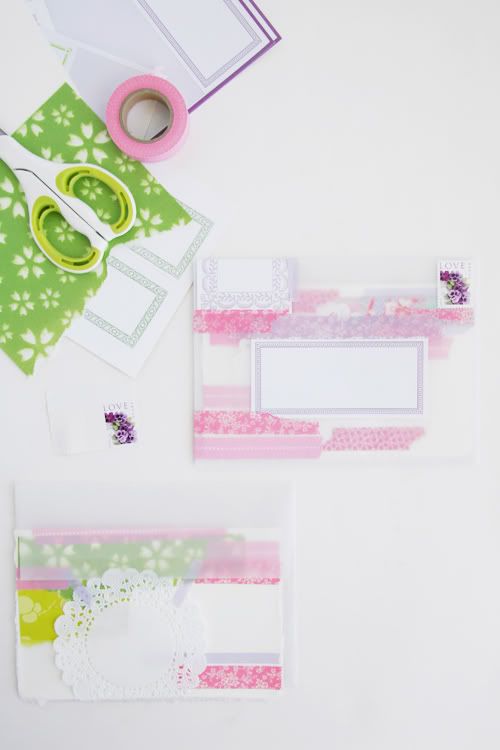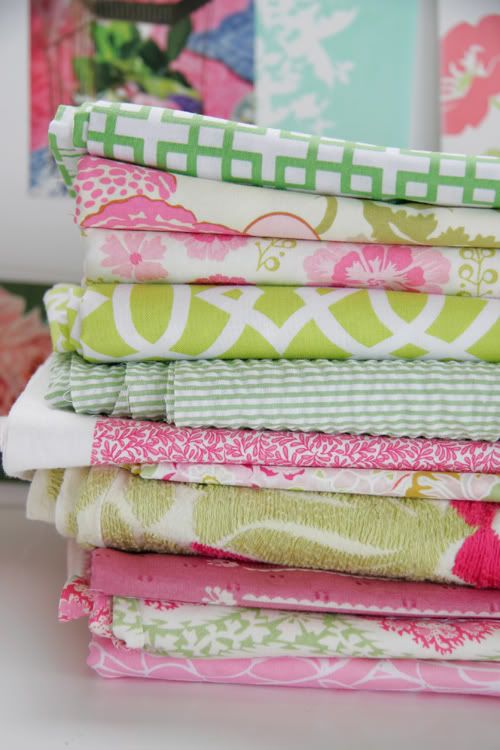 My daughter and I have been mailing out lots of collage work to her grandma's and aunties lately. It is a fun project for her and keeps her busy while Mommy is trying to work. We use semi-transparent glassine envelopes so that her artwork shows through and then we continue collage on the exterior of the envelope. The little works of love have the potential to bring a smile or at least a glance of interest to those who see them along the way to their final destinations. She loves going to the post office or finding a mailbox to drop her treasures into and I love witnessing her process.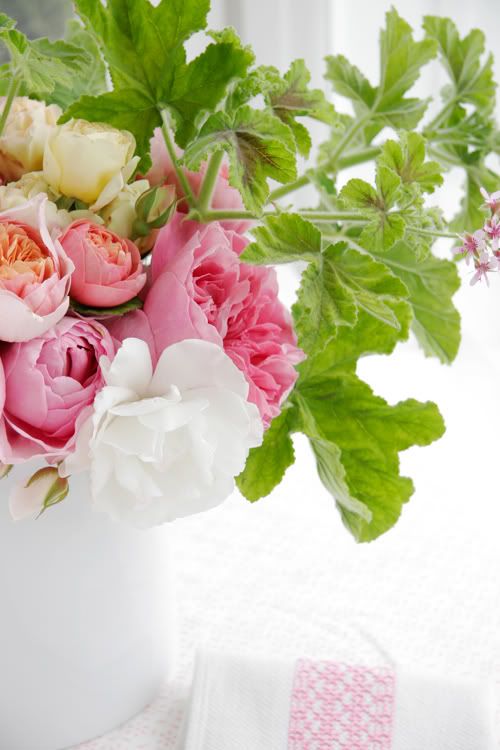 I am still obsessed with roses after my visit to Rose Story Farm last month. All the fragrant varieties are available right now at the flower markets and I have a hard time resisting! In the bouquets some of the roses are David Austen's Phoebe rose which has a strong sweet scent and Yves Piaget, which also smells divine. Both would work well for a special occasion bouquet.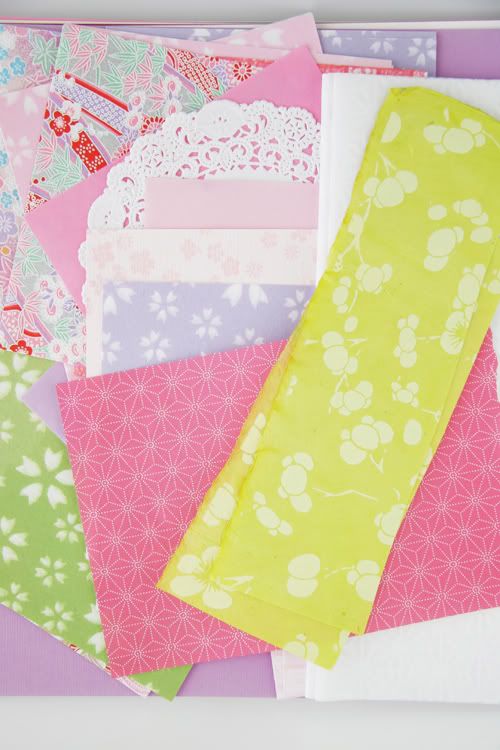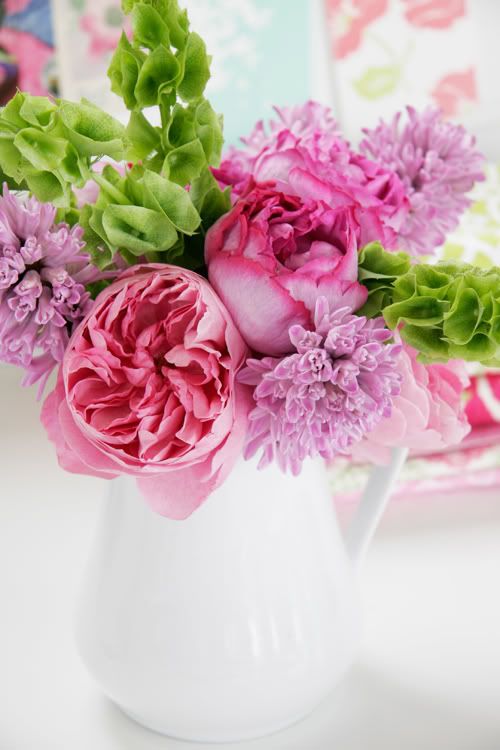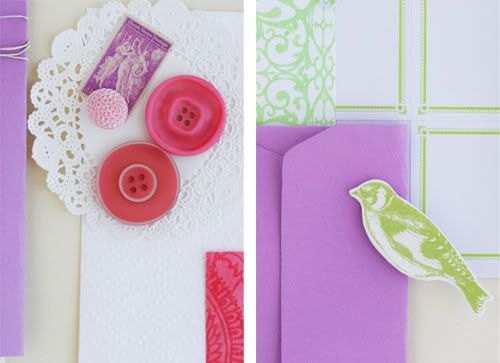 I hope you have enjoyed this series today, a fresh way to kick off a Monday morning! I look forward to seeing you back here with a few more posts tomorrow and Wednesday while Holly is working on her project. Until then, take care. – Leslie
(images: leslie shewring)
Hello Friends! It is Leslie here with this month's Color Me Pretty. For some reason I can't stop thinking about blue. Maybe it's all the denim in fashion or maybe it's my daydreams of exotic vacation spots like Marrakesh or Ibiza. Needless to say blue is on my mind and I cannot help but pair it with a little strawberry red. This traditional mix can still be fresh for your creative projects big or small. I do hope you enjoy this series.
I had fun gathering all my blue vintage stamps together and arranging them on my scanner to make an interesting piece for hanging on the wall or for use in a paper craft. Quickly scanning and printing out the image was easy and would be fun with any collection of stamps or tickets. I may use my stamp scans to create a cover for my travel journal.
I do not have a lot of red in my home but I love adding simple dabs of it once in a while. Like a red vase on white tile or red stitching on linen tea towels. It is hard to resist the color of strawberry jam with warm scones or a fresh bowl of berries on a white tablecloth. Red gingham is charming too and speaks about summer picnics like nothing else.
Outdoors, even the most basic red geraniums look fabulous with classic Mediterranean blue and loads of white. I also love using a little red in small art projects like collage and wrapping.
What about you? Do you use red in big bold ways or do you tend to use it on a much smaller scale like me?
I really loved creating this column for you and I hope you have enjoyed it. I will see you back soon. Until then, take care and enjoy the rest of May. — Leslie
(images: leslie shewring)