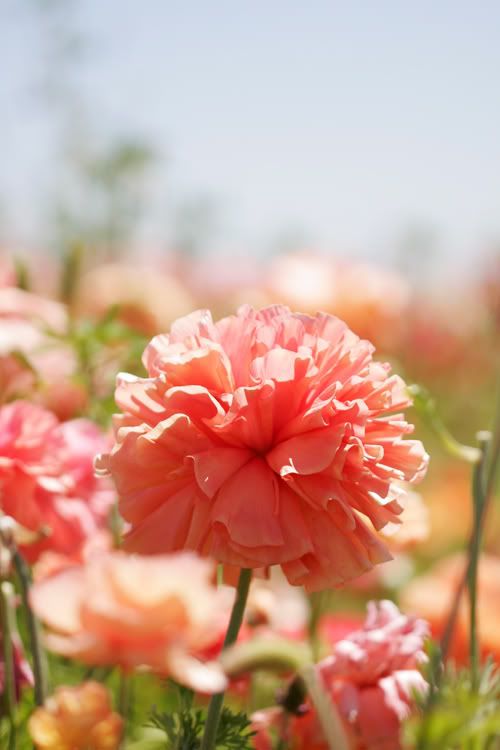 Hello Friends! It is Leslie with this month's Color Me Pretty. A few weeks ago I had the pleasure of visiting a Ranunculus farm just south of where I live and I got really inspired with all the gorgeous colors.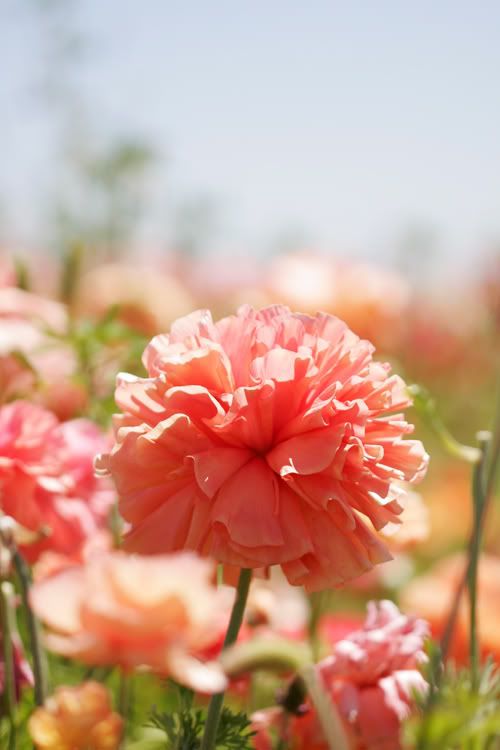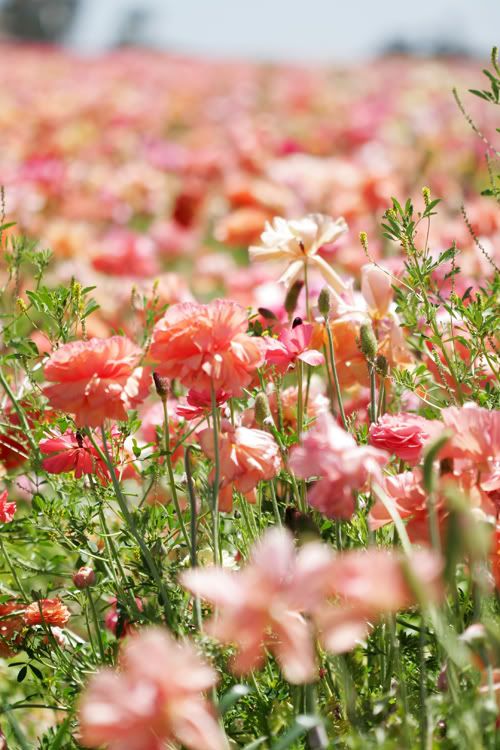 I was really impressed with the coral toned variety and decided to use some of the photographs I took there as my inspiration for this column. I think the spring greens, light melons, darker corals and the light blue sky are so fresh and beautiful. I wanted to use this combination to provide you with some little ways to incorporate different palettes into your home life.
Over my desk I have two medium sized cork boards that I got from the Container Store and I love changing what is on them all the time. Sometimes I have a color idea on them and other times it is more about an idea -like desserts! I like to use my eyelet puncher to hang envelopes on my board to hold little scraps or as a holder of visual ideas that I may want to work on later. I also like to use larger clips to hang art work so that I am not putting holes in some of my favorite cards, like the bird and bloom one by Hadley Hutton.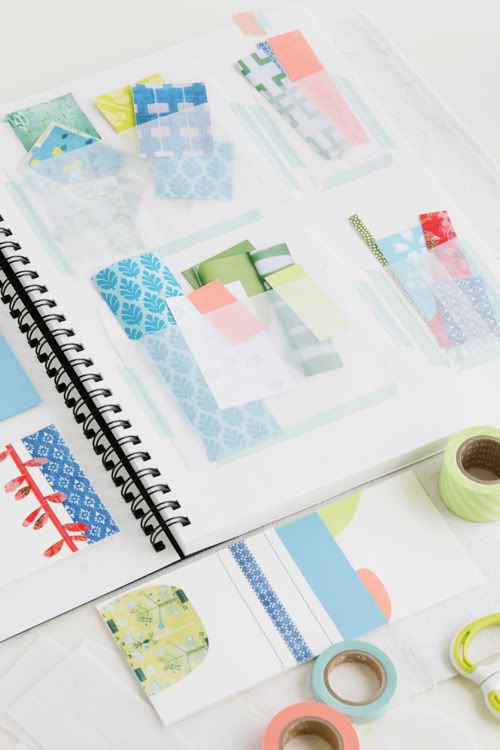 I keep some of my paper collection in inexpensive cylinder trash cans. It is nice to be able to see what you have in order to use and be inspired by your supplies. Of course some of my papers are kept laying flat in a proper box but I must say I end up using what is out and visible first! I also have a hard time parting with some of my scraps as I like to make cards for my family and friends. A simple way to organize your scraps is by cleaning up the shape of the piece (with a pair of small, sharp scissors like this) and then popping it into a glassine envelope. I taped the envelopes into a new journal so that I can reference the colorful bits for future paper craft projects.
Sometimes it is fun to experiment with a different color scheme by incorporating some new colors into a little entertaining idea. A couple fun colored bowls for dips or how about straws and goody bags? Yes, even adults love goody bags after a nice lunch or dinner!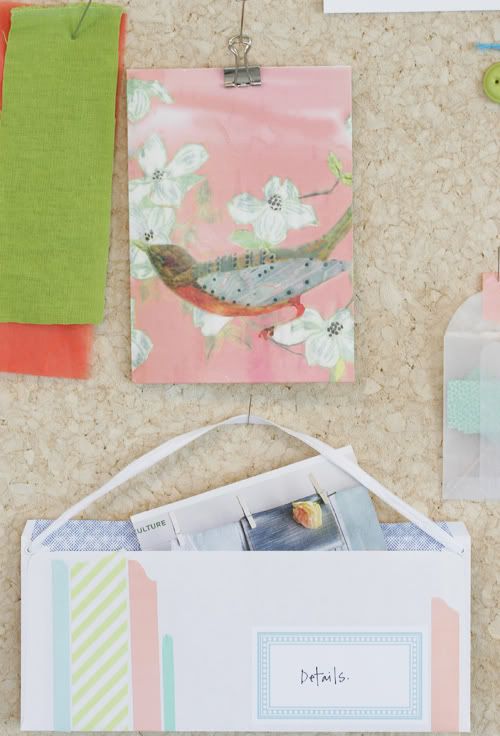 I wanted to take a friend some flowers recently and decided to use an old mason jar.  To dress it up I tied some paper ribbon around the jar and fastened a clothes peg to it to hold the card. This could look good on a table as well and is a fun way to add a table number or even some fancy scrap papers!
I hope you found some ideas to incorporate more colors into you day and I look forward to seeing you here next month.
Take good care,
Leslie
Hello Friends, it's Leslie with Color Me Pretty and I am really happy to be back here! I just wrapped up a 7 week teaching assignment alongside Holly for Blogging Your Way which is why I've been missing. Now that the session has ended, I'm back with my column each month around this time to share more color inspirations with you. A big thanks to Holly and you all for having me back.
This time around I am inspired by Spring-time and all the blooms available at the markets and with that, I opted for a pastel palette. There really is nothing like the soft yellows, pinks and lilac tones of early spring. I enjoyed combining these colors with a soft craft paper brown and some milky whites. Here are the results.
It is a nice time of year to get inspired with cleaning out our work-spaces and our homes for the months ahead.  Sometimes a good "spring clean" can do decorating wonders as it clears our heads and helps us get a clearer vision for what we want in our lives. New ideas seem to flow when we have a fresh clean space. I like to get my craft supplies sorted and ready for new project ideas. My little mood-board got a spring makeover too as it reflects some of my new interests and ideas.
I would love to hear any spring-cleaning or organizing tips you have. We all can use the inspiration! I hope you enjoyed this color story and I look forward to seeing you back here next month.
Take care and hope you've enjoyed this view of spring today! xo, Leslie
If you are new to decor8 and would like to see more Color Me Pretty posts, please click here.
(photographs: leslie shewring)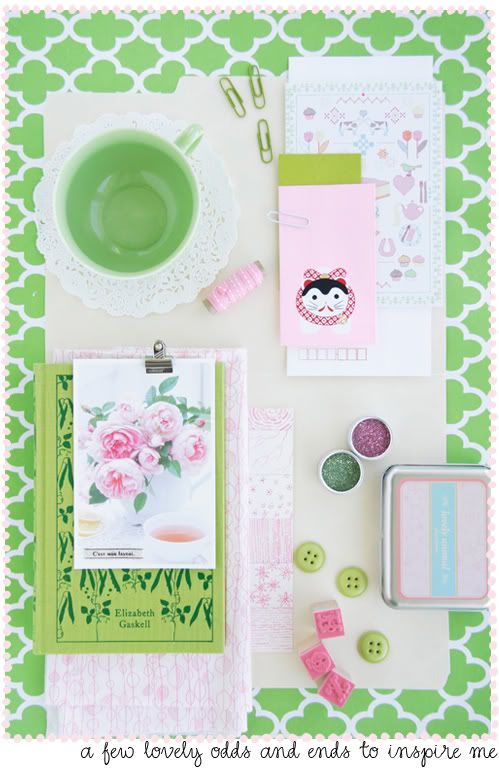 Just a friendly reminder that my lovely columnist Leslie Shewring, who authors Color Me Pretty on decor8, will return next week! She took January & February off to pursue teaching a class with me about creative, inspirational blogging (Blogging Your Way) and now that the class has wrapped up I'm pleased and honored to have signed on Leslie to return to decor8 once again. Leslie will be back to visit us once a month with her inspirational color and style story. If you've missed her work on decor8 in 2009 click here to be inspired.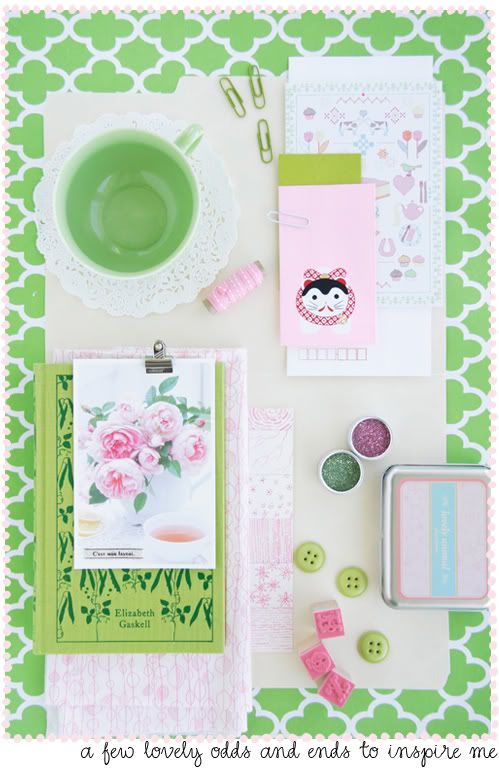 Next week the theme is Spring — so lots of soft pastels — you won't want to miss it!
(image: leslie shewring)