Color Me Pretty now has a page dedicated solely to lovely Leslie's column for all of you to enjoy without having to search and search AND search through the archives. Simply click here, or on the image below, and you can see all of Leslie's color stories over the past year.
Lots of lovely inspiration for you to click through today in case you are new to decor8 — have fun! You'll love them all and want to run out and photograph everything in your home. :)
Hello Friends, it is Leslie here with another Color Me Pretty series – the June edition. This time around I played with fruity pinks and purples along with a little chartreuse. Since summer is here for some of us why not liven things up!
In this collection I attached some goodies to a manila folder inspired by Holly's post here. The cute card of the girl's head is by Fifi Mandirac who has a fun and color inspiring line. You can also check out more about her in this post with glimpses of her home in Paris. The other pretty floral card is by Elum Designs.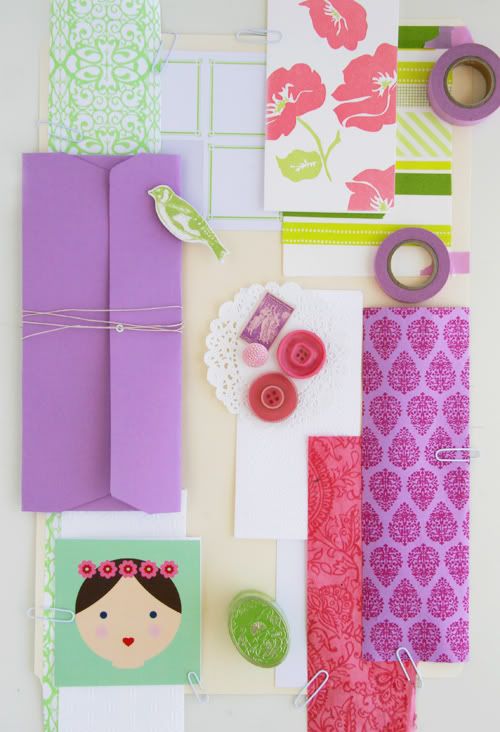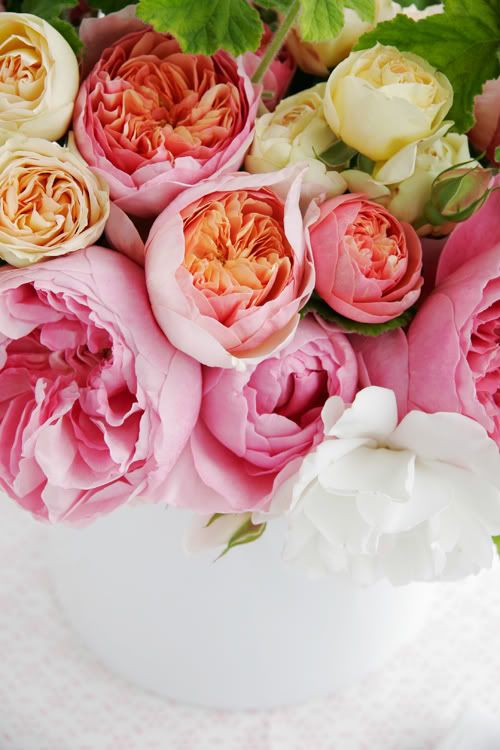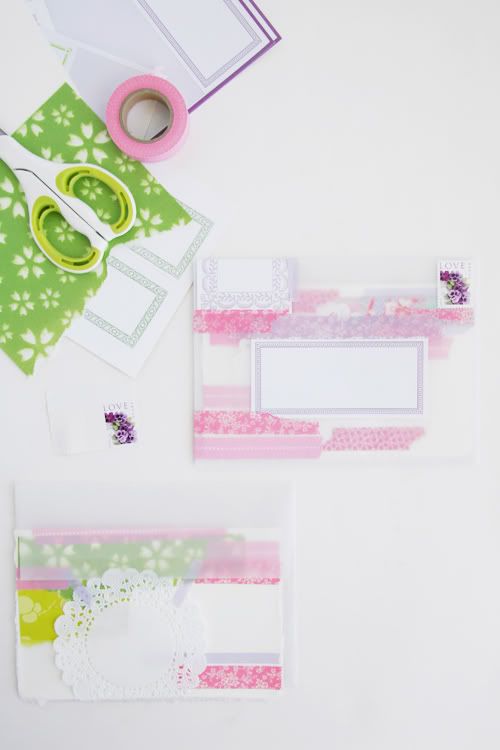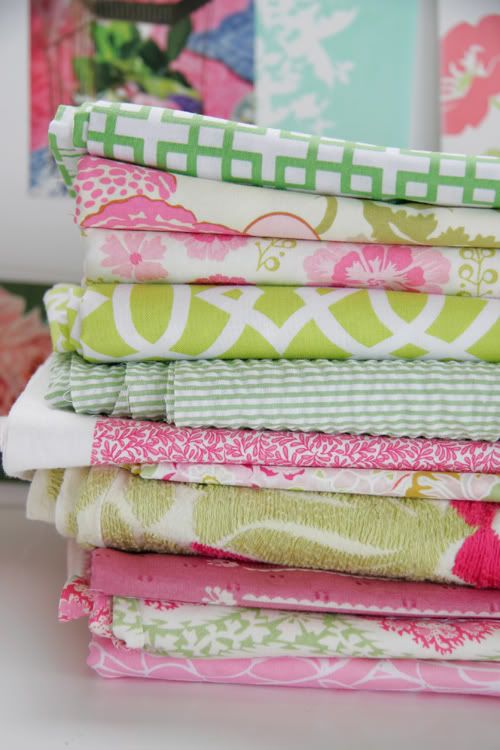 My daughter and I have been mailing out lots of collage work to her grandma's and aunties lately. It is a fun project for her and keeps her busy while Mommy is trying to work. We use semi-transparent glassine envelopes so that her artwork shows through and then we continue collage on the exterior of the envelope. The little works of love have the potential to bring a smile or at least a glance of interest to those who see them along the way to their final destinations. She loves going to the post office or finding a mailbox to drop her treasures into and I love witnessing her process.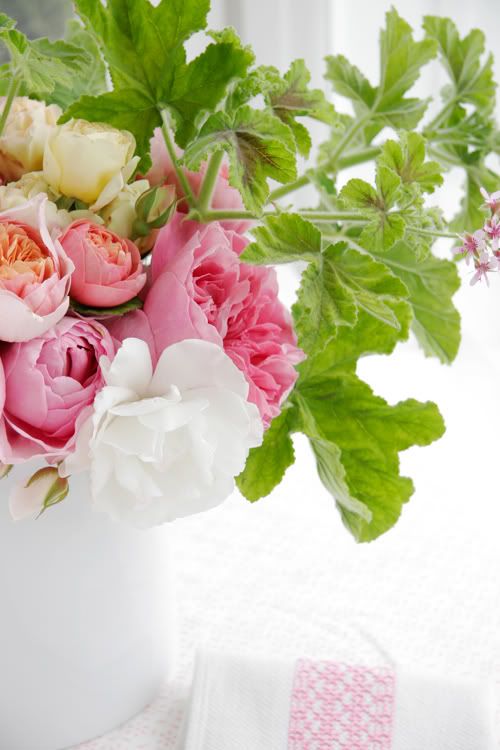 I am still obsessed with roses after my visit to Rose Story Farm last month. All the fragrant varieties are available right now at the flower markets and I have a hard time resisting! In the bouquets some of the roses are David Austen's Phoebe rose which has a strong sweet scent and Yves Piaget, which also smells divine. Both would work well for a special occasion bouquet.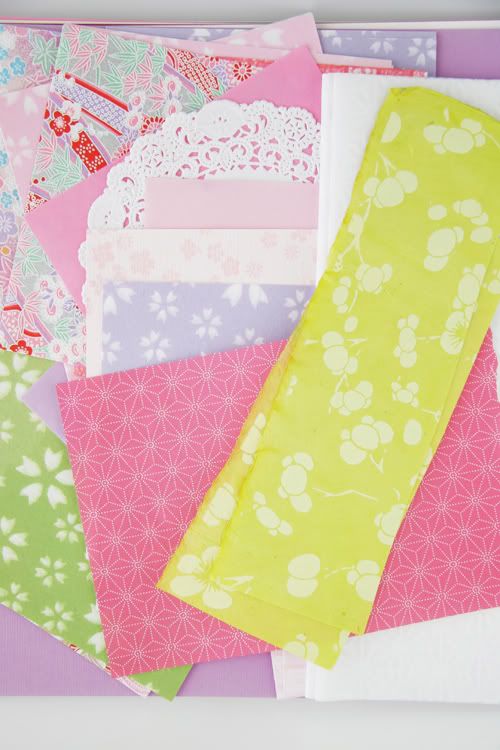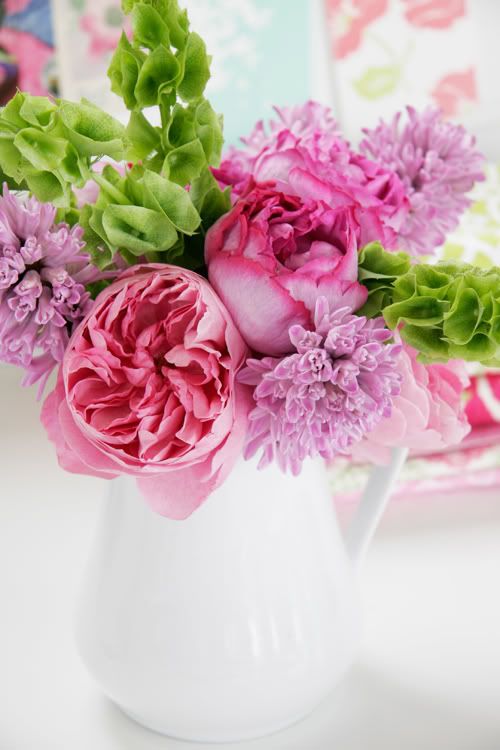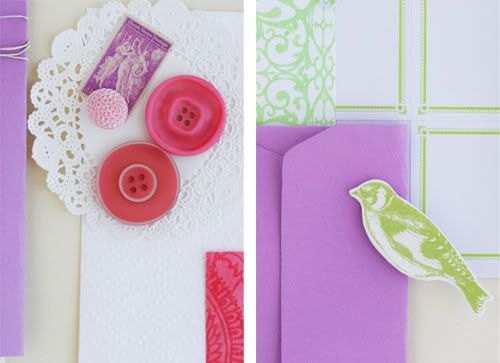 I hope you have enjoyed this series today, a fresh way to kick off a Monday morning! I look forward to seeing you back here with a few more posts tomorrow and Wednesday while Holly is working on her project. Until then, take care. – Leslie
(images: leslie shewring)
Hello Friends! It is Leslie here with this month's Color Me Pretty. For some reason I can't stop thinking about blue. Maybe it's all the denim in fashion or maybe it's my daydreams of exotic vacation spots like Marrakesh or Ibiza. Needless to say blue is on my mind and I cannot help but pair it with a little strawberry red. This traditional mix can still be fresh for your creative projects big or small. I do hope you enjoy this series.
I had fun gathering all my blue vintage stamps together and arranging them on my scanner to make an interesting piece for hanging on the wall or for use in a paper craft. Quickly scanning and printing out the image was easy and would be fun with any collection of stamps or tickets. I may use my stamp scans to create a cover for my travel journal.
I do not have a lot of red in my home but I love adding simple dabs of it once in a while. Like a red vase on white tile or red stitching on linen tea towels. It is hard to resist the color of strawberry jam with warm scones or a fresh bowl of berries on a white tablecloth. Red gingham is charming too and speaks about summer picnics like nothing else.
Outdoors, even the most basic red geraniums look fabulous with classic Mediterranean blue and loads of white. I also love using a little red in small art projects like collage and wrapping.
What about you? Do you use red in big bold ways or do you tend to use it on a much smaller scale like me?
I really loved creating this column for you and I hope you have enjoyed it. I will see you back soon. Until then, take care and enjoy the rest of May. — Leslie
(images: leslie shewring)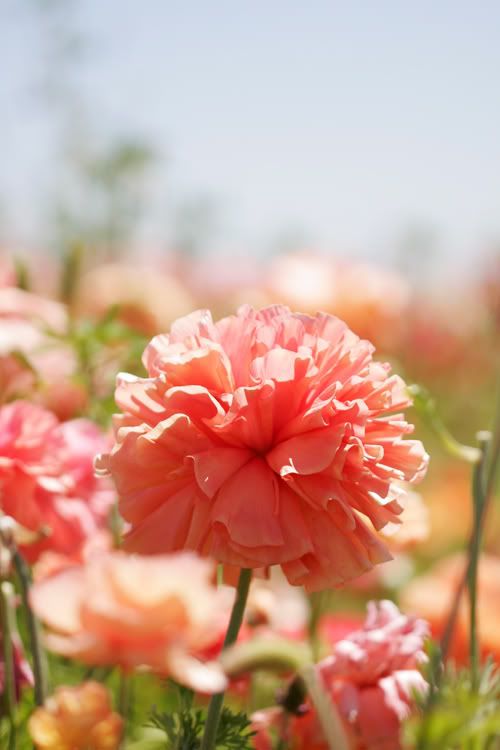 Hello Friends! It is Leslie with this month's Color Me Pretty. A few weeks ago I had the pleasure of visiting a Ranunculus farm just south of where I live and I got really inspired with all the gorgeous colors.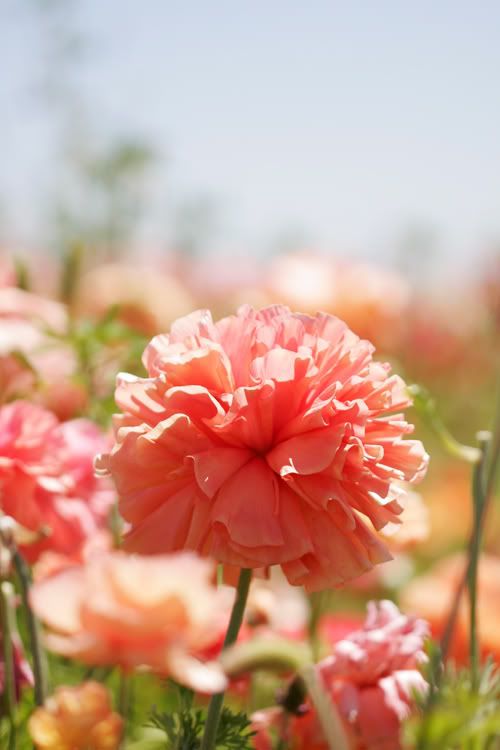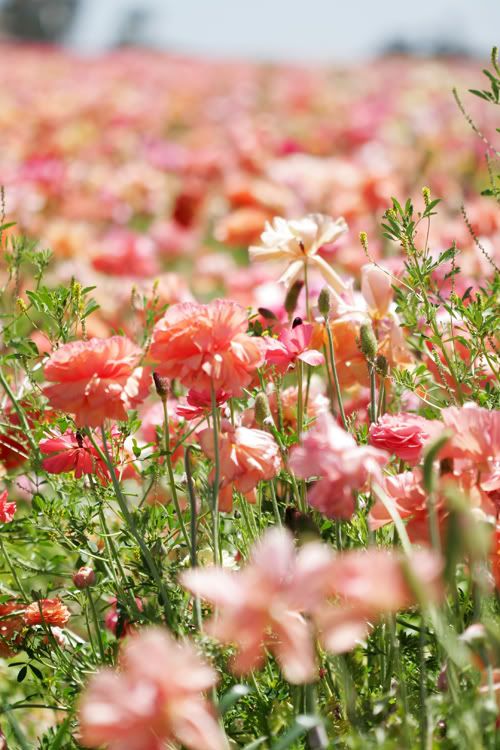 I was really impressed with the coral toned variety and decided to use some of the photographs I took there as my inspiration for this column. I think the spring greens, light melons, darker corals and the light blue sky are so fresh and beautiful. I wanted to use this combination to provide you with some little ways to incorporate different palettes into your home life.
Over my desk I have two medium sized cork boards that I got from the Container Store and I love changing what is on them all the time. Sometimes I have a color idea on them and other times it is more about an idea -like desserts! I like to use my eyelet puncher to hang envelopes on my board to hold little scraps or as a holder of visual ideas that I may want to work on later. I also like to use larger clips to hang art work so that I am not putting holes in some of my favorite cards, like the bird and bloom one by Hadley Hutton.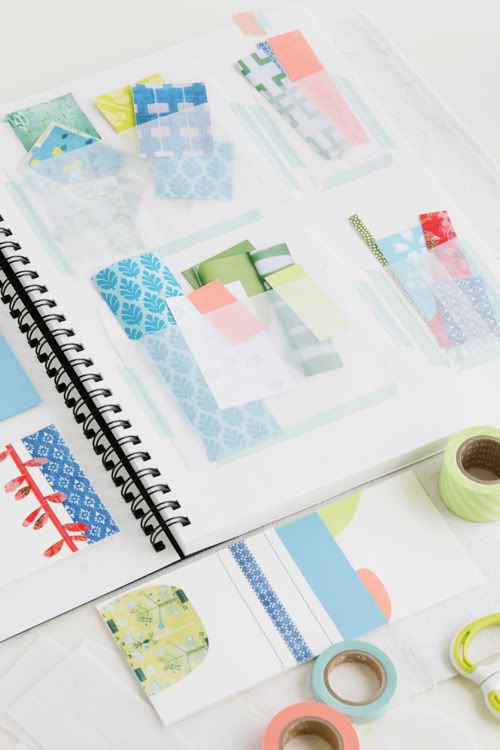 I keep some of my paper collection in inexpensive cylinder trash cans. It is nice to be able to see what you have in order to use and be inspired by your supplies. Of course some of my papers are kept laying flat in a proper box but I must say I end up using what is out and visible first! I also have a hard time parting with some of my scraps as I like to make cards for my family and friends. A simple way to organize your scraps is by cleaning up the shape of the piece (with a pair of small, sharp scissors like this) and then popping it into a glassine envelope. I taped the envelopes into a new journal so that I can reference the colorful bits for future paper craft projects.
Sometimes it is fun to experiment with a different color scheme by incorporating some new colors into a little entertaining idea. A couple fun colored bowls for dips or how about straws and goody bags? Yes, even adults love goody bags after a nice lunch or dinner!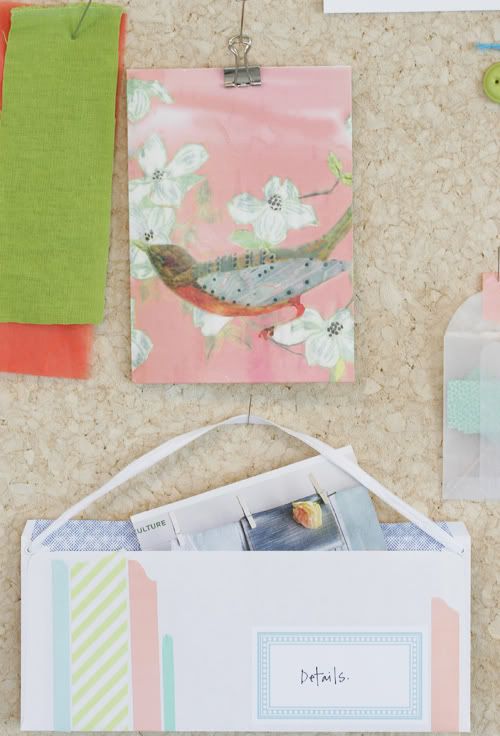 I wanted to take a friend some flowers recently and decided to use an old mason jar.  To dress it up I tied some paper ribbon around the jar and fastened a clothes peg to it to hold the card. This could look good on a table as well and is a fun way to add a table number or even some fancy scrap papers!
I hope you found some ideas to incorporate more colors into you day and I look forward to seeing you here next month.
Take good care,
Leslie