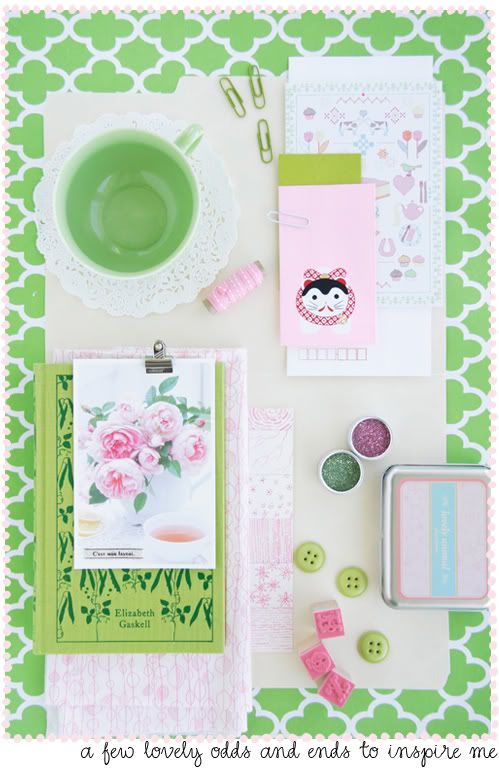 Just a friendly reminder that my lovely columnist Leslie Shewring, who authors Color Me Pretty on decor8, will return next week! She took January & February off to pursue teaching a class with me about creative, inspirational blogging (Blogging Your Way) and now that the class has wrapped up I'm pleased and honored to have signed on Leslie to return to decor8 once again. Leslie will be back to visit us once a month with her inspirational color and style story. If you've missed her work on decor8 in 2009 click here to be inspired.
Next week the theme is Spring — so lots of soft pastels — you won't want to miss it!
(image: leslie shewring)
While we're riding the colorcoaster together with lots of happy color today, lets check out more brights for Spring — this time from the one and only Kate Spade. I envy the girl who can wear heels this high! And don't you love the necklace? These hot colors definitely get my brain in Spring mode despite how the weather is being such a brat! Yesterday was such a teaser with warmer temps and then today, boom! Cold and gray again. I've been blogging by candlelight all day to make this somewhat romantic but even I cannot deny – I soooo want March to come!
Enjoy these highlights from Kate Spade and her cute little online video too.
(images: kate spade)
Hello it's Leslie again with one last holiday series for you to share. This time around I wanted to work with white, varying shades of turquoise and a touch of silver. I find this simple holiday palette very calm, soothing and easy to do because I already use these colors in my home decor. It is nice to incorporate a holiday theme into the colors you already use, creating a much simpler approach to holiday decorating.
I couldn't help but use a little Martha Stewart glitter this year on some of my gift tags! I made black and white copies of some post cards and then painted glue on with a brush and glittered away in small sections. I let each section dry before applying the next. It made it quite quick by working on a few tags at a time. I cut out the tags using a plain tag as a tracing outline.
Scanning in some of my turquoise fabrics to create patterned paper for wrapping was simple and fun. As well, instead of buying white wrapping paper I used the back (white) side of some colored wrapping paper for my gifts and I found some left over graph paper that worked well with the palette.
I want to thank you for being such warm and welcoming readers. I started out here very, very nervous six months ago and you really have helped keep me inspired. I am truly grateful, thank you. I will be taking a short break from this column in the new year to help Holly teach her Blogging Your Way e-class. I will be back in March though, to resume Color Me Pretty on a once a month schedule.
Until March, Happy Holidays and all my very best to you in 2010. – xo, Leslie
(images: leslie shewring)
.