Hello friends, it's me Leslie and I'm here today to bring you a very merry holiday edition of Color Me Pretty. For me, it's all about apple green, red and aqua at the moment because it feels fresh and joyous. What do you think of this palette?
Here's how my inspiration began. First, I got really inspired by an old photo I found of my aunt at the Calgary Stampede circa 1970. The pale minty aqua was in my head for days and then I picked up a notebook set by Rifle Papers (for Chronicle Books) at Anthropologie and figured I had a pretty color combination to work with. Here is what inspired my color selections…
I later realized that my chosen palette is very Martha Stewart Living circa December 2009. Oh well! Great colors are meant to be used again and again. Check out that back issue if you can though as it is loaded with inspiration from Martha's expert team.
During the holiday season I always enjoy some kind of crafting project. These days I am obsessed with painting driftwood. I promise, living on the dark and rainy Vancouver Island has not made me totally bonkers (yet). I am just really inspired by the work I saw in the summer of Toronto artist Ginette Lapalme. I saw this photo in her flickr and this post on her Tumblr and thought what a great idea! I decided to make a holiday tree out of driftwood I collected off the beach as shown above. I painted some patterns on each piece using acrylic paint from Martha Stewart Crafts. I am thinking of mounting it to a framed board or I could also hang them on a wall. These small pieces of driftwood are very light and thus easy to hang.
Holiday parties do not have to be elaborate. Little gestures of unexpected color can make regular items seem festive. I plan on using more of these stripey straws from my friend Jessie's shop Sweet Lulu. She also supplies the petite milk bottles I have been using and some great treat bags that I have stocked up on.
Stripey straws can also make cute cards! I couldn't help but cut up a few in apple green to make another tree motif. Simple buttons glued to white cardstock with a hand drawn stitch border can also be cute to pin on your mood board or to use as a pretty gift tag.
Gift-wrapping is a paper fanatics dream job. I could wrap gifts for days if I get to use interesting papers! I combined ordinary school supply graph papers with fabric tapes and various pieces of patterned prettiness I had around. I also tried drawing some patterns on some kraft boxes to use for some little treasures I will be giving during the holidays. I used a basic white acrylic paint to prime the boxes and then used some Marvy markers to add a few colors. These simple patterns should look nice even after the holidays are over.
Lastly, never underestimate the power of a single bloom! Pop them into clear bottles and wrap the bottles with your favorite washi tape, masking tap or fabric. If you use several down the center of your table you have a very affordable yet lovely tabletop with little effort.
Well, that's it from me folks. I hope you all got an idea or two to take with you. I look forward to seeing you back here in the new year. Have a wonderful holiday season, all my very best to you. — Leslie Shewring, A Creative Mint.
(photos/styling: leslie shewring)
Hello friends, it is Leslie here with Color Me Pretty for October. I recently visited a beautiful apple orchard on Vancouver Island because it is that time of year here. The days are crisp, the leaves have changed color and the nights are getting very cold. Having lived the last fourteen years in Los Angeles, I have forgotten how cold nights can get back up here in Canada!
While I was wandering (and shivering!) around picking and photographing all the fruit, I got really inspired to bake. There is something about apples and cinnamon that just gives me a cozy home feeling. Especially when you come into the house smelling them cooking after freezing yourself outside. How about you? There is usually some combination baking in the oven that makes you feel like home, right?
Keeping with this simple pairing I thought it would be fun to use my apples in the kitchen as inspiration for this months column. A classic favorite of red and pale cinnamon brown from my home to yours.
One of the apple recipes I used was this rustic looking apple crostata, it got gobbled up by my family pretty quickly which is a good sign of a recipe success.
I also made some cranberry and apple conserve which, looks really pretty for gifts in some glass jars and tastes great with poultry or as a condiment for a cheese platter.
Since the days are getting shorter, I have been lighting candles later in the day. Old jam and mason jars look pretty filled with a little water and a tea light. The water helps keep the glass from cracking from the heat of the candle. You can line these inexpensive candle holders along a window or group them on your kitchen table. These recycled jars are always pretty.
You can even use twine, ribbon and/or washi tapes from Japan to dress up plain bottles and add them to a shelf or windowsill. Decorating doesn't have to be expensive – just think outside of the box and customize what you have with what's laying around your craft room.
Try translating what inspires you from nature, for instance a trip to an orchard, into something handmade. You can try making your own cards, a notebook, or simply pinning things according to a specific palette onto your mood board to inspire you and decorate your work room.
Lastly, I have been seeing coffee filters used for wrapping all over lately. I had first come across this funny use of filters in some Japanese craft books and was not entirely convinced. However, for a small gift I now think this ruffled thin paper looks quite sweet for wrapping. I am partial to the unbleached natural color of the basket filters paired with baker's twine and a little red accent. Of course they are food safe so I can also imagine using them for wrapping holiday cookies in a couple months.
I hope you have enjoyed this apple inspired post and I look forward to seeing you here next month. Until then take good care and maybe take some time to bake something yummy. – Leslie Shewring.
(images/styling: leslie shewring)
Hello Friends! This is one of those, "Stop and smell the roses" posts. Even though the blooms have all faded and summer has come to a close, we can still draw inspiration from flowers because stores still stock plenty that you can bring indoors to add color long after your garden has faded.
It is during these busy autumn days that we need some time outs, wouldn't you agree? Time to notice the subtle seasonal changes and time to enjoy what is left of summer's bounty. I feel like I am writing this post primarily for myself as I only have a few moments to sit in between getting my son down for his nap, doing the fifth load of laundry, figuring out what is for dinner and then picking my daughter up from school. We all have our various forms of daily madness and hence the need for a moment or two of quiet solitude (if we are lucky).
Creativity needs these moments.
We need these spaces in our day to take a deep breath and notice some leaves or the color of some petals or whatever else nature is offering us. Since work is important and many of you cannot go outside right now and find some flowers to smell, I thought I would gather up some of my floral photographs from the past for you to enjoy. Hopefully this brief pause will help give you some creative ideas or at least a little break from your daily routine. It is pleasure to be back here on decor8 after taking a mini break this summer to travel, and I will see you here soon with my usual Color Me Pretty column later this month.
Until then, take good care. – Leslie Shewring.
(text, styling + photos: leslie shewring from a creative mint)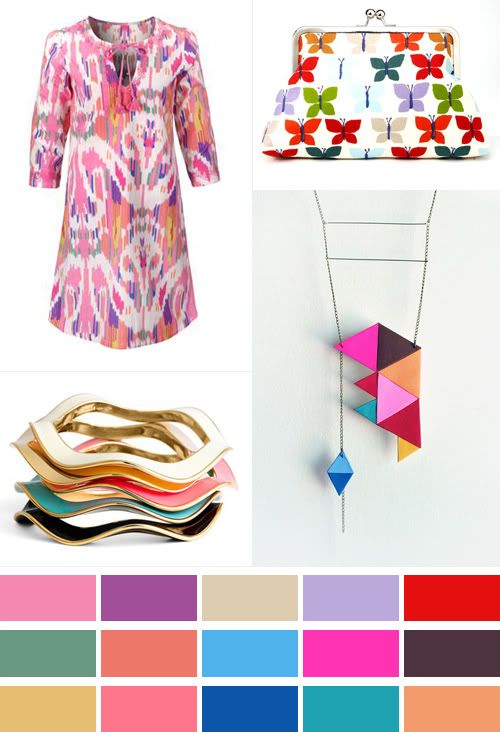 Do you love pink but have a hard time using it at home? Do you find it tricky to know which colors to pair it with in order to avoid an over-the-top Hello Kitty loves Barbie fest? Well, are you familiar with designer Emma Lamb? If you've been reading decor8 for awhile, I'm sure you are — I've mentioned her before and find her crochet work so nice — especially if you are into the ever popular homespun style that is taking over the internet at the moment. Emma's blog really caught my eye lately because of her color boards and the more I see them, the more I'm reminded to feature them on decor8. Like most of you, I like peeking into the imagination of those working in creative fields to see what their starting point is for a design. On Emma's blog, I particularly enjoy her color palette series and though she has tons more on her blog, here are five of my favorites at the moment, all layouts below are by Emma and images are individually linked below.
1: GEMSTONE: A bold, almost neon pink paired with other jewel tones is so pretty. These colors make me think instantly of Kate Spade! Images: 1. Cath Kidston, 2. Penny Royalty, 3. Lepidoptery, 4. Kate Spade.
2: MINIMALIST AT HEART: This looks very Scandinavian mixed with a Japanese touch — all rolled into a minimalist, clean aesthetic. The black makes this palette work so well. I love how pink is almost bubblegum but looks so grown up alongside the "hot" colors and the very cool grays. This palette reminds me a bit of the most recently Chloe collection. Images: 1. Conni Matta, 2. Retro Villa, 3. Wu Guanzhong, 4. In Queue.
3. ENGLISH COUNTRYSIDE: This is a romantic, cool palette using various tones of pink which gives this palette a lot of depth – it's subtle, layered… sweet. Images: 1. Alicia Bock, 2. Sarah Wynne, 3. Derya Davenport, 4. Tetsu-FMR.
4. AUTUMN FEVER: Pink here is used in various tones with a variety of brown, yellow and some orange-red to warm it up. This is a great alternative to the typical Autumn palette that so many stores throw at us with the normal brown, orange, red and copper colors. Mix in some warm mustard, apricot and fuchsia for a kick! Images: 1. Marisa Peterson, 2. Violet May, 3. Hip & Clavicle, 4. Ruti's Roots.
5: FRESH PICKED: This is an enticing use of pink for the summer – for a wedding, patio decor, tabletop styling, even a pretty summer outfit. This is very J.Crew, isn't it? Lots of blue, yellow and green tones here. You could wear white linen pants with a colorful top with lots of these colors in the pattern, a solid tangerine handbag and gold sandals to pick up the warm yellows in this palette. Here, pink is very retro modern and has zing. Images: 1. Style Me Pretty, 2. raehein, 3. Better Homes and Gardens, 4. Eva Magill-Oliver, 5. Better Homes and Gardens
Out of the color groupings above, which one caught your eye? What do you like about it? How would you like to use it? Did this inspire you to think outside of the box when it comes to pink? It doesn't always have to be super sweet and girly?

Gorgeous palettes, Emma – we're all so inspired by these mood boards you've done!
(images linked above to their source, collages by emma lamb)