Hello Friends! This is one of those, "Stop and smell the roses" posts. Even though the blooms have all faded and summer has come to a close, we can still draw inspiration from flowers because stores still stock plenty that you can bring indoors to add color long after your garden has faded.
It is during these busy autumn days that we need some time outs, wouldn't you agree? Time to notice the subtle seasonal changes and time to enjoy what is left of summer's bounty. I feel like I am writing this post primarily for myself as I only have a few moments to sit in between getting my son down for his nap, doing the fifth load of laundry, figuring out what is for dinner and then picking my daughter up from school. We all have our various forms of daily madness and hence the need for a moment or two of quiet solitude (if we are lucky).
Creativity needs these moments.
We need these spaces in our day to take a deep breath and notice some leaves or the color of some petals or whatever else nature is offering us. Since work is important and many of you cannot go outside right now and find some flowers to smell, I thought I would gather up some of my floral photographs from the past for you to enjoy. Hopefully this brief pause will help give you some creative ideas or at least a little break from your daily routine. It is pleasure to be back here on decor8 after taking a mini break this summer to travel, and I will see you here soon with my usual Color Me Pretty column later this month.
Until then, take good care. – Leslie Shewring.
(text, styling + photos: leslie shewring from a creative mint)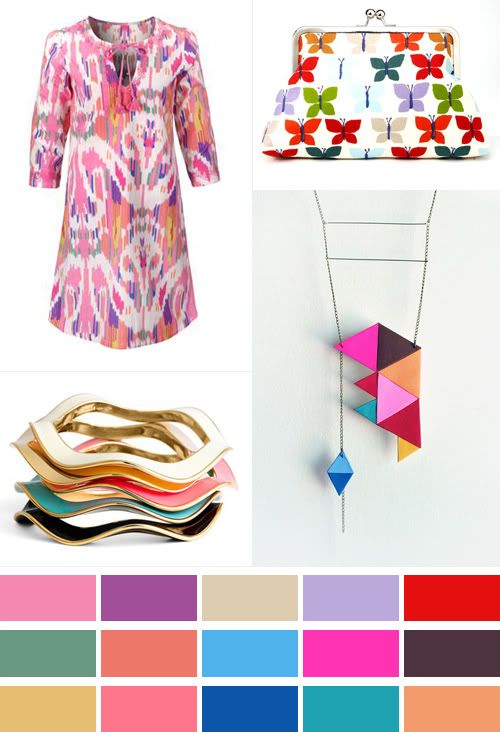 Do you love pink but have a hard time using it at home? Do you find it tricky to know which colors to pair it with in order to avoid an over-the-top Hello Kitty loves Barbie fest? Well, are you familiar with designer Emma Lamb? If you've been reading decor8 for awhile, I'm sure you are — I've mentioned her before and find her crochet work so nice — especially if you are into the ever popular homespun style that is taking over the internet at the moment. Emma's blog really caught my eye lately because of her color boards and the more I see them, the more I'm reminded to feature them on decor8. Like most of you, I like peeking into the imagination of those working in creative fields to see what their starting point is for a design. On Emma's blog, I particularly enjoy her color palette series and though she has tons more on her blog, here are five of my favorites at the moment, all layouts below are by Emma and images are individually linked below.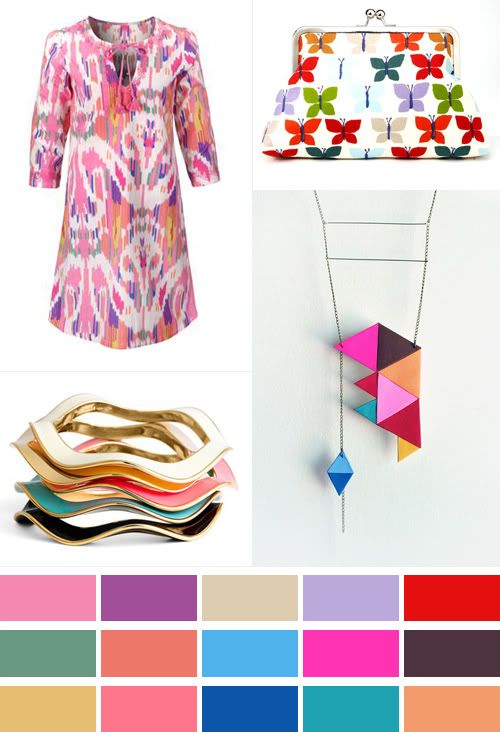 1: GEMSTONE: A bold, almost neon pink paired with other jewel tones is so pretty. These colors make me think instantly of Kate Spade! Images: 1. Cath Kidston, 2. Penny Royalty, 3. Lepidoptery, 4. Kate Spade.
2: MINIMALIST AT HEART: This looks very Scandinavian mixed with a Japanese touch — all rolled into a minimalist, clean aesthetic. The black makes this palette work so well. I love how pink is almost bubblegum but looks so grown up alongside the "hot" colors and the very cool grays. This palette reminds me a bit of the most recently Chloe collection. Images: 1. Conni Matta, 2. Retro Villa, 3. Wu Guanzhong, 4. In Queue.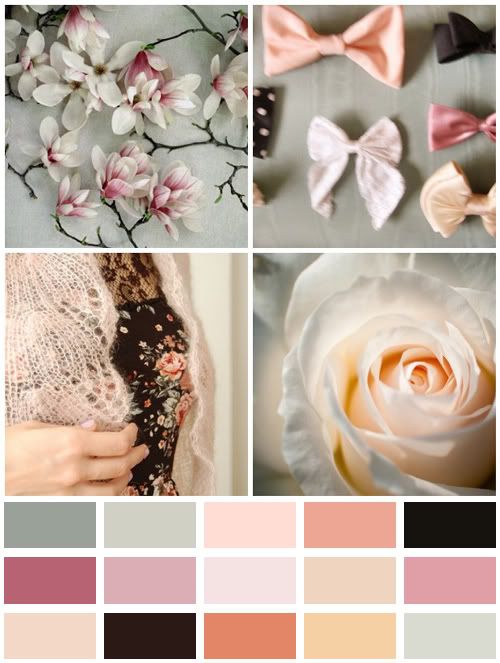 3. ENGLISH COUNTRYSIDE: This is a romantic, cool palette using various tones of pink which gives this palette a lot of depth – it's subtle, layered… sweet. Images: 1. Alicia Bock, 2. Sarah Wynne, 3. Derya Davenport, 4. Tetsu-FMR.

4. AUTUMN FEVER: Pink here is used in various tones with a variety of brown, yellow and some orange-red to warm it up. This is a great alternative to the typical Autumn palette that so many stores throw at us with the normal brown, orange, red and copper colors. Mix in some warm mustard, apricot and fuchsia for a kick! Images: 1. Marisa Peterson, 2. Violet May, 3. Hip & Clavicle, 4. Ruti's Roots.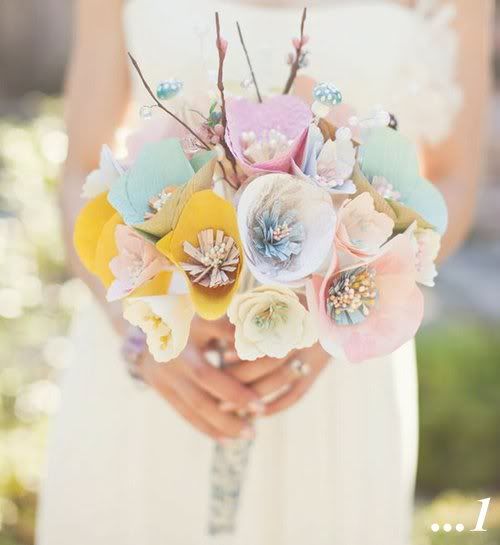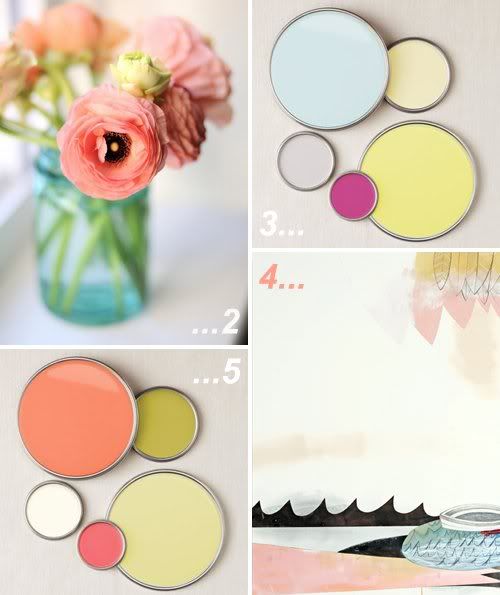 5: FRESH PICKED: This is an enticing use of pink for the summer – for a wedding, patio decor, tabletop styling, even a pretty summer outfit. This is very J.Crew, isn't it? Lots of blue, yellow and green tones here. You could wear white linen pants with a colorful top with lots of these colors in the pattern, a solid tangerine handbag and gold sandals to pick up the warm yellows in this palette. Here, pink is very retro modern and has zing. Images: 1. Style Me Pretty, 2. raehein, 3. Better Homes and Gardens, 4. Eva Magill-Oliver, 5. Better Homes and Gardens
Out of the color groupings above, which one caught your eye? What do you like about it? How would you like to use it? Did this inspire you to think outside of the box when it comes to pink? It doesn't always have to be super sweet and girly?

Gorgeous palettes, Emma – we're all so inspired by these mood boards you've done!
(images linked above to their source, collages by emma lamb)
Hello friends, it is Leslie here with Color Me Pretty for July. I just got back from Tokyo so I thought it would be fun to share some of my color inspiration from the trip. Similar to last summer, I noticed a wide use of fluorescent colors in home décor items, fashion, stationary and even crafting supplies (read Neon Pink here). Small blasts of color can really liven things up. I have gathered a few ideas that I hope will get your creative wheels turning.
If you cannot imagine anything permanent in your home with such electric color, try introducing a tiny bit on a mood board. I made a little garland using tape and beads in fluorescent pink, yellow and orange.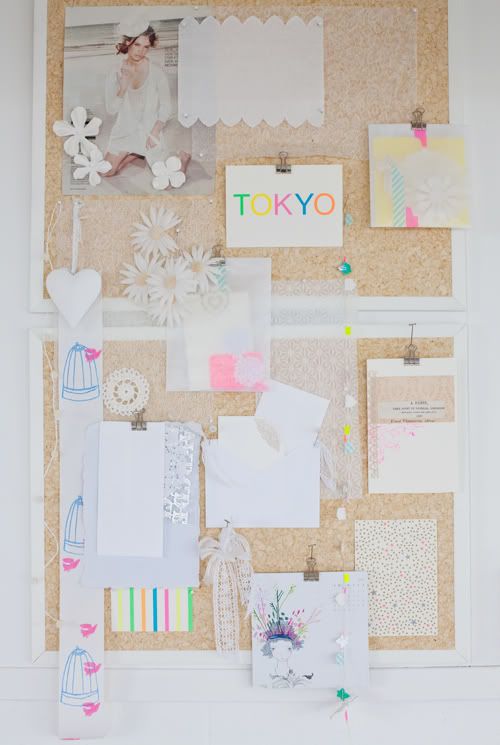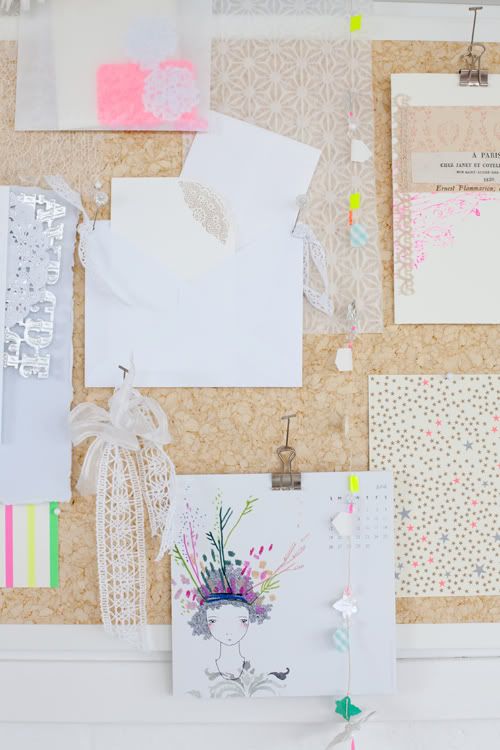 I also found a beautiful card by Emma Cassi that has a perfect fluorescent pink and a calendar card by Catherine Campbell brings in a few more bright tones. Mixing these flashes of color with a sand and white backdrop really speaks to me about summer.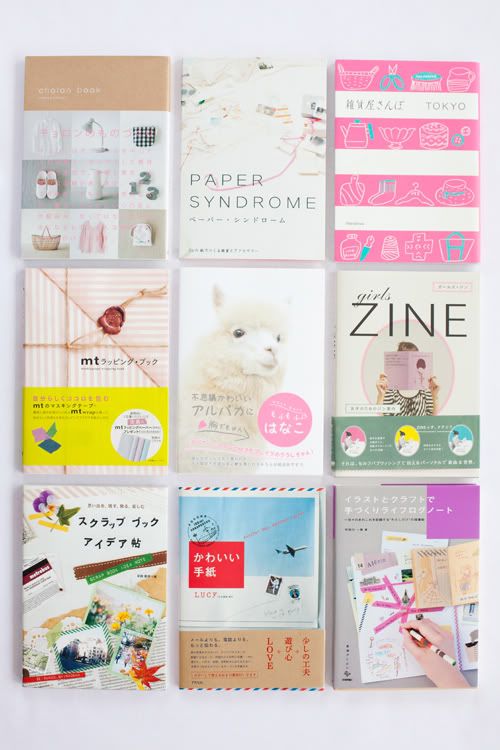 Every time I go to Japan I cart back a bunch of books. It is fascinating to examine how they approach collage, journaling and home décor. I also love seeing what is the current "kawaii" or cute obsession. Pandas are always big, however, this time I noticed a lot of lama (or alpaca) motifs. Yes, lama motifs adorned books, stickers, fabrics, calendars and t-shirts. Who knew? I wonder what will be next?
Little fluorescent touches to party décor (i.e. balloons, candles, streamers), make your own cards, photo album embellishing and gift wrapping are fun ways to experiment with these colors that you may not normally use.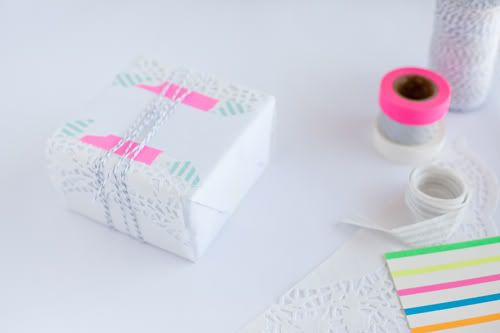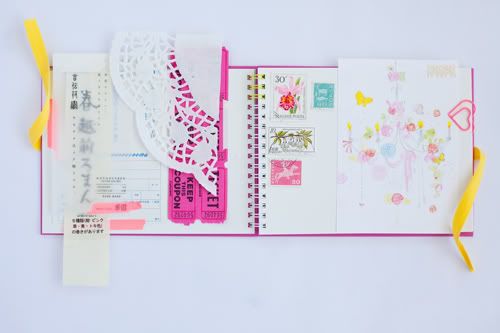 As is brightening up an area around your desk with a little fluorescent tape on some of your favorite images. These rolls of Pro Tapes look like they could be good for these kinds of projects.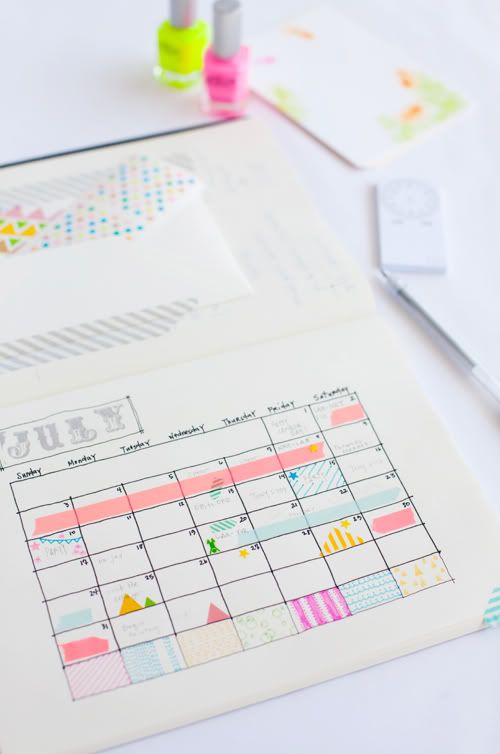 Lastly, you could always decorate your day-timer. Why not add some bright colors to make your schedule seem a little more playful? We are all busy these days but do we have to be so serious? Come on, try painting your toe nails fluorescent and add some teen spirit to your calendar. :)
How do you place to add a little neon to your life? Any ideas to share?
I will see you back here in August. -Leslie.
(photography: leslie shewring)
Hello Friends, it is Leslie here with June's edition of Color Me Pretty on decor8. I have been spending many hours recently tending to my little garden so I have fresh greens on my mind. I know, it seems you either love green for design or you don't. However, I am here to give spring green, chartreuse, blue green and yellow a chance. I hope you enjoy this simple palette.
But first, here is where my inspiration began… in my very own flower garden at home here in southern California.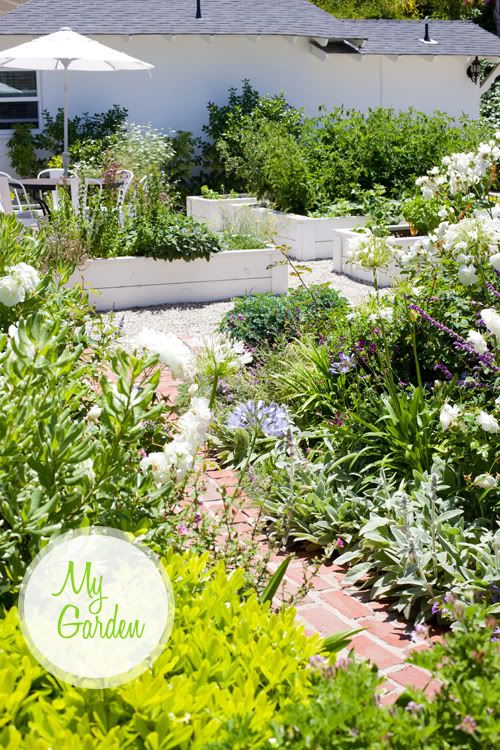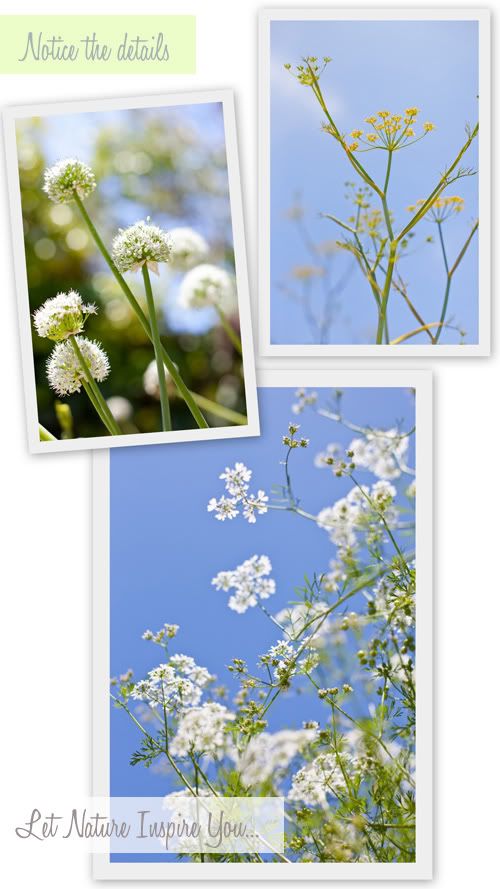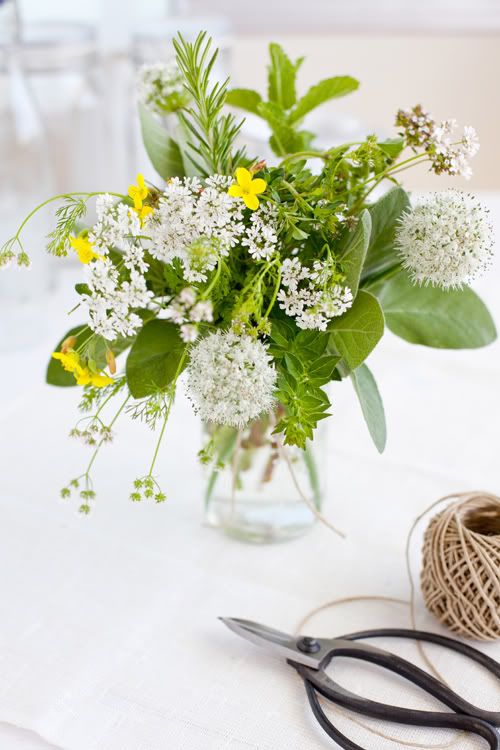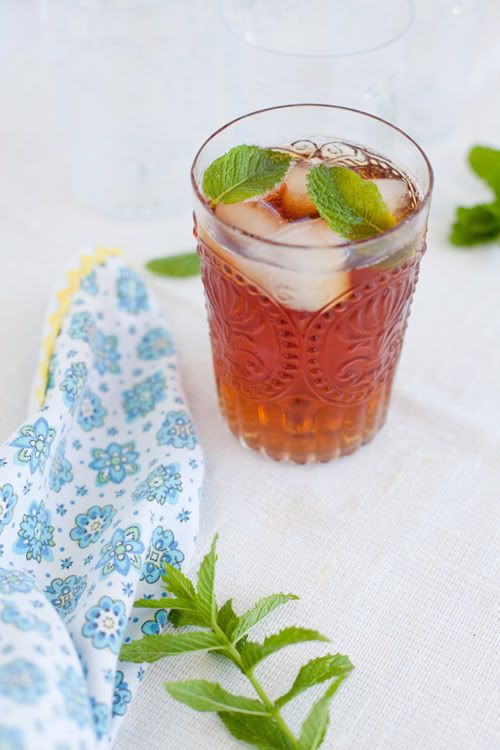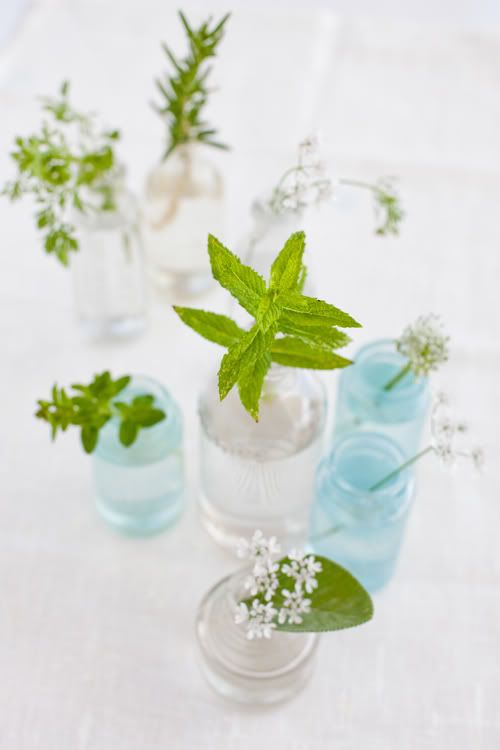 First, I thought it would be fun to do an arrangement of edible herbs from my garden. I picked sage, mint, thyme, rosemary, oregano flowers, cilantro flowers, arugula flowers and onion flowers for a little bouquet. I popped it into a glass jar and think it would be a sweet gift for my friend who enjoys cooking. The leftover sprigs went into some little vintage glass bottles. If it is summer where you are please take advantage of all the bounty at your farmer's markets and stands. Make yourself an insanely large salad because it will taste extra good this time of year and pick up a bunch of herbs to enjoy in a vase. Mixing herbs with flowers can look beautiful too. Peonies and mint smell amazing together!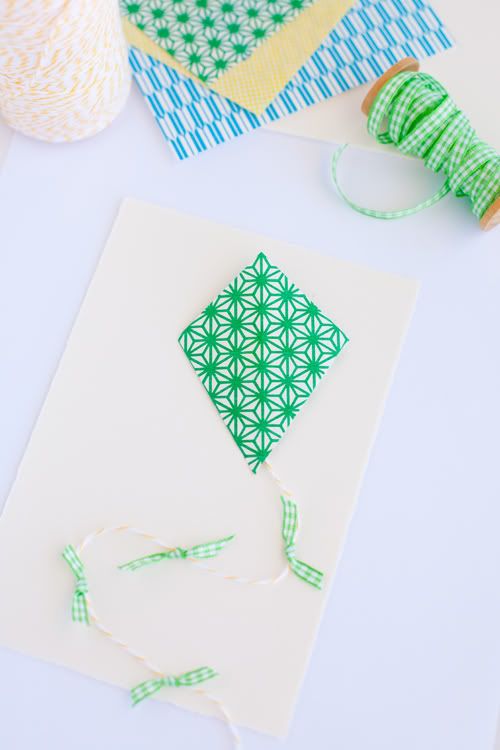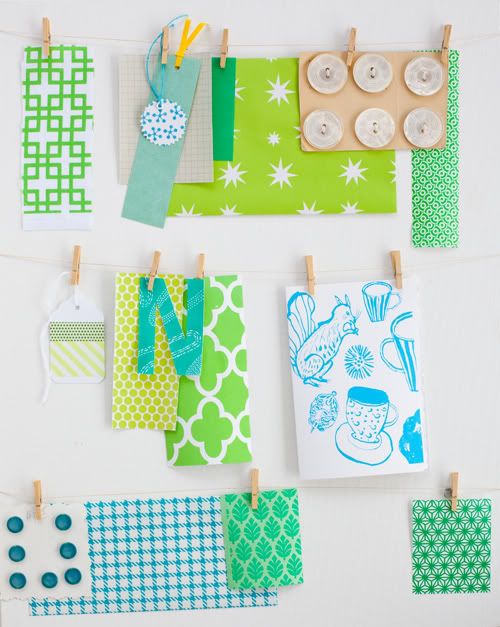 Then I felt inspired to pull together a mini mood board. On this small peg board I have a fun card by Cornelia O'Donovan for Pearl & Black, and some scrap pieces of fabric and papers. When using a limited palette like this it is nice to experiment with patterns. It is important to have both larger and a smaller scale patterns to create a sense of balance.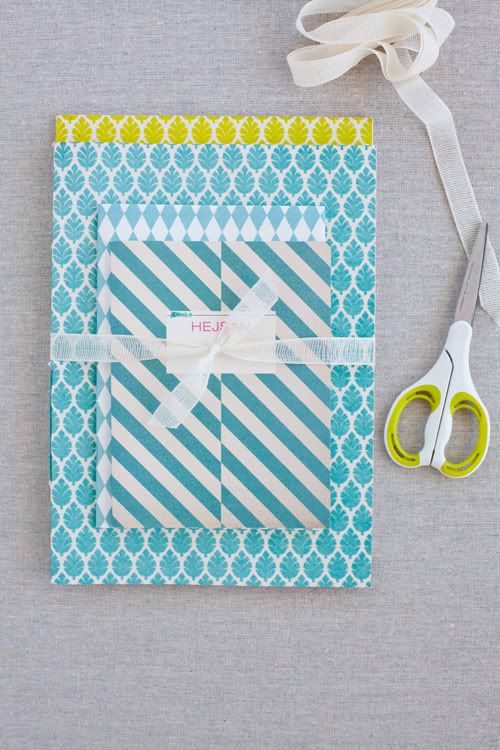 These patterned notebooks are by Labclip, o-check design graphics and bungalow.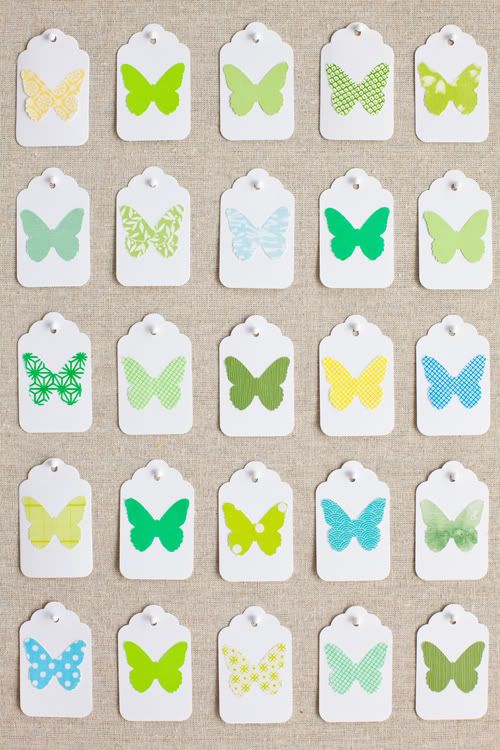 I pinned up some butterfly tags I made to spruce up simple wrapping. I used the large "Punch All Over The Page" butterfly punch by Martha Stewart. I have been seeing framed collections of "punched" butterflies that also look pretty and provide an interesting way to showcase paper scraps you may have!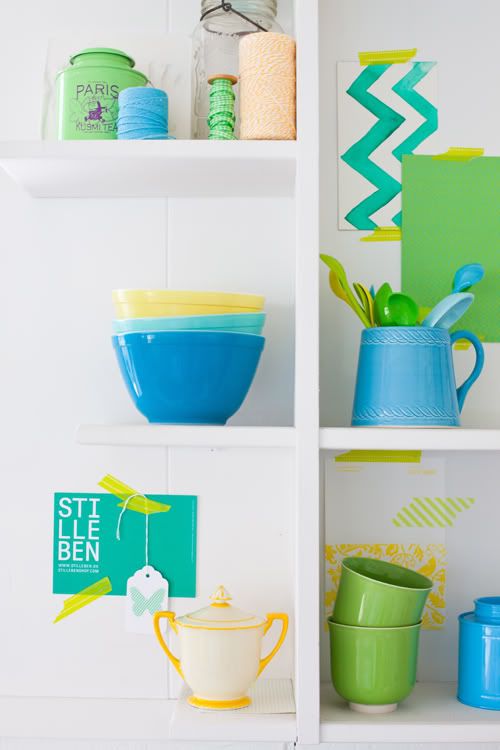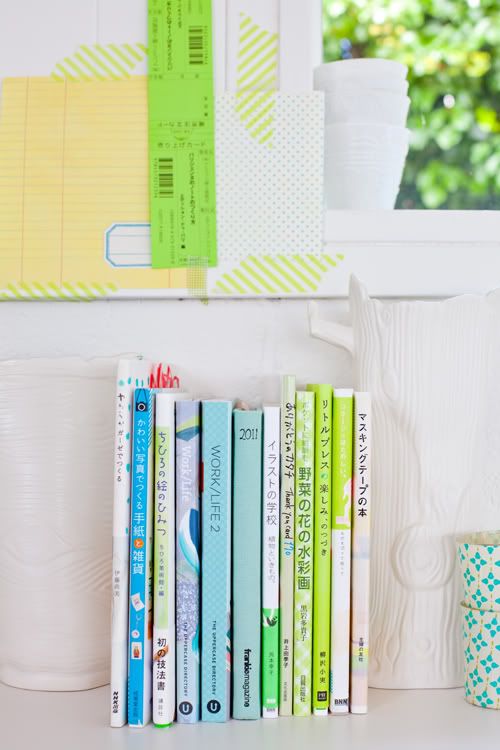 I hope I sparked an idea or two for you to take away for a project you may be working on. Thank you for having me here. See you next month, – Leslie.
(photography + styling: leslie shewring)