Hello Friends, it is Leslie here with Color Me Pretty for May. With summer just around the corner I cannot help but think about flowers in my garden, fun drinks with friends and family birthdays. All in a palette of white, peach, mint green, washed grey and a little raspberry.  Of course time for a few crafty projects in this summer palette would be great to. A girl can dream.
One quick project for entertaining is dressing up those white spray painted glass bottles with a little washi tape and a couple paper doilies. Nothing fancy, just apply the tape and doily pieces here and there. I cut a few flowers and sprigs from my garden and instantly a windowsill or a table is prettied up for a get together.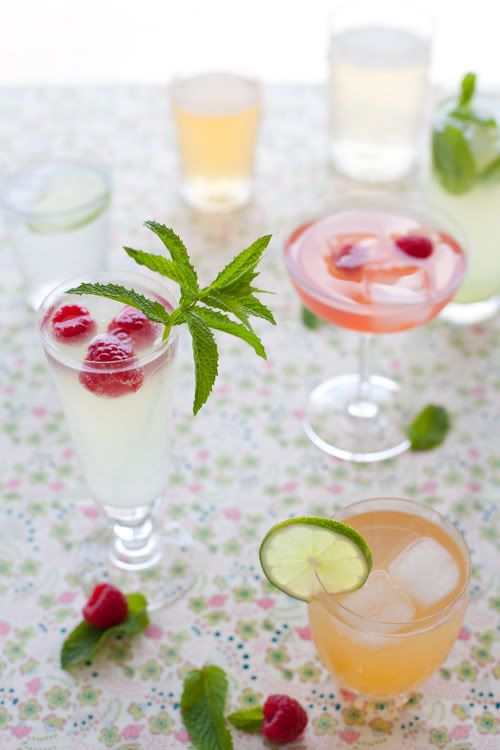 Summery garnishes can make a plain old lemon soda look rather elegant. I like serving something fun and nothing gets a little house party going like a feature cocktail. Fresh mint, a little lime or a couple raspberries can make any drink feel like a special occasion. It can also be interesting to use all different glasses even for the same drink. This way everyone can hopefully remember his or her glass!
Here is a little folding book I made from a couple pieces of scrap paper and some fuji instax mini photographs I took while putting this series together for you. I want to make more of these this summer. One could be of the kids while we are at the beach or another possibly of my mother's garden. They make a cute gift for the host after a weekend stay with friends or family.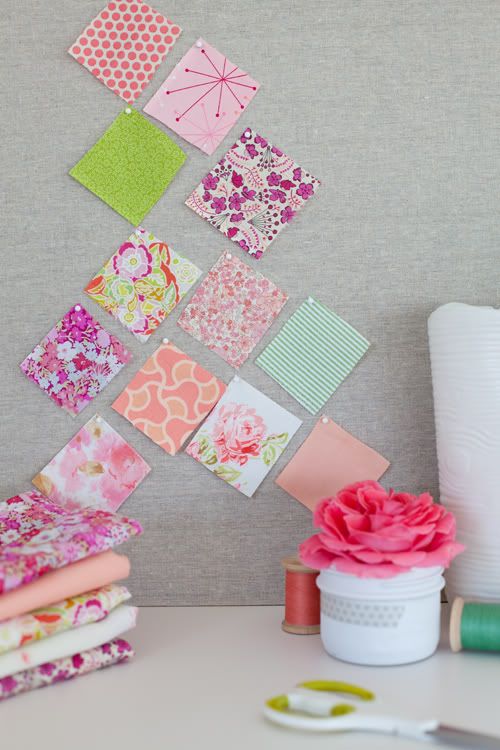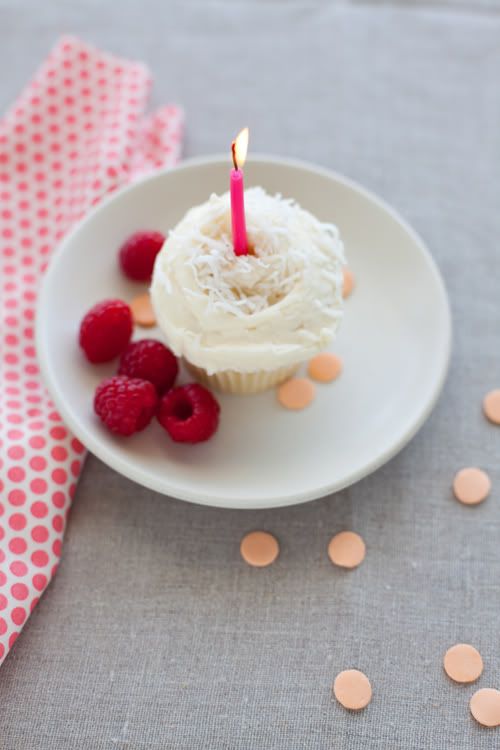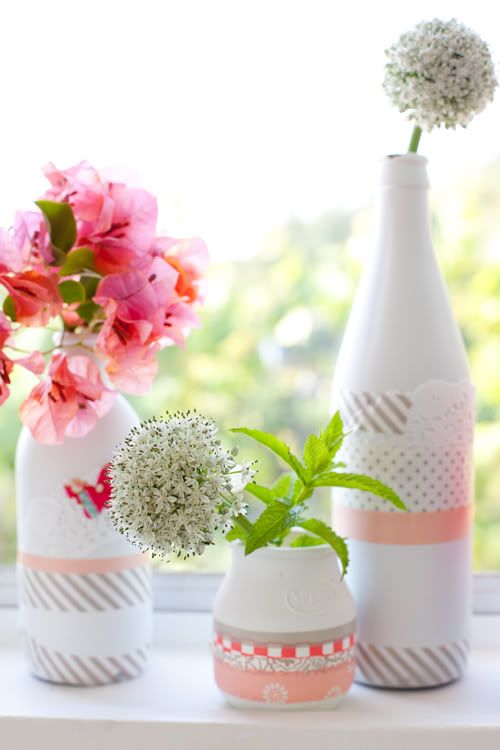 I hope you enjoyed this series and that it sparked a couple ideas for you. Do you have any plans for the weekend? Whatever you do take good care and do something just for you.
Thank you for having me here, see you next month, – Leslie.
(images: leslie shewring)
Hello Friends, it is Leslie here with Color Me Pretty for April. This time around I cannot stop thinking about travel and cafes. No, they are not colors but since I just came back from a quick trip to London and Copenhagen I find myself dreaming about the cafes I visited and where I may go next.
Yes, the travel bug was caught quite severely and that is why this image from Anthropologie became my source of inspiration for this month's Color Me Pretty. By looking at this picture, I was transported to an Italian café. This gorgeous photo shoot, which took place at Caffé Roma Pastry on Broome Street in New York, inspired me in a fury to create something in a similar palette for you.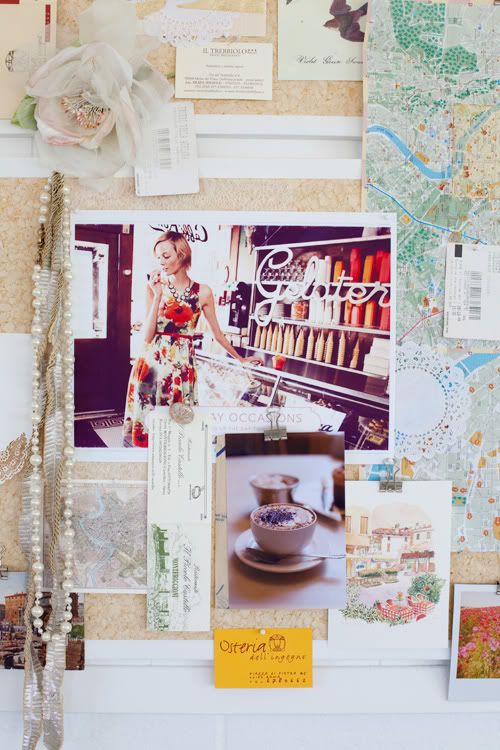 Splashes of dark tangerine, gold, sap green and Prussian blue mixed with light tan and milky coffee. This is a pretty palette for summer fashion, entertaining or decorating.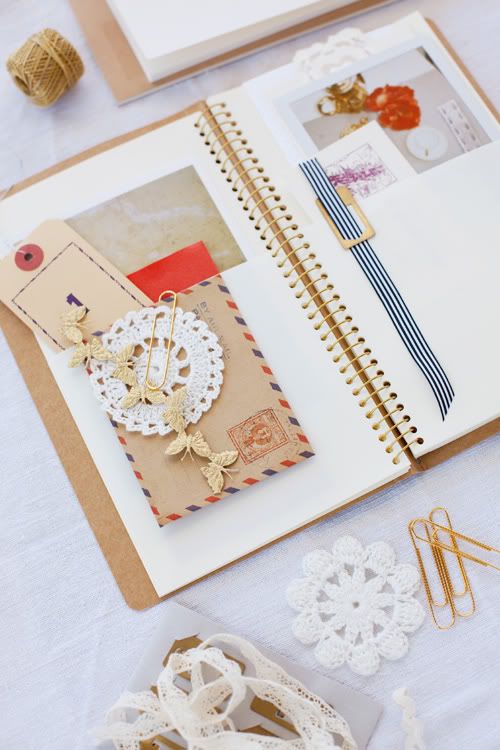 I printed out and pinned the first Anthropologie image from the set on my tack board and then created a mood board around the image. I grabbed old cards and tickets I had collected during my last trip to Rome, along with some post cards and my own photos. I tend to keep little bits of paper from wherever I go. Do you do this? I just love looking at business cards of where I have eaten or ticket stubs from an incredible site I have seen. I keep many of these bits and pieces in an archival box on my shelf or in journals I made upon return home.
Since Caffe Roma appears to serve some fine looking gelato I started thinking about ice cream, then, ice cream dishes and how they may make fun low floral vases for entertaining. I experimented with some little bouquets and the ice cream dishes worked well as they keep the flowers low enough to have a conversation over. You can find sundae, sorbet and ice cream dishes at restaurant supply stores online like this one.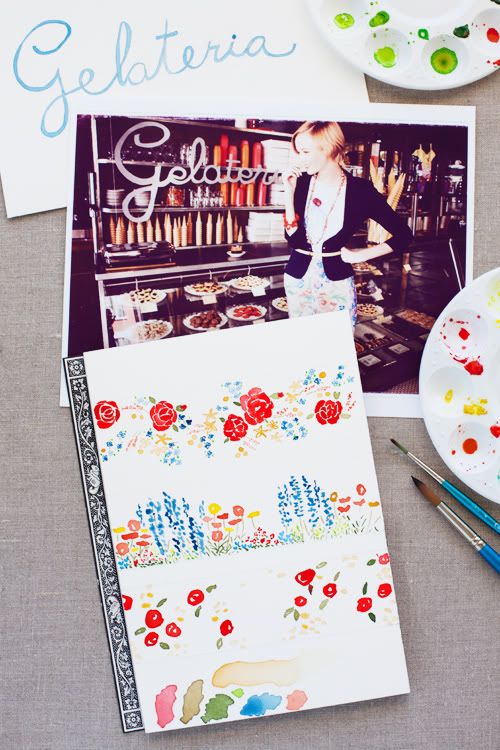 I couldn't help but doodle some watercolor flowers after looking at the fabulous En Plein Air Dress and Gladiolus Skirt featured in the photographs. The gestural floral patterns used in these two pieces have me thinking about borders for cards or patterns I could use in some other crafts. I also love bringing bold floral patterns into my home as accents and these two fashion items have my wheels turning.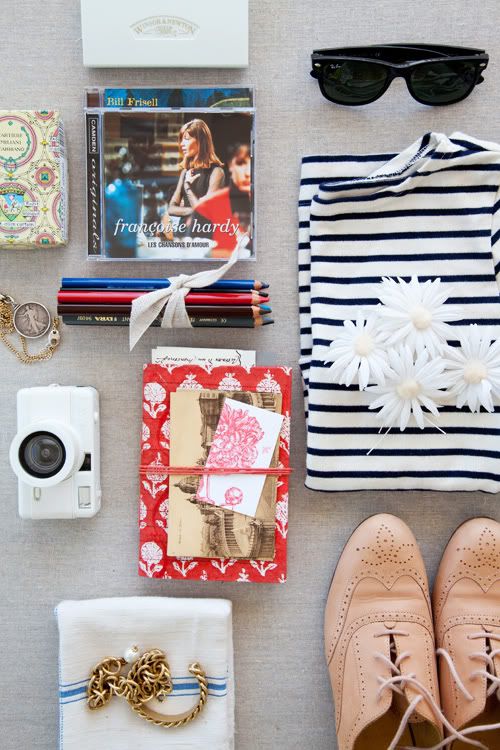 It is really fun to take a virtual trip somewhere and let it inspire some fresh creative ideas. Thank you for joining me here today on my little journey helped along greatly by the styling work and photography by the brilliant folks at Anthropologie.
See you back here next month, Leslie
(images: leslie shewring)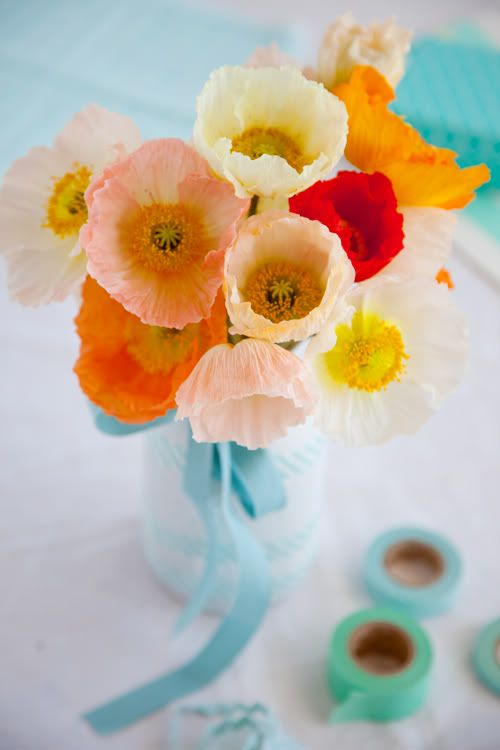 Hello friends, it's Leslie here with Color Me Pretty for March. With all the heartache over the last ten days I wanted to focus on spring with the sense of hope, creativity and new life it brings. I thought I would revisit one of my favorite palettes, which includes pale blue, watery aqua, minty green, and splashes of dark coral. To change it slightly I added some chalky looking lavender. I have been seeing this palette in various forms lately and thought you may enjoy it.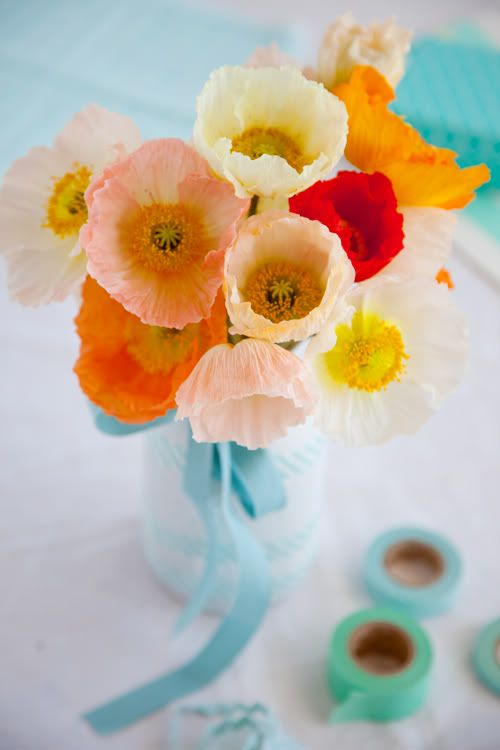 Cheerful poppies have been blooming in my garden and I decided to place these ones in a spray painted mason jar. I further decorated the jar with ribbon and a few strips of Japanese washi tape. Decorating some white floral containers with tape is simple, quick and adds a sweet handmade quality don't you think?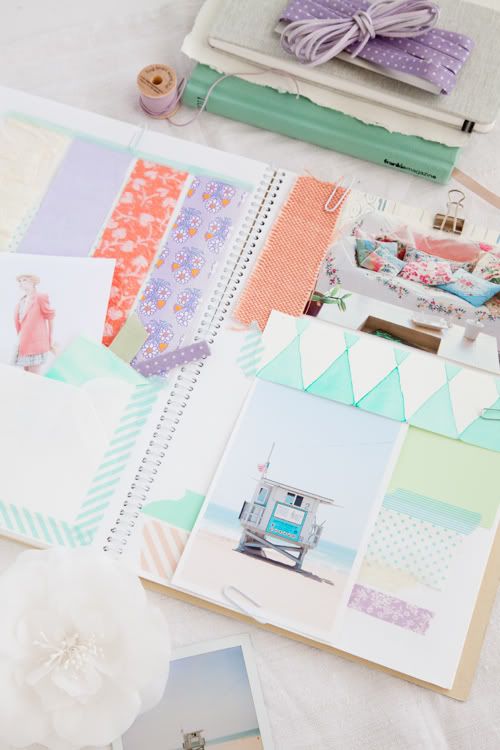 I was really inspired by the work of Thomas Campbell who Holly introduced me to in her post a few weeks ago. I couldn't help but get back to my sewing machine to sew more paper together. I made some interesting wrapping paper quickly as well as some larger pieces I may frame and use as wall hangings for my home. When I did not have the right color of paper I used watercolors to create the tones I needed.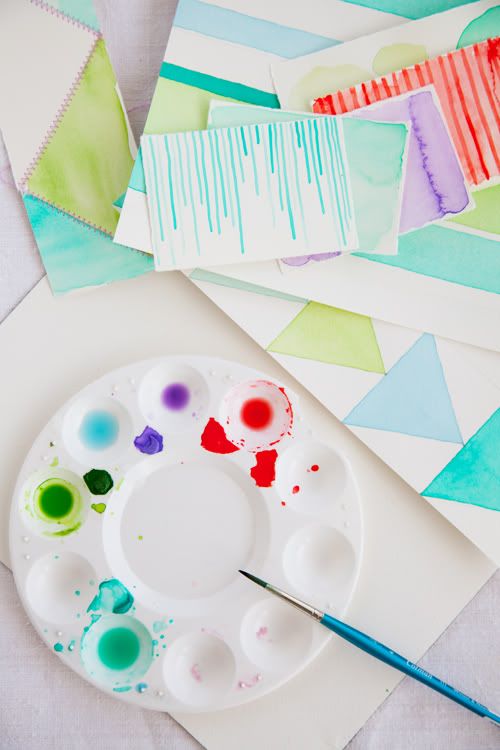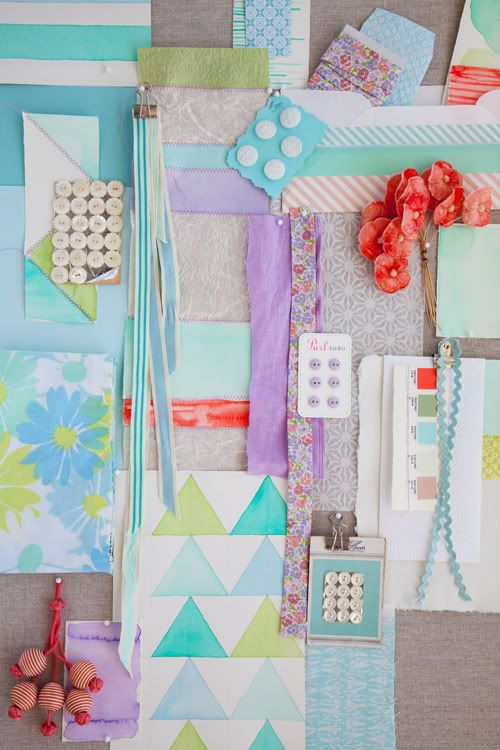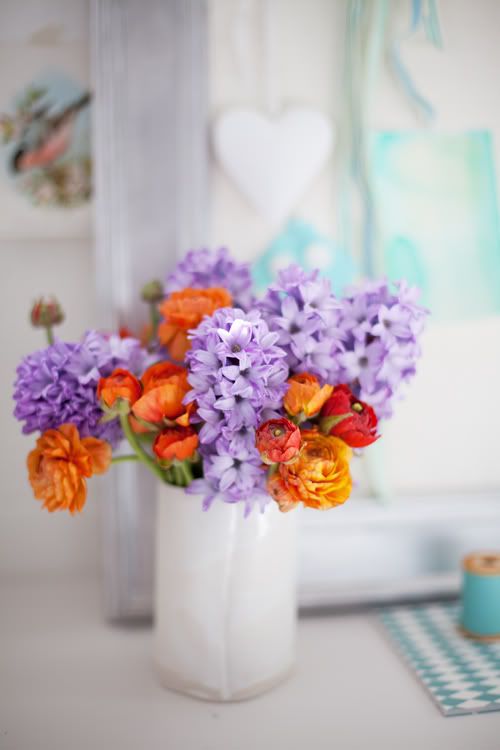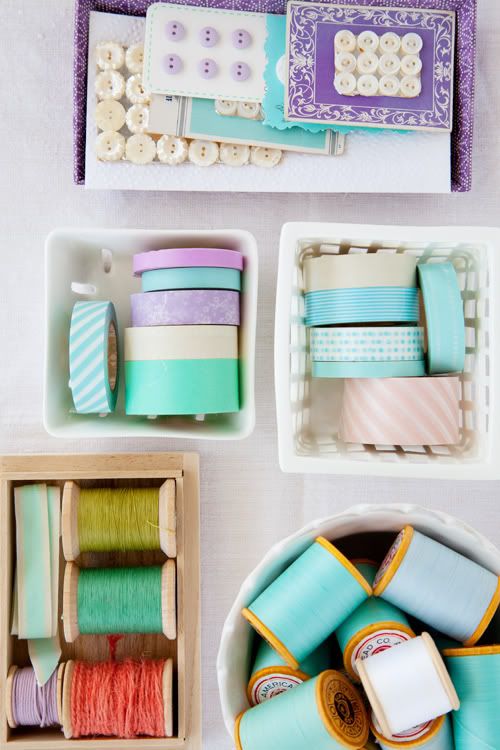 I filled my journal pages with pieces of freshly colored paper and photographs. I love having this record to go back and look at when I want to create something down the road and am lacking inspiration. My journals have always helped keep my visual ideas organized. They act as mini mood boards that are portable, easy to keep and refer to. Long after my tack boards have been cleaned off I still have my journals waiting neatly on the shelf.
I hope I may have sparked an idea or two for you to carry out in some of your creative projects. Please take a moment this week to stop and notice the flowers of the season. Even if they are just the ones on display at the market! I will see you back here next month, until then take good care and thank you. – Leslie.
(images: leslie shewring)
Leslie
Mmmm mint! I'm all about beige right now also and loving it, especially as a trench coat with a fun, colorful patterned lining for spring or on the walls with crisp white glossy trim. I'm also liking mint and cream a great deal… I keep thinking of painting an hold cabinet a minty green like the one shown below. What is your current color crush? I think peachy coral would be a great accent with this mint/beige color combo, don't you think?
necklace from boden, j.crew vintage cotton tee, sugarcane + cocoa necklace from anthropologie, pie crust dinnerware from anthropologie, escape from the black forest print by the black apple, birds eggs from Australia print from cake with giants, kid's room from MILK magazine, little town made from envelopes by camilla engman.
Not a big fan of pastel-y Mint? Even though it is such a pretty hue… it's not for everyone. You can combine it with fresh green or chartreuse to brighten things up or add in a muddy olive and deep gray to make the room more rich and cozy… above are some inspirations from vtwonen magazine showing you how to mix mint in for a fresh spring look. If you are not familiar with vtwonen, it is a fabulous decorating magazine from the Netherlands that I started subscribing to a few years ago. I can't miss a month of this mag – even Leslie is a subscriber and a few of my other US-based friends. I definitely suggest it for loads of decorating ideas & inspiration. They produce books to, I will be in Amsterdam in June so I plan to pick up a few this time as they're quite amazing.
(images linked to their sources above)