I think we could all use a little color inspiration today! I'm already seeing it in stores here, but mostly in pastel tones for Easter. I'm thinking we turn up the volume this year and make the pastel-filled Easter a bit more graphic and strong. Perhaps mix your pastels with some stronger shades of the same hue (pale yellow with mustard, for instance, adding in some black for strength). These colorful rooms from Swedish magazine Skona Hem may spark some ideas for you.
Do any of these looks excite you? Spot any corners that you'd like to try at home this Spring?

(images: skona hem)
Pantone is THE global color authority for the fashion and home industry so I shared their Spring 2011 color forecast with Real Simple readers today (view it here) because I was so inspired by the palette. Here is a pretty little presentation that I've put together for you to view these colors — maybe as you look at them you can think of which ones you'd like to try in a room scheme…
Over at Real Simple, I also shared a few things in my home since it seems that rather unknowingly, I had a feeling for pink before it was predicted to be the color of the year. I guess when you work with interiors and are around products long enough, you just start to get a feel for things, don't you? You must find this true of yourself, blogging and the internet makes us all feel pretty tuned in to what's going on out there.
Did you know that Pantone has a gorgeous PDF to download each year that is filled with color inspiration for the season to come, from some of today's top fashion designers? Oh yes. I've been downloading it for years. In it, you'll read various expert opinions from a panel of fashion designers who talk about what inspired their color choices and overall collection and which ones they believe will work well together in your closet (my favorite part) — though you can also try the same suggestions in your living room.
Here are some colors that I think work together from the 10 shown above:
For a mid century modern enthusiast: Mix Coral Rose, Russet and Beeswax.
For a modern, contemporary home that is also warm: Mix Color Rose, Russet and Regatta.
For a fresh Moroccan vibe: Regatta and Blue Curacao all the way! Add Silver Cloud, too.
For a little cool sophistication try: Regatta, Blue Curacao, Lavender and Silver Cloud.
For some spice why not go with: Coral Rose, Honeysuckle, Russet and Beeswax.
See a favorite or two? What colors do you see working well together in a room?
(images: pantone)
Hello Friends, it is Leslie here with Color Me Pretty for December. I am really inspired by some of the soft colors used for decorating for the holidays. Hues like aqua, soft lavender, butter yellow and silver. It is a pleasure to experiment with a more subtle hued approach. With the help of a few sparkly ornaments and some candles, I can already feel my holiday spirit being lifted.
Wrapping gifts has always been a real joy for me. I love seeing parcels nicely wrapped and tied with ribbon. I also cannot seem to throw out pieces of nice paper, as I tend to save them all. Lately, I have been into making paper quilts to use as wrapping paper for special friends who enjoy paper like I do.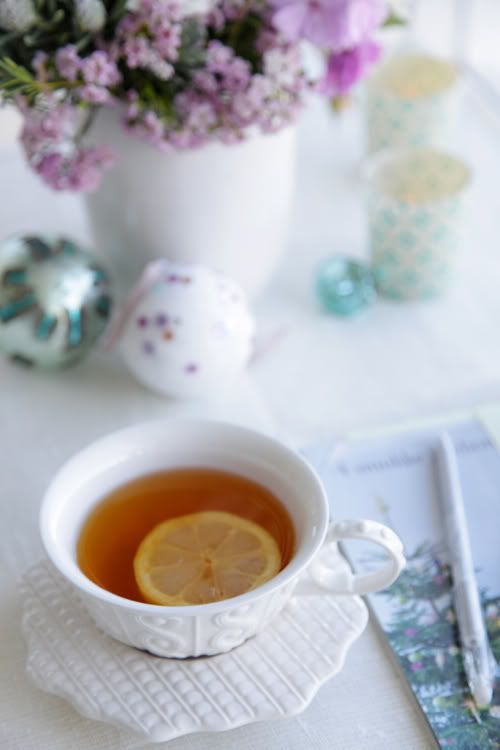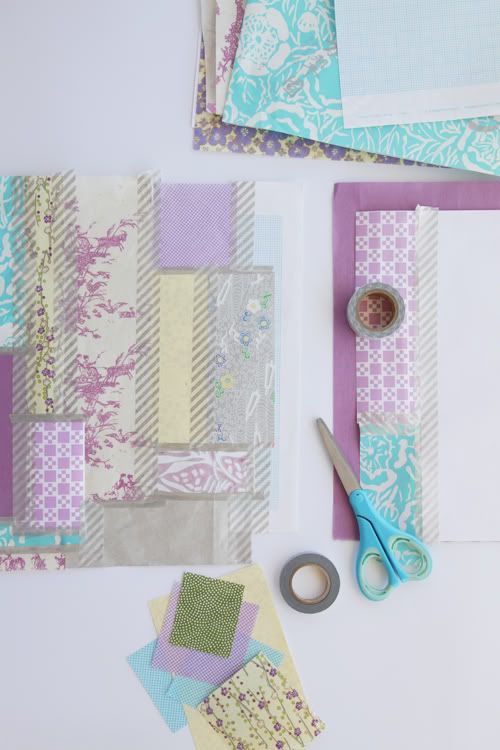 I use tape to quilt together pretty scraps of paper to make a larger piece of paper to then wrap presents with. The process does not take very long and I like the effect after a simple ribbon is added. It is a nice way to use gorgeous bits that may have otherwise gone in the trash.
I had to include this photograph of a special bag I purchased in Amsterdam in October as it has been hanging in my studio and I have been staring at it for some time. You can see how the palette has been influencing me! The bag was made by the hands of Leslie Oschmann an American designer living in Amsterdam who I had the pleasure of meeting. She is a lovely, warm and very talented designer who turns old unwanted paintings into new tote bags. Leslie also breathes new life into chairs and jewelry. You can read more about what she is up to on her website. Some of her bags are also available at Anthropologie.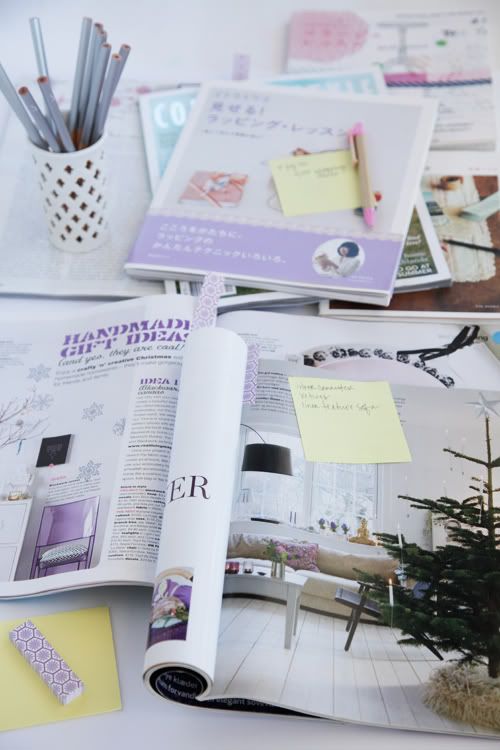 It is my wish for you (and me) to fit in some "slow" moments this season as they help make a hectic holiday routine more manageable.  Create space for a lingering cup of tea, a little time to savor yummy books or magazines, an afternoon for organizing or at least a minute to indulge in the scents of fresh flowers. Whatever holidays you celebrate I hope these last few weeks of 2010 are filled with joy. See you next year and thank you! – Leslie!
(images: leslie shewring)