Talent, style and purely inspirational gorgeousness – BRING.IT. These were all styled by the talented Lo Bjurulf for Agent Bauer and good golly don't they give you a wave of yum scrumminess?
Fantastic. I love a little eye candy. Or in this case, a whole lot of it. Perfect way to kick off a lovely and festive weekend. Enjoy your time with family and friends and I'll see you again soon! xo
(images: agent bauer)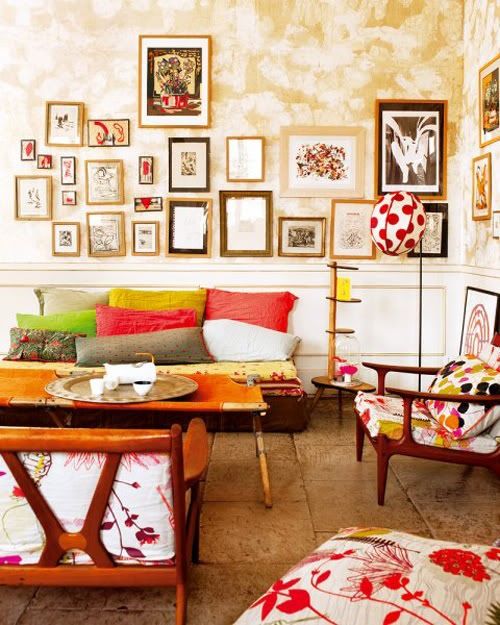 These images from Marie Claire Maison made me drool like a fool today. The walls! The art! The quirk! The organized chaos! Ah, yes Marie Claire Maison you have once again made me walk away inspired. Hope these images do the same for you today, too. For fans of red and bold color in general, you'll particularly love these inspiring rooms.
Most of these homes display such a clever balance of soothing neutrals and bursts of energetic color, mixed together carefully to form a most delightful cocktail of style. Delish!
(images: marie claire maison)
This new Dutch hotel is located in Amsterdam and I can't stop examining the rooms! It is called The Exchange and I find it as intriguing and a bit creepy therefore I have to share these photos to get your thoughts.
I loved that graduates of the Amsterdam Fashion Institute designed and decorated each of the 61 rooms making each one different and fun. What do you think of it, would you stay in a hotel like this? What do you think?
(photos: the exchange via trendland.)
I found this ultra helpful and know that you will too… I love that blogger Alaina Kaczmarski tells her readers exactly where things are from her home by tagging as many items as she can in her home tour photos.
While Alaina openly admits that most of these items are no longer available, I still see value in doing this (using mini tags to list resources) on home tour photos because it's just so darn nice to know where stuff is from. Especially paint colors. Great idea, Alaina.
So tell me, if you were to tag a room in your home what would your things reveal as to where you shop most frequently? Pottery Barn? IKEA? Anthropologie? West Elm? Homegoods? Flea markets/thrift shops? Inherited from family and friends? Yard sales? Think about it – could be quite interesting to learn more about your shopping habits!
(images: Alaina Kaczmarski)