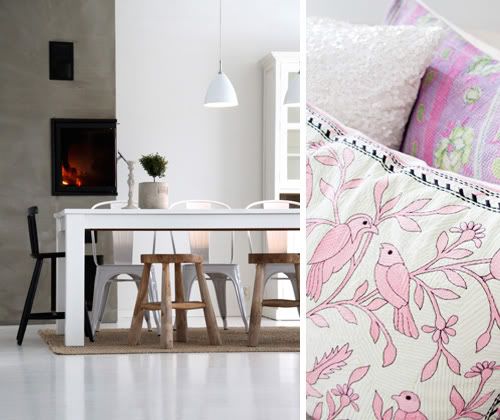 Don't you love how spoiled we are? We can sit before our screens and travel to faraway places in seconds, free of charge, to peek in on the life and decorating styles of others. I mean, it's amazing and whenever I start feeling sick of the internet I remind myself of how valuable it really is and how I really couldn't live or work without it.
I'm fascinated by trends in other parts of the world and love to see how people decorate and thanks to blogs, there is no end to the inspiration that exists online. In fact, I spend most of my time on blogs that I cannot even read because they are in French, Swedish and Danish for example. Today I came across a beautiful blog called Rosaliga (which seems to translate into English to mean Pink League) in Norway and wow, it's so pretty!
Blogger, passionate decorator and jewelry designer Randi Andreassen (her things are sold in her Epla shop — Epla is like a Scandinavia Etsy.) created her inspiring blog and on it, she shows many photos from her home, travels and of her interests from the magazines that she reads to the decorating projects she undertakes.
Love this wall color and these trees-as-coat hangers designed by Swedish design firm Swedese.
Randi has such a great eye and I spot lots of things in her home from some of my favorite designers like Tine K Home and Rie Elise Larsen.
Amazing, right!? So many ideas to use from this gorgeous home from the handmade wooden headboard to the wooden coffee table on wheels and the hints of pink here and there to be girly and still grown up. She has many of the same things that I have – like the IKEA natural rug in her dining room and the white metal chairs around her table, so it's fun to see how she is using them differently in her space vs. how I use them in mine. Do you do that? Look for similar pieces in your favorite rooms to see if you could try taking something from one room to use in another to create a new "inspired by" look based on your favorite image? Try it sometime, it's fun!
(images: randi andreassen)
I usually post about my personal life and home on Haus Maus, but these photos capture what Sunday in the springtime means to me quite nicely so I want to share them with you in case you are doing a little weekend blog reading. You may also find it inspiring for your own porch or spare room at home.
I recently put together my porch (as in two days ago, before photo here), it was empty a few days ago but my friend Tinna gave me a vintage French iron bed that I turned into a little place to sit using a thick piece of foam which I wrapped in white linen. Then I brought in some rugs and layered them and transformed a white rattan hamper that I wasn't using into a table by topping it with a round tray that I have. The great part is that when you remove the tray, blankets and extra pillows are stored inside.
I also brought in a few things from storage that I wasn't using (like the step stool and folding plant stand from IKEA), and pulled together a little spot on my three season porch where I can relax on the weekends. The best part is, this balcony faces the forest so I have lots of green things to admire and listen to – birds sing all day in the trees outside so I find this resting spot a very peaceful space. Plus, there is sunlight all day from early morning until late afternoon. It's wonderful!
I still have to decide what I will put on the walls, and I plan to install a vintage wall light as well, but for now this works perfectly for me. My husband will never use it — he's not a "porch guy" unless there is a grill involved, so I could girl-it-up a bit. So far, nothing that you see was purchased for this room – just borrowed from other parts of my home or given to me by friends like the felted beads hanging across the window. Some things are from Morocco that I'd not been able to use yet, like the leather slippers and the bed covering. This porch is off of our bedroom which makes it a great nook to escape to to enjoy iced tea and some sunshine.
I have two porches and a balcony, so I am lucky to have many little places to runaway to when I need some fresh air and nature. Do you have a chill zone in your home where you go to unwind and relax? Where is it? What do you like to do there?
Have a nice Sunday, see you tomorrow!
(images: holly becker for decor8)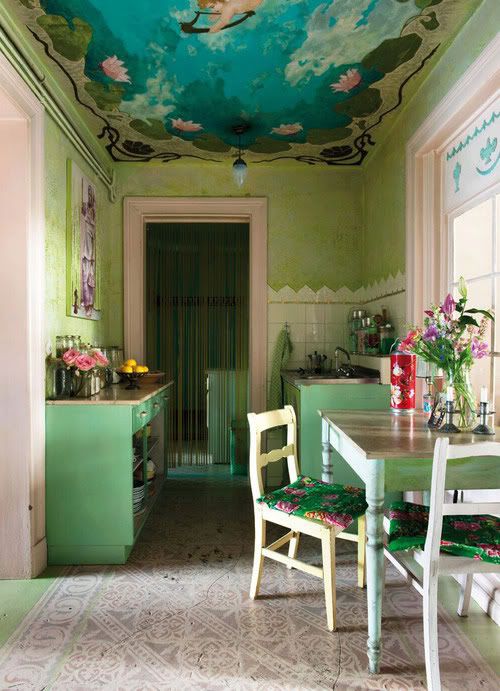 I am seriously digging this colorful, quirky home in a major way. From the painted ceilings to wall hangings and full-on saturated hues as accents and some as focal points, I can't stop looking at the details! After a week of being sick in bed, this is just the interiors inspiration that I needed to come across today. It also didn't hurt that my book made it on the bestseller list over at the Wall Street Journal at #2, Eek! I am so happy (thank you guys so much!). Between that extraordinary news of now authoring a best selling book and this fab home that I stumbled across below, I'm in 7th heaven (no reference to the kitchen ceiling at all, ha ha!). But I'm not here to brag about my book, or simply show a few photos and be on my way. Oh no. I want to talk about this amazing home and some memories from my past that I want to share because these photos took me back to a very special farm… a special place in my childhood. And I want to somehow spark your memories in the process.
The moment I spotted this home on the Room and Serve blog and found out that it is actually from Vårt Nya Hem (Swedish) magazine, I had to dig deeper into their website to see what else they have featured that I might want to have a look at. I also tried to figure out why it felt familiar to me and then memories of the large farmhouse belonging to my great, great grandmother came flooding in and suddenly I was transported to another time and space.
One thing that admire about this particular home shown in Vårt Nya Hem magazine is that, even with all of the color and pattern, each item seems to have been carefully curated and restraint was shown in both the floor plan and overall styling so it doesn't end up looking like a massive interiors heart attack. I admire people who are this stylish, it's quite amazing really and I'd love to linger in this space with the homeowners and really get to know the story behind each piece as I'm sure they have delicious stories to tell of travel, adventure and even a bit of danger. I love that the floor above appears to be stenciled. How grand (and doable!).
But yet, when I look at the kitchen I see a story from the pages of my own life. I'll tell you it, if you have a moment. You see, when I look at this kitchen I see the farmhouse that my Polish great grandmother owned in southern Rhode Island in the countryside. She had very ornate floral wallpaper, vinyl and tile flooring, art nouveau touches, extremely colorful everything… and the layout was the same with the old-fashioned style of cabinetry and such.
She moved from Warsaw in the late 1800s to American to make her life in Rhode Island where she gave birth to my grandfather, raising him on a huge farm. Then, when he was in the military stationed in Chicago, he met and married my Irish/Scottish/Russian/Polish grandmother who was a cabaret singer there, and they made their life on the same farm in a coverted barn nearby where my mother was born and raised. I grew up visiting my grandparents on their farm, affectionately called "Baby Farm", as my mother's large extended family stayed there in the summers and someone always ended up getting pregnant – including my mother, with me! My grandfather's sister married an Italian man and so the farm went from being Polish to Polish-Italian so I remember how this mix of culture affected life on the farm. I also remember braiding bread for my grandmother and rolling out dough and baking pies in a kitchen much like the one shown above. I remember thinking that my very Polish great grandmother, who only spoke Polish to my grandfather when she didn't want us to know what she was saying (which was often), was extremely "different" because her decorating style was wayyy over-the-top. She didn't have the typical country farmhouse – it was vibrant and filled with antiques from Poland that she brought over and of course flea market finds as my grandfather loved going to them religiously on the weekends. I also remember him taking me to massive flea markets along with my mother. I think that's why I enjoy them so much today and am always on the prowl for a unique find.
Growing up I remember loving my great grandmother's crazy farmhouse and enjoyed all of the color, pattern, massive floral wallpaper, taxidermy (oh yes), patterned floors, farmhouse sinks, minty green tiled bathroom, stacks of mismatched china in white cabinets with glass doors and the way the home smelled in the warmer months when all of the flowers were in bloom and the breeze drifted their heavenly scent through the home, usually through the kitchen where I was usually hanging out with my grandmother and great grandmother, and yes, my mom too. She lived to nearly 100 years old so I remember her in my life until I was 22 years old. I was lucky.
Maybe you'll find some inspiration over at Vårt Nya Hem to motivate you on a home project this weekend? Or to connect you to bits and pieces of your past life or how you would someday like to live? It's important when you find photos that inspire you to then pinpoint WHY you are connecting to them. What is it? Perhaps a window to your past? Or simply the colors? The style? The casualness? Think about this whenever you pin an inspiring image to your moodboard – it's a great way to refine your personal style!
(images: vårt nya hem)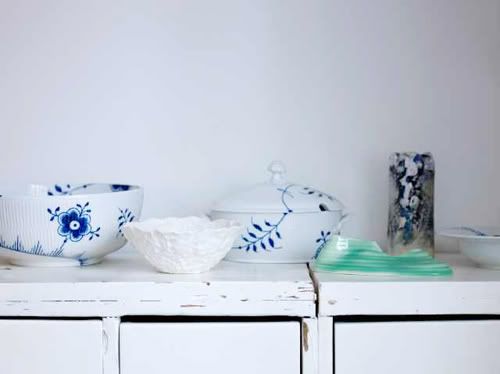 I thought I'd share some inspiring spaces from my book, Decorate, that are currently floating around on the web (and some are part of this interview that Janet Reynolds had with me for her print magazine Life@Home) that you may actually want to add to your Pinterest account, desktop inspiration folder, or wherever you see fit. If you happen to own the book already, then you forever have these images in your possession, beautifully printed and bundled if I do say so myself. ;) But in case you don't own the book you may delight in seeing these photos that were shot in beautiful homes in both Europe and the US by talented interiors photographer Debi Treloar. Debi shot the entire book using only natural light, something that drew me to her work in the first place years ago – her photos feel so inviting and casual as a result.
Ceramic pieces in Copenhagen home of ceramicist Karen and her husband Mads Hagedorn-Olsen. P.S. He makes the most beautiful insect art – see it here.
A sweet little girl's space in London belonging to the daughter of stylist/author Sania Pell.
A bedroom nook in Los Angeles belonging to photographer Amy Neunsinger, Charlotte's mud room (from RICE), Yvonne from Yvestown's Belgium kitchen, a gorgeous London flat belonging to Sisley UK cosmetics executive Christine D'ornano.
Charlotte Hedeman Gueniau's dining room in Denmark – I had fun styling this tabletop for the photo with mismatched things from mostly her company, RICE.
Debi was a saint to work with — she was such a lovely person to spend time with as we flew around for a period of four months working together, mostly her and I, in people's beautiful spaces. I hope that you enjoyed a teaser peek into my book! If you use them on your blog or Pinterest, all I ask is that you say that they were shot by Debi Treloar, link to her site, and link to this page: http://decor8blog.com/decorate-book mentioning that they are from the book, Decorate. That's all I ask. :)
(images: debi treloar for decorate)