I'm a huge Lyn Gardner fan so naturally, I love browsing her decorating portfolio over at Gardener & Marks. Their business is so intriguing to me, Gardener & Marks, because it's a full service decorating and props firm in Australia and I think their work comes across as very relaxed and personal yet also with such care over the details that you want to examine everything you see.
What I admire so much about Lyn, aside from her wild and very big hair and quirky personal style is her decorating work — she is a very detail-oriented person and I love that. I delight in the details, I can get so hung up on them though! Are you keen on the little bits and pieces? The photos throughout this post are from Gardener & Marks and show homes that they've decorated, Lyn and her partner Amanda Hendersen-Marks (please read their bio here). So pretty!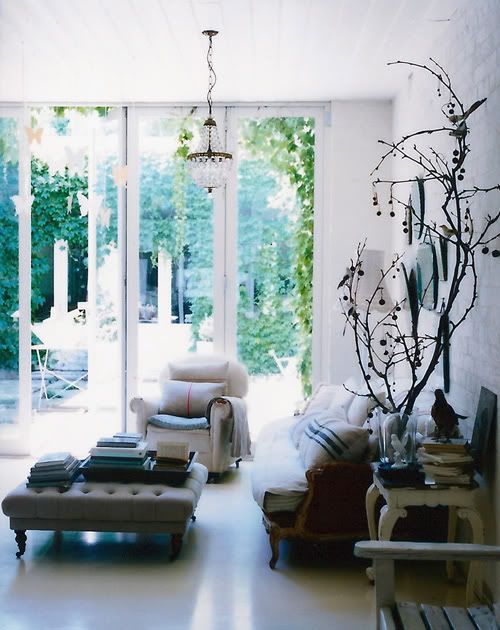 By the way, have you heard of The White House Daylesford? It's Lyn's amazing property that you can use as a location home OR you can vacation there — it's quite drool inducing — you simply must check it out here. As you are browsing, notice bedroom two with that gorgeous black and white toile wallpaper and hints of emerald green around the room – so pretty.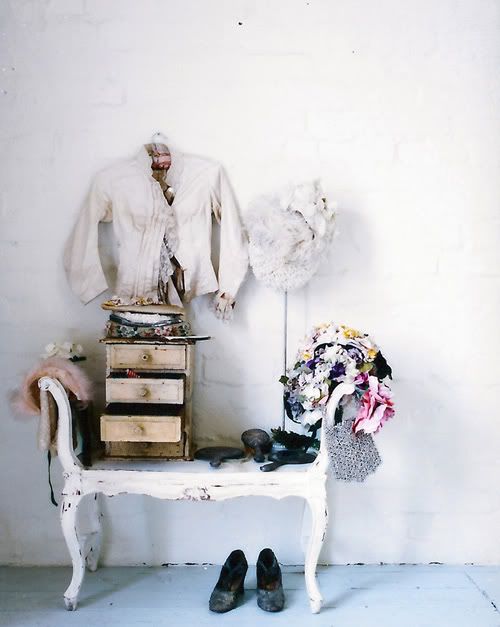 It's funny, because I'm very big picture which is why I was once a project manager. But I'm also creative and imaginative — I'm big on details and I notice every little corner and creation whether I'm shopping, staying in a hotel, riding on a train… I see it all. My friends often say that this is the writer in me – to notice things that most people breeze right by. And it's true. I can be with friends and they'll be chatting or zoning out on their iPods and I'm chatting and on the iPod too yet I'm also scanning the room, noticing every detail of what each person there is wearing – stripey socks, cuffed jeans, man who looks bored, woman who has lost an earring, boy with a chipped tooth.
You'll laugh at this, but do you remember that scene with adorable Matt Damon in the first Bourne film when he is in a roadside diner in France with German supporting actress Franka Potenta and he tries to "prove" that he isn't normal so he immediately starts to recite each detail about their environment while looking straight into her eyes – and he gets all of the facts right – he had memorized everything including how many people were in the room? Okay so he's an assassin, I'm not (ha ha), but I can relate to that scene so well as I can do the same thing when it comes to noticing everything around me. I don't always remember things that were said, I'm more visual I think, but I do remember things that I see or words that I can see on paper… In fact, that is what is helping me to learn German — not to hear it but to see it on signs and in textbooks.
When I shop, it's the same. I think lots of us creatives notice the details, from the Lyn Gardeners of the world to everyday people like me who love to decorate and write for a living. Perhaps you too? I see everything and often can scan an entire section, zoom in on what I'm interested in and disregard the rest — I'm not one to waste time as I know right away whether or not I'm attracted to something. I often got annoyed with this personality trait, to see everything, to notice the good and the bad, to be able to "weed out" things that I don't like or need almost instantly. In some ways, I had to get it under control in order to live a productive life. What I mean is that by noticing everything I'd often return home feeling absolutely overwhelmed by the sheer stimulation of it all. Or I'd be so overwhelmed by what I'm looking at in a store that I'd leave empty handed.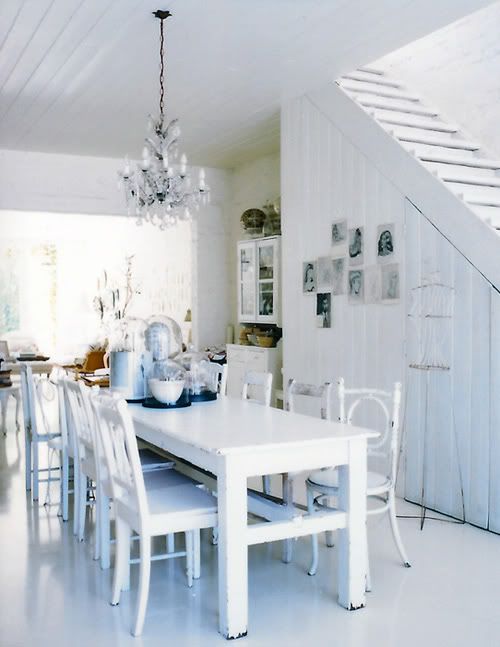 It took me years to modify my behavior so that I could use this sensitivity of mine to my own advantage, and now that I'm older I definitely can see a huge improvement and my life is so much better now that I can edit and sort ideas, sensations, emotions, external data, all of it — quite efficiently without draining myself. I have noticed that one of the best ways to curb over-sensitivity is to simply acknowledge it first of all and then use it only in situations when you really need it. I use it when it comes to projects, work-related tasks, etc. I've learned to ignore it (sometimes to forcefully ignore it) when I'm in the train and everyone around me seems to be drunk or acting obnoxious which I find often on the train when I'm riding at night. I have to forcefully flip the "off" switch whenever I see things that cause me pain, annoyance or anger – those are the details in life that I'd rather not pay attention to.
A darker side to this though is that I pay attention to details but I also miss other things as I'm so intently focused on something else that the other important thing slips off my radar. My husband laughs, I have a short attention span, I am like a golden retriever in some ways — I can be running after a stick and the moment I notice a cat off in the distance, I start running towards the cat forgetting all about what I was retrieving in the first place.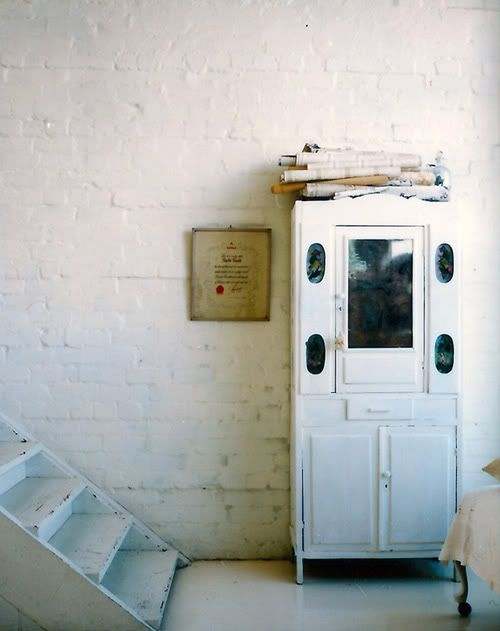 I wonder, do any of you notice the details, even to a fault, and how have you managed this? Luckily, I've managed well over the years and now I feel very confident to speak about it publicly and to use it in areas of my life where paying attention to details matters, like decorating and writing. Please share your views, I'd love to learn more about you and creatives out there in general who are very detail-oriented and how you edit, sort, disregard some date, absorb others, etc. It's a fascinating topic I think!
(images: gardener & marks)
Ah, farmhouse living. It's both Rachel Ashwell (did you hear that she just opened a B&B?) and Atlanta Bartlett but it's also online shop Dreamy Whites owned by Californian mother, decorator and blogger, Maria, who lives on a ranch (her husband is a horse trainer!) and has 5 children. I admire how she still manages to maintain her beautifully white home – where all of her product shots for her store were taken and shown below. Amazing, inspiring, OMGosh! How does she do it!? Lots of patience, bleach and a good bar of soap, no doubt.
Let's talk about farmhouse style for just a bit, okay? To me, farmhouse style can range — it can be loaded with dark reds, navy blues, piled high with geometric quilts in primary colors and topped with plenty of dark brown wood furniture, carved or rustic with clean uncomplicated lines. The farmhouse that Maria at Dreamy Whites promotes though is the more French country style. Farmhouse style can be both country cottage and coastal chic, French and American (or any other country for that matter), white with pastels or whites with blues and reds come to mind when I think of farmhouse colors. The Farmhouse style that fans of Dreamy White love though is the more romantic, faded look that resembles what Rachel Ashwell pioneered with Shabby Chic and later with decorators like Atlanta Bartlett– the palette is mostly white, pale minty green, pinks, blues, in other words lots of unapologetic love for pastels and for all things worn, used, salvageable, repurposed and slightly chipped or with some patina (think old vintage mirrors or wooden tables with a faded old coffee ring here and there.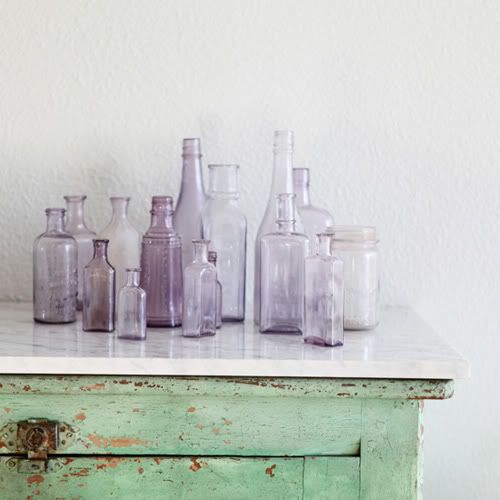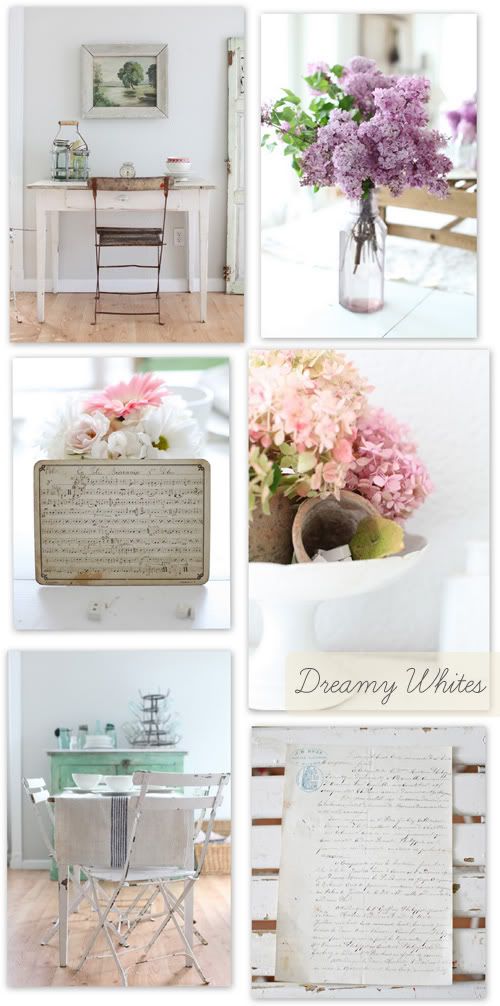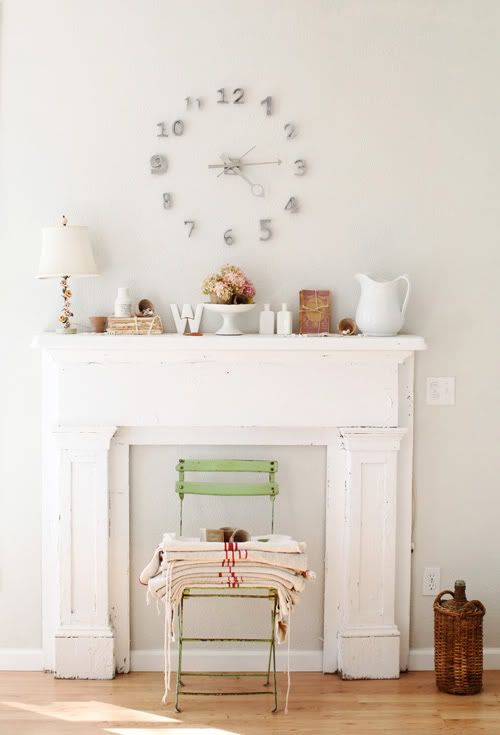 Also with farmhouse style you can find lots of floral prints (think dainty blooms laying next to larger scale roses for instance) and stripes (like ticking). Linen and canvas lay next to soft brushed or voile cottons that drape beautifully and feel like butter. Enamelware, French bed linens, pillowcases that tie, a slightly battered French wooden chair that folds… Flooring ranges from hardwood floors (the older the better), subway tile in white, penny tiles, old faded Belgium tiles in the entryway, wood floors painted in glossy white or gray. Furniture can include everything from white leather sofas with clean lines and slim legs to overstuffed white cotton canvas (very Shabby Chic). Vintage wooden dressers lined with faded vintage wallpaper, large wooden French cupboards painted in soft blue, benches stacked with blankets and pillows. Lighting runs the gamut as well — everything from ornate crystal chandeliers to clean almost industrial-style lighting and even the occasional punched tin lantern from Morocco — all have their place in the farmhouse these days as farmhouse style has evolved to allow in some elements of Asian decor, few but some — like large white leather or silvered leather pouffes for example.
If any of these things resonate with you, then you have to definitely check out blog and online shop Dreamy Whites. I definitely like some of the things shown above, like the lavender vintage glass bottles (my husband has a collection of them on his windowsill in his office) and I used them in my book to display flowers in Leslie's studio in the "Attention To Details" section of Decorate. I also like all of the field flowers, so casual and uncomplicated, displayed in various vessels — mostly ones that were not originally created as vases like jars and tea tins… I also love the old French tin shown in the first photo above, it has gorgeous color and pattern, doesn't it? I could imagine using it on a shelf in my office to hold business cards or extras like tape or staples.
It's amazing to think about farmhouse style and all that it encompasses, isn't it? What comes to mind when YOU think of farmhouse style? I often wonder how the perception varies according to where on lives. If you could mention where you live and then highlight some hallmarks of Farmhouse Style in your part of the world, that would be great! :)

(images: dreamy whites)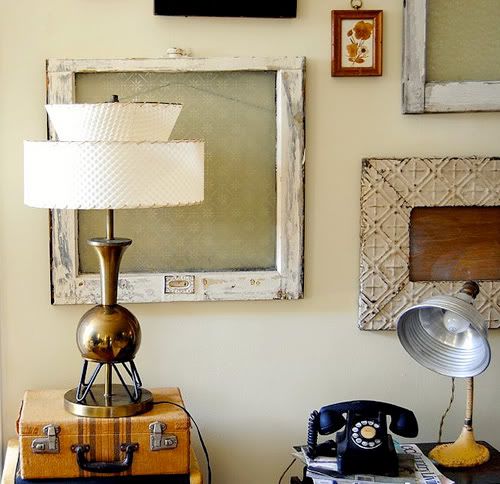 Does a room in your home depress you? Do you dream of decorating it only to walk in, take a look around, and immediately leave feeling overwhelmed and in need of inspiration? When I crave motivation and ideas I head over to the decor8 Interior Styling group on Flickr which now has over 3,000 members. It's interesting to browse through the hundreds of photos submitted to see what others are currently doing in their home to add personal touches, whether it is something inexpensive and simple like fresh flowers or more elaborate and expensive, like a newly purchased sofa. I also pull magazines and books out and start flipping through them like a mad woman, marking pages and making notes. It never ceases to amaze me how often the little things make such a huge impact on our home. I thought I'd share with you some images that inspire me from the Interior Styling group today along with 8 ways to spruce up your space because these tips really do work and I'd love it if you'd give a few of them a try! No need to feel depressed about an ugly room – you can do it!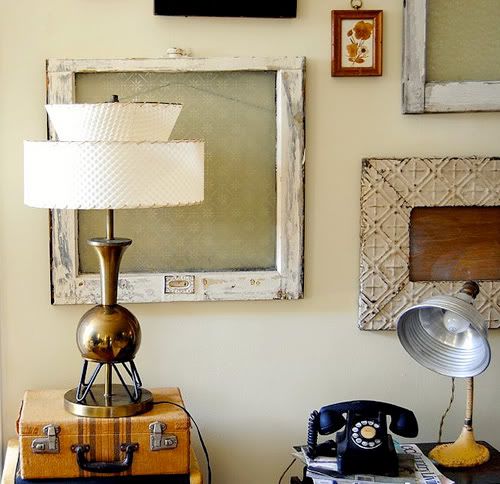 8 Ideas To Spruce Up Your Space
1. Create a mood board using photos of current things (snap photos, print them out) plus a few items you'd like to buy or make yourself. Again, take photos of what you have that could work in your new room scheme vs. focusing on buying all new things. Add everything to your board and give yourself about a week or two to walk by it, edit, add, remove, etc. By the end of the second week you should start to see a cohesive look and feel. Sketch out some room plan ideas and be sure to tack up images from magazines that catch your eye – whether it be how they styled a shelf to the drapes or wall colors that caught your eye. Make note of what you like. Add ribbons, fabric swatches, flowers, things that speak to you. Pay attention to the colors you're responding to and write down thoughts as to how you want the room to look and feel and tack these to your board as well. If you have a stylish friend with great taste, invite them over to give you some ideas as to your room scheme – a second set of eyes is always good.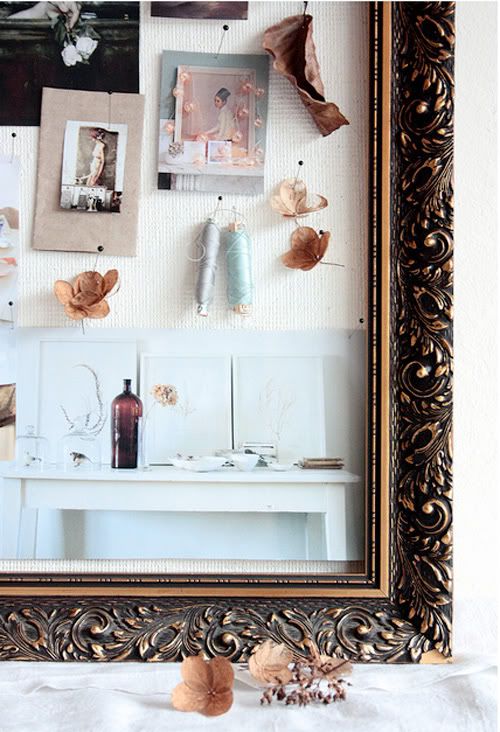 2. Empty the room! That's right, move everything out into the hallway or an adjacent room – take down drapes, remove art, roll up throw rugs, everything that can be removed should be removed. Yes this is drastic and though it's not something I suggest doing every month, it is something that I suggest doing when you find yourself absolutely hating your room and find that no matter what you do to it, you still hate it. Once you have it stripped down to basic walls and floors, you have a brand new canvas to begin with. Start by cleaning the room and then paint it- either the current color (just a freshened up version) or a beautiful white, or perhaps add a few colors – paint one wall in a strong color and keep the others lighter, etc. Wallpaper can also be incorporated. This is a great time to fill holes in walls and make them as good as new.
3. Examine those floors (and ceilings)! Are they in bad condition? Consider refinishing the wood floors or painting them in striking high gloss gray, white or black. If you have carpeting and hate it, consider removing it (if you can). If you can't remove the carpet then clean it well to remove stains and dirt. Don't worry, when you decorate you can set the focal point elsewhere so the rug is barely noticeable. Make any repairs to floors. While you're at it, give all moldings a fresh coat of paint as freshly painted moldings can make your flooring look better. Don't forget to look up! If your ceiling needs attention, make repairs and give it a fresh coat of paint.
4. Thorough clean the room. Get all crazy up in that room and make it sparkle, you fearless decorator, you! Clean windows, flooring, walls, ceiling, corners, all of it. Put on your favorite tunes and get your booty movin'! A clean, fresh palette is the best for decorating.
5. Move only functional pieces back into the room first. Sofa, chairs, TV, things that you actually use and need. I find that by placing the functional pieces first, I have the key pieces in place and "out of the way" so I can play around more with the remaining pieces without performance anxiety. Try to arrange the room around a focal point. If your focal point is your television and you happen to watch it regularly, consider placing it within a wall unit or on a nice cabinet or perhaps against a wall that has beautiful wallpaper or a great paint color. You can also mount the flat screens to the wall, which I think look quite nice. Some add a "TV Cozy" to their television – you can easily make a TV screen slipcover in your favorite fabric OR use plain linen and keep it simple. A black television looks great against a black wall as it will disappear into the wall. If your television is not something you use regularly, consider placing it off to the side and create a new focal point – perhaps a fireplace mantle or a large dresser with drawers with a massive mirror above it or some art or plates. As you bring pieces back into the room examine them carefully – is the upholstery clean? Legs secure? Check out everything to ensure it's in good shape and make repairs/clean as needed. You can even paint a tired table in a fresh new color or reupholster a chair seat in a favorite fabric with often very little – a piece of fabric, some padding and a staple gun. Get creative!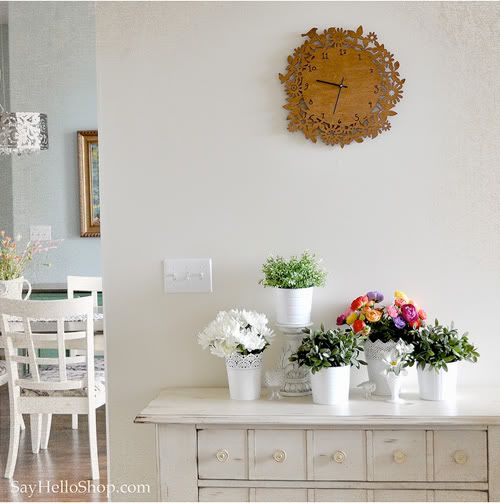 (Holly Brooke Jones)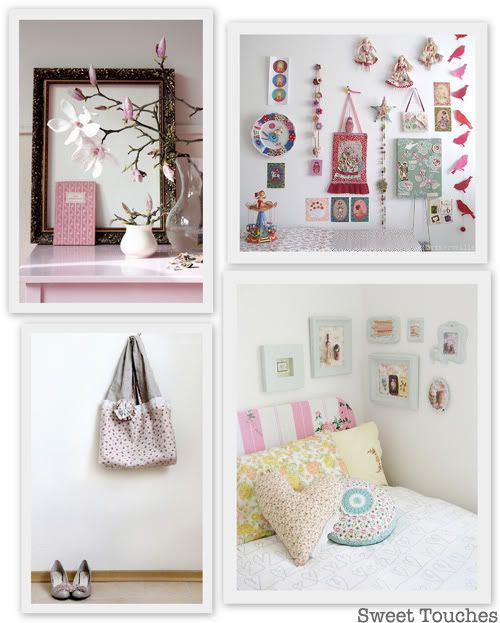 (Machteld M, Marimerveille Loves, Sasya, Dottie Angel)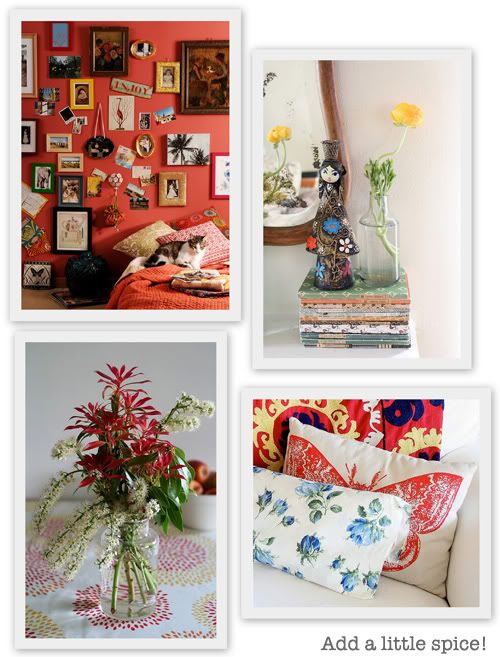 (gozde eker, compaicreative, Saídos da Concha, nest decorating)
6. Less is more! Edit! Organize! Make sure that you don't move everything out of the room only to move it all back in again! No, no, no that's just silly, right!? The goal here is to eliminate what you don't need/like and keep only what you want and/or use and to make repairs and such. Editing is hard work, but your room will love you for it. Clever storage, such as magazine holders that are all in the same color/pattern, can look very clean and modern vs. mismatched holders or none at all. The best tip I have when it comes to organization is to have a place for everything – screws, keys, hammers, nails, tape, notepads, cables, lightbulbs, remote controls, magazines, paper clips, rubber bands, business cards, cleaning supplies – and put things back in their place after use, no excuses!
7. Consider the window treatments. Wash your drapes before you hang them up again and consider adding something to them – perhaps trim or hand embellish with sequins or hand stitch work. Add fancy tie-backs or hem your drapes if they are too long. If you know how why not try adding a blanket stitch edge to them – say in black if your drapes are white, for instance? Little details make a huge difference. If you are tired of your curtains, consider inexpensive blinds from a big box store or make your own. Sheets can double as roman blinds, curtains, you name it. If you have vinyl roller shades you can trim them in a favorite pattern or apply fabric to the shade itself to give them a custom look. There are PLENTY of books out there on how to make window treatments by hand and how to embellish blinds and curtains so have fun. You can even stitch together patches of fabric (fashion fabrics in cotton work best) or vintage scarves, the sky is the limit!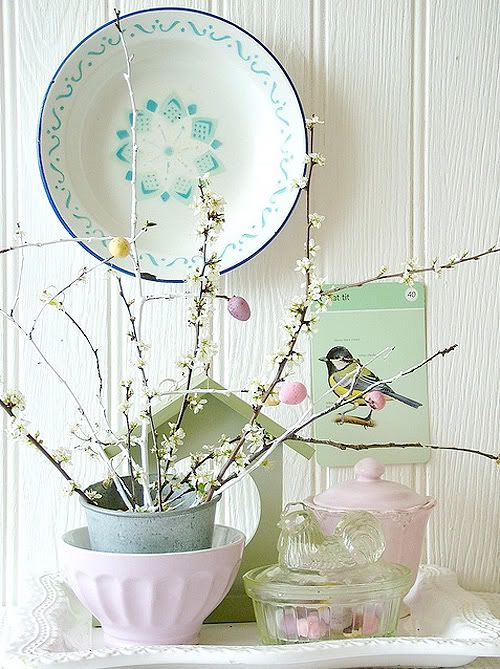 (IDA Interior LifeStyle, Three Red Apples, lusummers, KristopherK)
(jutta, sabine wittig, wood & wool stool, violeta)
8. Style it up! After you have your furniture back in the room, it's time to decorate! When arranging your things (accessories, art, etc.) refer to your mood board and some of the clippings you tore from magazines. Notice arrangements in those rooms and try something similar if you are stuck or feeling uninspired. Add shelving above a sofa to display favorite things. Group art on a single wall. Use a gorgeous mirror above a table as a focal point. Visit a local store that is known for gorgeous visual displays, like Anthropologie or something like it, and be inspired by their arrangements and how simple most of them are. It's really all about looking at things in different ways and intentionally seeking out alternate uses to things in your home that you may be tired of using as is. Have fun – in fact, decorating SHOULD be fun. Your home should be the one place on this planet where you ARE being yourself, sharing your inspirations and life story, adding your personal touch, etc. Enjoy the process!
What are some of your tips for decorating that you'd like to share? What do you do to spruce up YOUR space?
(images linked to their sources above.)
Hello friends! How are you today? Did you have a nice weekend? I got home from London and immediately went to a flea market here in my city and found some great loot (you can see it here). We had beautiful weather so I got a lot done and feel really refreshed as a result. What about you? Are you well?
I'm not sure if I ever shared with you how I shop when I'm on a mission to find the things that I need to work on a project. Some of you may find this approach helpful, especially if you've not tried it before. I'm currently planning a "look" along with Sania and Leslie for the Dining Room demo that we're doing at Liberty London on April 13th at 6:30 p.m. for my book launch (come if you can!) and so I have a somewhat long punch list of things that I need to buy/work on this week. I can't believe I only have this week left, but let's not talk about that?! ha ha! Anyway, in addition to my punch list, I also have a mini mood board that is in my bag at all times — it's in a spiral bound "to do" notebook that I picked up at HEMA. It's nothing fancy AT ALL – in fact, it's extremely easy to pull together, here's a photo of it below.
As you can see, these are the fabrics, ribbons and such that we're using as part of our table design. The shots of pink throughout provide a little healthy tension to give this palette a jolt of color which is refreshing because without the pink, it can almost go a bit too far into the neutral zone (and I love neutrals so it's easy for me to do!). The green takes it up a notch as well. There is also some charcoal and deep gray (you can see that below in the next image). Thing is, pink is a funny color and it comes in a million shades like any other color — some with blue undertones, others with beige, and what your eye thinks is the correct pink is often not the correct pink when you come home and view what you bought alongside with what you thought it would match. A way to avoid returns or worse, buying things that don't work and forgetting to return them so you amass clutter, is to simply bring a travel mood board with you – a mood board to go.
I cut tiny snippets of the key pieces that we'll use and attached everything with small bits of tape and this serves as my reference as I'm out and about. Funny enough, when you go into a store and pull out something like this, you'll not only invite conversation (people are so curious!) but you'll get the help that you need most of the time from the sales people because they'll almost treat you with a bit more respect because you appear to know what you're doing (whether you or not is debatable I guess ha ha) and you can often get a lot farther with them when you're asking for a particular color or style and you can SHOW them what you mean vs. trying to describe it as everyone sees color much differently. Have you ever tried explaining a color anyway? It's quite a task. A mood board to go saves time and money and is exactly why I've been using them for over 10 years as a guide when I shop.
As you can see below, this is a shot I took using Sania's camera of everything piled together in her inspiring craft loft when we were together in London — so I photographed it as well so I could keep this photo on my iPhone to serve as an additional reference for me as I'm out shopping.
And a big P.S. — London was amazing! I had such a great time there and spent 6 hours at Liberty on Thursday sorting out and photographing what we want to do with the table, choosing everything from chairs to linens to a proper table… And then we lunched at Flat Planet next door (I highly recommend) and then visited Muji, John Lewis and VV Rouleaux for some supplies, and then I was off to Chiswick where I stayed at the posh High Road House designed by the one and only Ilse Crawford and we ate at the private "members only" club there — it was so pretty. The next day, I walked to Sania's beautiful brick Victorian home and spent the entire day with her — we had so much fun crafting and sorting out ideas for the demo and did what girls do best – chat and play with pretty bits and bobs. I could live in Chiswick in a second, I really felt at home there.
I can't wait until next week when I can take photos of the tabletop and show you how we've translated what you see above into a pretty table for Spring. Stay tuned!
(images: holly becker for decor8)