Hello friends! How are you today? Did you have a nice weekend? I got home from London and immediately went to a flea market here in my city and found some great loot (you can see it here). We had beautiful weather so I got a lot done and feel really refreshed as a result. What about you? Are you well?
I'm not sure if I ever shared with you how I shop when I'm on a mission to find the things that I need to work on a project. Some of you may find this approach helpful, especially if you've not tried it before. I'm currently planning a "look" along with Sania and Leslie for the Dining Room demo that we're doing at Liberty London on April 13th at 6:30 p.m. for my book launch (come if you can!) and so I have a somewhat long punch list of things that I need to buy/work on this week. I can't believe I only have this week left, but let's not talk about that?! ha ha! Anyway, in addition to my punch list, I also have a mini mood board that is in my bag at all times — it's in a spiral bound "to do" notebook that I picked up at HEMA. It's nothing fancy AT ALL – in fact, it's extremely easy to pull together, here's a photo of it below.
As you can see, these are the fabrics, ribbons and such that we're using as part of our table design. The shots of pink throughout provide a little healthy tension to give this palette a jolt of color which is refreshing because without the pink, it can almost go a bit too far into the neutral zone (and I love neutrals so it's easy for me to do!). The green takes it up a notch as well. There is also some charcoal and deep gray (you can see that below in the next image). Thing is, pink is a funny color and it comes in a million shades like any other color — some with blue undertones, others with beige, and what your eye thinks is the correct pink is often not the correct pink when you come home and view what you bought alongside with what you thought it would match. A way to avoid returns or worse, buying things that don't work and forgetting to return them so you amass clutter, is to simply bring a travel mood board with you – a mood board to go.
I cut tiny snippets of the key pieces that we'll use and attached everything with small bits of tape and this serves as my reference as I'm out and about. Funny enough, when you go into a store and pull out something like this, you'll not only invite conversation (people are so curious!) but you'll get the help that you need most of the time from the sales people because they'll almost treat you with a bit more respect because you appear to know what you're doing (whether you or not is debatable I guess ha ha) and you can often get a lot farther with them when you're asking for a particular color or style and you can SHOW them what you mean vs. trying to describe it as everyone sees color much differently. Have you ever tried explaining a color anyway? It's quite a task. A mood board to go saves time and money and is exactly why I've been using them for over 10 years as a guide when I shop.
As you can see below, this is a shot I took using Sania's camera of everything piled together in her inspiring craft loft when we were together in London — so I photographed it as well so I could keep this photo on my iPhone to serve as an additional reference for me as I'm out shopping.
And a big P.S. — London was amazing! I had such a great time there and spent 6 hours at Liberty on Thursday sorting out and photographing what we want to do with the table, choosing everything from chairs to linens to a proper table… And then we lunched at Flat Planet next door (I highly recommend) and then visited Muji, John Lewis and VV Rouleaux for some supplies, and then I was off to Chiswick where I stayed at the posh High Road House designed by the one and only Ilse Crawford and we ate at the private "members only" club there — it was so pretty. The next day, I walked to Sania's beautiful brick Victorian home and spent the entire day with her — we had so much fun crafting and sorting out ideas for the demo and did what girls do best – chat and play with pretty bits and bobs. I could live in Chiswick in a second, I really felt at home there.
I can't wait until next week when I can take photos of the tabletop and show you how we've translated what you see above into a pretty table for Spring. Stay tuned!
(images: holly becker for decor8)
Would you like to see romantic and sweet corners of a German home today? This inspiring space belongs to blogger Yvonne Bauer (aka Frl.Klein on Flickr) who is married with two daughters living outside of Munich. She likes to combine things that she finds at flea markets with brand new items from some of her favorite stores. She also loves flowers and ethnic touches along with products from Danish brand Tine K Home.
Yvonne also has antique furniture that was handed down to her husband from his family that she loves very much. She feels that the eclectic mix of everything living together, cozy, in one space makes for the perfect home. She does not consider her look to be of a certain style, though as an American living in Germany I think it's representative of the country style that is clean, very white with modern lines, a touch of the ornate, lots of texture and an attention to detail that is prevalent in Scandinavian country styles with a touch of German country combined. Here in Germany we have tons of magazines catering to this style of decoration so it's no wonder that Yvonne is inspired by books, magazines and blogs for visual eye candy. I don't know if you've ever given much thought to which room in your home is your favorite but Yvonne views her most inspiring room as her kitchen because its the hub of activity and, "I love to cook and chill out there," she says. From the looks of this table setting below, it's obvious that she puts a great deal of love and care into meal planning and presentation which is so inspiring to me because I only wish I had the time to lay a table like this on a regular basis… It's something I aspire to though – what about you?
To view more of her photos, please take a moment to visit her blog and Flickr page – both are filled with lovely inspiration for decorating!
(images: yvonne bauer)
Ready to see a lovely industrial chic loft in Buenos Aires, Argentina? Karina Manghi is a photographer (with an etsy shop) and blogger who authors site Le Blog Secret. Her loft has lots of bohemian elements to it as you will soon see. It's a happy mix. It's a home with a creative soul.
Karina and her husband decorated the house around the idea of being industrial with a touch of chic that would accommodate their family and not be too fussy since they have kids and entertain their friends and family often. She said the hardest part, because her taste runs the gamut, was to edit as she decorated. I think that this is a issue many face, especially when you are mixing and matching and have a more eclectic sensibility.
Some of her favorite prints look fresh and modern against that gorgeous vintage tile on the floor.
Her son's bedroom – love the giant batman!
Her lovely daughter in their entryway, a festive welcoming with the fantastic assortment of colorful balloons! Nice idea for a party.
A quiet afternoon with mate tea…
Karina's bedroom – lovely quilt…
A simple way to display photos on a wall – tape! No frills! Let the images speak.
Her daughter's bedroom, complete with adorable dog and vintage bed found at a flea market!
A curious assortment of things.

Her amazing closet. Drool. I love the polished concrete floors, they reflect so much light and illuminate the space beautifully, naturally.

Don't you love seeing her photographs taped onto that old green folding door? Pretty. And the lighting here is gorgeous. It reminds me of an old film…
Karina admits to not liking clutter but she does love to display illustrations from independent artist, beloved objects, her own photographs and those of others, her kids artwork, and travel souvenirs. Since she cannot fall back on a big box store like IKEA (there isn't one there), she said she has had to find ways to be more creative and had built many affordable things by hiring a carpenter. She also hits flea markets for one of a kind vintage items.
Karina thank you so much for sharing your home with all of us today!
(images: karina manghi)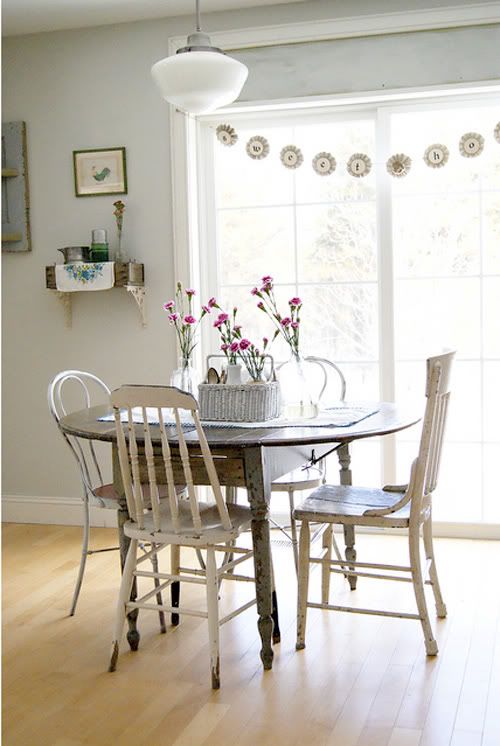 Are you a fan of farmhouse style? I find that depending on where you live in the world, this style can change which has a lot to do with local culture and what is available among other things. For instance, farmhouse style in America vs. farmhouse style in France or Sweden is somewhat different but they still share a golden thread that links them together — the love of vintage! Other similarities include soft colors (grays, blues and greens are popular), mixing in antiques, making lots of things by hand, and fresh flowers are usually in the mix.
Heather Anderson's farmhouse in Michigan is more the American idea of farmhouse style which is quite popular and most who follow this style tend to be very creative and love to make things themselves to personalize it a bit. Heather has a gorgeous stream of photos on Flickr where I discovered her and fell in love with some of her DIY projects that I discovered over on her blog like this frame and this bunting. She also has a vintage goods shop over at Etsy. I asked Heather to send me her personal favorite photos of her home to share with decor8 readers – I have to say, she selected some beautiful views that provide for some great Friday inspiration. I also asked her a few questions about her home that I think you'll enjoy…
What is the inspiration behind your style and how do you define it? I am inspired by farmhouse living. I love the simplicity and the lived in, loved in look. My style is fresh farmhouse with a dash of romance. I love a collected-over-time feel. No rules, just useful and beautiful. I stick with non-breakable, fuss-less items that don't break the bank or my heart if my baby bears, I mean boys, get a hold of them.
Where do you find ideas and inspiration? With a wealth of blogs and magazines to read, it is not hard to find inspiration! However, my favorites come late at night when the house is (finally) quiet and I have time to just sit and imagine.

What do you love about your home? I love that our home is in the country. I also love that it is open and airy (a must for long, dark Michigan winters). But my favorite part about our home is that we built it ourselves. It will probably never be "completely" finished, but what fun would that be? I love dreaming up our next project and renovating, decorating, re-decorating… It is humble, yet it is still the house of my dreams.
What makes a house feel like home to you? A house is a home when it is a reflection of you and filled with those you love. Decorating should be fun, not some standard that you have to live up to. It can happen very gradually over time. Layer upon layer, you find, collect, build, and it becomes a labor of love. That is what makes house a home.
Above: Bottles Heather spray painted in matte white paint to give them a chalky finish – I love these!
Heather's home is filled with projects that she did herself. For instance, if you like the bunting in her kitchen shown (first image above), here is a terrific tutorial where she'll show you how to make it! You can also learn how to make that terrific frame/message board that you see in the 2nd image above right here. Again, great ideas and a lovely lady who is being creative at home, keeping it real, and loving to decorate!
(images: heather anderson)