I'm really tempted to paint a single piece of furniture in the house a minty beach glass green or a striking aqua right now. This obsession began over a year ago when I first saw a chippy country style sofa table on the blog of Fryd+Design… This one below, see?
via: Fryd+Design
I couldn't get that image out of my head for the longest time, then one day POOF! it vanished but almost as quickly as I had forgotten it, I remembered all over again when I was at a store and saw a lovely old battered table in the same color. From that day forward, my obsession continues. Seems like a lot of people like just a smidgen of this color at home as an accent. Here are some recent examples that I found around the web.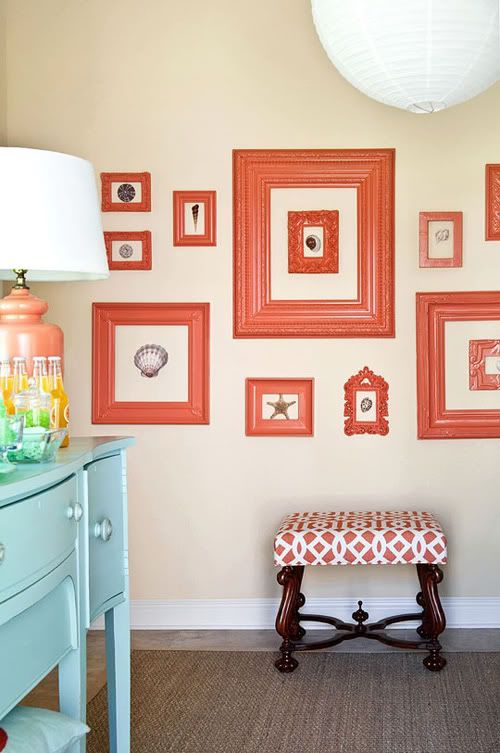 Photographed by Nancy Nolan and designed by Tobi Fairley, shown in Traditional Home magazine via House of Turquoise.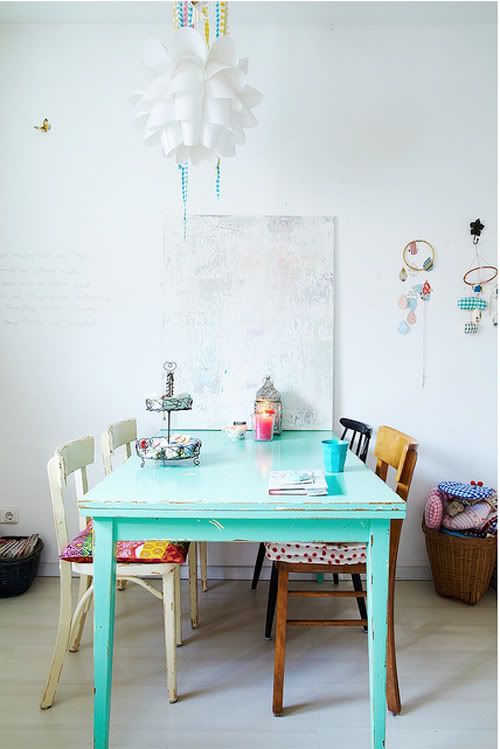 Home of Jasna Janekovic in Germany via Tamar Schechner.
Urban Outfitters bookshelf, cabinet from Vita Ranunkler, cabinet from garden view cottage.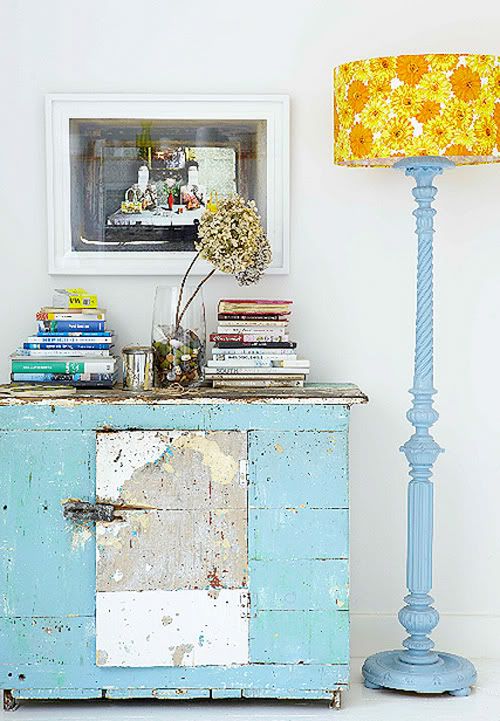 Stylist Tara Sloggett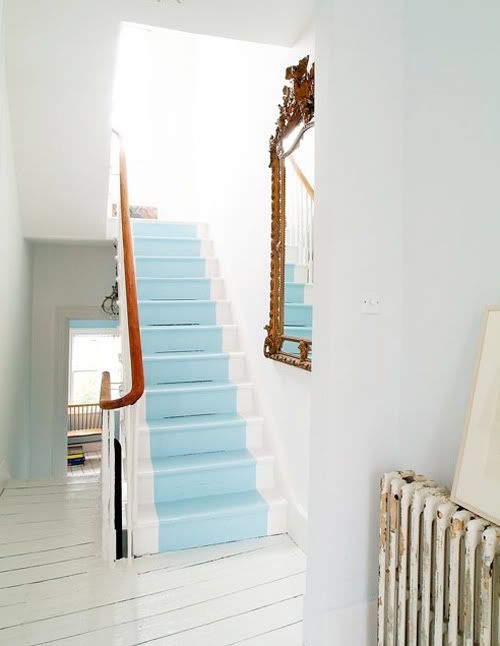 Painted wooden stairs from light locations.

Le Versha Chair from Anthropologie
Debi Treloar's amazing home in London (also available to rent as a location space).
VTWonen magazine
Don't you want to run out and paint something quick!?
(images linked to their sources above.)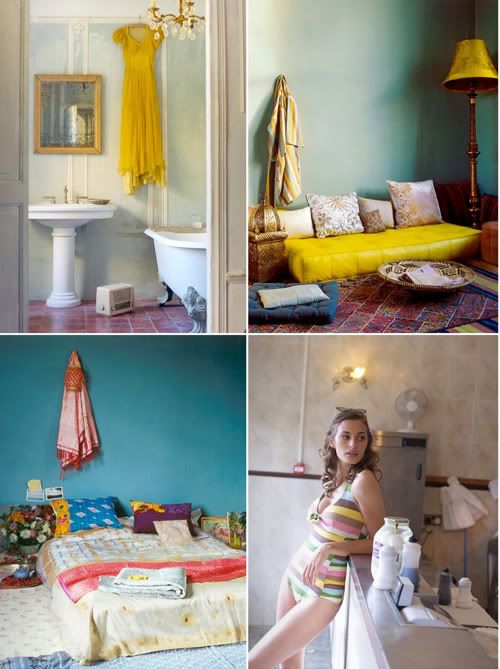 I thought about stylist Twig Hutchinson today and decided to visit her website to see if she had updated it at all — and yes she has, and it's brilliant. I love how it looks like a real portfolio, a book, containing little notes and client lists along with side projects… it is all quite lovely to look upon and so enjoyable to flip through. Twig is such a visionary, she truly makes it easy for a photographer to take a beautiful photo. Have a look for yourself…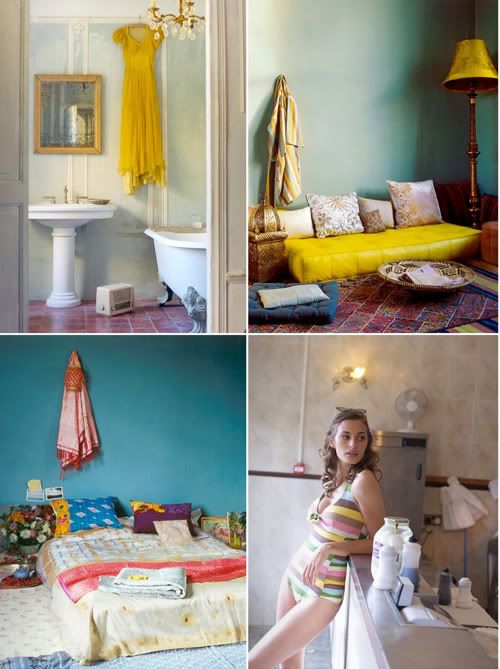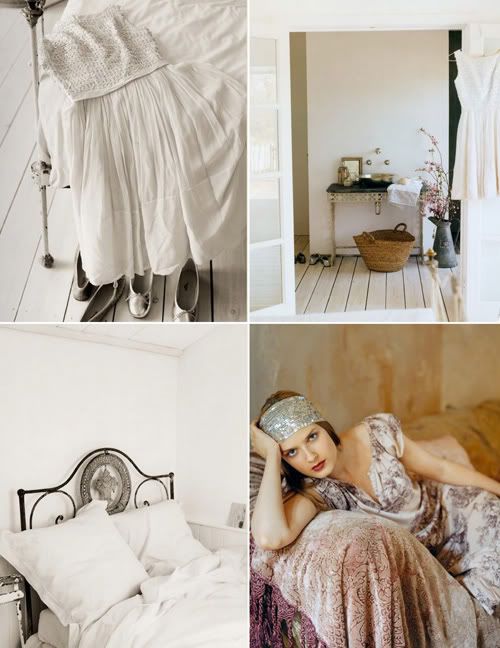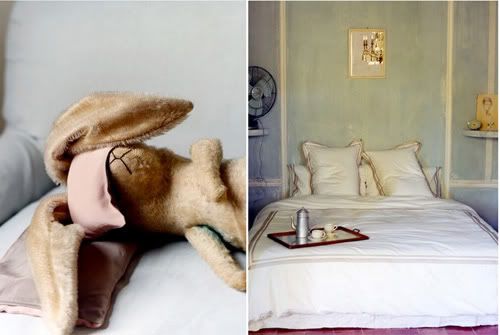 Be sure to visit her gorgeous online portfolio for dozens more delightful examples of her work.
And a big p.s. — I'm really in to silvered sequins right now, what about you?
(images: photographers listed on her website under contact.)
Whether you are brand new to decorating or an oldie but goodie pro, you'll be inspired by the interiors over at the decor8 Interior Styling group on Flickr. Why? Because these homes are real homes, not styled to perfection but styled for living. The group has nearly 3,000 members (I'm really hoping you'll join so we can hit the 3K mark soon!) from all over the globe and I'm so proud of it because each precious member plays a very special part in making it a fun spot to find great decorating ideas that are attainable and beautiful. Here are a few lovely corners from some of the most recent submissions to the group — these homes caught my eye today.
F.Klein | Dora iz Londona | Détailliste| debee_art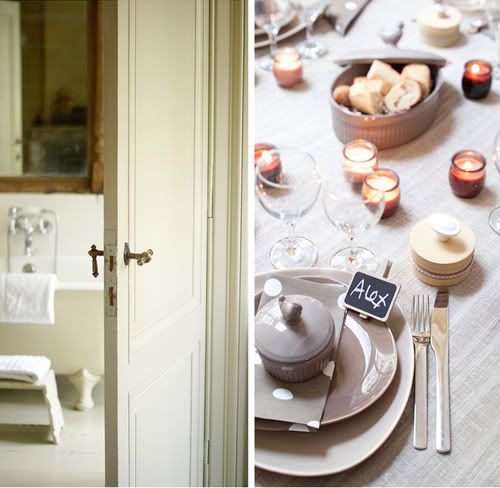 wood & wool stool | Virginie Photography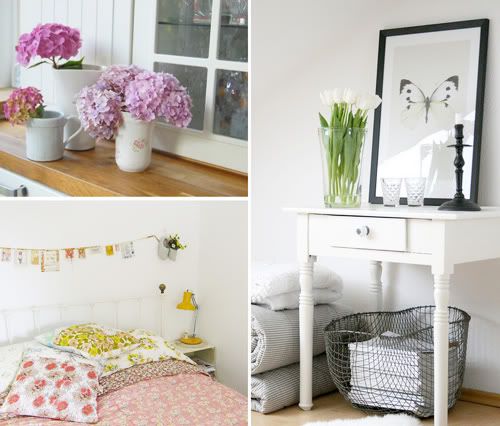 Secrets of a Butterfly | Dottie Angel | herz-allerliebst
There are hundreds of photos to look through over here so make sure you take a moment to see all of the other incredible submissions to the group. Spot any favorites?
(images: linked to their sources above.)
Want to rock a little Bollywood boho chic at home? Newly launched Plum Chutney is a small online home store that contacted me today that just may be what your patio or living room needs for a little kick.
Founder Anita MacKenzie lives and works in England but is originally from India and launched Plum Chutney as a, "Very personal attempt to capture the striking imagery of India through quirky and original design. My launch collections explore a variety of themes – Indian royalty, chaotic street life, stunning truck art, beautiful Indian people, traditional motifs, bright tropical flowers and more." She designs and sources pillows, lamps, art prints and other things for the home.
I think some of her products could work wonderfully in a home that has a casual, bohemian vibe. I can see some of these cushions on a sun porch, on the patio in a rattan swing (like this) or on a crisp white sofa (like this).
I have this dream to someday own a summer home on the beach, whether that happens or not — we shall see. But for now, I dream through the pages of magazines that tend to highlight lots of modern coastal style homes like Real Living Australia. That's why I like Plum Chutney, I can really see some of these pillows above in a Real Living spread – these colors and patterns are fresh, energizing and happy and give a room a lovely feeling of summer, don't you think?
(images: plum chutney)