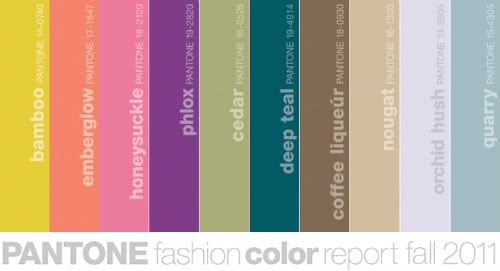 The Pantone color report for fall 2011 looks delightful, doesn't it? These are the top 10 colors for women's fashion which we will no doubt see trickling in to the interior design world. "Designers take a painterly approach to fall 2011 by artfully combining bright colors with staple neutrals, reminiscent of how an artist would construct a stunning work of art," said Leatrice Eiseman, executive director of the Pantone Color Institute. "Much like a painter's masterpiece, there is a certain romance to this season's palette."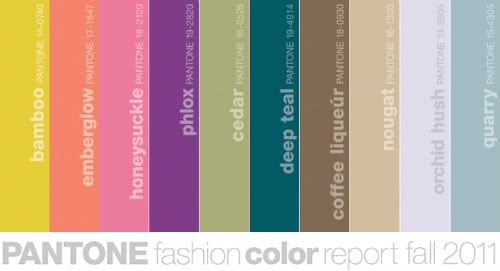 "Taking cues from the great masters, sepia tones of old Hollywood, Chinese opera, cityscapes and countryside, designers are paying close attention to texture, contrast and color for fall 2011 – pairing menswear with feminine twists, warm prints with cool metals, incorporating both old and new influences, and creating an intriguing balance between colors." Sounds lovely to me. I particularly like the inspiration and the combination of warm prints with cool metals, like silver.
I'd like to see Bamboo, Emberglow and Honeysuckle in a living room, a dining room with nougat walls, crisp white trim, and coffee liqueur and orchid hush. A study in deep teal and phlox would be nice and a nursery in cedar and orchid hush would bring comfort.
Any colors you spot above that you'd like to combine and try at home?
(image: pantone)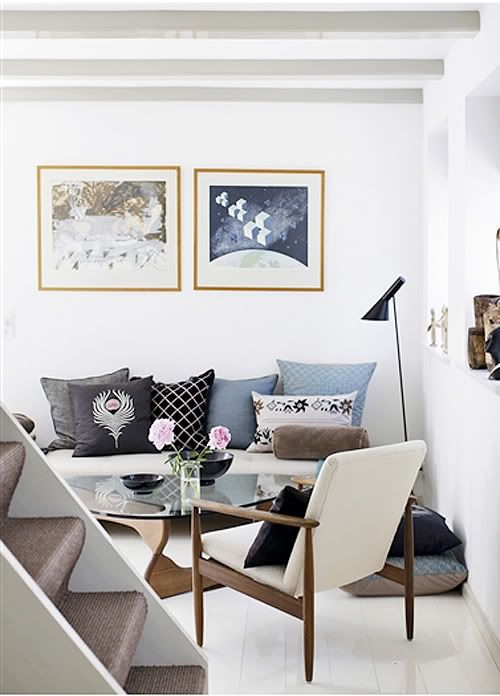 I came across a great woman's magazine in Denmark today called Femina where you'll find pretty homes and interesting decorating ideas on their interiors page. This room may be small but so well designed…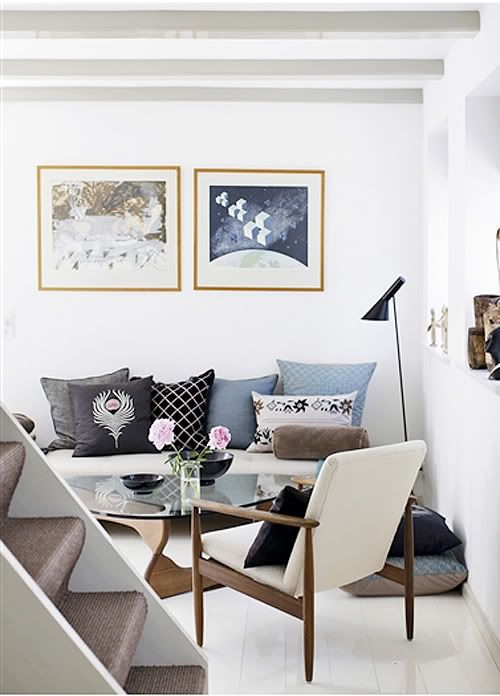 I love this rustic coastal home (below) owned by a painter and his girlfriend. They decorated it in a very cozy Canada-meets-Danish-Coastal style that feels very February in Denmark to me… Candles, character, fire, warm throws, natural woods…
What do you think of this home? I love the map near the dining table and the wood stove so close to the kitchen… Here is another amazing space to drool over below in a different home. Ah, this really speaks to me.
I adore the gray cabinet and the white Arne Jacobsen chair, so, so much.
So many dreamy spaces from Femina…
Enjoy!
(images: femina)
Calling all stylists, set designers and anyone else in need of props in Boston! Lauren Niles, Prop Stylist, wrote in today about Mad Props and I couldn't resist sharing this new Boston-based business with you. Mad Props (great name!) is a full service prop rental house catering to stylists, photographers and of course the film and event industries who shoot in Boston and greater New England. They have an extensive collection housed in a 3,000 square foot space that is open weekdays along with their online space where you can browse what's available.
Mad Props carries everything from table settings to home decor, surfaces and furniture ranging from antique to vintage and modern pieces. Founded by owners Lauren Niles and Elizabeth Pond, they launched their business to fill a void and, "To make the propping experience more pleasant, convenient and efficient, and offer hard-to-find items for local clientele and out of town productions coordinating photo shoots in Boston." Curated with care, Lauren and Elizabeth source items selected for their aesthetic photographic qualities and usefulness as props in general.
Sounds (and looks) like a fun space to visit — and a valuable resource for those looking for a great prop house in Boston. Way to go, ladies!
(images: mad props)
I was at the London Anthropologie shopping drooling on Monday and spotted pieces from their Spring collection trickling in, they have a rather modern African theme in housewares currently… I felt both inspired and mesmerized by the patterns and saturated colors with all the ethnic influence though I'm more about small doses and definitely not into overdoing things… I love dots of color splashed against a neutral background, but some of you love a bright, saturated background with more color layered on top and lucky for all this line satisfies all. This season at Anthro African prints and patterns are all the rage along with  animal motifs but in addition to their pieces with African influence, they also have some industrial pieces and lots of flea market-inspired finds as they are best known (and loved) for. Here is a glimpse of a few of my favorite things.
Animal wall hooks in white ceramic
Block Begonia Wallpaper– I am dying to order 4 rolls of this for a wall in my dining room… I guess I should just go for it but I need samples first before I take the leap!
Safari Study Pillow, Gazelle
Flights and fancy salad plate, On-a-whim dinner plate, Wanderlust Journal – Chevron, Recipe bookmarks.
Decker bookshelf
Ethnic rugs – love that magenta one, perfect with a gorgeous black leather sofa or a sumptuous linen one.
Coralie bed, Lunet chair and stackable animal pots.
Spot anything that speaks to you? What? Why? Do you like their modern safari style, industrial inspired finds and the overall eclectic, well-traveled look?

(images: anthropologie)