I was out in twitterland chirping from my nest when I heard a distant tweet from blogger Erin at Kind and learned about A Alicia Handmade. This eco fashion and home brand is small and sweet, and though I'm not turning into a fashion blogger anytime soon, I do love to share what inspires me outside of home decor from time to time because so much of this fuels my passion for interiors even more.
The things I see in the fashion world tend to creep into my home in other ways, for instance a skirt may inspire an idea that I have for a patterned shower curtain in my bathroom or the trim on a sweater makes me think of how I should add some trim to my guest towels. I would love to execute more of my creative ideas at home for this year, it is part of my resolve as the clock struck twelve on January 1st. So far, so good — I made a curtain for my office out of Liberty fabric and I am soon to wallpaper my hallway. I also bought a ton of beautiful beads from my last two trips to Morocco and Turkey and now they are displayed on gorgeous hooks on the wall because jewelry so beautiful shouldn't be hidden away in a drawer and most of these necklaces I won't wear on a daily basis (especially the large felted beads from the medina in Marrakesh).
Displaying fashion and accessories in the home is also a huge trend in styling and has been for a long time now. You must notice the occasional flowy dress hanging from a closet door or the beads on hooks in some of your favorite books and magazines? Of course, a handbag over a chair and high heels on the floor are common styling tricks of the trade as well.
Why?
Because they warm up interior photographs and bring a certain feeling of home to a shot. You frequently see these tricks more in magazines than in books though but they're still there and if styled casually they can add warmth and life to a room. If styled perfectly however, they can make a shot seem lifeless because then the room looks like a catalog or the focus can be on the items and not the room, giving the appearance of a product shot.
You see, styling is an art just like anything else and though I do not consider myself an expert in this area I did learn quite a bit last year while I was traveling around styling rooms for my book. One thing I learned is that to make a room come to life — well, it requires a special awareness in my opinion at least — for instance, when you style a room for a book you have to not only think of the editorial angle but also what feeling you want to bring to the reader while still making sure that home reflects the personal style of its inhabitants. You have to consider the senses and how you can help the reader to tap in to some of them. Food stylists know the art of making the viewer's mouth water because they introduce certain elements to a shot — steam, the bubbles in foam, drips, smears, all done expertly to make you crave what you see. You have to capture that same craving with the photos that you style for interiors — the viewer should want to live there.
But back to fashion and accessories to use in the home as decor. Yes, it's a great idea and an affordable way to change up a room – your coat rack in the hallway, if better organized, could serve as a beautiful display of coats, bags and scarves in addition to providing a practical storage space. Why not pretty up functional storage areas in your home so that these otherwise mundane areas can look nice and inspire you?
Now back to the talented A Alicia. About A Alicia her bio says, "Anna Alicia took a round-about route to accessory design, via a degree in Art History at the University of Kent and an MA in Fine Art at Central St Martins, London. Her background in Art History and her practice as an artist play a huge role in inspiring her collections, as do the travels of her childhood, and the buzz of living and working in London. Alongside these influences, Anna Alicia also explores a fascination with historical craft and particularly Japanese craft and design. Ethical and environmental concerns are central to her collections – all A Alicia accessories are made by hand in Anna Alicia's London studio, using fair trade organic cotton and vintage elements wherever possible. Far from finding it restrictive, Anna Alicia feels that working with limited materials inspires her to make the most of their possibilities."
Psst: She has a second shop for wedding accessories and she is on Etsy.
(images: Anna Alicia)
I heard from reader Manfung Cheung yesterday who runs Dutch design blog Inrichting Huis in Rotterdam because he wanted to share with you the renovations that he and his partner Lydia La recently completed in their city apartment. They decided to buy their first home — a two level flat in an old mansion that desperately needed renovation and their personal touch.
You can see all of their before photos here, which I think is a great way to begin this post — to see where they started because oftentimes we approach a big project and it can seem daunting and we wonder if it is really worth the effort or not.  Manfung and Lydia prove that a little elbow grease goes a long, long way. These photos are of their beautiful new space which is light and bright — a requirement for some who want to avoid winter blues and even depression in cities that are known to be rainy and gray, as Rotterdam doesn't have the best weather — it's not Hawaii!
Manfung knows that it is vital to live in a home that fully supports you and allows for personal growth — he calls it a, "necessary foundation for happiness and success in life". Large amounts of money and tons of space are not required to be happy — that is a bonus — the only requirements to make a house YOUR home is to find inspiration, connect to resources, get creative, tap into your personal style and be motivated enough to get up and do something about it! Kick your own butt! ha ha!
What a great house – thank you Manfung for writing in and sharing your space with us, especially before the weekend as many jump on DIY projects over the weekend — your home inspired me to work on my own tomorrow after I go to the flea market. I particularly love your collections, your wood floors, that darling mini blue SMEG and the Never Grow Up poster.
So tell me, when you start a renovation project, or even a decorating project, what are some of your fears? What often stands in your way? If you have any projects that you're putting off, why? Perhaps together we can inspire one another to get a move on like Manfung did. Maybe even Manfung can help you with some of your dilemmas, so please comment below.
(images: inrichting huis)
I found some lovely interiors that have clean lines and are quite organized to inspire you today. Or perhaps I'm hoping to become inspired by them after spending 6 hours organizing the front four rooms of our apartment and it feels like the mess has only just begun! These gorgeous photographs are from the portfolio of photographer Emily Anderson, who specializes in weddings, and is based in New York City and will travel the world for her clients. I invite you to visit her site and see her many photos for yourself.
We have a floor-through unit in the city, it is around 2,300 square feet, with four rooms in the front, two in the middle along with two bathrooms and two small rooms for storage (one is my laundry closet), and three rooms in the back but that's not all, there are also two wintergartens (three season porches you would call them in the states) and a balcony. I haven't lived in a place this large since I was with my parents so I don't know what to do exactly with all of this space yet but I'm sure I'll get my groove on and figure it all out soon enough. I'm an expert at organizing small spaces and 1 bedroom apartments but I feel a bit like a goldfish in the ocean in here and I'm not sure exactly where to begin because there are so many rooms and options for storing things. But so far, so good — I am doing well and making progress. My new sofa arrived today after waiting for three months. Now I have to hunt for a sofa table. The sofa is a lovely color, it's grey-brown and a very modern with slim metal legs — I'm happy with it. My husband and I selected it together, which was important to me that we make design decisions together in this space just as we did before in our New Hampshire home.
My white IKEA sofa is now in my sitting room, but I will retire it altogether when I find another to replace it because it was never meant to be with us for long and it isn't good for my back. It was only used in our vacation apartment three months per year. I'm ready to let it go, it's been good to us for three years but I'm ready to let someone else love it now. :)
What about you? Are you decorating or organizing your home lately? Are you seeing any changes in your color choices? I'm still a big fan of white, but I'm getting bored with my home looking like everyone else's that I see these days so I want to be different and try some new ideas. I am feeling creative and ready to take on some new looks for my home while still being true to myself. And you? Where do you stand with your interiors lately? I believe that we evolve, and as we evolve, we have to allow our homes to evolve with us. Sure, you aren't going to toss all of your furniture for a complete redux but you can work in some new pieces to reflect who you are today and that is often a good thing.
Remember to check out Emily Anderson's site and I nearly forgot to tell you… she authors a lovely blog that you may enjoy browsing, too.
(images: emily anderson)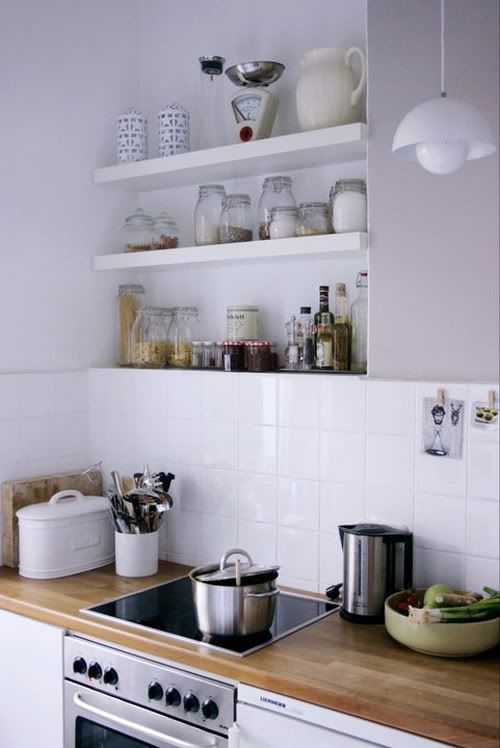 Good morning friends and happy new week to you! Guess what? My UK publisher will host a press conference for me in London in just two weeks, I just saw the official invitation this morning and am quite excited and very nervous — shaky knees for sure! :) I heard that some journalists and bloggers will be there to talk about Decorate and to view the book in person, which releases in the UK during the same week as my birthday in March. Oh my goodness you guys, what will I wear!?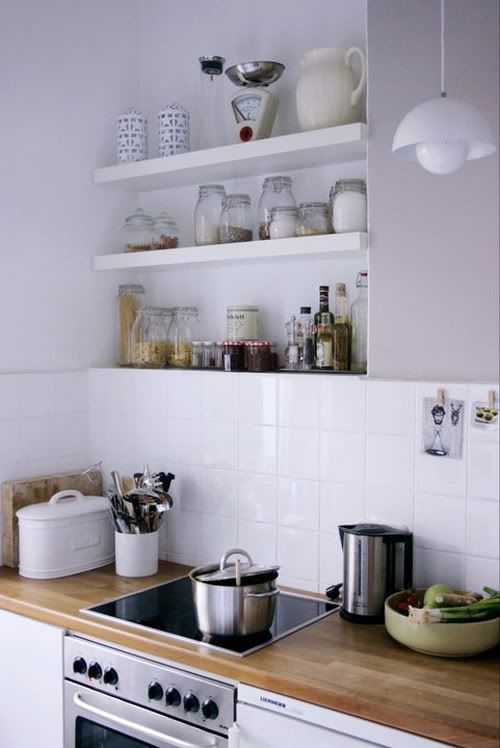 I'm very excited to see the book in two weeks myself — I keep wondering what it will feel like to hold it in my hands and flip the pages… I've been reading decorating books since I was a child so it's still a very surreal feeling for me to have my own book and I am feeling very emotional about it. Lots of my friends tell me to "work it" and "have fun" and all I want to do is praise all of you for making this happy because I'm smart enough to know that it is through your support that I got a book deal in the first place. It's such an honor for me to create a book for you, and when I have a copy I will make sure to give you a preview in a few weeks. Speaking of decorating…
I thought that it would be fun to share a few photos from my Interior Styling group on Flickr each Monday, a few highlights along with some links to Flickr members that you may or may not follow yet. The reason I selected Monday for this is because at the dawn of a new week lots of us need inspiration and ideas to carry us through the work week.
The Interior Styling group on Flickr has some lovely images submitted by members of the group and so there are always lots of photos to enjoy of real homes decorated by people all over the world who just love to decorate and possess a real knack for it. I curate the group to ensure a cohesive look and feel and to make sure that no odd submissions leak through (I sort through plenty of questionable content that's for sure) so you can be sure that the images will be inspiring and diverse to fit many tastes. Members of this group also know that if they submit their photo to the group that I just may use it on decor8 because good work needs to be shared!
Pops of red and yellow with white and gray… Top left: Lillian Day knows that a little bit goes a long way. |  Top right: i l'aria brightens up her white bedding with a vibrant patchwork quilt and colorful crochet pillow cover giving this room a handmade feel. |  Bottom left: Nest decorating adds a bold floor rug to her kitchen making it a strong focal point in her Vermont farmhouse.  |  Bottom right: maedchen style lifts a mostly neutral palette with shots of country red in checks, dots and stripes.
Gorgeous workspace that looks soooo inspiring by ishtar olivera in Spain.
Super organized and a beautiful, nature-inspired theme by Dora iz Londona.
Top left: ninaaribena1 mixes several bold black and white patterns (a risk) but placement and scale is key and she gets it right. |  Top right:  i l'aria makes a crochet lampshade to give her otherwise pastel decor some energy which is always nice in winter months.  |  Bottom left: ish & chi is never afraid to take a risk. She is a very courageous women in more ways than one. Vivian, you go girl! |  Bottom right: Ninaribena1 painted her front door with black and white stripes for a bold, graphic statement. You can really have fun in small rooms like this so why not mix and match?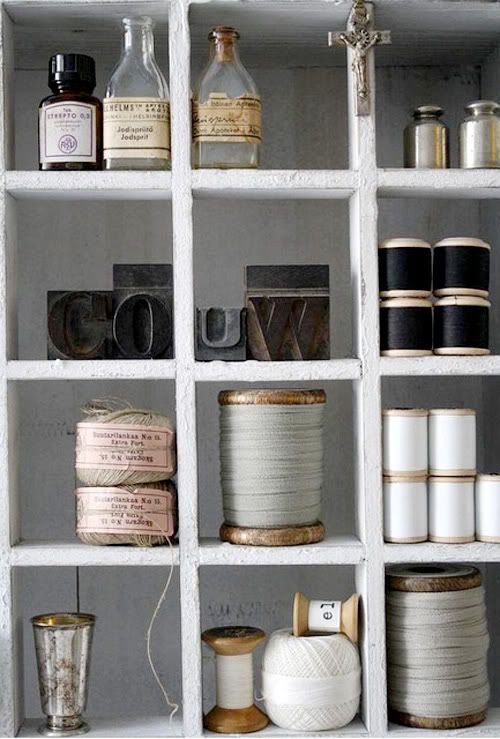 Elsa's shelf of vintage and vintage-inspired notions makes me smile and feel creative just by looking at it. Isn't this how it is sometimes? Even when we do nothing with our little crafty bits, it still makes us feel more creative just by collecting them and having a few around to jump start our creativity now and then… Plus lots of crafty things look extremely sweet when used as decoration in the home, don't they?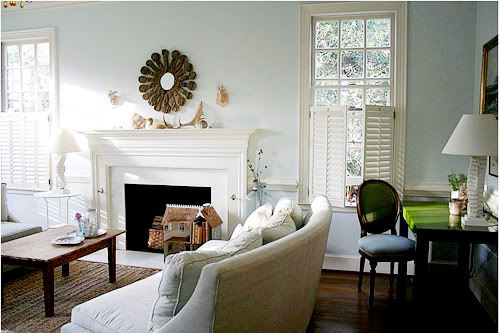 This living space by lakbdesign is so inviting in blue tones and tactile elements (wood sculpture above fireplace, coffee table and natural sisal rug) but surprise, there is a gorgeous lime green table in the corner to introduce playfulness to this otherwise sophisticate decor. This look is very relaxing and inviting. The curved armless sofa is divine.
Look for "Interior Styling Favorites" each and every Monday on decor8 going forward where I'll pick my weekly faves from the group and share right here. Enjoy!
(images: linked to their sources beneath each image above.)