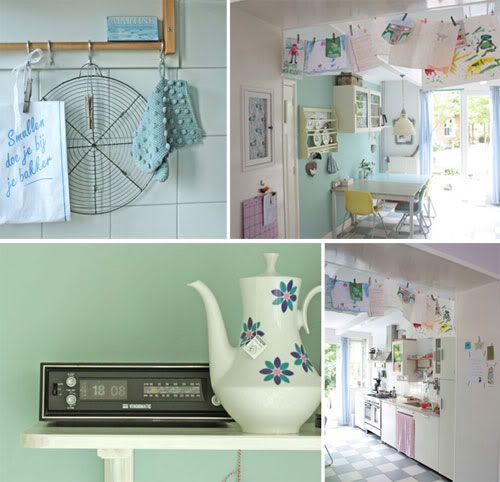 I'm in Amsterdam now, we wrapped up in Belgium which was a great shoot and here I am blogging from a cafe enjoying some quiet time before my appointment to meet with a designer at her atelier. I will interview her for the book and I am excited to meet up and see her place. I love the idea of doing in-person interviews so much more than the typical telephone or email chats that I usually have. If you have the chance to meet someone in their creative environment, on their turf, there can be that added layer of intimacy that chatting at a bistro just wouldn't give you… Agree? I think that if I interviewed celebrities for a living that I would insist on going to their home to meet them. After visiting all of the beautiful houses that I have been honored to be welcomed into over the past several months I know for a fact that people are so much more themselves within their own four walls. Getting a glimpse of that person in action is a real honor, I think. And so, in a moment, I'll be on my way to meet a talented lady on her turf here in lovely, inspiring Amsterdam.
In honor of being in Amsterdam today, I thought I'd post some photos from a home I saw recently on the 101Woonideeen blog. I met the editors of this magazine a few years ago, they showed up at a decor8 meet up in Amsterdam and passed out free issues of their magazine. They also regularly read decor8, in fact one of my friends in Hannover will be in their magazine because they tune in so frequently which is always nice to see — I like when magazines find content on blogs because some people would be hard to locate otherwise so blogs feed magazines and magazines, in other ways, feed blogs which means both are needed and both create a sort of energy that keeps this creative cycle turning.
Anyway, these photos from 101 Woonideeen above show a look that always has Dutch style written all over it — at least, to me. Of course there are many other ways the Dutch decorate their home that look nothing like this but I see this style as quite sweet and personal and very Dutch. It seems to be more about upcycling and recycling and less about designer pieces, doesn't it? Many cannot afford uber expensive things (like me!) or they do not want to own them with young children in the house. This is a relaxed home environment that gives you lots of options to customize, make do and as needed, mend. :)
(images: 101 Woonideeen)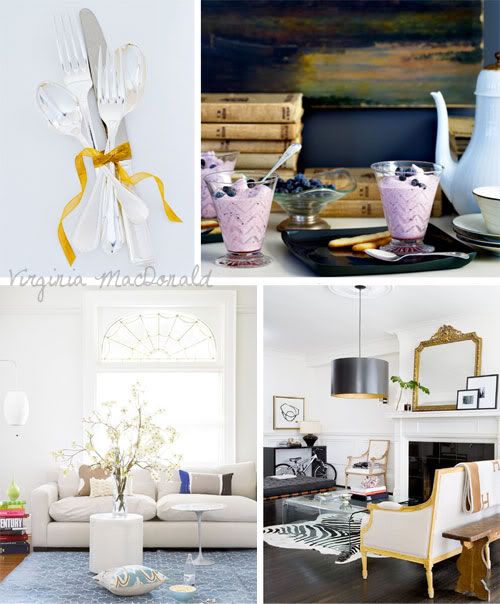 Ready to be inspired by some lovely interiors photography today? Meet Virginia MacDonald, a successful and very talented photographer based in Toronto who has a passion for interiors, food, still life, lifestyle and bonus: animals! Her animal shots are so cute, you have to go to her website to spend time browsing through them to put a little smile on your face today. Before you run off to see those cuties, stay with me a moment to browse some of my favorite photographs from her stunning online portfolio.
I love flowers, don't you? I always knew that I did, but I discovered just how much over the past few months as I styled so many different homes for the book I'm working on. I realized that in any space, no matter how glamorous or simple, flowers can add that final touch. In fact, I noticed this right away so from the beginning I insisted on using flowers in nearly all of the homes, not in every photo of course, but when you get the book next year in the spring you'll see them throughout in various rooms. I don't know, maybe it's my signature now? :) But they had to be there in order to "feel" the space. Something about flowers really connects me to a space. Their color, fragrance, and how quickly and easily they can make a room or a nook feel so chic — the frosting on a cupcake! In addition to flowers, I also like the look of a topiary trees in modern pots, rosemary plants and other herbs in the kitchen, a giant leaf in a vase on a table or some branches on a shelf, flowering or not, as their shape can be a nice sculptural touch to a room and provide texture, color and a focal point as well.
(images: virginia macdonald)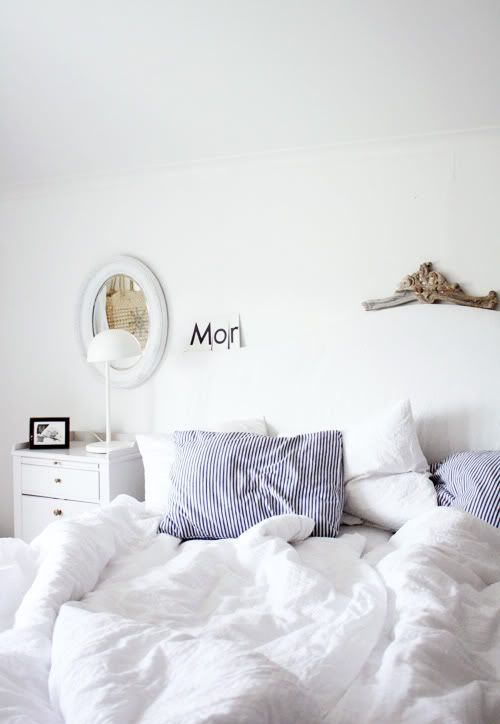 The Me And Alice blog is so charming with a lovely country home as the focus, located in Dalarna, Sweden. The homeowner is Susanne, a talented stylist and writer who infuses her home with many clever ideas that, whether Swedish Country is your style or not, you can still find some great ideas from some of these photos below because many of them can cross over and be applied in a home that looks very different – be it mid century or a modern ranch. If you don't believe me, I think you'll be convinced once you've had time to see for yourself…
The casual beauty of this scene makes me smile. It's my favorite of the bunch because it feels so inviting and reminds me of the naps I once took (when I had time!) on Sundays after spending the morning on the beach, coming home for a cool shower, and smelling like coconut and salt as I climbed into my bed for a cat nap. I particularly love the stripey pillows, without them it wouldn't be the same photo! I also like the black letters on the wall.
This is a vintage mirror from a car that has been repurposed into a makeup mirror. What a smart great idea for something that would otherwise not be used and abandoned in a junk lot!
Just look at these floors! I know they are your standard hardwood but look at that color and texture, it really warms up the all white space and how many of us would love to have them!
Using baskets to store vintage cutlery is a nice idea. You could do the same with your modern tableware too, especially if you have decided to serve a very casual buffet-style meal at home whether indoors or out.
Lovely storage ideas on this kitchen shelf but mostly I am impressed by the styling – very casual yet there was obviously some thought behind it. This is how I style things and decorate my home, casually but at the same time, you know that I put a little effort into the arrangement. :) I also like how there is a chair that tiptoed its way into the table arrangement, hoping no one would notice he has made himself a guest at the family table. Well, we notice him and I think he looks quite smart there, don't you? I like a little tension in mostly white space, you really need it!
I like the floor plans and various papers that she has framed for this quiet corner. There are many things in this space, but it doesn't feel cluttered because the tones used are mostly white so the eye perceives this as less busy than say, if there were many colors and patterns used.
So many goodies here, I spot several nice jugs and jars. I think the mostly white palette is a hard one to stick by, but if you love white and really enjoy living in a space with lots of it, then go for it!

Susanne's writing desk is such an inspirational spot! Storage in glass containers, while nothing new, always looks fresh to me depending on what has been chosen to be on display. From candy to shells, spools of twine to buttons, crayons, and bath soaps… there is no end to what you can collect, store and display! Her yarn basket is lovely on the floor, too.
While in Cyprus, Susanne gathered these beautiful stones and has now arranged them in a few glass jars – a simple, inexpensive yet special decoration because no doubt memories of her trip wash over her whenever she sees them. Much nicer than memories of buying stones at some department store and filling jars, right? I think it's important to put some extra thought in the way you decorate your home so that objects tell a more personal story. A jar like this also creates lovely conversation opportunities for when guests have stopped by because when they ask you where you found something that you have on display, you can tell them about your little (and big) adventures.
Any ideas above that you'd like to take away and use in your own space? Which ones? Could you live in a white space? If not, why? If so, do you currently?
(images: me and alice)
Here's a pretty room (or six!) to inspire all the bohemians and romantics out there today who like an open yet rustic feminine space. These photos are from the 1850's home of Argentinian couple Federico Bonomi and Cynthia Kern who run clothing company Kosiuko and currently live in Uruguay with their children. These photos are from Mixr in Sweden and I simply have to share them as the look is very unique and you may be able to take away some inspiration from the arrangements.
This casual home merging old with new looks like a creative center of activity, doesn't it? I love how it has some very elegant touches but that it also feels lived in and that it's not overly styled or designed to perfection. I also like some of the whimsical touches, like the mismatched tilework around the fireplace. I'm seeing more and more wood encased tubs lately, especially salvaged wood, and I find this inspiring and original.
These were forwarded to me by Emma who I had the pleasure of hanging out with in Stockholm a few years ago. Emma, thank you for these photos!
(images: mixr)