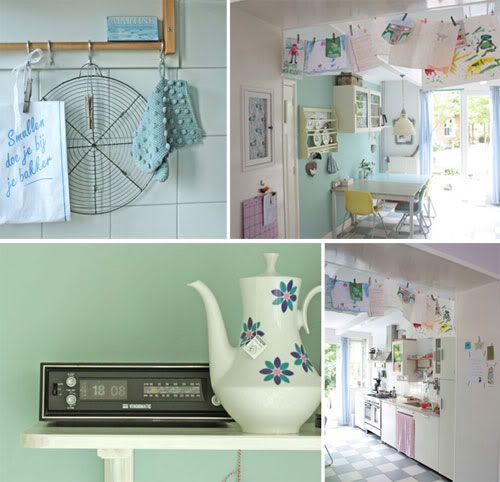 I'm in Amsterdam now, we wrapped up in Belgium which was a great shoot and here I am blogging from a cafe enjoying some quiet time before my appointment to meet with a designer at her atelier. I will interview her for the book and I am excited to meet up and see her place. I love the idea of doing in-person interviews so much more than the typical telephone or email chats that I usually have. If you have the chance to meet someone in their creative environment, on their turf, there can be that added layer of intimacy that chatting at a bistro just wouldn't give you… Agree? I think that if I interviewed celebrities for a living that I would insist on going to their home to meet them. After visiting all of the beautiful houses that I have been honored to be welcomed into over the past several months I know for a fact that people are so much more themselves within their own four walls. Getting a glimpse of that person in action is a real honor, I think. And so, in a moment, I'll be on my way to meet a talented lady on her turf here in lovely, inspiring Amsterdam.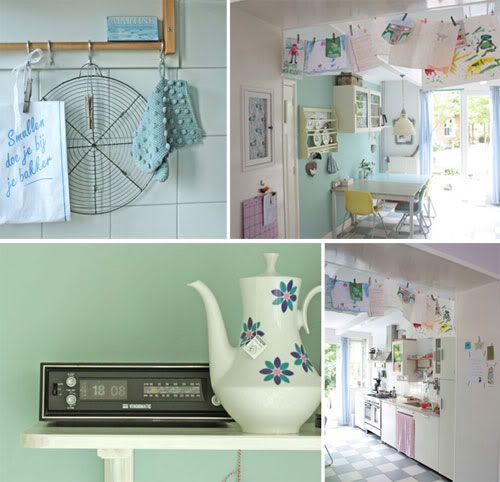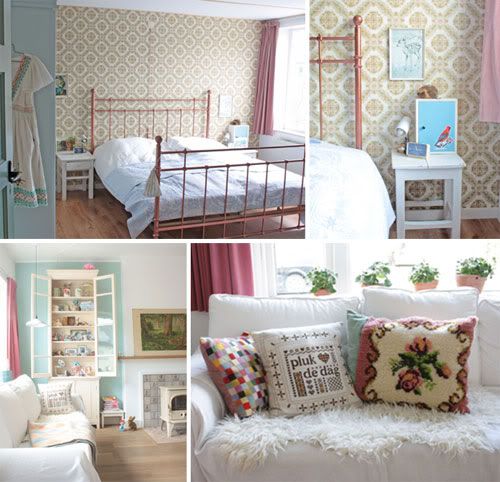 In honor of being in Amsterdam today, I thought I'd post some photos from a home I saw recently on the 101Woonideeen blog. I met the editors of this magazine a few years ago, they showed up at a decor8 meet up in Amsterdam and passed out free issues of their magazine. They also regularly read decor8, in fact one of my friends in Hannover will be in their magazine because they tune in so frequently which is always nice to see — I like when magazines find content on blogs because some people would be hard to locate otherwise so blogs feed magazines and magazines, in other ways, feed blogs which means both are needed and both create a sort of energy that keeps this creative cycle turning.
Anyway, these photos from 101 Woonideeen above show a look that always has Dutch style written all over it — at least, to me. Of course there are many other ways the Dutch decorate their home that look nothing like this but I see this style as quite sweet and personal and very Dutch. It seems to be more about upcycling and recycling and less about designer pieces, doesn't it? Many cannot afford uber expensive things (like me!) or they do not want to own them with young children in the house. This is a relaxed home environment that gives you lots of options to customize, make do and as needed, mend. :)
(images: 101 Woonideeen)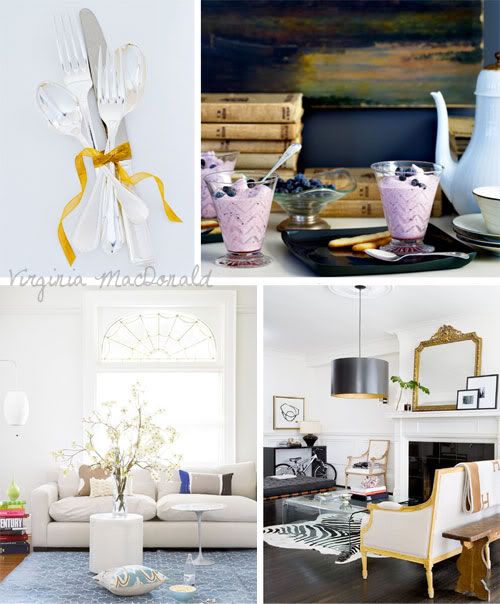 Ready to be inspired by some lovely interiors photography today? Meet Virginia MacDonald, a successful and very talented photographer based in Toronto who has a passion for interiors, food, still life, lifestyle and bonus: animals! Her animal shots are so cute, you have to go to her website to spend time browsing through them to put a little smile on your face today. Before you run off to see those cuties, stay with me a moment to browse some of my favorite photographs from her stunning online portfolio.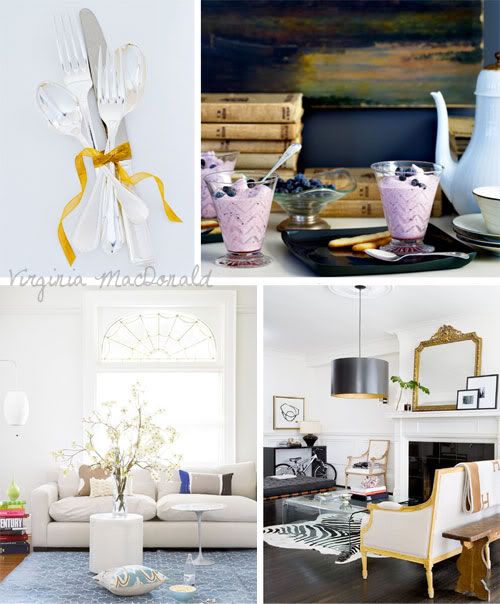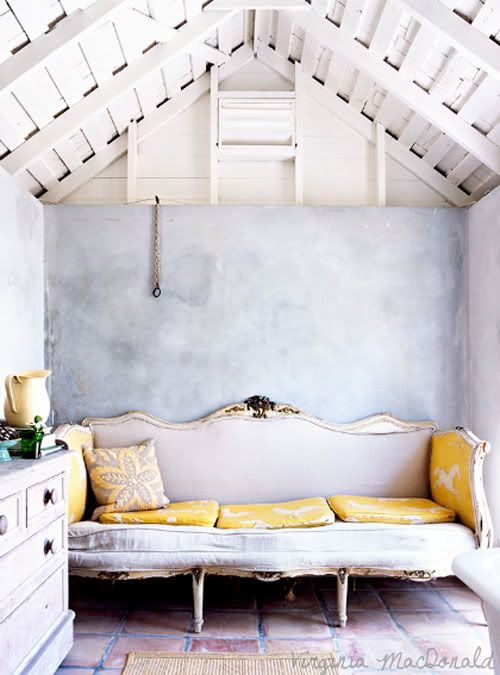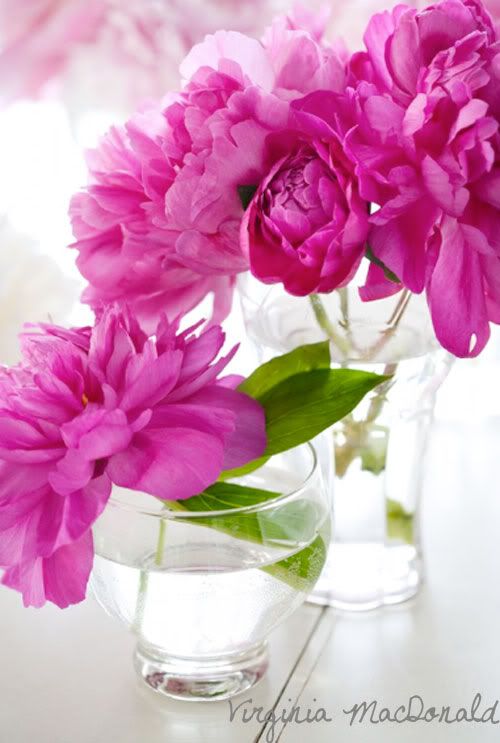 I love flowers, don't you? I always knew that I did, but I discovered just how much over the past few months as I styled so many different homes for the book I'm working on. I realized that in any space, no matter how glamorous or simple, flowers can add that final touch. In fact, I noticed this right away so from the beginning I insisted on using flowers in nearly all of the homes, not in every photo of course, but when you get the book next year in the spring you'll see them throughout in various rooms. I don't know, maybe it's my signature now? :) But they had to be there in order to "feel" the space. Something about flowers really connects me to a space. Their color, fragrance, and how quickly and easily they can make a room or a nook feel so chic — the frosting on a cupcake! In addition to flowers, I also like the look of a topiary trees in modern pots, rosemary plants and other herbs in the kitchen, a giant leaf in a vase on a table or some branches on a shelf, flowering or not, as their shape can be a nice sculptural touch to a room and provide texture, color and a focal point as well.
(images: virginia macdonald)
Here's a pretty room (or six!) to inspire all the bohemians and romantics out there today who like an open yet rustic feminine space. These photos are from the 1850's home of Argentinian couple Federico Bonomi and Cynthia Kern who run clothing company Kosiuko and currently live in Uruguay with their children. These photos are from Mixr in Sweden and I simply have to share them as the look is very unique and you may be able to take away some inspiration from the arrangements.
This casual home merging old with new looks like a creative center of activity, doesn't it? I love how it has some very elegant touches but that it also feels lived in and that it's not overly styled or designed to perfection. I also like some of the whimsical touches, like the mismatched tilework around the fireplace. I'm seeing more and more wood encased tubs lately, especially salvaged wood, and I find this inspiring and original.
These were forwarded to me by Emma who I had the pleasure of hanging out with in Stockholm a few years ago. Emma, thank you for these photos!
(images: mixr)
Looking through the pages of VTWonen is always a beautiful adventure for me. When I came back from the states, a fresh new issue awaited me in the mailbox and it filled me with pleasure as I examined its contents – so fresh and inspiring! I think the stuff coming out of the Netherlands, Denmark and Sweden are super interesting and fresh — VTWonen is a Dutch magazine — and I delight whenever I see the styling work coming out of these countries… their take on interiors and objects is very creative don't you think? Here are some examples of what I am referring to… I'll take you through each photo with some of my own notes and ideas for you today.
If you carefully cut floral patterns out of your favorite wallpaper, you can adhere them to a cabinet like this one. Lovely! You can do the same with fabric.
You don't always need a proper coffee table, why not use a stool instead?
Try using buttons as hooks – this is a sweet idea, isn't it?
Do you knit? Why not knit up some socks for your tables, chairs or stools?
Try making (or shopping for) a quilt made out of wool squares? It's tactile and adds warmth to your home and to you during cold weather. While you're at it, why not be inspired by the wool squares and build a palette for your room? You can pick up the colors in the throw also on your shelves and throw pillows. Another tip: You do not need to place objects on ALL of your shelves… a little breathing room goes a long way as you can see above.
I'm not sure what is on this wall, but upon closer inspection it almost appears to be squares of plywood white-washed. If so, what a lovely idea! But that is not what attracted me to this arrangement — it's the patchwork throw rug on the floor. I am dying to either make one or buy something similar this winter. I love the idea of using a bunch of vintage kilim rugs in this way.
I guess you can call this photo the ultimate chair shot. I mean, c'mon — isn't this shabby-terrific chair to die for? I love it in all of its raggedy charm.
Hello pretty decor idea. Jars on a shelf with little sprigs of lavender, a walnut, some ribbon inside? I mean, this is so sweet, affordable and easy. I use jars for vintage photos of my family (see mine here) but this is a pretty idea, too.
A. Love how simple paper is collaged on a wall with a deer head sitting on top of the arrangement. The wall color is gorgeous, too. B. I love this piece of furniture, if you don't have something like it you can try the idea of simply painting a dresser gray and your drawer fronts in cream for a similar look. C. A branch painted white and used to display your kitchen utensils? BRILLIANT. D. I love the idea of using metal glass cabinets on top of tables to display certain precious things that you don't want little hands to grab at (or big curious hands to pick up!).
E. I really like the whiteness of this dresser with the hardware in white, too. Something about it is soothing… Though I'd have to add some pattern so perhaps I'd line the drawers with colorful wallpaper and paint the exteriors of the drawers in bright yellow so there is a little surprise when you open them. F. What a pretty idea for displaying your cherished jewelry! Put a jewelry tree and a pretty stem in a display box on top of your dresser. Lovely! G. Painting a wall a super electric color like this, then wallpapering a thick border around it like this one in a patchwork style takes a lot of guts, doesn't it? But with results like this, courage really pays off! H. This sofa almost looks like something a kid would have in a collage, almost futon-like, right? But with a beautiful patchwork wool throw spread across it, and simple surroundings that are quite neutral, it went from collage dorm to casual and chic. There is hope for a futon!
I. It can be a lot of fun to play around with scale as this example shows. What makes this arrangement work though is that no single item is the main star, they are all equals, so your eye just follows the arrangement with ease. J. I have come across a ton of these rattan chairs, in natural wood, before but the idea of spray painting one black never crossed my mind until I saw this photo. It really made the lines of this chair so much more pronounced and interesting. The massive rug is lovely too, the pattern is gorgeous in black and white. To create this look on a budget, I saw a round maize rug like this in Los Angeles at the World Market store on Fairfax in green/white, chocolate/white and red/white for only $19.99 and wish I could have fit it in my luggage — gorgeous! K. The massive pleated drum pendant steals the show but it's the table cover that attracted my attention the most with it's almost tie-dyed border and uneven hem. Fab. L. Plaid pizza restaurant wallpaper in blue and white? In a bedroom? Why not! This works, doesn't it?
1. I like the idea of displaying only white objects like this – it is very attractive and makes for a interesting, soft focal point. And if you happen to have a lot of white ceramic pieces like I do, it can control the clutter of having them spread all over the home by grouping them in a single space. 2. You barely notice a sofa with an outstanding throw laid on the sofa like this one. So if your sofa is a bit blah, try placing a gorgeous throw, scarf, or blanket on it neatly to draw the eye away from the couch and onto the bright, happy fabric that you love. 3. Show of hands, how many of you own this shelf/ledge from IKEA? I do! Most people tend to keep it white but this one is the hottest pink in the world and well, it's fun and interesting. So why not paint your shelf in a complementary color that will add a little spark to your space? 4. I really love it when people adhere their favorite fabric to those boring white pull-down plastic shades. It is so pretty to have pattern on the windows like this, especially for those who rent and cannot add color to the walls. It's a good way to bring pattern to eye level.
5. While finding a fabulous drum pendant like this one may be a chore, you can easily duplicate the look of this table by simply painting your tabletop in a rad color that makes you happy. 6. Do you have pillows and blankets that you could fold neatly and stack near your sofa or fireplace? If you never thought about it before, this pile of pretty things may inspire you. 7. If you want to add storage to your workspace, try arranging boxes and bins on a wall in a similar fashion as shown above. It's interesting to look at and will help you to enjoy work a lot more when you know where everything is! 8. A bright bowl with some favorite photos and postcards inside against a lovely tablecloth is sometimes all it takes to give a kitchen a boost!
I hope that you have enjoyed some of my decorating and styling ideas today as I was quite inspired by VTWonen and wanted to share some of my own thoughts with their gorgeous photography. Now I'm curious though, out of all of the ideas above, what stands out the most to you? What would you try at home? What have you already tried?
(images: vtwonen)