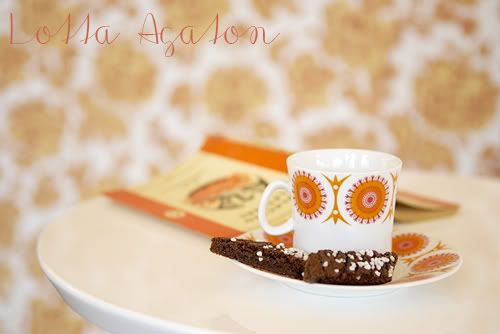 Today I am inspired by a few views from the portfolio of Swedish interiors stylist Lotta Agaton and I think you may enjoy roaming her portfolio today too… Isn't the first image in all this orange-y goodness so refreshing? It's how I want to spend afternoons all summer long…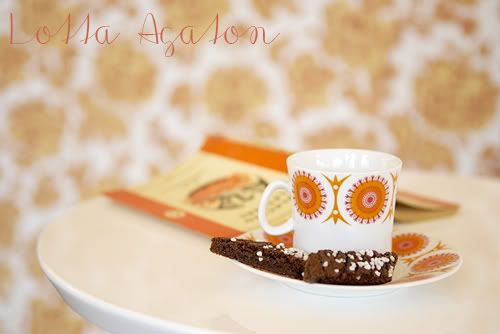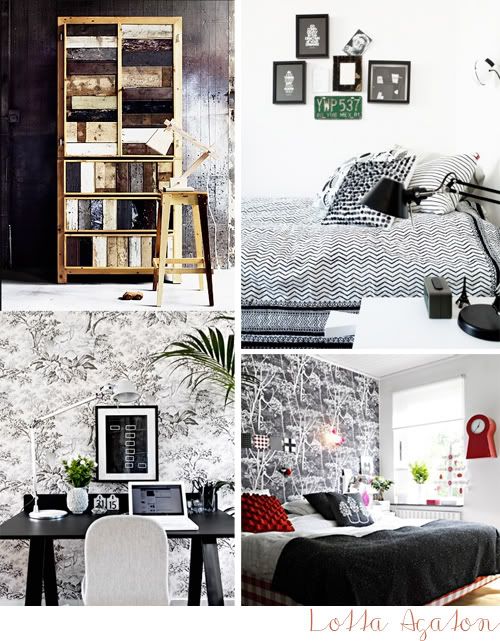 The cabinet made from salvaged wood is gorgeous. I also like seeing the famous cow parsley wallpaper in bold black and white in the bedroom. Black and white never goes out of style, does it?
What a curious arrangement of things. I love examining collections that I see in photographs to try to piece together why the homeowner has arranged them in a certain way, I wonder if there is a story that they are trying to communicate or? I like the LOVE letters, they appeared to be hand carved which is a really nice touch.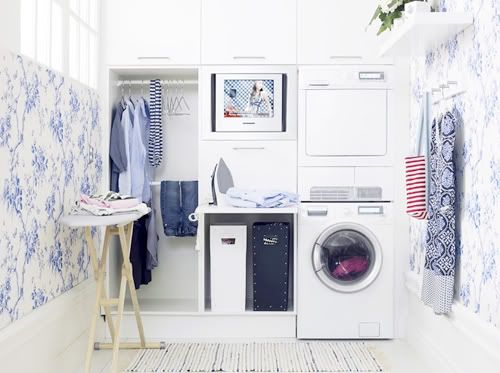 This laundry room is so fresh and inspiring, it makes me want to do laundry which is usually something I try to put off doing until the last possible moment. I love that Lotta even coordinated what is on the television with the room when styling this shot. Clever!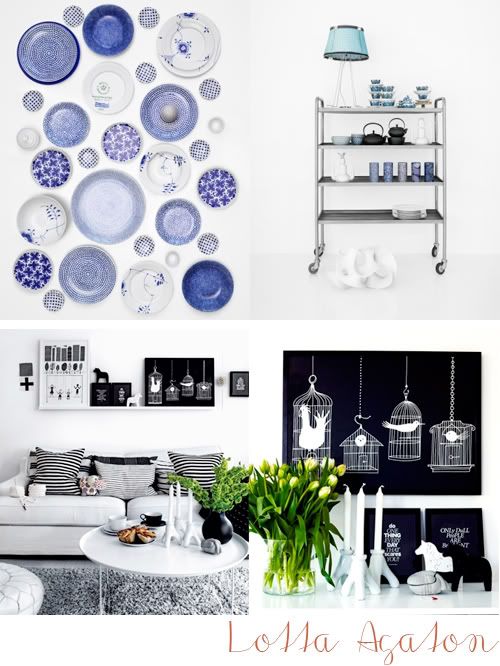 Any specific shots that you like? Why? Identifying why you are drawn to something is a first step in composing your own personal style at home. Once you know what you like and why, you are on your way to shopping better (and with a purpose!) and having more fun when it comes to decision-making in regards to furnishings and accessories.
(images: lotta agaton)
This time next week I'll be packing my bags and flying to London which makes me very happy! It's only an hour from where I live by plane but I haven't yet been since moving over so it's time I change things up a bit! The first thing I will do is review photos for the book with the team that I'm working with, aka the publisher & co. Up until now, our teamwork has been purely virtual so I'm looking forward to sitting around a table and discussing ideas and sorting through images to see what will work in the massive flat plan set out before us. I also cannot wait to meet the co-author, Joanna! She has been a lovely lady on the phone and via email but meeting has been a goal of mine so I'm glad that this will finally happen. We'll also be going on a shopping trip together to round up products and ideas for the book and I'm quite pleased with this agenda because shopping with someone who really knows their city is always a very special treat.
Some have asked me if writing a book is scary… So far I'm not scared at all, I'm quite excited to share my ideas and be heard and to change up the pace a little. Honestly, I needed this as being solely online has started to drain me as I thrive more on diversity and spontaneity than I do on being on my computer 24/7 — I need to spice things up! Blogging can be a lot like marriage, you get into your routine of it and then realize that you've turned into a crashing bore of a partner! That is when you have to do special things to make your relationship feel fresh and exciting again. My job is this way. I've been blogging for over four years now, it was time to try something new — so I guess we can call this book project my naughty teddy or something. :) My routine is about to be completely changed because between next week and July I'll be in London, Denmark, Sweden, Amsterdam, Paris, Belgium, Los Angeles and New York. Talk about change, this isn't going from crawling to walking, this is going from crawling to flying!
I'll be meeting up with some new friends in London and connecting with some others whom I've been dying to meet so this trip will be a very productive 7 days. London is a very special city to me — I had a lot of "first" experiences there back in my single days I flew over so many times from Boston that I actually lost count — I was obsessed with English life and culture and in many ways I still am. I remember flying over "for the weekend" just to see a concert or go out with my friends. Ha! This time my adventures will be much more tame as I have plans to hit lots of stores and to simply enjoy the hustle bustle of the city without sitting before a computer as I usually am quite tied by the umbilical cord to my laptop. I'm going on this trip laptop-free, baby! Though take note: I am bringing my iPod touch to tweet and read my emails. I cannot detach myself from the mothership entirely. When I return from my trip, I'll have some photographs and tips to share here concerning my impressions of London so while I'm there, I'll definitely be keeping an out out for things to share on the bloggy blog.
To get me in the London mood, I thought I'd share these gorgeous shoot locations with you from 1st Option. All of these gorgeous properties are available for hire just in case you are putting together a fashion catalog and need a location for your models, or perhaps you are shooting a book of your own and need some great rooms to style. All of these locations are beautiful and vary in style and period but the theme is consistent – they're all drop dead gorgeous. Enjoy!
(images: 1st option)
I picked up some flowers just the other day – bi-colored carnations (never underestimate the power of carnations!), creamy white freesia, and gorgeous pink ranunculus. Instead of putting them all in one vase, I decided to split them into four arrangements so that I could spread them around different rooms to brighten up more than one area of the home and to stretch my money – so for a mere $11 I have more than enough flower power to go around. I put some in a white IKEA vase, a few stems in a vintage blue glass vase, more in a vintage creamer from my husband's grandmother, and finally a few in a tea tin that I couldn't part with after I drank all of the tea because I loved the color so much. These flowers are now in my bedroom and living room and the house smells beautiful!
In the living room…
Near my bed…
In the living room, different view.
In my reading nook…
My workspace, a tiny corner of my living room. The glass vase is vintage for only $1 at the flea market last Saturday — I love it!
Leslie Shewring will be here with us in a moment with Color Me Pretty for more floral inspiration which is a nice boost on a Wednesday, don't you think? I love Spring!
Maybe our flower posts today will inspire you to pick up some inexpensive blooms and go home and have a little fun arranging them and placing them bedside, near your perfume tray, on the coffee table on some books… What do you think?
(images: holly becker for decor8)
Whenever an email arrives from Pale & Interesting to introduce something new I feel this sense of excitement wash over me as I really adore their online shop and look books. I have about 10 favorite photographers in the world and one is definitely Polly Wreford who shot all of the photographs that you see on the Pale & Interesting site. She is so talented, I love how sharp and crisp her photographs are but also that they don't feel lonely or cold — which is a challenge when you are shooting rooms with a mostly white/neutral palette!
There is a difference, to me, in interiors photography these days that stands out quickly whenever I pick up an interiors magazine or book — perhaps you can spot it too… the welcoming and the not-so welcoming imagery of homes. For instance, in Polly's work it feels like the homeowner is off to the side cooking or chatting around the dining room table as Polly works her magic in another room to create a beautiful composed photograph. But in some portfolios I see, it feels like no one lives in the home at all — that the photographer is there all alone creating a beautiful photograph but there is something missing… a feeling of warmth and comfort, a feeling that people actually live and dream and work and play in that space once the photographer wraps up the shoot and leaves.
And though many photographers shoot styled work in hired spaces used solely for location shoots and not inhabited at all, I think the skill of the photography in such surroundings is to make them feel like people do live there. Does this make sense to you? Do you know what I mean?
Okay, back to the regularly scheduled program — Pale & Interesting. They just rolled out their 2010 look book which is a bit like a magazine online that you can click through to get some decorating tips and to explore ideas on how to use specific products that they carry in your own home. I noticed in several of the photos above that many glass bottles were reused in different ways and as a result, they take on a whole new look. For instance, the bottles with the butterfly are the same as the bottles with the flowers and those shot with the glass cloches which is a great example of how some simple glass bottles can be a great investment as there are many different uses and ideas for arranging them in your home. One week they can be on your fireplace mantle, the next on your dining table, and quite possibly the next week they could be arranged on your entryway table in the hallway. So many options without running out to buy new things constantly – look for ones that are versatile and nothing is more versatile than transparent glass as they are subtle and understated, changing color and pattern according to what you place on, in, around or beneath them. Beautiful!
(images: polly wreford)