I recently had a chat with Jan from Martensen Jones Interiors and she arranged to have all of these beautiful images from their portfolio sent my way to inspire decor8 readers today. I also asked her a few questions about Martensen Jones in Dallas, which has been in practice for four years, to learn more about this design studio and so you can find my questions and her replies below.
First, a little about the lovely ladies behind the firm. "Lisa Martensen and Jan Jones have each worked in the advertising, editorial, and retail industry for over 25 years as make-up, fashion, and interior stylists. Lisa has a degree in Interior Design and Jan has a BFA in Art History."
What inspires you both? FASHION! Also movies, travel… staying in beautifully designed hotels, museums, architecture, nature: the colors of the sky and water. Who are some of your favorite interior designers? Vincente Wolf, John Saladino, Susan Ferrier, Suzanne Kasler, Thomas O'Brien, David Hicks, Billy Baldwin, Michael Taylor and John Dickinson.
What are some quick design tips you can give decor8 readers today?
Go with white slipcovered sofas… the easiest to maintain because they don't fade and can be laundered and bleached.
Every room needs black and punches of WHITE.
Every chair needs a place to set a drink.
If you can't afford good art, buy a great mirror.
Never buy an antique unless you can use it.
Seagrass is like a classic pair of khakis.
Never underestimate good accessories…they are like a great pair of shoes!
Skirts on upholstered furniture make a room less nervous.
Even a period room needs a mod piece to shake it up.
Buy good quality and buy once.
Educate yourself.
"They attribute their vision and sense of style in their design of interior spaces to their extensive travels, passion for found objects, and experience behind the camera."
Ladies can you please give us a list of trends that are currently hot…
White French plaster
Wallpaper
Brutally modern lighting
Cerused oak
Modern wicker
European rustic
Jade green
Bollywood glamour
Navy blue
All shades of pink
All shades of gray
"Their eclectic approach is classic, contemporary, global, and comfortable which often results in pairing a pedigreed antique with an economical piece. The final product can result in rooms that are timeless, have style and are fresh and personal."
Thanks for visiting us today on decor8 and thank you for the tips and the gorgeous glimpses into your portfolio.
(images: blue/green kids room: Manny Rodriquez and all others: Steve Karlisch)
I wrote about Olioboard today over at Real Simple but in case you didn't see it I have to show and tell here too! Olioboard is a new web app for creating your own moodboards online that you can save, share and also click on products to shop for them. It's such a clever app that I'm sure many of you will like. I bet this will be one of those, "Oh why did Holly have to tell me about THIS?" websites though because I imagine it could be a major time robber. But hey, have fun (and free!) and perhaps after trying it a bit you can let me know what you think.
Note: The above board was not created by me, it was made by a Olioboard member.
I just created an account called decor8, if you want to connect with me there. See you at Olioboard!
(image: olioboard)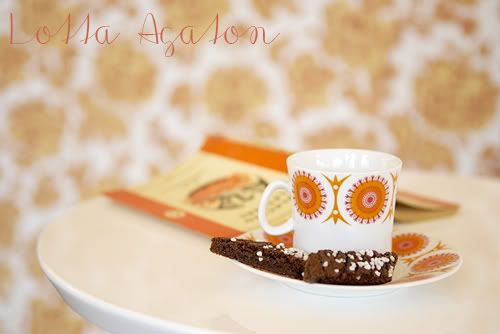 Today I am inspired by a few views from the portfolio of Swedish interiors stylist Lotta Agaton and I think you may enjoy roaming her portfolio today too… Isn't the first image in all this orange-y goodness so refreshing? It's how I want to spend afternoons all summer long…
The cabinet made from salvaged wood is gorgeous. I also like seeing the famous cow parsley wallpaper in bold black and white in the bedroom. Black and white never goes out of style, does it?
What a curious arrangement of things. I love examining collections that I see in photographs to try to piece together why the homeowner has arranged them in a certain way, I wonder if there is a story that they are trying to communicate or? I like the LOVE letters, they appeared to be hand carved which is a really nice touch.
This laundry room is so fresh and inspiring, it makes me want to do laundry which is usually something I try to put off doing until the last possible moment. I love that Lotta even coordinated what is on the television with the room when styling this shot. Clever!
Any specific shots that you like? Why? Identifying why you are drawn to something is a first step in composing your own personal style at home. Once you know what you like and why, you are on your way to shopping better (and with a purpose!) and having more fun when it comes to decision-making in regards to furnishings and accessories.
(images: lotta agaton)
I recently spotted Massucco Warner Miller Design and had to give you a glimpse of their portfolio as they have such swanky (yet warm and livable) rooms that I'm really liking… If you're keen on color and pattern, you may enjoy these spaces too. I have a feeling that this firm has a real love affair with one of my favorite color combos – orange and blue!
Interior designers Julie Massucco, Melissa Warner, and Carrie Miller make up the firm of Massucco Warner Miller which has three locations on the west coast — in LA, Seattle and San Francisco. They are popping up on lots of blogs and magazines lately and for good reason — these three ladies are a talented triple threat. I love seeing talented woman working together and making a difference and even though some may call interior design shallow or materialistic I call it essential — a great home that reflects your tastes and passions, one that supports your health and well-being, well this is not a vain pursuit and does make a huge impact on your life.  I find their designs welcoming, whimsical and fresh. It's hard to not feel happy in rooms like these!
Today I was reading One Kings Lane and noticed that these three ladies gave some very valuable tips on decorating that I think you may find helpful.
Would you like to know their top 5 tips?
1. When scheming a room, select the fabrics and furniture you love before choosing paint colors. You can always find paint that works with your favorite fabric.
2. Buy the best-quality upholstery you can afford. A well-made sofa will last for years and can be recovered over and over again if you desire a change.
3. Keep a small tape measure and list of your ideal artwork sizes with you. You never know when you'll spot the perfect piece while traveling or out and about.
4. Before purchasing furniture, place blue painter's tape on the floor to visualize its actual size. A 90″ sofa looks good in the store but might overwhelm your living room.
5. Size an area rug based on room dimensions, not just a furniture grouping. A larger area rug helps a space feel bigger and makes better use of the room. A good rule of thumb is to allow 6″-12″ of flooring to show between the wall and the rug edge.
Hope that you've enjoyed learning about these designing women today!
(images: massucco warner miller design)