I need flowers in my life! I've been buying some here and there, but not weekly as I usually do and I can definitely see a difference in how my home looks and feels. Maybe some are not as sensitive to whether or not they have flowers around, but I am. My mother was trained in floral design before I was born so you can imagine how our home and yard looked growing up – flowers and plants and a gorgeously landscaped yard that was the envy of the neighborhood. In fact, our neighbors loved our yard so much that they'd ask my mother for tips and often when I couldn't find her I'd see her planting and digging next door as the neighbor stood there grinning ear-to-ear. It was just her way. She planted, cultivated, picked and styled flowers, shrubs, trees, you name it… The flowers would often end up in pretty containers in our home and she even painted them onto canvas with oil paints simply because flowers inspired her and they just made her happy and still do.
Illustration by Jennifer Murphy, photo from Domino.
Watching a mother so passionate for these things couldn't help but leave an impression on me. But it wasn't just her, my grandparents lived on a working farm where she was raised and so this passion was also planted in me at a very young age whenever I would visit them. And no doubt if and when I have children, I'll be teaching them at least how to arrange flowers as I didn't inherit a green thumb — though lately I've noticed my plants are no longer dried up and withered but healthy so perhaps my black thumb days are over.
My own arrangements are shown above in both my current and last home.
What about you? When you look back on your childhood do you recall any experience or even a parent or sibling, aunt or uncle, even grandparents who had a deep appreciation for nature, namely plants and flowers, that they passed on to you? How did this influence your adult life? Or perhaps you did not have this influence early on but rather, picked it up as an interest later in life? And if so, what made you think more about bringing plants and flowers into your home? And how are you doing with raising them? How often do you buy flowers and style them? How does the experience make you feel? I ask all of these questions because I believe that demanding schedules and life in general gets in the way of slowing down to consider how and why we do certain things, why we have specific rituals around the home and how they make us feel and contribute to our overall sense of well-being. And by the way, the common expression, "Stop and smell the roses" is so true! As you are styling your arrangements at home, take time and really get into the moment as it can be quite an enjoyable experience of the senses.
More generic arrangements but beautiful flowers from 1-800 Flowers. Note: Once they are delivered you can add in some of your own store bought blooms to design a custom bouquet.
This week I plan to buy some flowers that I've never bought before, lately I've been bringing home mostly tulips and roses and orchids. I will go to the farmers' market tomorrow and try something new. The thrill of the hunt, even for something as simple as a bunch of flowers, can turn a rather mundane task into something pleasurable. There is nothing wrong with making some of the simple things in life matter in some way. It's comforting somehow, like days aren't running into weeks and months without me slowing down to feel all of these precious moments.
Just a simple plant…Stella Nicolaisen
Heather in my living room from last Autumn.
Sunday Suppers, Karen Mordechai.
Well, who thought that simply thinking about flowers this morning would lead to an essay? Aren't flowers uplifting and altogether lovely? I can't stop but appreciate them whenever I pass by an intriguing flower shop window. I peeked into a shop yesterday around the corner from my home and saw some sweet mini cypress trees that I may buy for my windowsills, or perhaps a small potted olive tree for my kitchen window. I can't wait until Spring so I can hunt for some flowering branches to put in my living room, they make such a difference in the mood there and it only takes one or two in a tall vase. All of these beautiful photos show, whether large or small, flowers have a profound impact on our mood as well as our interiors. Don't you think it's time you took a walk over to your local flower shop?
(images linked to their sources above, please click on them to find the work of some pretty amazing creatives out there!)
Decorating comes in all shapes and sizes yet time and time again my eye gravitates towards homes that are well edited and creative, places where you know details matter. My friend has a very well edited home — even shampoo bottles are discarded and contents poured into clear plastic bottles instead so that the tub looks simple and neat. THE TUB. Hello. I am detailed-oriented and even I don't do that! But it's something to aspire to so I think I'll talk to my husband because I often close the shower curtain to hide all of the ugly labels anyway. In the states it was different, the shampoo and conditioners that I used had the best packaging but here product packaging is a bit more generic and the good stuff in the gorgeous bottles is expensive. I simply do not want to shell out $25-30 for an 8 ounce bottle of shampoo.
But shampoo bottles aside, I really appreciate people who put SO MUCH into their decor. It's extremely energizing and motivating! So, with that being said, would you like to peek in on a few spaces today of your neighbors in the online decorating and crafting community?
Dottie Angel + souvenirs du passé récent
How Now Design + jasna janekovic
Simply Grove + herz allerliebst
How inspiring! What did you like in the photos above? I really like Simply Grove and her well arranged bookcase. I love all of the photos above, of course, but that one really stood out as I can only imagine the thought and care that went into such a gorgeous arrangement. And are her books facing pages outward and spines in or am I seeing things? How cool is that. And what about you? Spot anything above, in particular, that stood out? Another detail I noticed is the globe in How Now Design's workspace. Scroll back up and see for yourself. Neat-o.
(images linked to their sources above)
My little interior styling group has grown so much in just a week, we're up to over 500 600 742 800 members! And the photos being contributed are just lovely. The January challenge was posted a few days ago and I love seeing what some are doing, it's inspiring to say the least. If you want to take part in this group, you can — but please know that I'm curating all of the photo submissions to ensure that the quality of the photos, lighting, and overall style fits the theme of this group as well as my aesthetic so that the group has a very specific look and feel. I find that some groups on Flickr do not have that many rules and as a result, they're chaotic and hard to really see the point of joining the first place. Most act more as a no rules photo dump but Interior Styling is different and I'm so proud of my fellow group members, you are all so talented and I love visiting each day to see what new submissions have arrived. Would you like to catch a glimpse of some member photos? Here you go… And be sure to click on the links below to visit the Flickr pages of some of these terrific peeps!
Nestled In, the Purl Bee, Candi Mandi
ethanollie, Dora iz Londona, lulaland
june craft, emma lamb, tovemichelle12
the happy home, nest decorating, souvenirs du passé récent
pink loves brown, kflaim, dottie angel
elena, Saídos da Concha, cupcakes & cartwheels
yvestown, kitsch cafe, imacookoo
Bottom line: Anyone can make their home beautiful and stylish with or without being a "pro".  With consistent practice, editing, and patience you can create rooms and vignettes with style and impact, too. Most of the above images are from talented people who are creative but do not necessarily decorate for a living. You have the work of jewelry designers, artists, writers, graphic designers and stay-at-home mothers who have never worked in a creative field in their life. These photos demonstrate what all can attain – a fantastic "real" space that reflects the style and taste of the owner that also happens to be styled nicely to show thought and care. THIS IS something attainable, so I encourage you to join the group and practice, practice, practice! And if you're already a pro, you can join the group to teach and show an example of professional work to other members so they can follow your lead (Interiors Stylist & Author Selina Lake is a member!).
I hope that you find Interior Styling inspirational and fun!
(images linked to their sources above)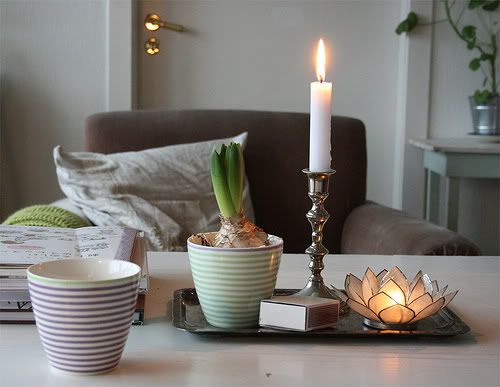 I've talked about this a few times before, but these tips never go out of style or season because they're timeless tricks that decorator's everywhere turn to whenever a client asks them to help refresh their space. Okay, perhaps not all of them but you've stepped into my world for a moment so let me tell you how I personally refresh my home to kick start the new year. The rollercoaster ride, er holiday season, has ended (whew!) and life is s l o w l y getting back to normal (it's like trudging slowly over wet sand, huh?) the decorations are coming down and most are left with a house that feels rather, well, un-festive like. Maybe even depressing. Perhaps a bit naked? Well that's not a bad thing because now you can start on a clean slate. Here are some new year's ideas for freshening up your space.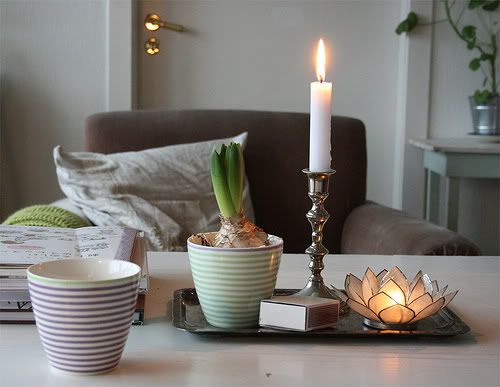 (image: haust)
1. Bring in some fresh flowers and starting forcing those bulbs. That's a big thing here anyway, bulbs galore in every store. I have to get started on that myself, but I picked up two tone tulips in pink and white already in bloom, which look really nice as they typically remind me of spring and the guarantee that winter will eventually end! Though don't get me wrong, I'm enjoying winter very much thanks to all the cozy elements in my home that make me feel comfortable and happy. Winter isn't half as bad when you stop thinking about warm weather and enjoy what you have, right? That's the idea of this post, I want to help you to enjoy more of this moment as we all tend to concentrate too much on what we don't have instead of what we do, right? If tulips aren't your thing, try buying some succulents and make a terrarium (here's a helpful how-to or have a look at mine here), go to your local florist and see what grabs your attention. And when you bring your little blooms home, arrange them with care so that you are also experiencing the moment of (sorry I'm about to get weird on you) touching and smelling and feeling them as you carefully snip and create a pretty little arrangement. I personally love that moment when I'm standing over the sink unwrapping my flowers, thinking of nothing more that what is happening in that space and time. It's relaxing, and if you love classical music, put some on and hum along as you create. I find piano very relaxing so I play a lot of Yann Tiersen. Look him up, you'll be surprised to see what lovely film he composed a soundtrack for. If that doesn't get you in the mood to arrange flowers nothing will!
2. Warm it up! Since in my part of the world, it's cold outside, I try to warm things up a bit with candles. I tend to use more tapers and tea lights, simply because I burn through so many and their often the cheapest to buy, but pillars and scented candles are equally nice. I have them on my windowsills, table, coffee table and in the bathroom for relaxing soaks. I group 3 tapers and 2 pillars on my coffee table and several tea lights on a shelf behind my sofa. It gets dark here around 3:30 each day, so the candles are aglow around that time to make the transition from day to night less painful. I also like to put candles in front of a small mirror like this, which is on the windowsill in my bedroom as it doubles the glow and looks really pretty. Remember, I grew up in a resort area on the beach with plenty of sunshine year round which means I'm not naturally a northern "cold weather" person. I had to learn to like winter, trust me.
(image: elena)
3. Make paper snowflakes, create a new wreath for winter, leave the white twinkle lights up (just hang them over the bookcase, over your bed, or along the fireplace mantle vs. on the tree which you've no doubt removed by now). Just because the holidays are over doesn't mean you cannot still celebrate the winter season. Try wrapping your candles in pretty paper shown above. Yes you can wear white after Labor Day and yes you can leave your twinkle lights up until Spring or even later if that's your thing. Who cares what people say, start your own traditions because we're not put on earth to do things only one way and follow the masses. Can I get an amen?! I once had twinkle lights in a massive glass vase on top of my bookcase and left it as a light source year round. Hey, I was single and broke, it was the cheapest light I could make using things I already had, and it turned out to be a hit — my guests, and I, loved it. You can even still use your ornaments, just in fresh new ways. I wrote about this recently over at Real Simple, perhaps you'd like to check out my tips and photos there for a little inspiration?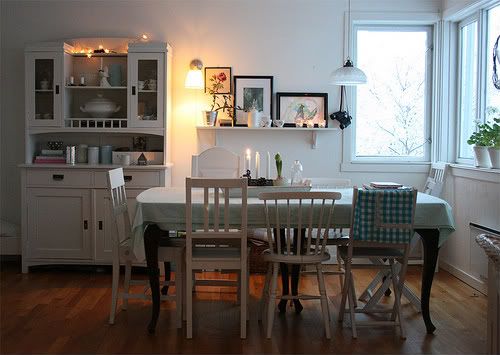 (image: haust)
4. Drag out your cd collection and play some music you've not listened to in a long time, music that uplifts and makes you feel positive and energetic since energy is a big thing we're all in need of right about now, right? I just took out my Amy Seeley cd. Lovely, lovely. I've missed you, Amy. I haven't listened to her since last April before my relocation madness began. Great winter music.
5. Break a sweat. Grab a pilates, yoga, or any other fitness DVD and move your butt. Nothing makes you feel better post-holidays than exercise and if it's too cold to go outdoors then move it! move it! indoors. I like to move it! I love to move it! Do you like to, move it? Ha ha. We also tend to like our homes more and complain less about the weather when we exercise regularly because it puts us into a more positive frame of mind. If you don't want to exercise to a video, think of other options, like a fitness ball or weights. Or, try exercising the old-fashioned way and take a weekend to thorough clean and organize your home. Which reminds me, I need to practice what I preach and go organize my entryway, it's mitten and boot chaos out there.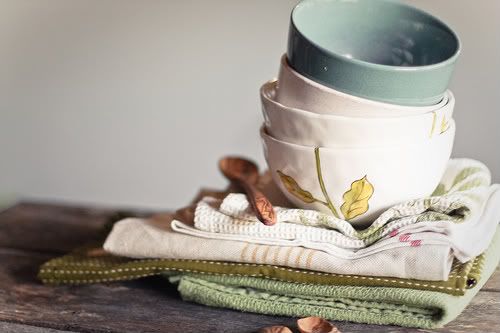 (image: hannah honey + jam)
6. Edit! Winter is a good time to photograph your space, look at the photos four hundred times over, and consider what works and what doesn't work. And start editing from there. Edit, edit, edit! Do you really need 3 throws in your living room and that snuggie blanket from your mother-in-law? Maybe you can keep 2 and store 2 or donate them to those in need. Are 8 pillows on your bed a bit much? Is your linen closet bursting from the seams with 50 towels, some you've had since college? Maybe it's time to simplify because there is a lot more time and energy involved in maintaining lots of things vs. less. Clean out your china cabinet while you're at it, too. If you need some help editing your space and organizing your home, get a jump start on spring cleaning with Erin Doland's book, Unclutter Your Life In One Week. She's a peer of mine over at Real Simple and her book is both practical and very helpful.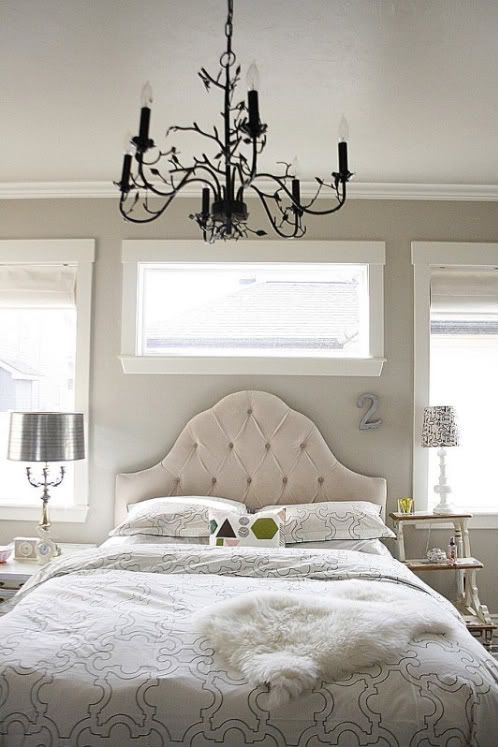 (image:simply grove)
7. Move things around. Maybe your pendant over the dining room table would look better in the bedroom? That's what decorator/blogger Kirsten Grove from Simply Grove thought anyway and viola! she painted her dining room fixture glossy black and hung it over her bed. Fabulous. I also love the throw on the bed, it really warms up her bedroom for winter. Try that too, you can grab those pretty throws at IKEA, here some use them on their dining room chairs and even on the sofa. Talk about cozy! And you know why moving things around is so smart? Because chances are you are home a little more than you will be when the weather warms up so it's the perfect time to shuffle things around – who wants to decorate when the beach is calling your name? So move the sofa, move the chairs, swap out your current prints for other ones (even fabric or wallpaper can be framed and used as art), move it baby, go go go!
8. And… if all else fails, there is always hot cocoa. :)
How are your refreshing your home this month? Share your tips, link to your photos, share, share, share!!! :)
(images: credits linked below each.)