You'll be inspired by this week's pick for How Much For This Room because it features a beautiful living and dining room clearly pulled together with a lot of love and a great sense of style. It's also quite inexpensive so it's within reach. These rooms were sent in by Benita Larsson, the Swedish design blogger behind the popular Chez Larsson, a lady we all know and love for her writing, great organizational skills, home DIY projects, and for the gorgeous blues, yellows and greens in her home! Thank you so much Benita for sharing your world with us today.
I'd like to note that Benita has had some items for quite a long time and was unable to remember exactly what she paid for them so she had to guess at a few of the prices. She feels confident though that they are pretty spot on. Not included is the cost of wall paint, flooring (original to the house), books, magazines and what she calls, "the old horrid TV" which I didn't even notice until she pointed it out — ha ha! Oh Benita, we all battle with televisions whether they are old and horrid or new and sleek – our goal is always to hide them but it never seems to quite work out now does it?
Seating area: 1) IKEA Karlanda (pre Karlstad) Sofa $499. 2) Junk Shop find Armchairs (20 years ago) $100 + $125 for covers made in Hong Kong (I brought the worn out old covers sewn by myself to a tailor in Hong Kong and he copied them) + $60 for wheels. 3) Sofa table $0 (left to us in our house by the previous owners) + $10 for paint and varnish. 4) Junk Shop find nesting tables (18 years ago) $35 + $10 for paint. 5) Bookshelves self made out of MDF, cost of materials $70. 6) Self made MDF TV unit on wheels $55. 7) IKEA Door mat $8. 8) Floor lamp including shade $75. 9) Art – Half hull boat (produced by my husband Martin) $250. 10) Muji bowl $20. 11) Table lamp $35 including shade. 12) Pillow inserts 8@$6 = $48. 13) Fabrics for pillow covers (all 1/2 yard pieces): Svenskt Tenn Elephants 2@$46 =$92, White corduroy $8, Aqua linen $8, Joel Dewberry Woodgrain* $4, Paula Prass Garden Trellis* $4, Michael Miller Dandy Damask* $5, Denyse Schmidt Basket Weave* $4. 14) Iittala Savoy Vase $123. 15) Iittala Kivi Votive holders 2@$13 = $26. 16) Charity shop finds: Small glass vase and ceramic leaf dish 2@$1 =$2. 17) IKEA Roller blinds (not shown) $40,
Total for seating area: $1,716 USD
*Purchased on Etsy.
Dining space: 1) IKEA Hollow core door table top (no longer available), painted white $25. 2) Dumpster find table base $0. 3) Dumpster find chairs $0 + $12 for fleece fabric, batting and elastic. 4) Charity shop find Orange stools $44. 5) Built in cabinets left by previous owners $0 + $30 for paint and adhesive frosted plastic. 6) Ceiling lamp $200. 7) Cylinder glass vases used as hurricane lamps 2@$9 =$18. 8) Charity shop find bowl $2. 9) Table lamp $35 including shade. 10) Milky white flower pot $8. 11) Doggy art by Martin $0. 12) Ebay Whiskas Cat bed $88. 13) Vintage card boxes left to me by my parents $0. 14) Art: Magnus Carlsson framed art (a gift) $0, Abbey Hendrickson print (a win) $0 + frame $20, Junk shop find Bird print $3 + frame $20, Smelly cat art by my son Wille $3 for the canvas (art itself priceless).
Total for dining space: $508 USD
Fireplace wall: 1) JRG Electrical fireplace insert $850 + self built MDF and scrap wood mantle pieces, cost of materials $25. 2) Self built cube stools, cost of scrap wood, plywood, batting, foam and fabric $30. 3) Yellow canvas, cost for canvas and acrylic paint $26. 4) Art: Matte Stephens gocco print $20 + $16 for frame, Cosas Minimas print $16 + $12 for frame. 5) Charity shop find votive holders and clear flower pot 3@$1 =$3. 6) IKEA Green wooly blanket (no longer available) $25.
Total for Fireplace wall: $1,023 USA
What's the grand total for fireplace wall, living room seating area and dining space? $3,247.00 USD
Why is this space so cozy, pretty, unique and affordable? Benita incorporated art from her family, built and or painted a lot of things herself, found free abandoned items in her local community that she gave new life to, and this clever lady loves a good thrift store! Good ideas to put into practice when you're pulling together a room on a budget!
If you would like to be part of the How Much For This Room? series, please send one photo of your space to me at holly AT decor8blog.com with "How Much For This Room?" in the subject line. Thank you!
If you have any questions for Benita about her home please feel free to ask her in the comments section below. Thank you!

(images from benita larsson)

Lori couldn't join us today for her final post on How Much For This Room? (insert sad face here) so we'll be hanging out with the talented Brie Harrison, a Print Designer living in London (don't miss her greeting cards at Art Angels) soon to relocate to the Suffolk countryside. She has worked for various clients including Accessorize, Anthropologie, Amelia's Magazine, WGSN and appeared in Illustrator Mike Perry's new book Over & Over where I first discovered her work.
If you fancy Bohemian eclectic or flea market decorating you will really like this cozy apartment filled with budget finds and things collected from her travels to India, Germany, Morocco, and beyond. Brie was nice enough to not only show us one room in her flat but corners of a few others as well so this week How Much For This Room should have been titled How Much For This Flat – great job Brie! Let's get started!
Living room: 1.Book case (Expedit £29) and table (Bjursta £89) both IKEA. 2.Chairs £25 for all 4 from a Salvation Army shop in Suffolk. 3. Frames- variety- all under £10 from charity shops. 4. Subway map $4.50 Kate's Paperie NY. 5. vase £10, vintage. 6. Sofa around £700 Habitat. 7. Wooden coffee table painted white around £10 Homebase. 8. Rug – £5 charity shop 9. Cushions- mostly made by me from vintage fabrics from Chelsea Flea Market NY, stripe cushion £15 Habitat, face pillow $6 Pearl River Mart NY. 10. Clock £15 TKMaxx.
Living room shelf: 1. Painting done by a good friend Amy Green. 2. Jug, £4 charity shop. 3. Tile £2 Jaipur, India. 4. Butterfly postcard £1 giftshop in Perugia, Italy. 5. Frame £2 charity shop. 6. Russian nesting dolls, gift from Berlin. 7. Plant and pot £4 garden shop.
Kitchen Shelves: 1. wooden shelves painted turquoise by myself £5 each Homebase, 2. teapot £15 The Tea House, Covent Garden. 3. Tins $3- $7 Pearl River NY . 4. Russian nesting dolls, gift from Berlin. 5. Red framed vintage postcard from Bruges £6 , frame £2 from IKEA. 6. bird illustration from the 1800s £15 from an old bookshop in Lincoln.
Bedroom: 1.bed around £500 Muji. 2. bedlinen £30 IKEA. 3. Cushions all under £30 from Marrakesh, Morocco. 4. lamp £20 Habitat. 5. frame £20 Habitat . 6. limited edition print by Jim Stoten £30.
Bedroom dresser top: 1.turquoise dresser, £15 from Salvation Army shop in Suffolk. 2. round tin $1 from New Jersey flea market. 3. turquoise frame £10 Zara Home 4. Indian painting £4 from Goa. 5. Buddha £3, India. 6. Painted cup £5 and box £5 from Goa, India. 6.bowls £2 from Marrakech, Morocco 7. Frame £6 vintage 8. card inside of frame £2.80 John Dilnot.
Studio workspace: 1. Apple iMac around £1000. 2. thin geisha doll, £3 charity shop. 3. clock, £4 TKMaxx. 4. Most of my books i buy from Amazon. 5. painted vintage Indian cow, £25 from a Hippy garden centre in Buckinghamshire. 6. wood block used for textile printing £10, vintage. 7. paper painted drawers, found on the side of the street in London so I nursed them back to health!
Grand Total= £2786 (approximately $4,020.64 USD).
Would you like to contribute a room or rooms to be featured on decor8? Please submit one photo of your room photographed in daylight to holly AT decor8blog.com for consideration, I will reply to all submissions.
Any questions for Brie?
(images from brie harrison)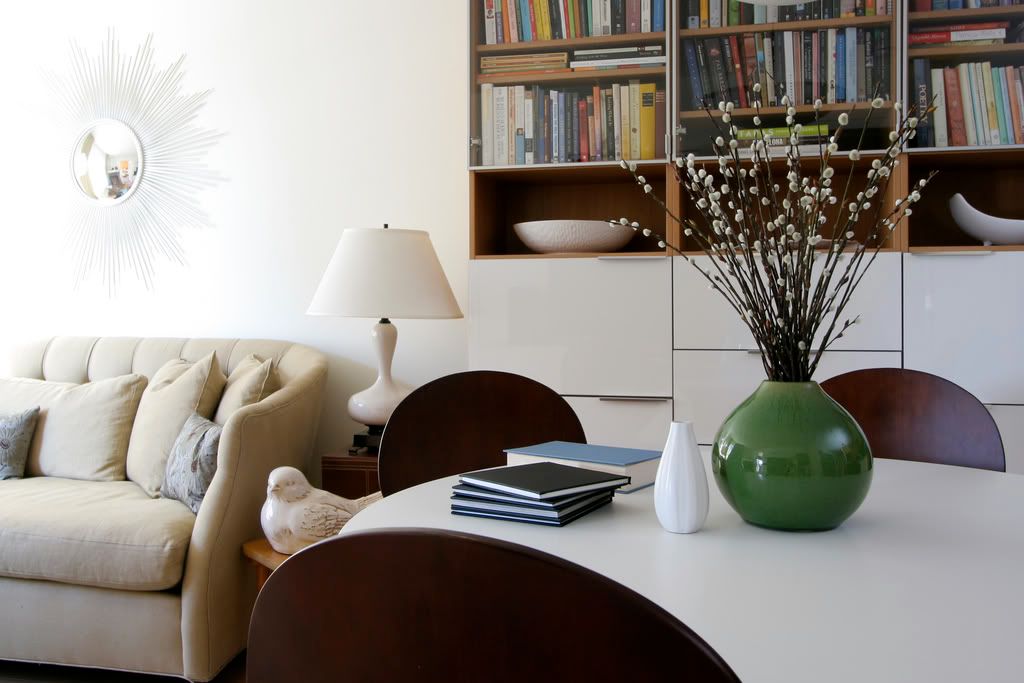 Calgary-based interior decorator, artist, and photographer Lori Andrews, aka the 10-Cent Designer, is back with How Much For This Room? to take us into a welcoming client space, Jill, to break down and list each item with a grand total at the end. Jill's condo looks phenomenal.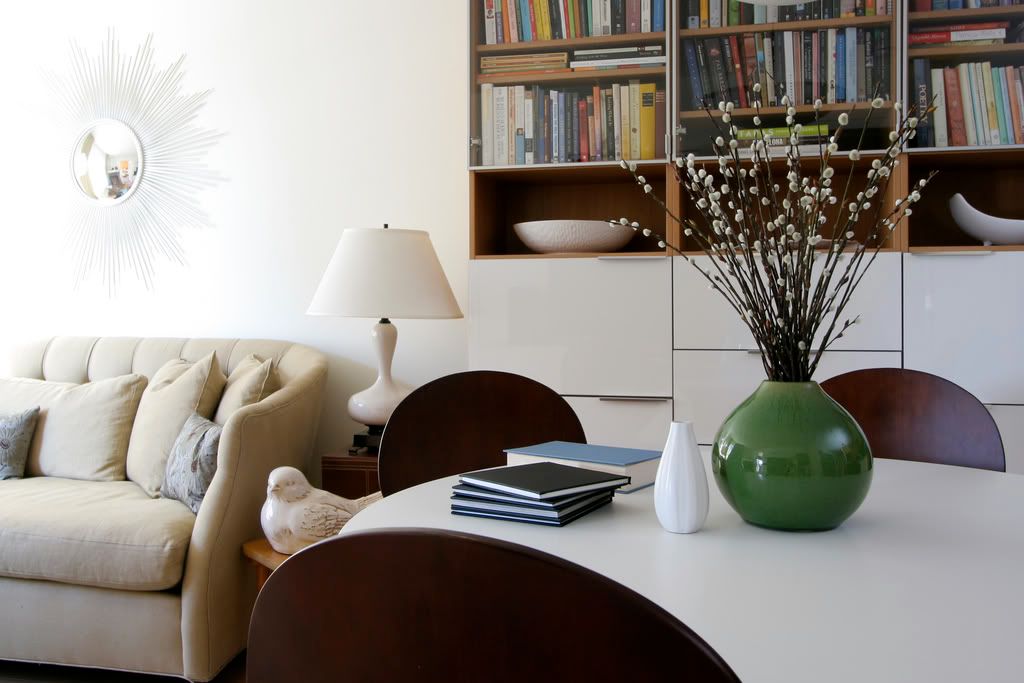 Lori says, "Jill initially hired me for a 2 hour consultation for her 1 bedroom condo. I surprised her by recommending she buy all new furniture. We have continued to work together where required. The client is on a budget so she completes the plan we came up with piece by piece. er next order of business is a fabulous new light fixture for above the dining table and new white granite countertops in the kitchen."
Before scrolling down, I invite you to view Jill's apartment before (link).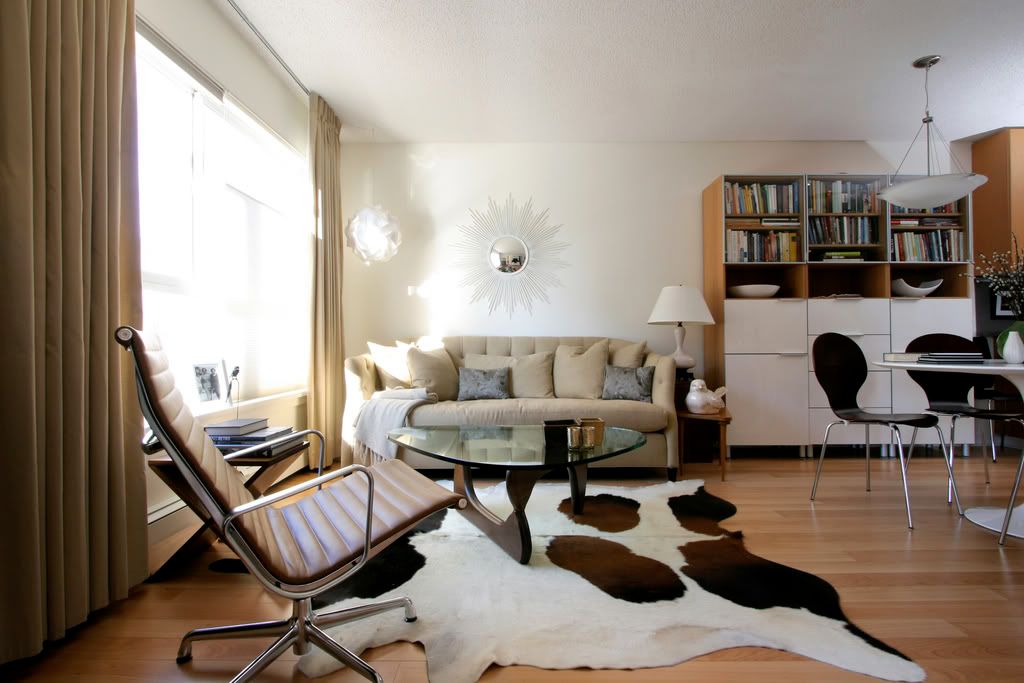 (1)IKEA Besta low cabinet (for TV) $380. (2) IKEA Besta beech shelf units, Besta Norum high gloss white doors, IKEA CD/DVD upper storage unit, $250. (3) Dining area, IKEA Besta beech shelf units, Besta Norum high gloss white doors $730. (4) Flooring, laminate $6000. for apartment including install. (5) Professional painter, $750 for living/dining areas, Mascarpone by Benjamin Moore. (6) Levelor blinds on windows, $500 from Home Depot. (7) Linen Drapes, $660 custom (8) Luccia Sofa (by Cisco) $2400 on sale at Country Furniture. (9) Cowhide $350 Buckskin leather. (10) Star Burst Mirror $325 from Global Views. (11) Ceramic bird white $45 Chintz and Company. (12) Red Buddha head $30 at Appeal. (13) Clock $75 Home Evolution, (14) Brownie Camera moms (15) Metal letter M $20 Anthropologie. (16) Modern hanging lamp $120 The Ground Up Design. (17) Walnut Side table $90 Umbra. (18) Brown Leather boxes $30 Home Sense. (19) Large white bowl $20 Home Sense. (20) White leaf platter $15 Indigo. (21) white scoop bowl $60. (22) small white vase $7 IKEA. (23) green vase $20 Sunnyside Garden Center. (24) Plasma TV, Arcan tuner DVD and rainmaker speakers $5,700 K&W Audio. (25) silver candlesticks $200. (26) black stone bowl $120. (27) cashmere throw blanket $200 Chintz and Company. (28) custom silk throw pillows $350 Lori Andrews Interiors. (29) small wooden vessel on coffee table $60 Country Furniture. (30) small ornate glass candleholder on coffee table $20. (31) small gold vase on coffee table $7. (32) Isamu Noguchi coffee table $1,195 Kit Interior. (32) Saarinen tulip table $1,700 Kit Interior. (33) Eames Aluminum Leather lounge chair $1,800 Kit Interior. (34) Dining chairs $35 each from the now defunct Caban. (35) Table Lamp with linen shade $250 Robinson Lighting & Bath.
Grand total for living/dining space =$24,619.00 (so far)
Lori Andrews Interiors happily provides hourly online design consultations. For more information email lori AT loriandrewsinteriors.com
What do you think? Any questions for Lori?
(photography: lori andrews)
I'm feeling VERY creative lately, I think it's due to the friends I've made here in Germany (and in other countries nearby) and being around so many ladies who are so into all things handmade, it's absolutely inspiring. All of my friends are making something by hand and I find it very motivating too. I really love life in northern Germany, it's not perfect in any country but I'm satisfied with what I have and the things I've been exposed to. Wonderful!
Another thing that has been fueling my creativity lately is the access that I have to so many different cultures, I don't even have to leave Germany for this but when I do it feels almost surreal to hop over the border to another country because I'm American and when we leave our state we are still in America (unless we go up to Canada or down to Mexico of course). It's so different on this side of the pond and I'm enjoying it immensely. I was at the train station the other day and nearly fainted when I saw a train boarding for Moscow. As in Russia. That is one train I cannot take in New Hampshire! :) I traveled up to Stockholm last year for under $100 round trip and felt so appreciative of that opportunity as I'd wanted to see Sweden for most of my life. I love America but I am really having fun with this experience!
Speaking of travel and Stockholm in particular, I always think of Skona Hem magazine and their glorious monthly spreads, they feature mostly Scandinavian homes that are very impressive and I wonder how they never seem to run out of gorgeous pads to feature given that Scandinavia is not that large. But they continue to publish beautiful places… here are a few to inspire you today.
Psst: Skona Hem has a blog so you can keep up with what's going on in the world of Swedish design.
(images from skona hem)