I came across such an inspirational project while surfing for paper mache ideas on the web… I bumped in to the wonderful world of Ann Wood, whom I've known for years, but never thought to look at her blog for such a project. Sure enough, talented Ms. Ann shared a DIY project from A-Z on how to make Paper Mache (Papier-mâché) Teacups and my little heart nearly leaped from my chest. Hey, it doesn't take much for me – some girls want diamonds and I'm perfectly pleased with a nice little project to try at home with my girlfriends…
To see the entire project, download the teacup template, and to see what Ann Wood is up to lately you'll need to click here. She'll love to have you pop by for a visit, I'm sure. And if you make any pretty paper mache teacups, let me know!
(images: ann wood)
Hello! For those of you just tuning in, I asked London-based author/stylist Sania Pell to drop in today to share some inspiring DIY projects for your next party, wedding, or really any decorating scenario because all of these beautiful things could be used in so many different parts of the home from a kid's room to a kitchen. I hope that you have enjoyed meeting Sania today and that if you haven't seen her posts yet that you will visit them, as shown in order from the first to the last, below.
Spring Flower Garlands (shown in examples b and f above).
Liberty Flower Napkin Rings (e and d), How To Button Covers (d) and Sequin Glamour (a).
Little House Mobile (c).
Thank you again Sania for joining me today on decor8 and I wish you loads of luck on your new blog and on everything else you do going forward with all of your creative energy and cheerful can-do attitude. You made my launch party in London such a success thanks to your enthusiasm, friendship, support and hard work and I'd like to thank you for all of it — including your hospitality, good laughs, and endless bottles of wine and yummy treats in your kitchen. You are such a doll!
Readers: Can you do me a favor? Can you visit Sania's blog and leave a comment for her over there, she is working in her craft loft all day and I want her to return to her computer with a big, warm surprise waiting from her with your comments! Thank you so much. I remember how it felt to start blogging, how scary it was, so your comments will make her day! I'm going over there now to do the same so please join me.
(images: sania pell)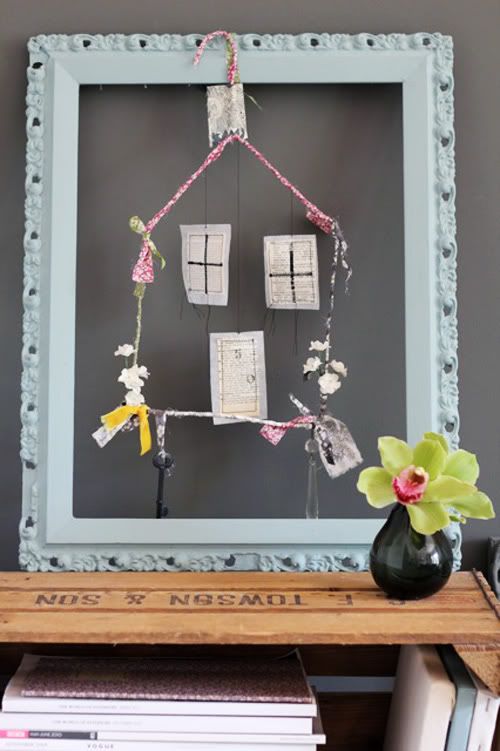 Hello again everyone, it's me Sania Pell. Following my last posts about how to make lovely Liberty garlands, flower napkin holders and fabric wrapped lampshades, next I'll be explaining how to make the hanging house mobiles that we suspended above Holly's signing table as a little visual eye-catcher away from our main table setting.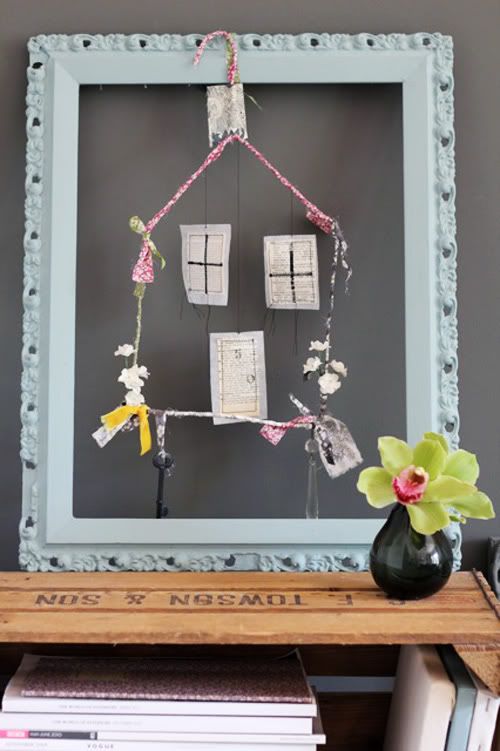 As the party was to celebrate Holly's book launch, I had the idea of creating a hanging mobile that linked to the theme of her book – decorating! The flower and leaf garlands were very much about Spring but these mobiles are all about houses and homes. Here is how to make your own little house mobiles.
(Click HERE to download the steps in XL size.)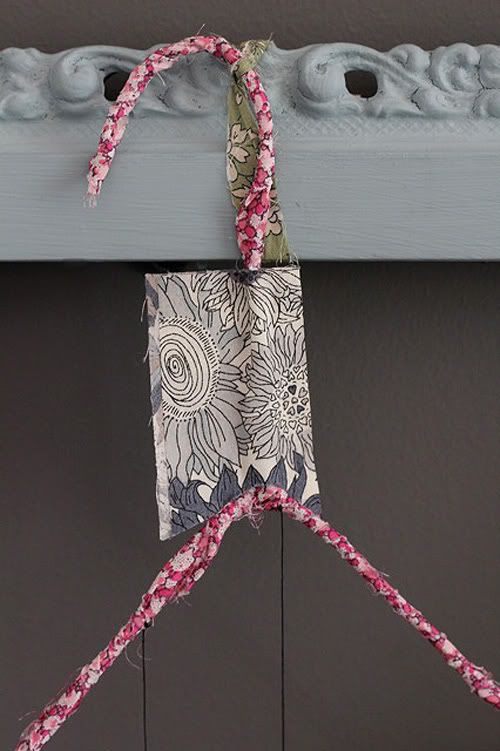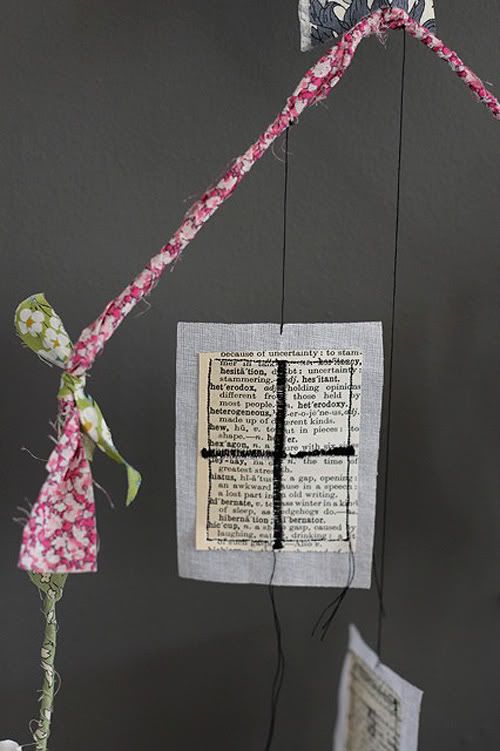 We made three variations of this house and suspended them close together at slightly different heights. At home you could hang it on the wall using the hook of the hanger or use fishing line or cotton to suspend them from your ceiling and watch them moving around. The doors and windows spin independently in a breeze.
For my photos I opted to 'frame' the little house by hanging it on an old picture frame I had painted duck egg blue and simply propped it against the wall.
This is another little project that costs next to nothing and can easily be done with things you may have at home already. I do hope you've enjoyed this project and that it has inspired you to try something new. If you have any queries about this project please put them in the comments and I'll help if I can. And if you tried making your own Spring garland or wrapped lampshade after my last post, let us know how you did in the comments, we would love to hear about it! Thank you all again for reading and happy making! – Sania x
(images: sania pell)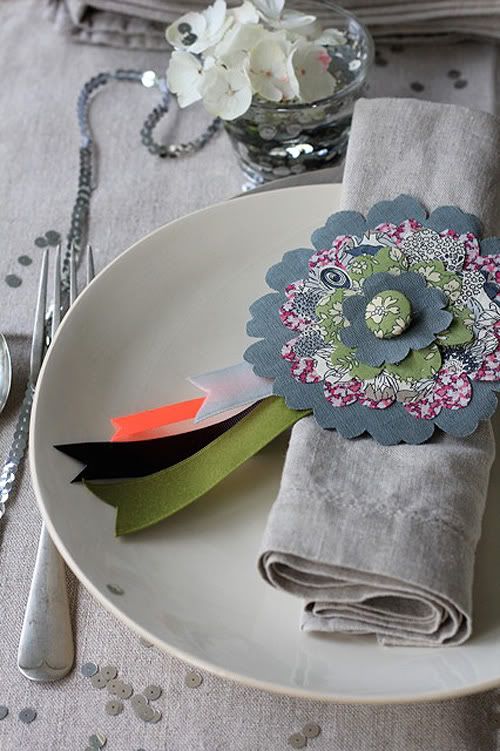 When thinking about a tabletop, it was important for us to use handmade elements along with Liberty products during our styling demonstration in-store. Sania, Leslie and I all place extreme importance on personalizing things and the best way to do so is to make things by hand.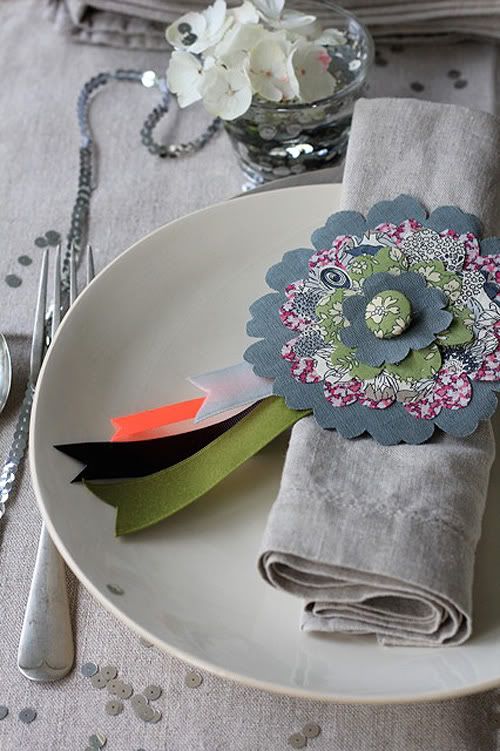 In my book, Decorate, there is an entire section devoted to the importance of details. That section, Attention to Detail, begins with an image from Sania's home that was taken for my book at her house. I chose that image to open the section because it really spoke to me. You'll have to locate a copy of Decorate and turn to page 237 to see it and once you do, you'll know exactly why I selected that photo to open the section. A little insider's note… Attention to Detail came to be in the 11th hour and wasn't even mapped out to be IN Decorate but I wanted to include more detail shots that Debi had taken as we traveled so the publisher agreed to it and Attention to Detail was born and I'm so glad it was since many of you have commented that it is your favorite part of the book! But I digress…
But yes, back to our tabletop styling demo and the idea to create a Springy tabletop with pretty details using a combination of products found in Liberty that were already made (like the Lisa Stickley placemats and napkins that we used) along with things from Liberty's fabric + notions department showing customers how to use Liberty patterns in a fresh and new way to create their own products. Sania is very passionate about making things by hand so she was more than happy when I asked if we could take this in a handmade direction. In fact, she was delighted!
For the next tabletop DIY idea, Sania will walk you through how to make gorgeous Flower Napkin Rings using linen (that you can purchase anywhere) and Liberty patterns though you can use any fabrics that you like. Please note that she purchased a very basic, affordable linen since my budget for buying all of these things was pretty low — but had I done this at home I would have purchased a thicker, more tactile nubby linen to give the flowers more bulk. It's up to you – but bare in the mind the weight of the fabrics determines how the flowers look in the end. You also may need a stronger needle if you use heavier weight fabrics. We used inexpensive cotton linen and lightweight cotton fabric from Liberty.
Let's go to Ms. Pell reporting live from her craft loft in London… Sania, you have the mic girlfriend!
Hi again everyone, it's Sania Pell here and now I'm going to explain how to make the flower napkin rings used for our table setting at Holly's Decorate book launch styling demo at Liberty last month.
The wonderful thing about these pretty flower napkin rings is that they have multiple uses. The way they were designed for the table setting was that they would be little favours for each guest to take home with them. As they are simply safety-pinned to the napkin ring, our guests could remove them and pin them to their outfit or bag and take them home with them. A little bit of fun that would make our guests remember their time with us when they were back at home. They can also be pinned onto cushions (pillows) to add detail too. Some were even pinned to the tablecloth along the edges, as you can see if you click here.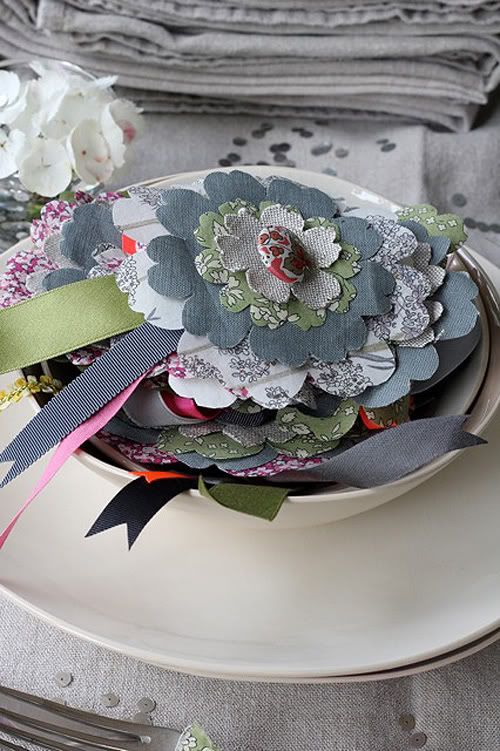 (Click HERE to download XL version of the above steps.)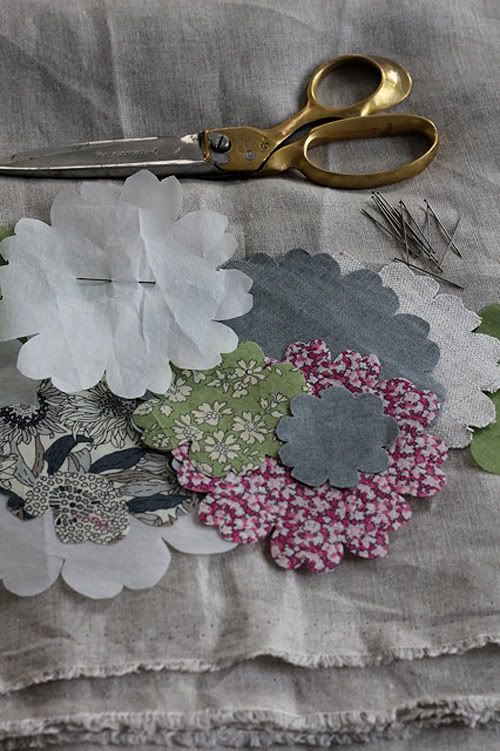 Lay out your cut pieces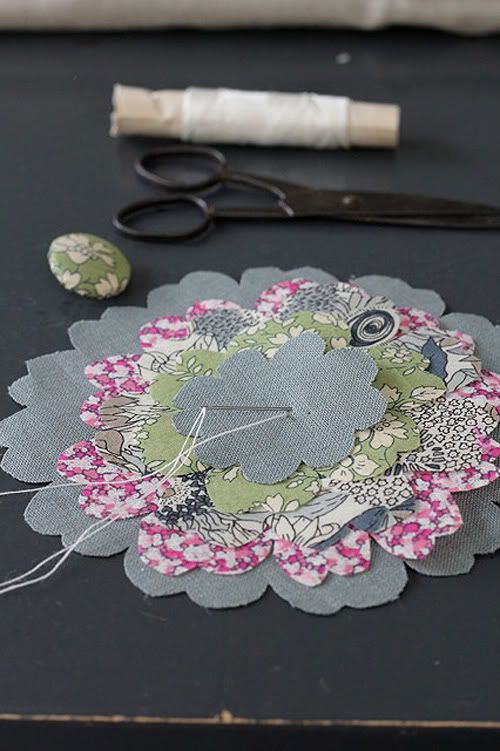 Sew them together in the center by hand.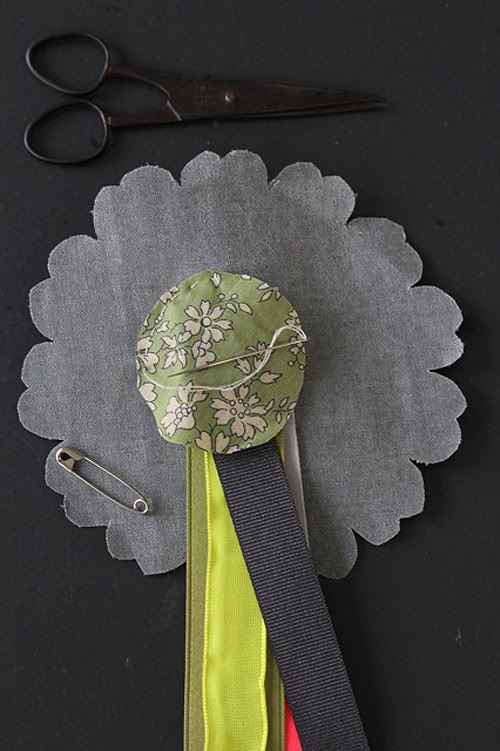 Place safety pin on the back along with ribbons of your choice.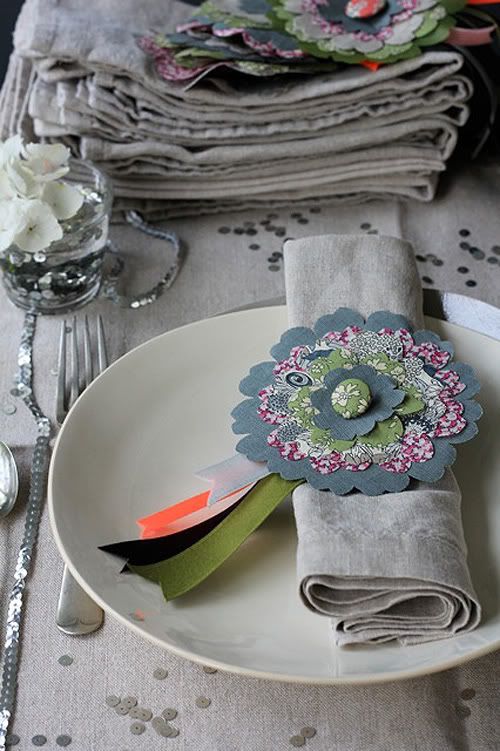 We coordinated these with our overall table setting style for Holly's book launch, using the Liberty fabrics we had chosen. By using lots of different fabrics and making these by hand you can ensure that each one is unique and individual – something your guests will love and can help be a little ice breaker and conversation starter for your dinner party.
I mentioned in the steps above the idea of creating your own fabric button for the centers of each flower. Covered-button kits are available from most haberdashers, they have little hooks to grip the fabric and a snap-on back to finish it off and keep it neat. They have a loop (shank) on the back for attaching. Here is how you can make them.
Tools: Button covering kit (buttons can be bought in various sizes and are not too expensive), needle and thread,
scissor, scraps of fine/thin fabric and safety pins.
How to: First, you cut out a circle of fabric with a diameter slightly less than twice the diameter of the button. Next, and this is optional, but using a needle and thread you can sew running stitch around the edge of the circle and place the button upside down in the center of the circle and pull the threads together to gather the fabric around the button and knot. Then, snap the back on so it clamps the fabric in place and finishes the button. If your fabric is thick it can be quite difficult to push the back on. A cotton or fine linen works well and finally, if the shank sticks out too far you can push it in so it is flatter to the back.
Ready for a little bonus material before I move on to the final DIY project? Great, here is a mini styling tip for your next dinner party… I call this one Sequin Glamour.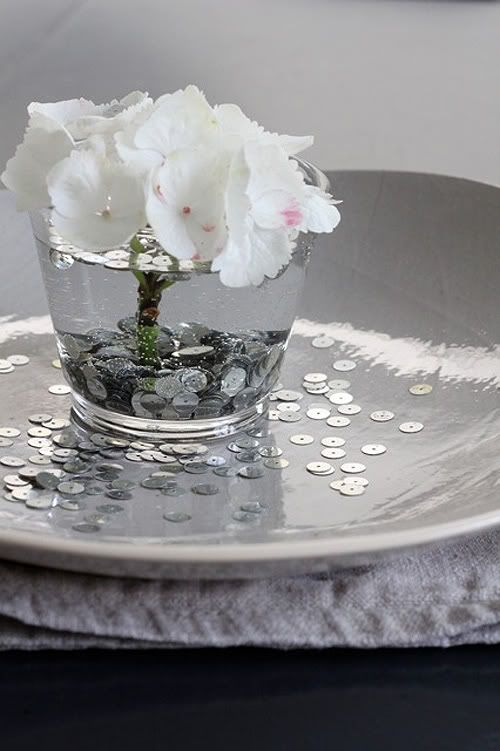 The sequins in the small glass vase, add a little glamour. Some float, some sink, but they are a really easy way to make your table interesting. It is the same with the sequins scattered on the table, they just add a little sparkle, fantastic for a celebration.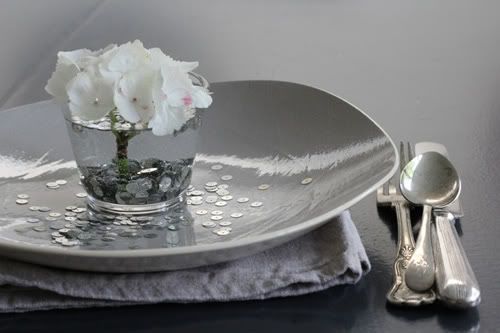 The beautiful handmade plates are by Brickett Davda, the napkins are from Habitat and the little glass vase is actually a tea-light votive from IKEA. The cutlery is vintage from a car boot sale bought for next to nothing. I'll be back in a moment with a final DIY project. Happy making! – Sania x
(images: sania pell)