I wrote about Finnish photographer Krista Keltanen today over at Real Simple, I do hope you can take a moment to check that out because I think that you may really enjoy her soft, romantic photography.
Most of the beautiful work shown above can be purchased as prints or greeting cards in her etsy shop if you'd like to put one in your home. She also has a website that is very inspirational to look at and a pretty blog as well. Enjoy!
(images: krista keltanen)
It's been awhile since I talked about Hadley Hutton and since she has added many new works to her collection, today feels like a good time to share her with you again. Are you familiar with this American artist? Her illustrations are beautiful and her encaustic paintings are my favorites – I own a few originals that I've purchased over the years and though they still sit in my cellar waiting to be unpacked once we finally move, at least I know they are there and I feel excited just thinking that soon I may be able to display them again! It looks like we may be moving on September 1st though we won't know for sure until next week – but once I know for sure it will be happy dance time!
It's been such a hassle trying to find a permanent space, we've been living in what was our vacation apartment for nearly a year and it's very cramped for a couple both working from home. I've whined about this enough (blah blah blah), I know, but your friendly blogger here is reaching her tipping point because living in limbo with boxes unpacked is frustrating despite how hard I try to put a positive spin on it. If you've ever lived "between homes" then you certainly understand my feelings! I just want to see and display my "stuff". It feels a bit lonely not having access to the things that inspire me the most like my books, craft supplies, fabrics… I even miss my Epson color printer and I want to unpack all of my clothes, shoes and handbags. I'm getting bored with my wardrobe!
But yes, enough complaining from me — back to the lovely Hadley and her truly inspirational work which is available in her etsy shop and on her website as prints, originals, cards, even pillows! About her style her bio says, "Hadley's work is a blend of traditional painting and modern design. She draws inspiration from Asian patterns and motifs, Victorian die cuts, and geometric designs. Her work explores nature's beauty, people's influence on their surroundings, and the environment's influence on people. The works are layered with colored pencil and watercolor pencil drawings, ink, archival digital media, pastels and encaustics."
Pretty!
(images: hadley hutton)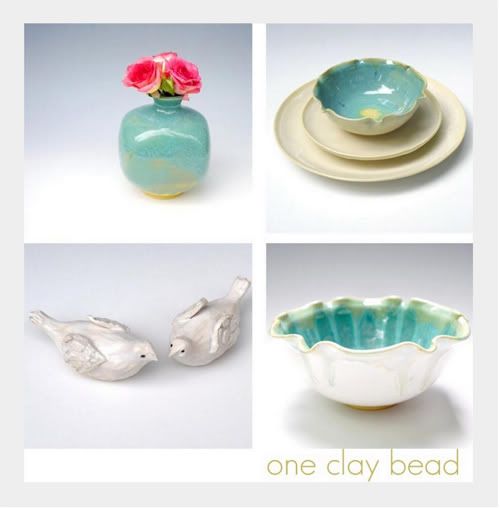 Hello again decor8 readers. This is Heather from Gathering Spriggs and I am back today to share with you five stellar Etsians while Holly is away in Copenhagen this week working on her book project. As I gathered these treasures together like a wildflower bouquet from a wooded walk, I realized my intuitive attraction to each shop came from their reminiscence of days gone by filled with the color of faded robin's egg blue, scalloped edges, and a simple connection to nature. So without further ado here are few treasures to share with you today… (hope you enjoy this gathering of simply stated wares as much as I have).
The first shop plucked from today's bouquet is One Clay Bead, the functional handmade stoneware serving, dinner and home decor pottery pieces from Asheville, North Carolina. Each piece is handcrafted from a life long artisan whose creations are honed from the natural surrounding of the Blue Ridge Mountains and consciously created with environmentally friendly processes. These pieces are not only beautiful, but durable, functional and sustainable.
Another such artist inspired by nature is Tricia Brink of Lynden, Washington, who wears many different creative hats including three Etsy shops, and a brick and mortar store shared with her mother and sister. But today's feature is her etsy shop, Wesley Asher, which focuses on all things natural, textural and pastoral. To me these works breathe timelessness with upcycled elements and a nod to past yet updated by Tricia's incredible eye for design.
Next posy to pluck is Mail Order Vintage a fun vintage shop whose shopkeeper has a similar addiction as mine, hunting and gathering at second hand stores bringing home faded objects and making them new again with a feminine touch. She dabbles in clothing, vintage linens, housewares, and accessories, from Hamilton, Ontario, Canada all with a subtle granny chic vibe.
Another one of my personal favorite jewelry makers on Etsy is Amy Kelly of That Winsome Girl who creates soft, feminine pieces with a touch of vintage. Based out of Lexington, Kentucky, Amy crafts as a way of life, a passion which comes as naturally as her love for baking.
Lastly but certainly not least in today's gathering is the well-designed personalized stationary products of Oh Louise! This Dallas, Texas stationer, Eleanor Louise, gives creative credit to her grandmother for inspiration and the name sake of the store. Although she learned from her grandmother using Print Shop as a child, Eleanor now creates each custom card design in Illustrator but her work still holds a timeless quality and nostalgic color palette that I adore.
Thanks again Holly and dear decor8 readers for having me back today!! Hope I see ya around again soon. – Heather.
(images linked to their sources above)
Etsy Take Five Tuesday this week has a little something for everyone and I've arranged them into two sets: Girly and a bit more graphic with a mini bonus set of some pretty portrait paintings that I found from an artist who lives is Israel. I know it's not your usual five sellers but sometimes I get bored with that format! I hope so much that you enjoy these little picks for your shopping basket today!
1. Vintage tennis rackets (certainly must be great for decorating, hang them over a bed in a guest bedroom!) from Bright Wall Vintage, 2. Chez moi screen print from Fric de Mentol, 3. Handmade vegan shoes by The Generation, 4. Felted art by Julie Blanchette, 5. Calm photograph by Aimee Clare and 6. Little Lamb Organic Hat made by SweetPeaToadTots.
Originals and prints of beautiful girls by Tush Tush
1. Flowers in Greece print by Art Quirk, 2. Stripe handbag by BKK, 3. Handmade vegan shoes by The Generation, 4.Pillows by Marianne van Ooij of Soap Studiooos, 5. Doggy letterpress print by Tag Team Tompkins and 6. Darling Clementine cards.
(images linked to their owners above)