Hello everyone! I'm Emilie Guelpa from Paris and I'm one of Holly's brand new columnists on decor8. I work as a freelance stylist, photographer and cookbook author and maintain a blog called Griottes. I love food so it was only natural that I met up with Holly recently at a cafe in Paris. We became fast friends and it was decided then that I would write once monthly on decor8. Today is my debut and I hope what I'm about to share makes you smile big. But first, a bit about my column…
Once a month, around the third week, I'll be popping in to share my column: Playing With Food. I won't be providing recipes or step-by-step instructions on how to make anything because my column isn't about holding your hand and telling you how to do stuff, rather this column is meant to inspire you, to build your color confidence and to show you alternate ways to look at things and how to think of ways to translate the things you see around you into the kitchen or next dinner party and to have some fun while doing it, careful not to take yourself toooooo seriously. I love to laugh and so I wish to inject some of my more quirky thoughts into the mix, too.
Spring has Sprung! In the streets of Paris all of the cherry trees are in bloom and the days have begun to lengthen. I felt inspired by the color of cherry blossoms so I took that inspiration into the kitchen and thought to pull together a quick trio of desserts meant to invite you to embrace spring's arrival. With March being the third month, three seemed like a good number to work from.
First, I made a small pink Bavarian torte with a light meringue on top, as fragile as the petals of flowers.
To invite spring to the table I brought in a few Persian buttercups along with ranunculus, pretty pastel ceramic cups, fresh pink, mint green, and a bit of Liberty fabric which is always inspirational to me. Then I decided to add some element of fun to the table, something with a little humor because this comes each and every Spring – rain! But…

These cloud shaped cookies twirl around the table and the rain is much prettier with blossoms and tiny pompoms.
These cookies landed gracefully upon a soft minty green plate…


then chewed and enjoyed. :)
The final dessert in my trio is this grapefruit sherbet which gives a soft and happy ending to this tabletop and adds something refreshing and cool. Cake has a completely different texture than a cookie and sherbet is an entirely different sensation from there.
You can serve sherbet (or sorbet, ice cream, frozen yogurt – whatever makes you happy) in a cone or in a cup topped with pretty sprinkles and mini flower-shaped cookies or serve both ways (in a cone and in a cup) to vary the height of your tabletop arrangement of pretty desserts and to suit the desires of your guests as some prefer being offered a choice.
Have you heard of the poem, Spring has sprung? It is a short English poem that my friend Judikaela sent me. I find it perfectly sums up the return of spring, "Spring has sprung, the grass has ris (risen), I wonder where the birdies is. Some say the bird is on the wing, But that's absurd, from what I've heard…The wing is on the bird." So cute!
Note: If this is all a bit too pastel for you, don't be afraid to work in brighter pinks and greens as shown above! Play with color and play with your food, always!
See you next month! – Emilie.
(photos: Emilie Guelpa text: Holly Becker & Emilie Griottes)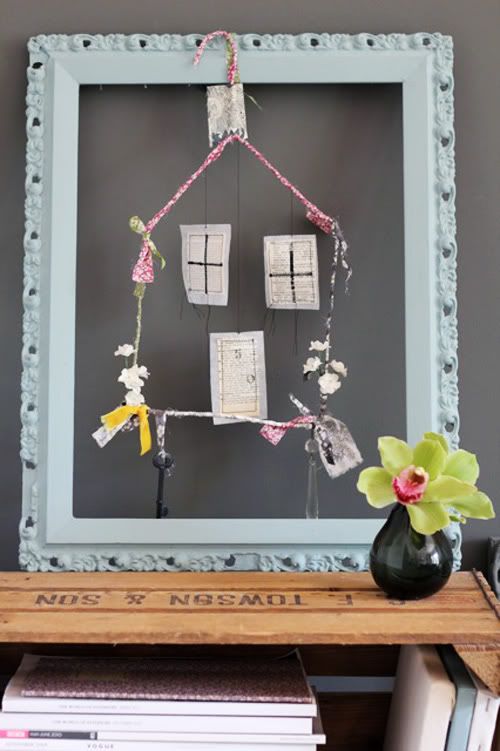 Hello again everyone, it's me Sania Pell. Following my last posts about how to make lovely Liberty garlands, flower napkin holders and fabric wrapped lampshades, next I'll be explaining how to make the hanging house mobiles that we suspended above Holly's signing table as a little visual eye-catcher away from our main table setting.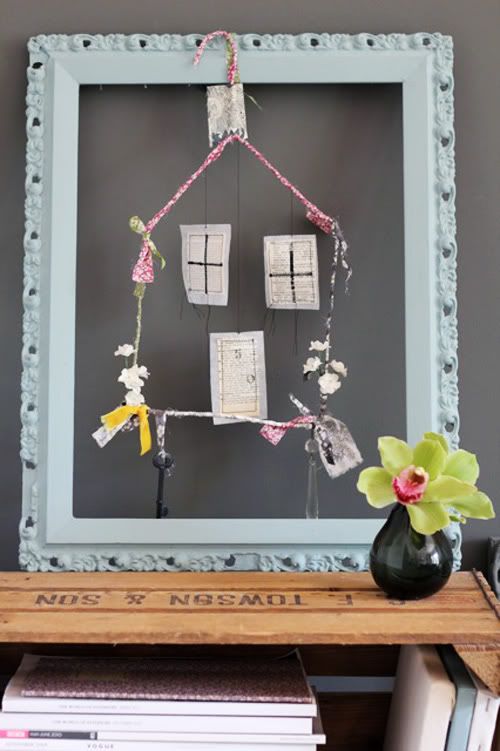 As the party was to celebrate Holly's book launch, I had the idea of creating a hanging mobile that linked to the theme of her book – decorating! The flower and leaf garlands were very much about Spring but these mobiles are all about houses and homes. Here is how to make your own little house mobiles.
(Click HERE to download the steps in XL size.)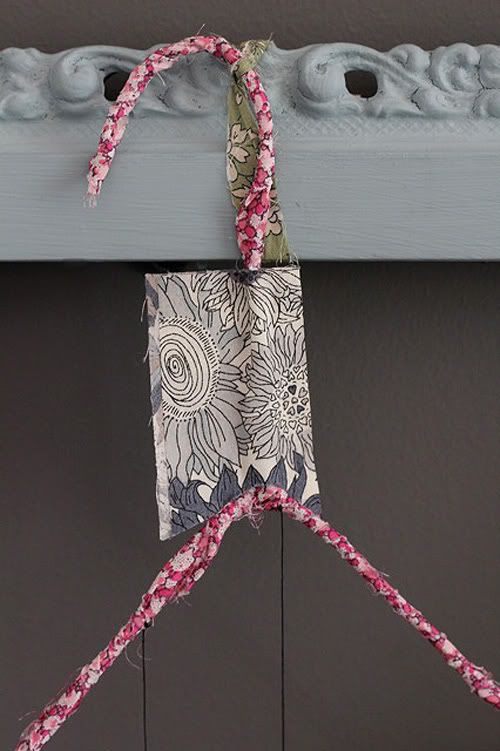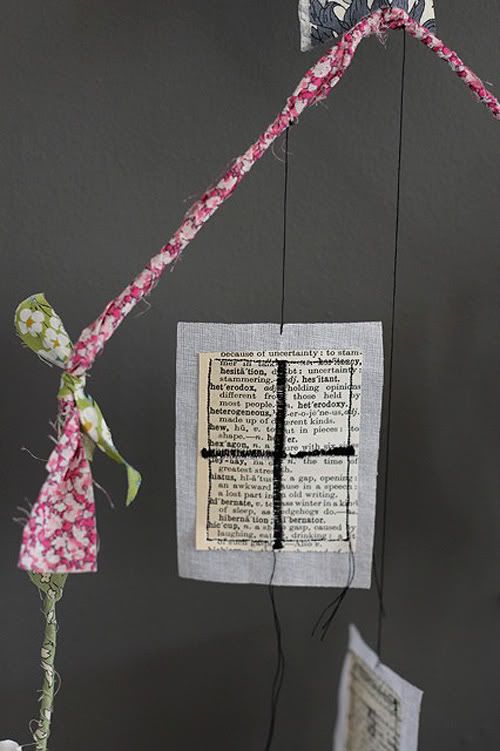 We made three variations of this house and suspended them close together at slightly different heights. At home you could hang it on the wall using the hook of the hanger or use fishing line or cotton to suspend them from your ceiling and watch them moving around. The doors and windows spin independently in a breeze.
For my photos I opted to 'frame' the little house by hanging it on an old picture frame I had painted duck egg blue and simply propped it against the wall.
This is another little project that costs next to nothing and can easily be done with things you may have at home already. I do hope you've enjoyed this project and that it has inspired you to try something new. If you have any queries about this project please put them in the comments and I'll help if I can. And if you tried making your own Spring garland or wrapped lampshade after my last post, let us know how you did in the comments, we would love to hear about it! Thank you all again for reading and happy making! – Sania x
(images: sania pell)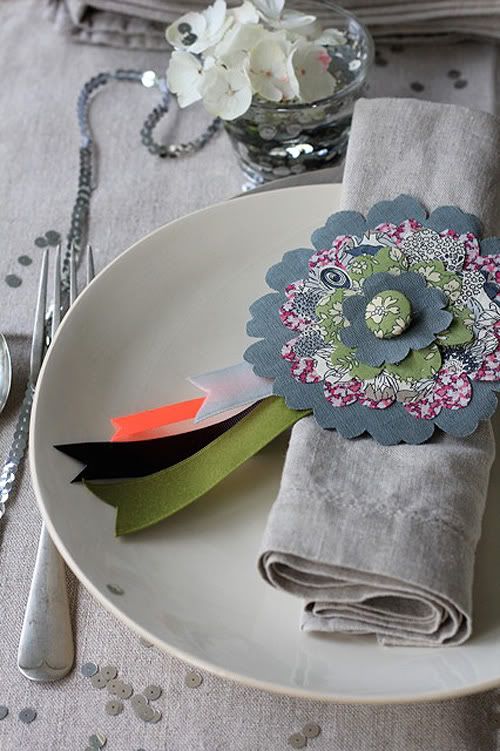 When thinking about a tabletop, it was important for us to use handmade elements along with Liberty products during our styling demonstration in-store. Sania, Leslie and I all place extreme importance on personalizing things and the best way to do so is to make things by hand.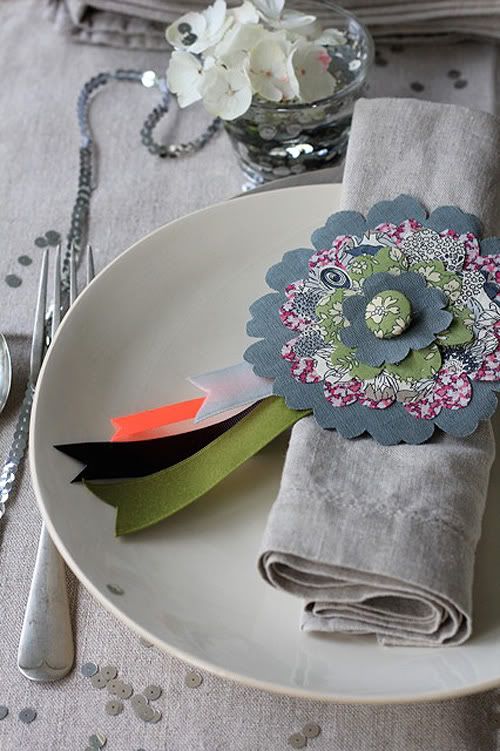 In my book, Decorate, there is an entire section devoted to the importance of details. That section, Attention to Detail, begins with an image from Sania's home that was taken for my book at her house. I chose that image to open the section because it really spoke to me. You'll have to locate a copy of Decorate and turn to page 237 to see it and once you do, you'll know exactly why I selected that photo to open the section. A little insider's note… Attention to Detail came to be in the 11th hour and wasn't even mapped out to be IN Decorate but I wanted to include more detail shots that Debi had taken as we traveled so the publisher agreed to it and Attention to Detail was born and I'm so glad it was since many of you have commented that it is your favorite part of the book! But I digress…
But yes, back to our tabletop styling demo and the idea to create a Springy tabletop with pretty details using a combination of products found in Liberty that were already made (like the Lisa Stickley placemats and napkins that we used) along with things from Liberty's fabric + notions department showing customers how to use Liberty patterns in a fresh and new way to create their own products. Sania is very passionate about making things by hand so she was more than happy when I asked if we could take this in a handmade direction. In fact, she was delighted!
For the next tabletop DIY idea, Sania will walk you through how to make gorgeous Flower Napkin Rings using linen (that you can purchase anywhere) and Liberty patterns though you can use any fabrics that you like. Please note that she purchased a very basic, affordable linen since my budget for buying all of these things was pretty low — but had I done this at home I would have purchased a thicker, more tactile nubby linen to give the flowers more bulk. It's up to you – but bare in the mind the weight of the fabrics determines how the flowers look in the end. You also may need a stronger needle if you use heavier weight fabrics. We used inexpensive cotton linen and lightweight cotton fabric from Liberty.
Let's go to Ms. Pell reporting live from her craft loft in London… Sania, you have the mic girlfriend!
Hi again everyone, it's Sania Pell here and now I'm going to explain how to make the flower napkin rings used for our table setting at Holly's Decorate book launch styling demo at Liberty last month.
The wonderful thing about these pretty flower napkin rings is that they have multiple uses. The way they were designed for the table setting was that they would be little favours for each guest to take home with them. As they are simply safety-pinned to the napkin ring, our guests could remove them and pin them to their outfit or bag and take them home with them. A little bit of fun that would make our guests remember their time with us when they were back at home. They can also be pinned onto cushions (pillows) to add detail too. Some were even pinned to the tablecloth along the edges, as you can see if you click here.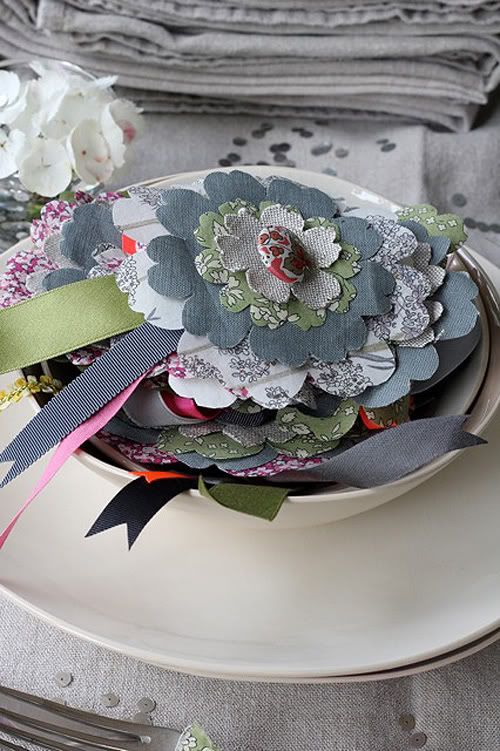 (Click HERE to download XL version of the above steps.)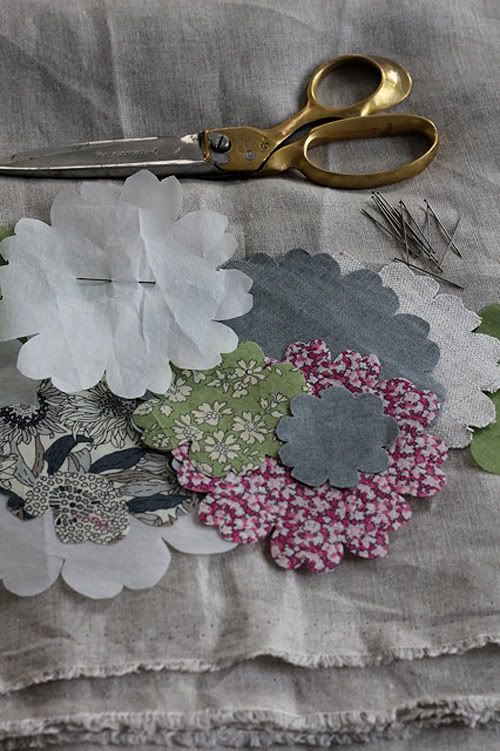 Lay out your cut pieces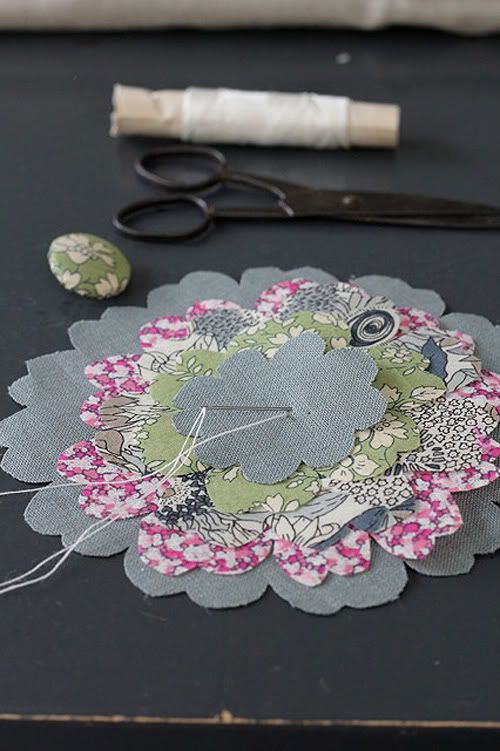 Sew them together in the center by hand.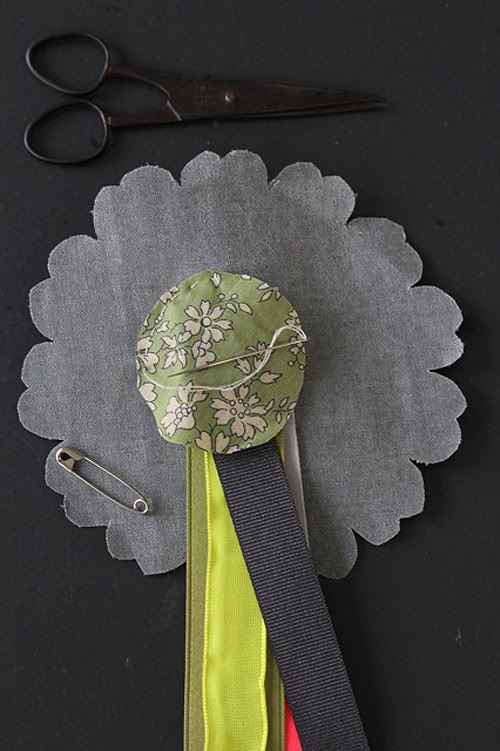 Place safety pin on the back along with ribbons of your choice.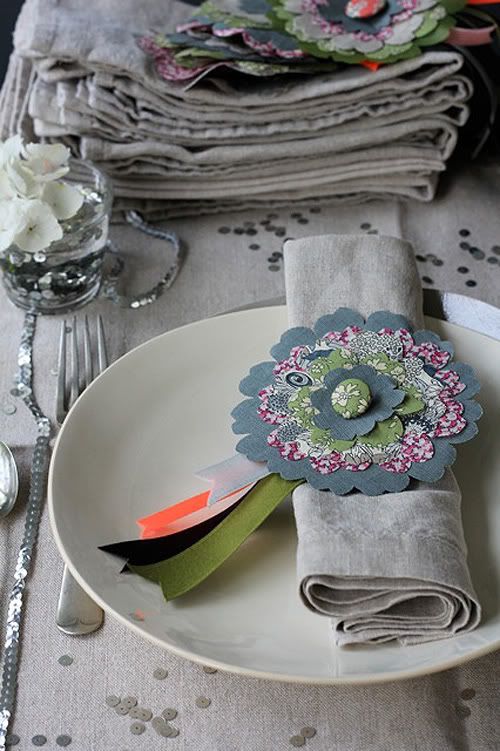 We coordinated these with our overall table setting style for Holly's book launch, using the Liberty fabrics we had chosen. By using lots of different fabrics and making these by hand you can ensure that each one is unique and individual – something your guests will love and can help be a little ice breaker and conversation starter for your dinner party.
I mentioned in the steps above the idea of creating your own fabric button for the centers of each flower. Covered-button kits are available from most haberdashers, they have little hooks to grip the fabric and a snap-on back to finish it off and keep it neat. They have a loop (shank) on the back for attaching. Here is how you can make them.
Tools: Button covering kit (buttons can be bought in various sizes and are not too expensive), needle and thread,
scissor, scraps of fine/thin fabric and safety pins.
How to: First, you cut out a circle of fabric with a diameter slightly less than twice the diameter of the button. Next, and this is optional, but using a needle and thread you can sew running stitch around the edge of the circle and place the button upside down in the center of the circle and pull the threads together to gather the fabric around the button and knot. Then, snap the back on so it clamps the fabric in place and finishes the button. If your fabric is thick it can be quite difficult to push the back on. A cotton or fine linen works well and finally, if the shank sticks out too far you can push it in so it is flatter to the back.
Ready for a little bonus material before I move on to the final DIY project? Great, here is a mini styling tip for your next dinner party… I call this one Sequin Glamour.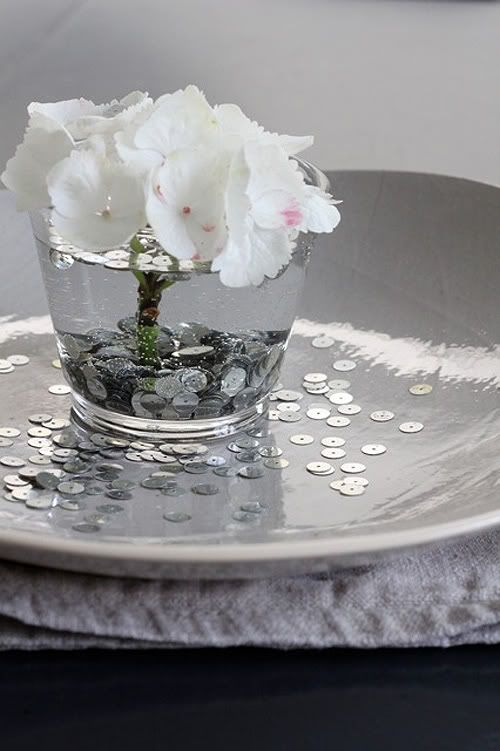 The sequins in the small glass vase, add a little glamour. Some float, some sink, but they are a really easy way to make your table interesting. It is the same with the sequins scattered on the table, they just add a little sparkle, fantastic for a celebration.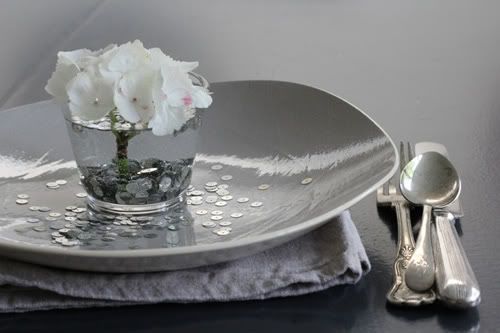 The beautiful handmade plates are by Brickett Davda, the napkins are from Habitat and the little glass vase is actually a tea-light votive from IKEA. The cutlery is vintage from a car boot sale bought for next to nothing. I'll be back in a moment with a final DIY project. Happy making! – Sania x
(images: sania pell)